Big Woods and Storied Bucks
Canada in the Rough takes on Whitetail Deer in Eastern Ontario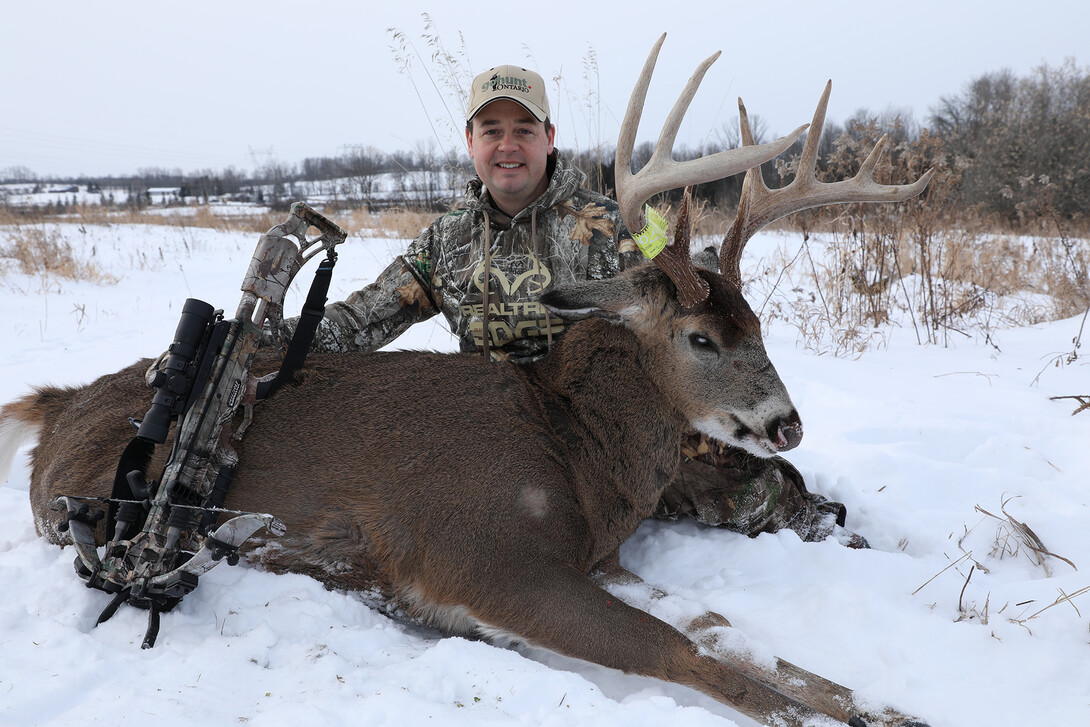 The hunt for the whitetail deer is a privilege that we at Canada in the Rough are grateful to take part in every year. The Beasley brothers grew up hunting out of their local region of Peterborough, Ontario, and have had their fair share of successes and hardships. Regardless of the end result, the year-round process and hard work put in, bring the whole family together and have created countless memories over the years. So in the spirit of making more memories and chasing mature whitetails, Paul grabbed his crossbow and headed a couple of hours Northeast to the Ottawa Valley, where he met up with Phil Lambert of Valley Guiding and Outfitting.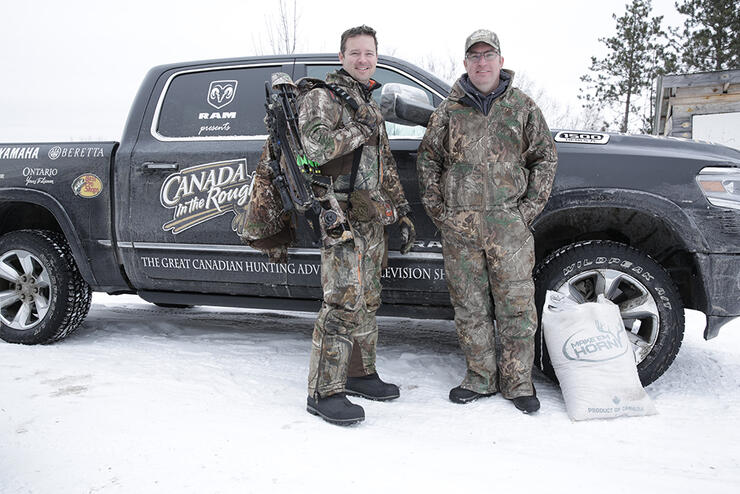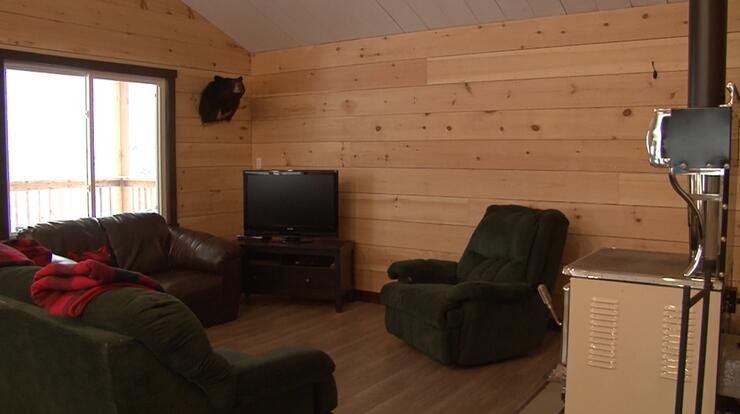 Paul and the crew settled into camp in their own contemporary yet remote cabin. Spacious, clean, equipped with a full kitchen, and generator-powered, the lodging provided the feeling of being off the grid while still having the convenience of full cell service and just a short drive to town. Eager to get to the stand, Paul geared up and prepped his crossbow. After shooting on a target to ensure nothing was knocked out of place during travel, he left camp and headed into the big woods of Renfrew County for an evening sit.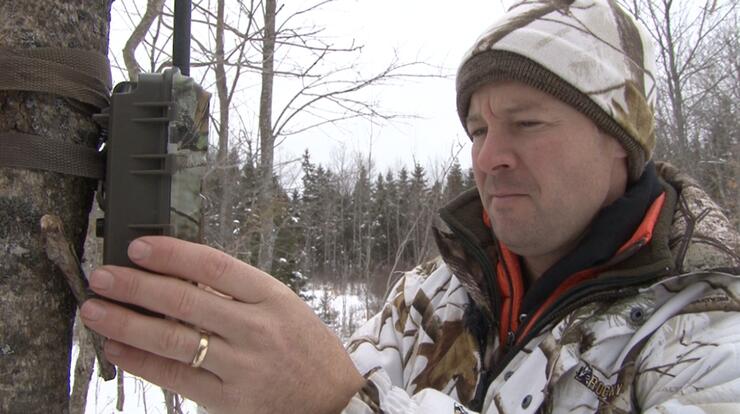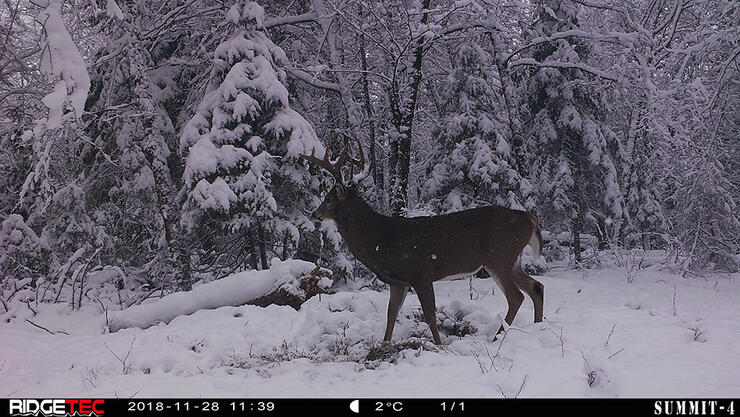 From the vantage of a tall tree stand, Paul scanned the woods around him. Blue jays and other birds inhabit the heavy spruce, while squirrels scurry through the foot of fresh snow on the forest floor. Though not far from his usual deer hunting region, hunting the big woods of this part of Eastern Ontario offered Paul a quite different hunting experience. Most noticeably, the well-established snowfall that had not yet arrived in his hometown of Peterborough had Paul geared up in full snow camo and dressed to withstand a cold evening sit.
The area itself also provided a different type of hunt. The big woods are a stark contrast to hunting the small plots of timber and farmer's fields that Paul is used to back home. Early in the evening, Paul noticed movement beyond the long branches of a spruce, and after a tense moment, a spike buck wandered into a small clearing. Paul relaxed and was able to watch the young deer for 15 minutes as he moved through the woods. Later in the evening, Paul watched a doe along a treeline, and at last light, spotted a young 7-point buck held up behind a bush. After an evening of good deer movement, Paul climbed down from the stand and headed back to camp, looking forward to a warm meal.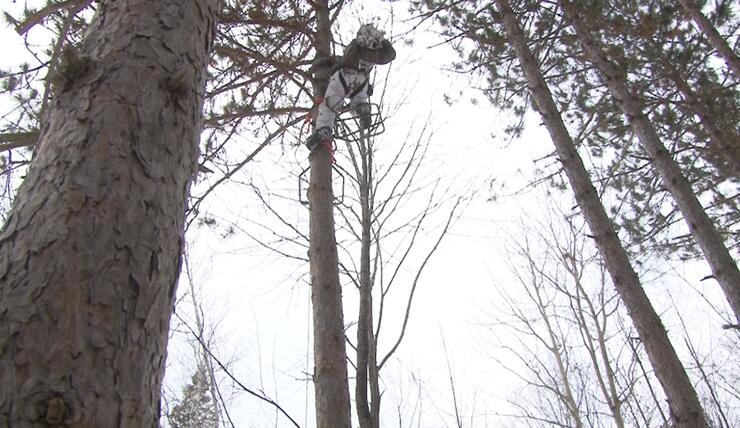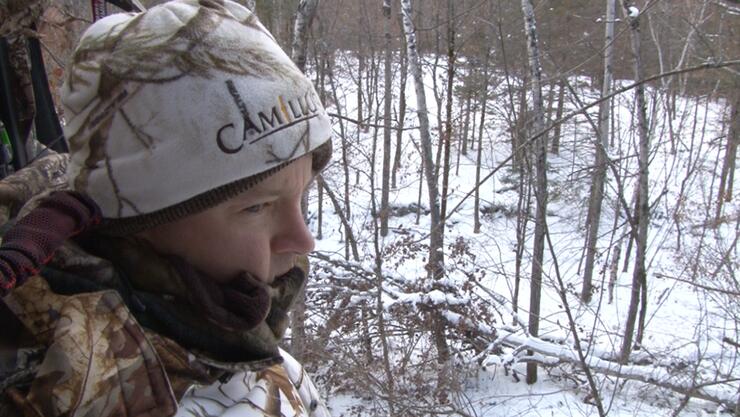 Spending the week with Phil Lambert was a treat. His hunting area is a prime example of how a whitetail herd can be helped and cultivated through quality deer management and land stewardship. Through this passion and his successes, Phil created Make'em Horny Whitetail products. His line of products includes food plot seed blends and minerals that are particularly attractive to, and healthy for, whitetail deer, and provide year-round nourishment. These products have helped this area and many more to have thriving herd numbers and grow quality healthy bucks.
The next day Paul was back in the woods. When whitetail hunting, few aspects are more important than hunting the wind. The morning saw an unfavourable wind direction, so Paul joined Phil to set up a game camera over some feed in another corner of the woods. Phil had already shown Paul game camera pics of some great bucks, but this could hopefully give a more full understanding of what the area might hold. Later in the afternoon, the wind switched directions, so Paul headed back to his stand for the rest of the day.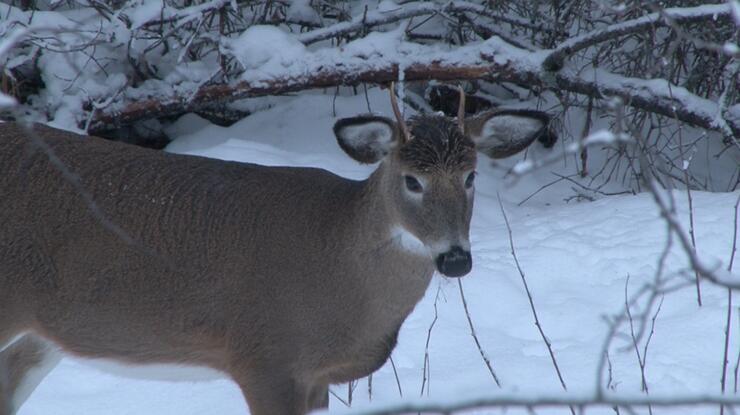 The second day of hunting would largely mimic the first. Paul spotted what at first appeared to be a doe traveling through the trees, but as it came closer he realized that this was actually a buck that had recently shed his rack. Thankfully it was a young buck, so there wasn't the pain of missing out on a mature deer due to early shedding, but the day wore on as several more immature deer crossed Paul's path, including a rutting young buck tailing a doe, and later a fawn being chased off by another doe.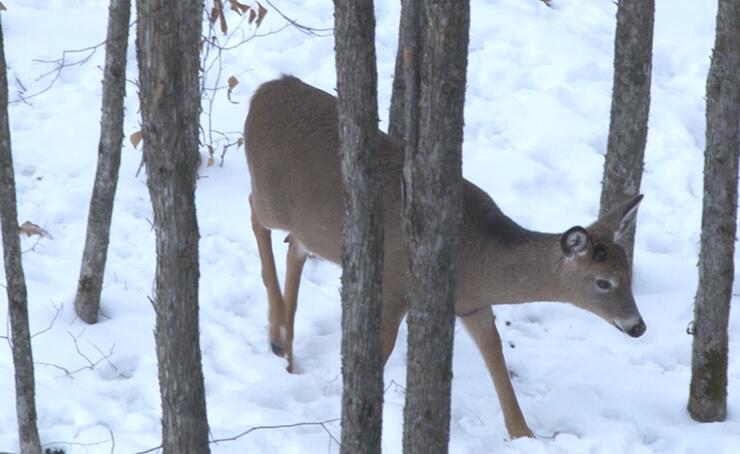 Paul sat day after day and saw waves of deer during his time in the whitetail hotbed of Ottawa Valley, but as hunting too often goes, he would ultimately travel back home empty-handed. Hoping to get back and one day fill a tag in this great area, he turned his sights to the hunting back home, where his brothers Paul and Kevin, as well as his father Ken, were all hunting hard after some mature bucks that they had been capturing on camera at several properties. One old buck in particular, that had been elusive for years, was showing up on cameras in the daylight for the first time ever, so Keith took to a ground blind in hopes of meeting up with this wary old whitetail.
On a snowy December day, Keith tucked into a small patch of timber where deer had been bedding. To avoid pressuring the deer by entering this small woodlot, he would have liked to sit along the field edge that the deer feed in, but the buck wasn't being seen there until after dark. So, Keith settled in with hopes to intercept him traveling through the timber. It wasn't a long wait until there was some movement through the woods, and a fawn peaked its head out behind a snowy branch. Keith just got an eye on the fawn when the shape of some tall antlers moved behind a bush a few feet back! Sure enough, close behind the fawn followed an old mature 9-point, the one Keith was after!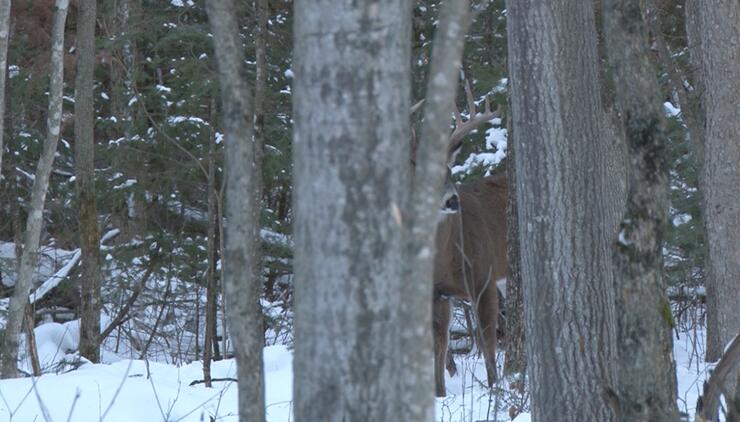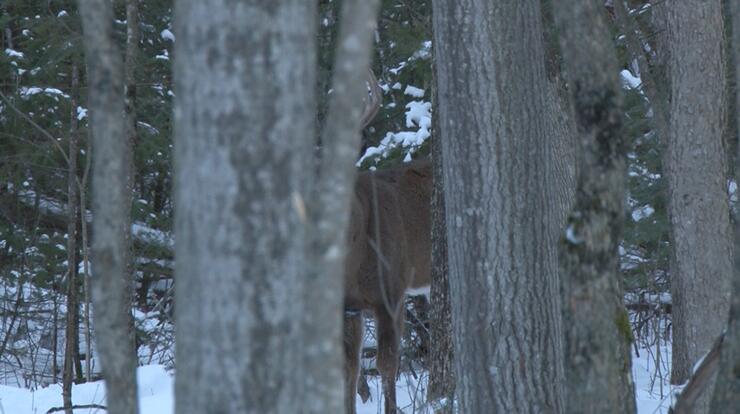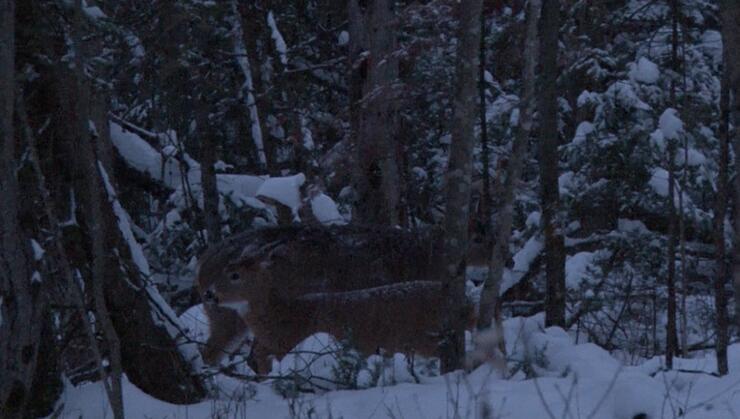 This buck had started to go down in rack size since last season but was still a sight to see moving through the woods. Keith leaned into the crossbow and waited for his opportunity. The buck was stopped now, half blocked by a tree when the wind changed directions. Despite this turn of bad luck, the buck still moved into an opening… but the fawn perfectly blocked Keith's sight of the vitals. Keith held his position, waiting for a clear lane. After a tense minute, the fawn picked up on a scent it didn't like and took off into the woods, bringing the buck with it! Crushed and still in disbelief, Keith sat the rest of the night wondering if this cautious beast of a buck had crossed his path for the first and last time.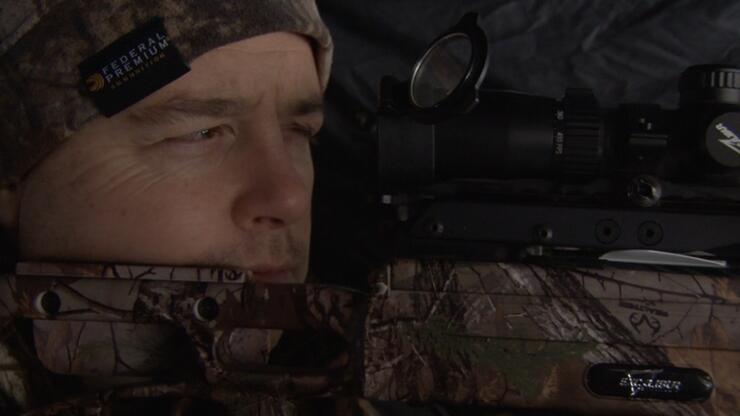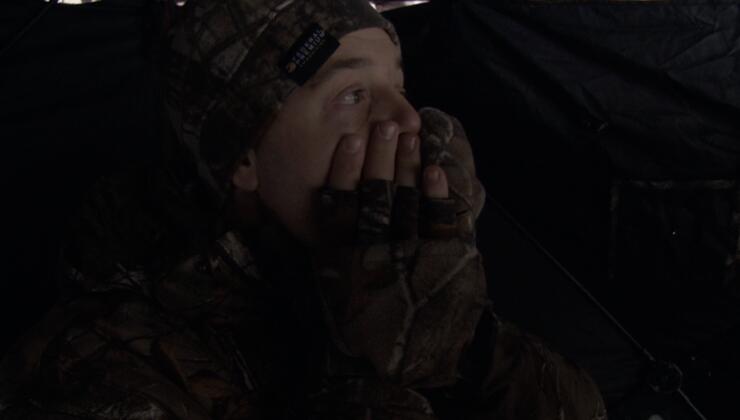 Nine days later and quickly approaching the end of the season, Keith was back in the same blind, hoping for another chance with this buck. Early in the evening, a doe and fawn moved through the woods. They hung around for a while before eventually moving off towards the farm field. Scanning the dense timber, Keith noticed what might have been a glimpse of movement deep in the woods. Eyes peeled, he watched the area for any sign of deer. After several still minutes, there was another quick movement. Minutes after that, movement again. After a head lift from a sniffing deer, Keith was able to confirm that his mature buck was back in the area! Cautious as can be, over the next 45 minutes this deer moved just 20 yards, sniffing and looking towards the blind the entire way. After what felt like an eternity the final step was taken, giving Keith a clear shot to the vitals, and with frozen fingers he made it count.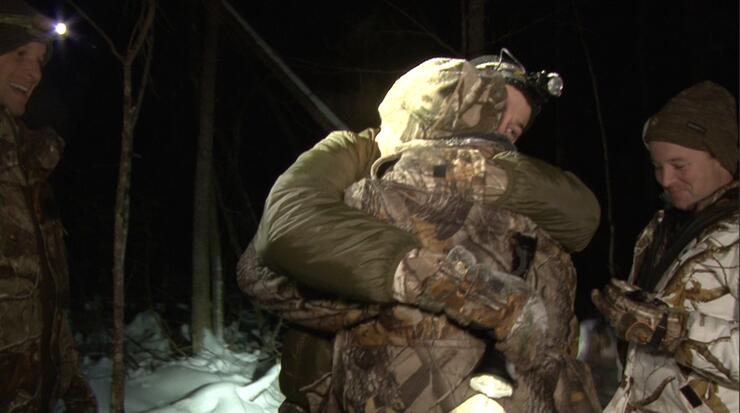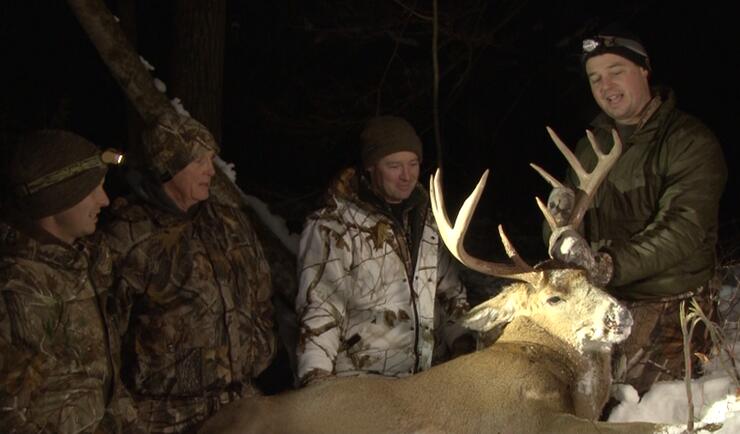 The only feeling sweeter than the rush of adrenaline after his well-placed shot was that night when Keith tracked down and retrieved this storied buck with his brothers and father by his side. In a deer season filled with ups and downs, from the awe-inspiring big Renfrew County woods with Valley Guiding and Outfitting to a tense marathon of a hunt back home, it seems fitting that it finished with family coming together to celebrate hard work paid off, and the successful harvest of another Ontario giant whitetail.