3 guided fishing adventures to discover in Algoma
One seasoned angler skips the lodge experience for an urban fishing adventure in Sault Ste. Marie.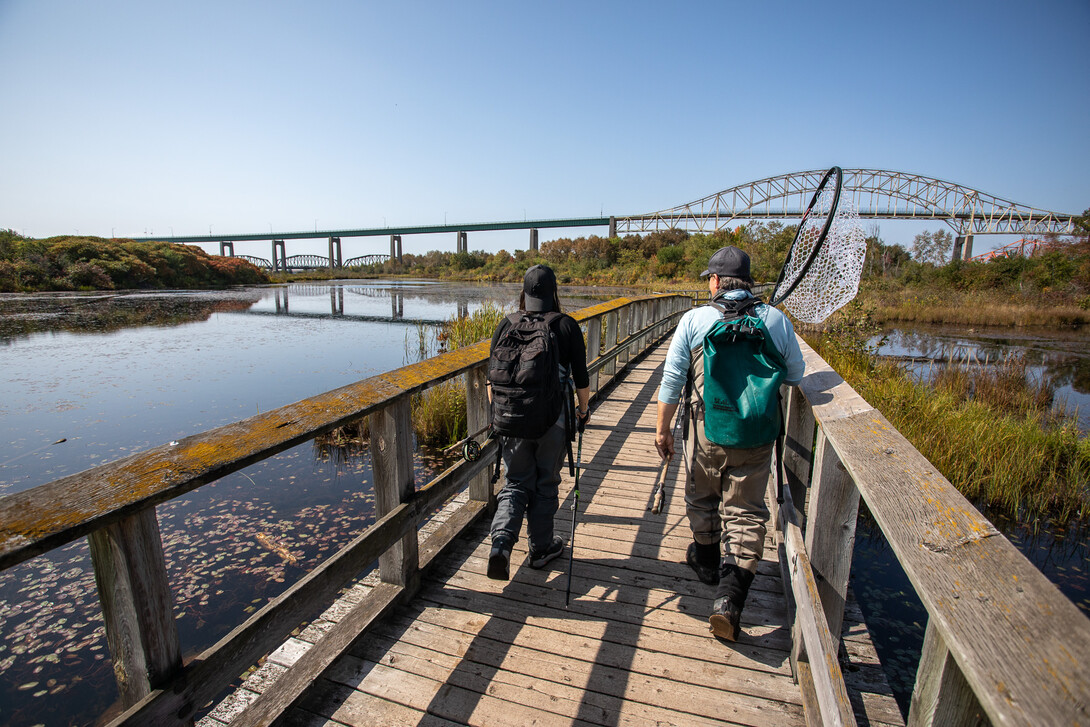 Fishing in Algoma needs no introduction. The region's abundance of lakes and fishing opportunities rivals that of anywhere in the world. A fishing trip would typically involve a lake and lodge somewhere off the beaten path but typically doesn't always have to be. This time around, we are forgoing the backcountry lodge for a room with a view of the waterfront in Sault Saint Marie and the lake for Algoma's rivers' moving water. Our belief in local knowledge remains the same, and enthusiasm is high to spend three days with three local guides fishing their favourite rivers.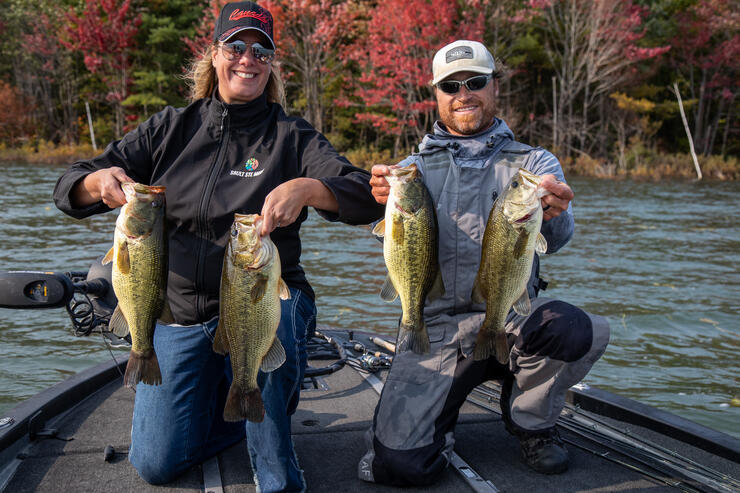 Day one: St. Marys River with Angling Algoma
With skills honed on the fishing tournament circuit, Adam Vallee of Angling Algoma will do whatever it takes to make sure his clients keep smiling. While he can hook you up with anything you desire that swims in the Algoma waters, ask him what he likes to fish for most, and bass will be the answer. 
Day one's destination is the St. Marys River, a 120- kilometre goliath of moving water connecting Lake Superior and Lake Huron. The river contains an impressive fish population from walleye to whitefish, salmon, trout, pike and yes, bass. 
The day starts later than a typical fishing day would, partly due to it being late September and sunrise happens at a more favourable time, and also, the starting point is just a five-minute drive from the hotel.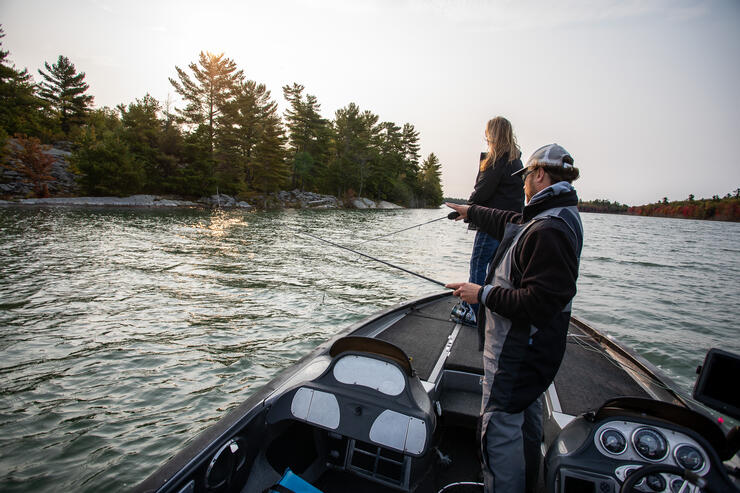 The forecast is calling for high winds, and fishing the river's main body might not be an option—no need to worry, we are in good hands. Adam makes a few changes and sneaks the boat between a few islands and into the calm of a side bay. Spot number one? "We should get some bass here," Adam says. And that's just what we do.
Next spot, we stop in the middle of the bay. To the layman, aka me, it all looks like, yeah, the middle of the bay. There are, however, secrets beneath the surface that only a local guide will know. Rods readied, the instruction is given, and we fish on. The location proves rewarding as my fishing partner reels in one Largemouth Bass after another. For me, no matter what lure is tied on to the end of the line, I had the best pike fishing day in a long time.
Visit Angling Algoma to learn more and book a guided fishing tour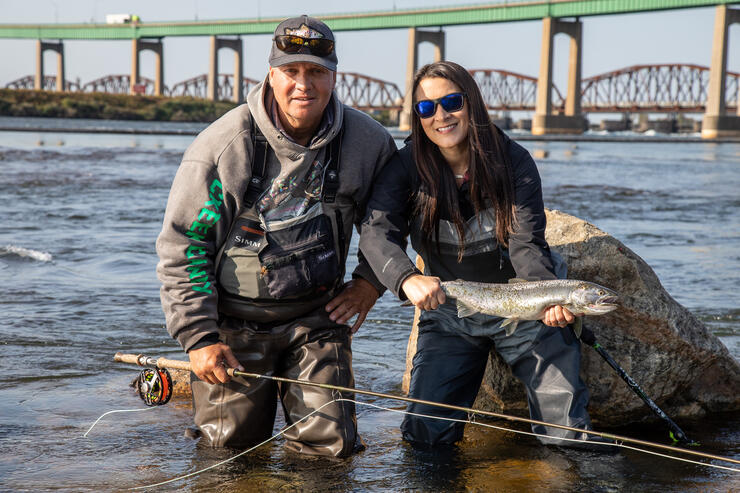 Day two, we are back on the St. Marys River but trade in the calm water for rapids and the boat for waders and fly rods. Another day of easy access as I can see the rapids from the hotel window. Between the parking lot and the river's edge is a short walk across Whitefish Island.
The St. Marys River rapids are a world-renowned destination for steelhead, Atlantic salmon, five pacific salmon species, and resident rainbow trout.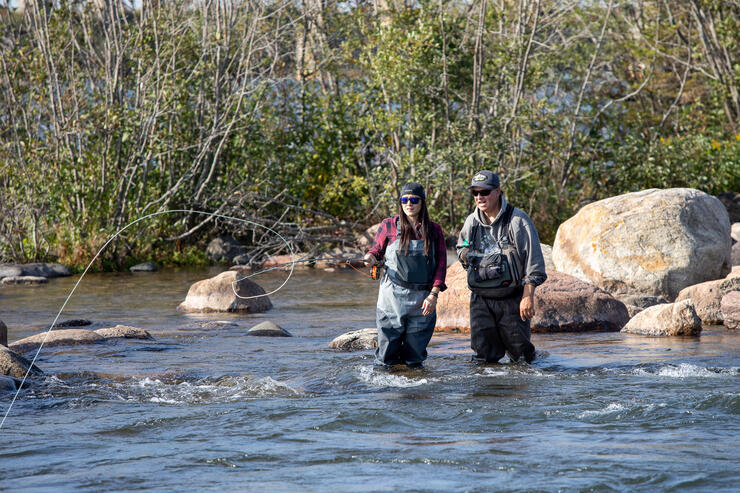 Professional guide John Giuliani has been guiding the rapid for over 29 years, and his reputation precedes him. When John says, stand here and cast there, you do, and good things will happen. Today is no exception, and we are rewarded with a few Pink Salmon and a beautiful silver Coho in hand. Then there was the Atlantic Salmon that fought the good fight and won, and now is part of the tales of the one that got away.
On the non-fishing side of the day, another benefit of the easy access and urban setting is that we are not limited to a sandwich in our back pocket when lunch calls. We hop out of our fishing waders and on to the patio at The Mill Steakhouse just minutes from the river for some delicious wood fire pizza. Then it's back for more casting flies and chasing fish.
Visit John Giuliani's Fishing Adventures Guiding to learn more and book a guided fishing tour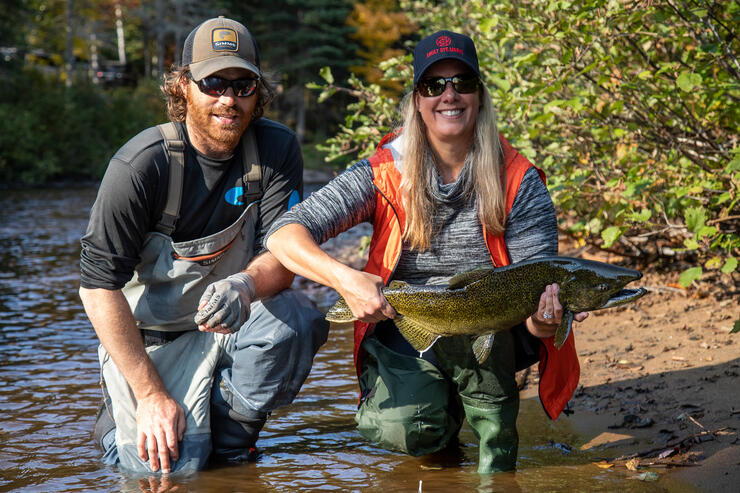 Day three starts with a more typical fishing day schedule, up early, a one hour drive, the second half of which is down a bumpy gravel single lane just long enough to ponder the question, are we there yet?
Tyler Dunn knows fishing, and he knows Algoma offering unique fishing adventures on the many lakes and rivers found in the Algoma region. This time of year, he will be where the salmon are, and today that place is the Garden River. 
Flowing south from a lake of the same name and emptying into the St. Marys River, the Garden River is interestingly named after vegetable gardens kept by the Ojibwa people in this area.
I can hear the river behind the trees as we put on our waders and gather our gear. We step into the river, and a postcard-worthy setting of fall colours, shimmering rocks and rushing water. Visual candy for the mind that soothes the soul with a soundtrack worth of a meditation tape. Such a stark contrast from the urban setting of yesterday.  
Visit Tyler Dunn Guiding to learn more and book a guided fishing tour.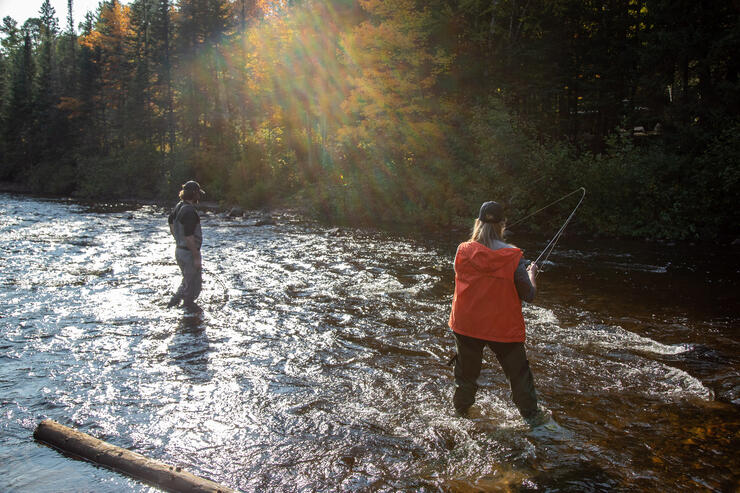 Tyler does what guides do, bait hooks, readies rods, gives pointers, and then it is time to do what we are here for. Fishing a river full of fish is an exciting combination of joy and frustration as you watch your bait bounce off the nose of one fish after another, only to be ignored by all. Persistence pays off with a couple of Pink Salmon taking the bait.
We switch locations to a deeper pool and faster water full of fish stacked, jockeying for position. Cast after cast, drift and repeat, then suddenly it's, "Fish on."
Getting one of these King Salmon to take the bait is challenge number one— landing it, that's another story. Again patience is vital, resulting in a hold your breath dance along slippery rocks following the fish down steam until the fishing rod and fatigue wins. The setting sun forces the last cast, and the gravel road back to the city seems less bumpy after a good day's fishing.
Plan your guided algoma fishing adventure today
Yes, fishing in Algoma needs no introduction, and the lodge/lake combo is always a great choice. But I must say, enjoying all the amenities Sault Saint Marie has to offer and having a world-class fishery at your front door is hard to ignore. Yes, picking your next Algoma fishing destination might now be more complicated but take comfort in the fact that whatever the decision, it will be a good one.