7 Reasons Winter is the Absolute Best Time to Visit Ontario
Find out why snow season is the best season across this stunning province.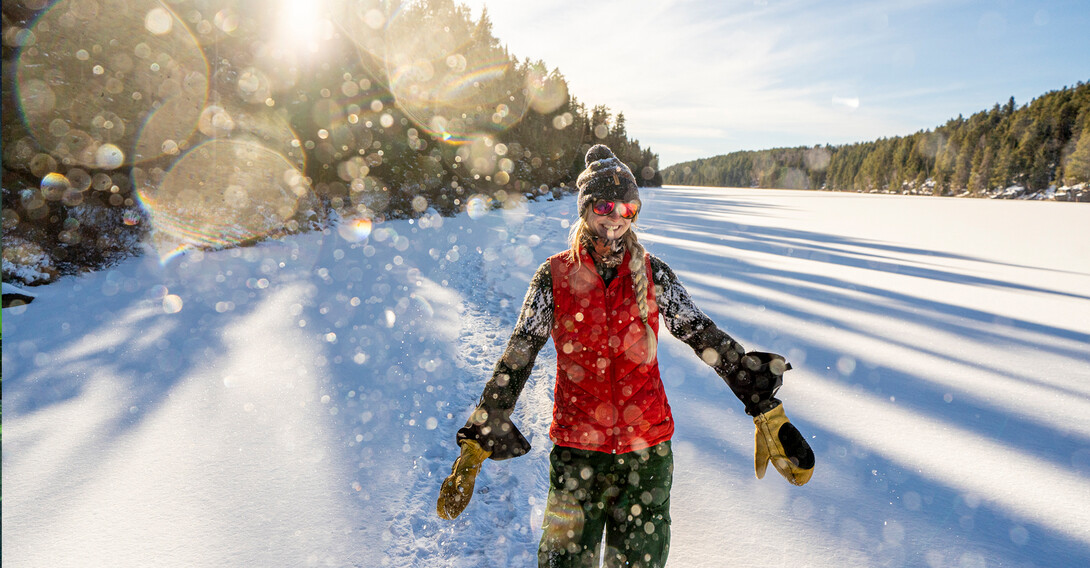 Summer in Ontario gets a lot of press, and for good reason. But there are plenty of unique and exhilarating ways winter can be the best time to experience Ontario's spectacular beauty and diversity.
Instead of hiding indoors when the snow flies, grab your warmest layers and get outside to enjoy Insta-worthy winter sights and exciting, only-in-winter activities. Plus, cozying up by the fireplace with a hot chocolate is so much better after you've been out exploring in the cold.
Winter in Ontario typically lasts from December through March, with the season getting longer the farther north in the province you go. The best ice conditions for exploring frozen lakes and rivers varies depending on the year and where you are in Ontario, but generally runs from mid-January to mid-March.
For more inspiration on why you need to embrace snow season, read on for our favourite reasons winter is the absolute best time to visit Ontario.
1. Snow, Beautiful Snow
Each December, Ontario undergoes the most dramatic transformation of the year. A sparkling blanket of fresh, white snow hides the grays and browns of late fall, renewing the beauty of the landscape overnight.
All that fluffy white splendour is just begging you to pull on a parka and witness the magic for yourself. Take a scenic drive through Muskoka and gear up for every imaginable kind of snowy fun with Liv Outside Gear & Adventures.
Head to Algonquin Park and let an experienced local outfitter set you up with everything you need to enjoy the snow-draped forests and trails of this iconic park, which is even more beautiful (and less crowded) in winter. Algonquin Basecamp, Algonquin Outfitters, Algonquin Adventure Tours and Voyageur Quest all specialize in helping you make the most of the perfect powder day.
Make the trip to Algoma Country for pristine winter vistas, inspiring solitude and loads of deep snow on the edge of mighty Lake Superior. Discover untracked winter wilderness with a friendly local guide at Forest the Canoe. You'll learn about the boreal forest and wildlife while trekking beneath snow-heavy spruce and exploring frozen wonders.
Which brings us to reason number two…
2.  Ice
Winter's deep freeze lasts nearly three months—plenty of time to transform Ontario's countless lakes and waterways into icy adventure playgrounds. Just remember that ice travel requires a minimum of four inches of black ice to safely support a person's weight, so you'll want to check local ice conditions before making travel plans.
When temperatures start to plunge, frozen lakes become host to vibrant wintery scenes and novel activities that you can only experience on ice. Even better, local outfitters offer everything you need to make a day (or night) on the ice easy, fun and comfortable.
For starters, try your hand at ice fishing—known to die hard winter anglers as "hard water" fishing. Loon Lodge can set you up with an overnight luxury ice bungalow and guide you to the best spots on Lake Temagami, known for amazing winter lake trout, walleye and ling fishing.
Don't miss out on the freedom of outdoor ice skating on natural ice. Along with some of the best lake skating anywhere, Ontario boasts a growing number of outstanding skating trails where you can glide through frosty forests or zip along a frozen lake.
In Sudbury, you'll find not one but two skating trails. The Ramsey Lake Skating Path meanders along the shore of its namesake lake with views of downtown Sudbury and Science North. A short drive away, the Nina's Way Skate Path nestles among rocky outcrops of Precambrian Shield and startlingly white birch forests in beautiful Kivi Park.
Ready for even more icy thrills? Launch into the surprisingly accessible world of snowkiting, and experience the rapture of surfing across a frozen lake on skis or a snowboard propelled by the power of Ontario's winter wind. Toronto Kite Club and iKite.ca offer snowkiting lessons on frozen Lake Simcoe, Sauble Beach, Wasaga Beach and other locations in Southern Ontario depending on conditions.
Of course, you never know what icy creations you'll find when out on the trails. Look to rocky cliffs and you'll often see giant icicles or frozen waterfalls. Visit at the right time to see sunlight sparkling off them. These are just one more of winter's beautiful creations.
3. Winter Sports
Factor in all the fantastic winter sports Ontario has to offer, and it's pretty clear: this is the season for active outdoor lovers.
Whether your vibe is a tranquil snowshoeing trek to view frozen waterfalls, or an energetic day of backcountry skiing and ice climbing in Muskoka, there is a winter adventure for everyone.
Every downhill skier and snowboarder is familiar with the world-class terrain and facilities at Collingwood's Blue Mountain Resort. But you'll also find outstanding skiing and snowboarding—minus the lift lines—across Northern Ontario, from Loch Lomond and Mount Baldy in Thunder Bay, to Algoma's Searchmont Resort, to Mattawa's Antoine Mountain and Timmins' Mount Jamieson Resort.
Ontario's provincial parks offer some of the province's finest cross-country skiing, with the option to stay overnight in cozy accommodations right in the park.
Looking for even more ways to get active in Ontario this winter? Snow tubing delivers icy hills and thrills, ice climbing just may be the coolest winter sport you haven't tried yet, and nothing compares to dashing along snowy trails in your very own dogsled.
4. Keeping Cozy
Imagine a cozy cabin in the woods blanketed with snow. Add forested trails right out your door and a cheerful fire blazing in the woodstove. You can turn this fairy tale into an idyllic mid-winter escape at dozens of gorgeous lodges and cabins hidden away across Ontario.
For the ultimate winter getaway, snuggle in at a traditional northern lodge. Explore peaceful trails and watch for winter wildlife at Stokely Creek Lodge and Bellevue Valley Lodge in the stunning Algoma Highlands. Snowshoe among the old growth pines of Lake Temagami and wrap up the day with a delicious meal and hot cider at Temagami Shores Inn & Resort. Or enjoy a soak in an outdoor hot tub overlooking the frozen lake at Agnew Lake Lodge before retiring to your toasty cabin.
Alternatively, maximize cabin time and minimize drive time at a delightful log cabin retreat on the edge of Algonquin Park. Get off the grid and immerse yourself in a winter wonderland at the Algonquin Log Cabin with Voyageur Quest.
You can also find cozy cabin rentals at seven Ontario provincial parks. Plan a mid-week cabin-ski-skate getaway at popular Arrowhead Provincial Park, overnight in Killarney Park and climb to breathtaking sunrise views atop The Crack, or experience rustic luxury in the wilderness at Quetico's spacious Log Cabin. Cabins fill quickly, especially in popular southern parks, so book early to avoid disappointment. Also, remember that at Arrowhead and Killarney, you'll need to book your daily vehicle permit in advance online.
5. Maple syrup Festivals 
As winter begins to thaw, the maple syrup begins to run. Ontario is brimming with maple syrup farms which produce some of the world's finest syrup. Chances are, wherever you are in Ontario, there is a sugar bush nearby. 
Visiting a sugar bush and participating in a maple syrup festival are quintessential experiences in Ontario. You'll be able to enjoy all the beauty of winter's scenery combined with warmer temperatures, while sampling pure maple syrup and delicious maple treats. Picture walking through quiet woods blanketed in snow, with the sun's warmth on your face and the smell of woodsmoke in the air. Then take a sip of just-made maple syrup—and you'll understand why this is such an exciting time of year in Ontario! 
Maple Weekend takes place in early April at maple syrup farms across the province. Participating producers invite you to visit their farm and enjoy a range of activities, including tours of their operations, free samples of maple syrup and confections, pancake breakfasts, hikes on trails through their sugar bushes, horse-drawn sleigh rides and more family fun. Visit Maple Hill Farm in Sudbury, Hogan's Homestead in Goulais River, Maple Ridge Farm on Manitoulin Island or Mountain Maple Products on St. Joseph's Island, to name a few participating businesses. 
Can't make it out for Maple Weekend, or simply can't get enough of maple syrup? Many places run maple syrup programming February through April. Blaq Bear Eco Adventures offers a two-hour guided snowshoe hike through the sugar bush at Hogan's Homestead, where you'll learn all about how sap is tapped and turned into maple syrup. 
The Royal Canadian Legion in Richards Landing on St Joseph's Island hosts their annual Maple Syrup Festival the first and second weekend of April. Here you can enjoy a pancake breakfast, including local maple syrup of course, peruse displays from local maple syrup producers, buy wares from art and craft vendors, and enter raffles.
6. Fascinating History
Winter is a great time to discover Ontario's rich history and cultural diversity, whether you choose to explore some of the province's fine museums, take a brisk winter walk through a national historic site, or join a guided cultural experience.
Step back in time to 1816 and learn about the voyageurs and the fur trade at Thunder Bay's Fort William Historical Park, one of the largest living history attractions in North America.
Take a road trip to Sault Ste. Marie, where you can combine a visit to the Sault Ste. Marie Canal National Historic Site, once the world's longest lock, with a hike or snowshoe around Whitefish Island, a former Indigenous settlement, trading post and fishing base dating back 2,000 years.
Nearby, aviation enthusiasts can explore the history and adventure of flight at the family-friendly Canadian Bushplane Heritage Centre, where you can climb aboard the museum's aircraft for a hands-on experience.
Manitoulin Island is steeped in rich cultural history dating back over 10,000 years. There are several First Nations on the island where you can learn about Indigenous culture and experience some of the traditions and teachings of the Anishinaabek people. Take a guided tour of the Ojibwe Cultural Foundation museum, or join them for a traditional snowshoe-making workshop.
7. Amazing Food
When it comes to culinary delights, there is simply no end in Ontario.
Find quintessential Canadian treats like poutine and butter tarts, or discover flavours from around the world like perogies and cabbage rolls, spicy curry and authentic Italian cuisine.
Nothing says winter quite like carb-loading on delicious baked pasta after snowshoeing forest trails. Just be sure to leave room for a decadent hot chocolate topped with whipped cream!
Not sure where to start? Why not join a culinary walking tour in Sault Ste. Marie.
Find inspiration and get planning your own mouthwatering taste trail experience at The Great Taste of Ontario.
Winter is the Best Time to Explore Ontario
Ontario rewards adventurous travellers with incredible natural beauty and endless ways to experience this diverse province for yourself.
It's a rewarding place to visit at any time of the year, but there's something extra special about winter in Ontario.
So leave hibernating to the bears. Bundle up, embrace snow and ice season, and see what you've been missing!