11 Amazing Dog-Friendly Campgrounds in Ontario
You won't have to leave your best friend at home with these inclusive getaways.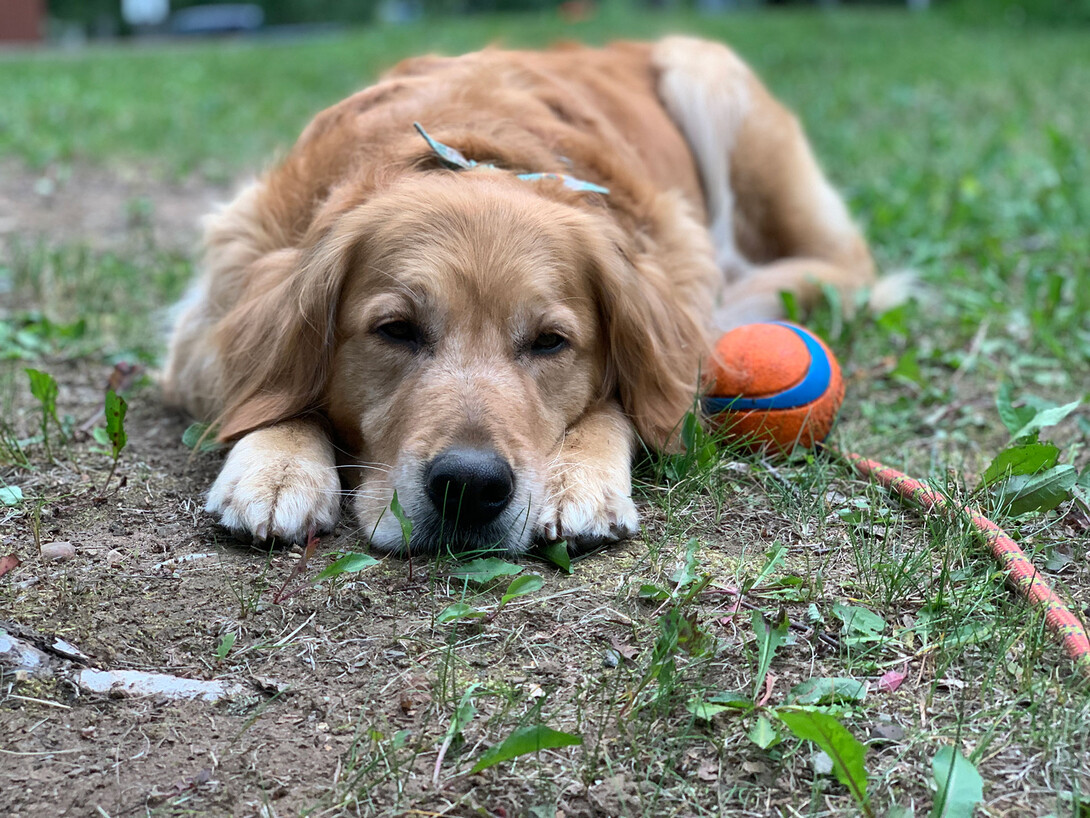 From paddling pups to hiking hounds, Ontario is adventure central for outdoor-loving dogs and their owners. The province's expansive network of dog-friendly parks and campgrounds makes it easy to plan an inclusive getaway for you and your furry companion.
Dogs are welcomed with enthusiastic tail wagging at most of Ontario's campsites and campgrounds, though it's important to be aware of rules and exclusions. There are so many wonderful camping opportunities across the province, it would be impossible to list them all. Instead, we looked for a representative mix of the best dog-friendly campgrounds, focusing on outstanding canine camping in Ontario's north.
The camping season extends from early- to mid-May through late September or mid-October, with peak season being early July through the end of August. Keep in mind that popular campgrounds can fill up quickly, especially during the height of summer. Make reservations well in advance (up to five months ahead at Ontario Parks) to avoid disappointment, or call ahead before packing the kibble and hitting the road.
Thunder Bay KOA Holiday, Shuniah
If it's your first time staying at a KOA campground, this amenity-rich holiday park doesn't disappoint. Situated on 90 picturesque acres, Thunder Bay KOA Holiday offers a mix of shaded sites and sunny lawns for tents and motorhomes, KOA Patio RV sites complete with BBQ and porch swing, and deluxe camper cabins. Pet owners rave about the spacious and clean off-leash dog park.
If you're travelling with kids, there's also a splash pad, two heated outdoor pools, outdoor games and scheduled family activities throughout the season. The convenient location provides easy access to the city and area attractions.
Happy Land Campground, Kakabeka Falls
For visits to the breathtaking 130-foot Kakabeka Falls, this family-run campground makes a convenient basecamp just east of the falls off Trans-Canada Highway 11/17. Happy Land Campground has private, treed sites for both tents and motorhomes, plus all the amenities you need for a comfortable stay including hot showers, laundry facilities, outdoor heated pool and hot tub, playground and pet area.
Dogs are welcome on camping sites and the campground's trail network. Morning woodland walks to the beaver pond are a favourite warm-up for area adventures.
Dawson Trail Campground, Quetico Provincial Park
An iconic destination for wilderness canoe campers, Quetico Provincial Park is equally rewarding for casual campers and canines. Base yourself in a waterfront campsite at the park's Dawson Trail Campground on French Lake and explore 35 km of hiking trails, or rent a standup paddleboard for you and your pup to get on the water.
Wildlife viewing, stargazing, paddling and angling in Quetico are first-rate—as are the perks for dog-campers. Dawson Trail has both a dog beach and a dedicated off-leash trail for energetic frolics in the forest.
Sault Ste. Marie KOA Holiday, Sault Ste. Marie
Dogs receive the royal treatment at the award-winning Sault Ste. Marie KOA Holiday park with a convenient location on the north side of the city. Delighted dogs have the run of two spacious pet parks, a doggy playground, 50 acres of trails through forest and alongside the Root River, as well as a regulation-size dog agility field for trained pups and their owners. After a big day of adventures, you can even tidy up your furry friend at the campground's self-serve dog grooming salon.
Whether you're staying in a tent, RV or pet-friendly camp cabin, you can expect leafy, private sites with plenty of room, fastidiously clean facilities, and loads of family activities—from an outdoor heated pool, playground and bike rentals, to mini golf and lawn games.
Pancake Bay Provincial Park, Batchawana
Imagine a fine white sand beach stretching over 3 km and caressed by the sparklingly clear, aquamarine waters of Lake Superior—that's the heart of the camping experience at Pancake Bay Provincial Park. When summer warms these waters to a brisk bathing temperature, campers can enjoy unsurpassed swimming and body-surfing in the world's largest lake.
Hundreds of campsites boast easy beach access, with sites closer to the park entrance offering better lake vistas and those in the more distant loops providing a quieter forest experience. Campsites and hiking trails are pet-friendly; there's also a lovely off-leash beach area where four-legged friends can fetch, swim and zoom around the sand to their heart's content.
Bruce Mines Campground & RV Park, Bruce Mines
A canopy of stately pine and cedar trees shade the sites at this quiet municipal campground on the waterfront in Bruce Mines. An ideal basecamp for exploring the region, this charming North Channel town is also a convenient place to break up the drive if you're travelling through on Trans-Canada Highway 17. Campsites are reasonably private, the showers are hot, and dogs love the sandy beach and clean lake.
Batman's Cottages & Campground, Sheguiandah
Looking for a pet-friendly campground on Manitoulin Island with great family activities, fun summer camp vibes, and easy access to the island's abundant natural attractions? Occupying a leafy promontory on Sheguiandah Bay, Batman's Cottages & Campground boasts two beach areas with east- and west-facing exposure so you can catch the sun rising over the La Cloche Mountains, then slip into the water for a sunset dip.
Choose from well-shaded forest sites or roomy lakefront sites; the campground also offers a dog swim area and hiking trail to stretch your legs. But the real draw here is the waterfront: swim, sauna, fish, or rent a canoe, kayak or paddleboard to explore the shoreline.
Sturgeon Falls KOA Holiday, Sturgeon Falls
The peaceful Sturgeon River takes centre stage at the quiet Sturgeon Falls KOA Holiday campground. Rent a boat, canoe or kayak to experience world-class fishing on nearby Lake Nipissing, or venture upriver to the friendly community of Sturgeon Falls. There's also a swim dock with waterslide for kids, and a Kamp K9 dog park and pet beach for four-legged friends.
Open, grassy tent and motorhome sites provide superb river views but little in the way of shade. Don't have your own camping equipment, or looking for a bit more comfort? Choose from an array of pet-friendly camp cabins ranging from simple to deluxe.
Kettle Lakes Provincial Park, Connaught
Formed by receding glaciers some 10,000 years ago, there are a total of 22 deep, spring-fed lakes at this pretty park, including one dedicated specifically for dogs. Green Lake features a pet exercise area and a dog beach where sand zoomies aren't just allowed, they're encouraged!
Located 45 minutes east of Timmins, Kettle Lakes Provincial Park is also a great destination for families and anglers. Hiking and biking trails wind through boreal forest to hidden swimming beaches, and you'll find bicycle, canoe, kayak and paddleboard rentals on-site. Many of the lakes are stocked with rainbow and brook trout, and the park has a Tackleshare program that lends out fishing rods and tackle to park visitors, free of charge.
Sun Retreats Georgian Bay, Parry Sound
Situated on 300 wooded acres close to the attractions of Parry Sound and the 30,000 Islands, Sun Retreats Georgian Bay is a quiet enclave of hardwood forest and private, sparkling lakes. For furry friends, there's a spacious off-leash pet area, trail walks and doggy dock diving at the pet beach. A fleet of canoes and kayaks make it easy to explore the three tranquil lakes with your water dog.
Mikisew Provincial Park, South River
This compact park on the shores of Eagle Lake consistently ranks at the top of any shortlist of the best dog-friendly Ontario Parks campgrounds. Canine campers adore Mikisew Provincial Park's dog beach and off-leash exercise complete with fun agility course. You can even rent a paddleboard and go doggy paddling on Eagle Lake.
Mikisew is an ideal destination for campers who enjoy an active outdoor getaway. Explore the easy hiking trails, go for a swim, play a round of disc golf, cast a line, or paddle around the small islands sprinkled just offshore. Two campgrounds offer private, pet-friendly sites in mature maple and open red pine forests.
More Dog Friendly Campsites in Ontario
Fresh air, trails, lakes, forests and campfire cookouts—dogs love camping just as much as we do. Fortunately, it's easy to find pet-friendly camping at Ontario Parks across the province, with some parks offering special pup-approved features such as off-leash swimming and exercise areas.
In addition to those mentioned above, some of our favourite Ontario Parks for camping with dogs include Arrowhead, Restoule, Bon Echo, Killbear, Windy Lake, Chutes, Lake Superior, Neys and Rainbow Falls. Find a complete listing and more details here.
Another reliable option for pet-friendly camping are the 13 KOA Campgrounds scattered across the province. These are an especially fine choice if you're also camping with children, or looking for more accommodation options like camp cabins.