CANADIAN CANOE CULTURE IS EXHILARATING ROUTES
Are you up for the challenge?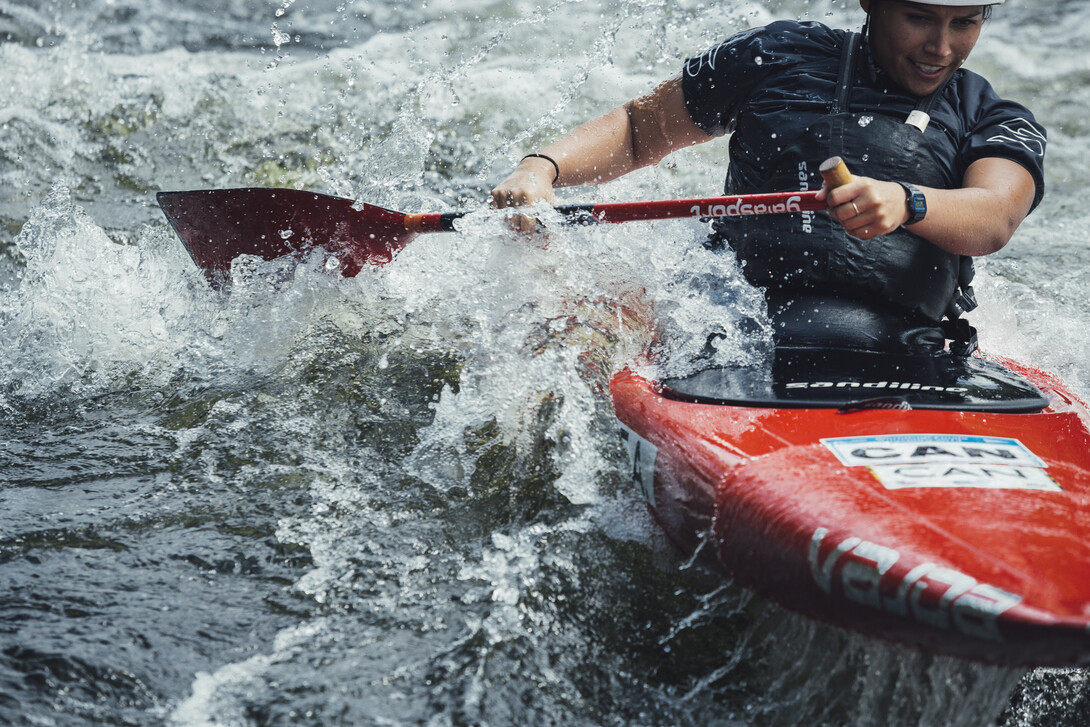 ---

If you're looking for an adrenaline rush, try one of these thrilling whitewater canoeing, kayaking and rafting adventures. Whitewater paddling is an integral part of the Canadian Canoe Culture and is one of the most exciting things you can do in Ontario.
Whether you are a novice or expert, you'll experience excitement on one of the world's best whitewater rivers. The unique geology and its many islands make this river a paddling paradise.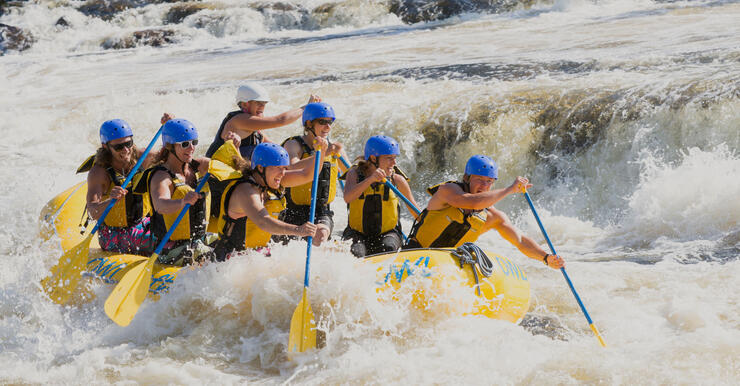 Must Do: A 2-day whitewater rafting adventure at a riverside resort with OWL Rafting, Wilderness Tours or RiverRun Rafting. Challenge yourself with Sport Yaking (guided 2-person Yak), Sport Rafting (guided 7-person raft), Adventure Rafting (guided 12-person raft) or Family Rafting (a guided gentle introduction to rafting).
The Gull, located between Minden and Haliburton, is a short (800 metre) but exciting section of continuous Class II and IV whitewater. It is an amazing all-round whitewater slalom and freestyle park that is perfect for practicing technical river-running skills and playboating. It has been the Canadian stop on the World Cup Slalom tour.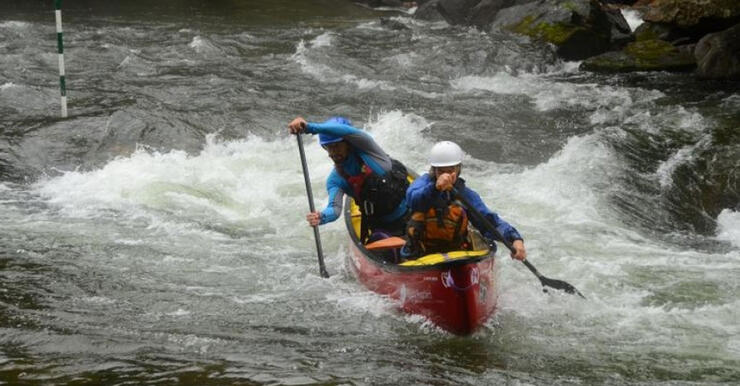 Must Do: Whether you are brand new to paddling or a seasoned veteran, you can learn and improve your canoeing or kayaking skills with AO Boatwerks who offer Whitewater River Adventures - Introduction, Skills Development and Private Lessons. 
This river, with its exceptional Class II and III rapids, is celebrated as one of the best and most accessible places in North America to learn or improve your whitewater paddling skills.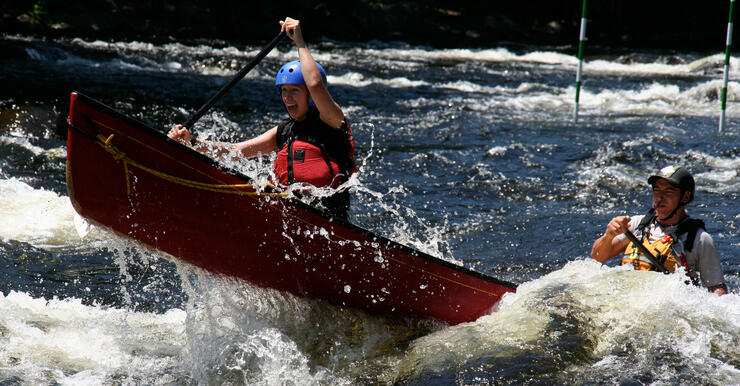 Must Do: Learn from the best – master skills and build confidence on the rough stuff with a course in whitewater canoeing or kayaking at the riverside resort,  Madawaska Kanu Centre run by Claudia Van Wijk (10-time Canadian Whitewater Champion) and her husband Dirk. Wild Women Expeditions have teamed up with MKC to create a women only whitewater paddling learning program. 
Get geared up and plan your self-guided adventure with Algonquin Bound Outfitters.
One of the longest and most famous of the canoe routes in the Hudson Bay watershed, the Missinaibi offers outstanding whitewater and flatwater paddling. It's also in the heart of the Chapleau Crown Game Reserve, the world's largest wildlife preserve.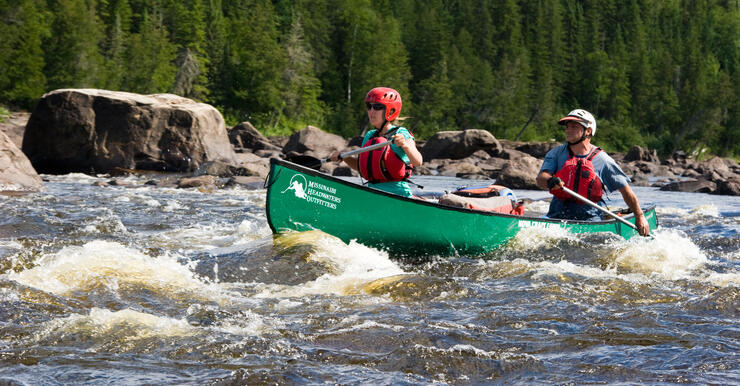 Must Do:  The 17-day lower Missinaibi River trip – from Mattice to Moosonee and the historic Cree settlement of Moose Factory on the James Bay coast or the 350-mile downstream paddle to Hudson's Bay Lowlands. Camp at Thunderhouse Falls. Take a fly-out guided trip with MHO Adventures.
The French, the first designated Canadian Heritage River, was the route paddled by the Indigenous people, French Explorers, fur traders and Voyageurs. The section of river from Pine Cove to the French River Supply Post takes you through the majority of the rapids. The whitewater is pretty low-consequence (depending on water levels), with easy portage trails for going around the rapids if you choose.
Must Do: Black Feather offers 4-day guided adventures for Women Only, Families Only or Friends on the most scenic section of the French. With fun and fairly-easy rapids, there are lots of opportunities to learn and practice whitewater canoeing skills.
Get geared up for your self-guided adventure with French River Adventures or do a multi-day lodge-based adventure at The Lodge At Pine Cove.
Algonquin Provincial Park's Petawawa River is an exciting run of Class I to III rapids. Flowing eastward across the more remote top of the park, the Petawawa combines wilderness with challenging whitewater adventure.
Must Do:  The 4-day guided adventure with Black Feather starts with river running and safety instruction then heads 50 km downstream to McManus Lake, with many rocky rapids enroute. Plan a self-guided or guided trip with Algonquin Bound Outfitters.  
The "Mag" is a less-well known whitewater river as water levels are suitable for paddlers only in the early spring when the melting snow floods the river making for a very challenging route.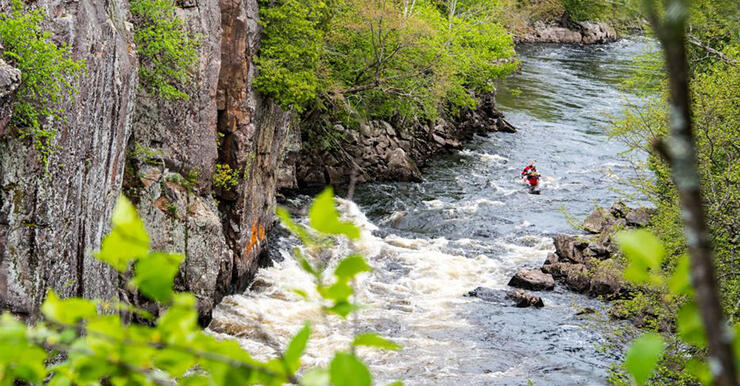 Must Do: Confident intermediate to advanced canoeists looking for some Spring excitement should do the 3-day Black Feather Upper Magnetawan River adventure in mid-May.
LOCATE YOUR EXHILARATING ROUTE 
Zoom in on map to find location details. 

`