CANADIAN CANOE CULTURE IS SERENE ROUTES
Extreme Wilderness, Extreme Beauty, Extreme Solitude.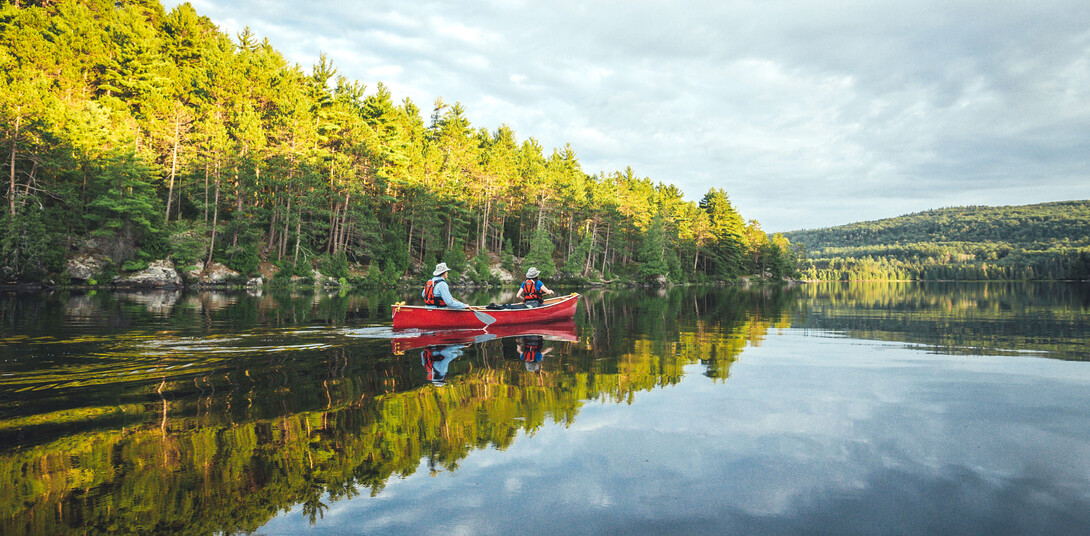 ---
---

Do you want to really get away from it all? Take a fly-in, train-in, or paddle-in backcountry trip or stay at a wilderness lodge. Connect with your family and your friends. Find your serene route.
With rock ridges, cliffs, and majestic old growth pine, Temagami is stunning wilderness territory with a vast system of canoe routes within Ontario Parks. Temagami is also known as Grey Owl Country, after the name taken by early 20th-century English adventurer Archibald Belaney, who came to fulfill his dream of living with Indigenous people, and became a devout conservationist.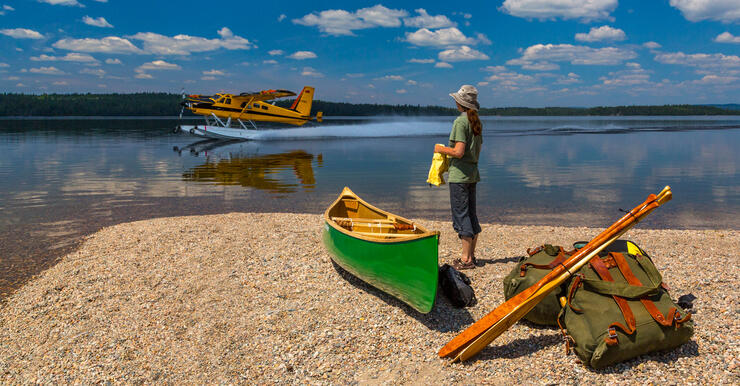 Don't Miss: The powerful energy of the many spiritual sites including Lake Wakimika petroglyphs—figures pecked into, not painted on, the rock. Explore the area with Smoothwater Ecolodge and Outfitters, Temagami Outfitting Co., or Cabin Falls Ecolodge. Fly-in with Lakeland Airways. 
With over 1.2 million acres of Boreal Forest, this park in Northwest Ontario is the epitome of "extreme" wilderness. It's steeped in Indigenous and fur trade history and is home to the elusive woodland caribou. It has excellent canoe fishing adventures and opportunity to see the Aurora Borealis. 
Must do: Paddle the Bloodvein, a stunning, rugged, wild river that is surely one of the top wilderness canoe routes in Ontario. Take a fly-in guided or self-guided canoe trip with Red Lake Outfitters or stay in comfort at the remote Olive Lake Ecolodge. Take a 14 day guided canoeing adventure on the Bloodvein with Black Feather. 
Man meets true wilderness in Wabakimi, which lies due north of Lake Superior. This park is wild, with big lakes and few people, but it's known for its rivers, rich in wildlife. Wabakimi has no roads, but with more than 1,200 miles of water routes, it's a paddler's paradise.
Don't Miss: The countless opportunities for wildlife viewing as well as legendary fishing for walleye and northern pike. Fly into the park, then stay in comfort at a Wilderness North lodge before and after your backcountry trip. Or take a "bush-train" ride into the start of your 6-day Waterfalls and Wilderness Paddling Adventure with Wabakimi Canoe Outfitters & EcoLodge. 
A protected, pristine wilderness park, Quetico is on the Canadian side of Minnesota's Boundary Waters Canoe Area Wilderness. Quetico is renowned for its rugged beauty, towering rock cliffs, majestic waterfalls, virgin pine and spruce forests, picturesque rivers, and 2,000 lakes.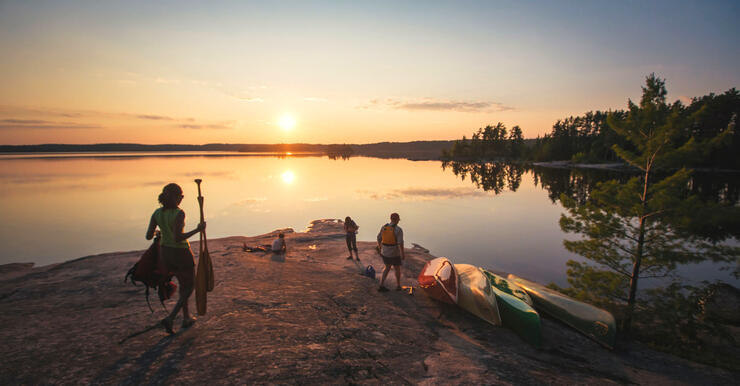 Must Do: Escape to Quetico for a week with Voyageur Wilderness Programme. Stay at Voyageur Island Ecolodge, then paddle into the pristine wilderness. See video. Get fully outfitted for your trip or take a fly-in adventure with Canoe Canada Outfitters. 
One of the longest and most famous of the canoe routes in the Hudson Bay watershed, the Missinaibi offers outstanding whitewater and flatwater paddling. It's also in the heart of the Chapleau Crown Game Reserve, the world's largest wildlife preserve.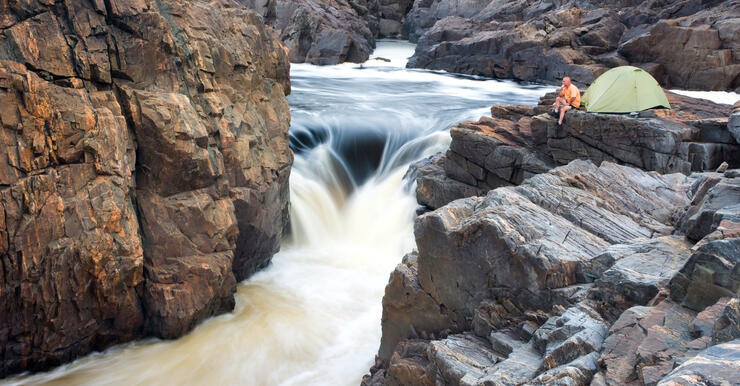 Must Do:  The 350-mile downstream paddle to Hudson's Bay Lowlands. Camp at Thunderhouse Falls. Take a fly-out guided trip with MHO Adventures. Or enjoy a 4 day/3 night introduction to the Missinaibi with Howling Wolf Expeditions. 
Known simply as "The Park," Algonquin is a paradise for nature lovers. Covering 3,500 square miles of maple and pine-clad hills and rocky ridges, and home to an abundance of wildlife, it offers more than 950 miles of canoe routes.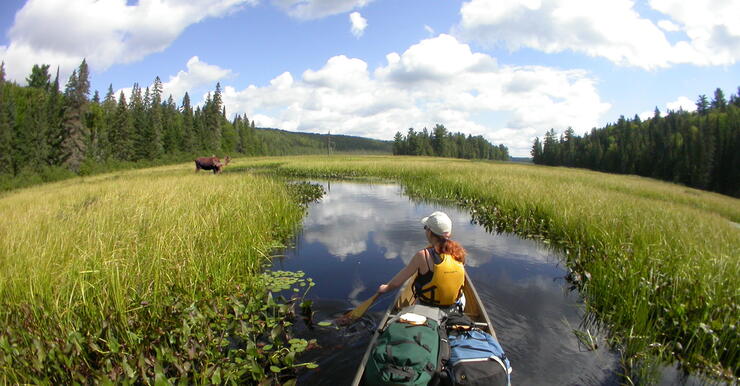 Must Do: It's all about the wildlife in Algonquin, so paddle out into the early morning mist on a moose-spotting safari. Find out more and get fully outfitted from local experts Algonquin Outfitters (Oxtongue Lake, Lake of Two Rivers, Lake Opeongo), Algonquin Bound Outfitters, Voyageur Quest Outfitting, The Portage Store or Algonquin North Outfitters. Enjoy a women-only guided 4 day/3 night adventure with Wild Women Expeditions.  
Or stay in comfort and try a lodge-based paddling adventure. 
A particular Group of Seven favourite, Killarney is one of Ontario Parks' crown jewels. This rugged, majestic, mountainous wilderness of sapphire lakes and jack pine offers incredible canoeing adventures. Its wild Georgian Bay coastline is perfect for kayak touring and camping. 
Must Do: Plan your backcountry canoe trip or kayaking adventure with Killarney Outfitters or Widgawa Outfitters. Women can enjoy a guided 6-day kayaking adventure with Wild Women Expeditions. Stay in comfort at Killarney Mountain Lodge, Sportsman's Inn or at Widgawa Lodge.  
Kayaking on Georgian Bay, a UNESCO World Biosphere Reserve, is spectacular, not least because the eastern shore is dotted with an incredible 30,000 islands. Explore a mosaic of open water, sheltered bays and coastal wetlands. Camp on smooth Canadian Shield rock and enjoy stunning sunrises and sunsets.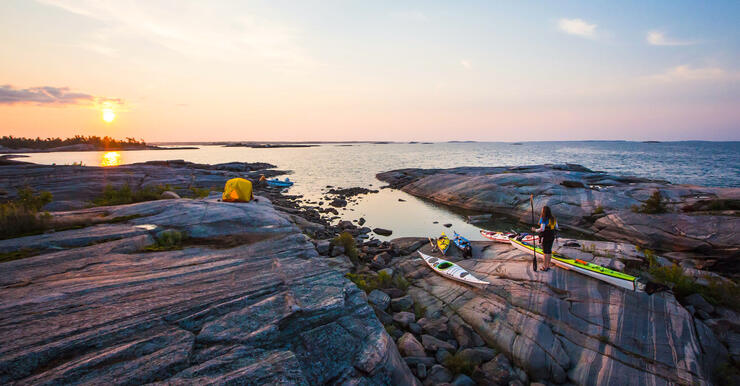 Must Do: Take a trip with a local outfitter. Learn to kayak, enjoy a yoga kayak adventure or embark on a 7-day expedition. Check out White Squall Paddling Centre; Ontario Sea Kayak Centre and Killarney Outfitters. Wild Women Expeditions offer a women only guided kayaking & yoga adventure or a yoga, SUP & swim glamping retreat. 
The world's largest freshwater lake, it's known as "gichigami' or "big water" by the Ojibwe. In 2007, its northwest shore was the first to be designated as a National Marine Conservation Area. Lake Superior's stoney terraces, granite headlands, and deserted stretches of fine brown sand make paddling its coastline a deeply satisfying wilderness experience. Visit Slate Islands to see Woodland Caribou. 
Must Do: A guided 7-day sea kayak or voyageur canoe trip with Naturally Superior Adventures.  Kayak with caribou with Howling Wolf Expeditions or Naturally Superior Adventures or discover Pukaskwa National Park. Explore the pristine shorelines of Lake Superior Provincial Park with Ontario Sea Kayak Centre.  
LOCATE YOUR SERENE ROUTE
`