Fishing For Beginners
Framed by Lake Huron and the mighty Lake Superior, North Central Ontario and Algoma Country offer 28,000 square miles of amazing adventures. Use the contact information provided below to reach out and book your Experience Fishing program vacation today!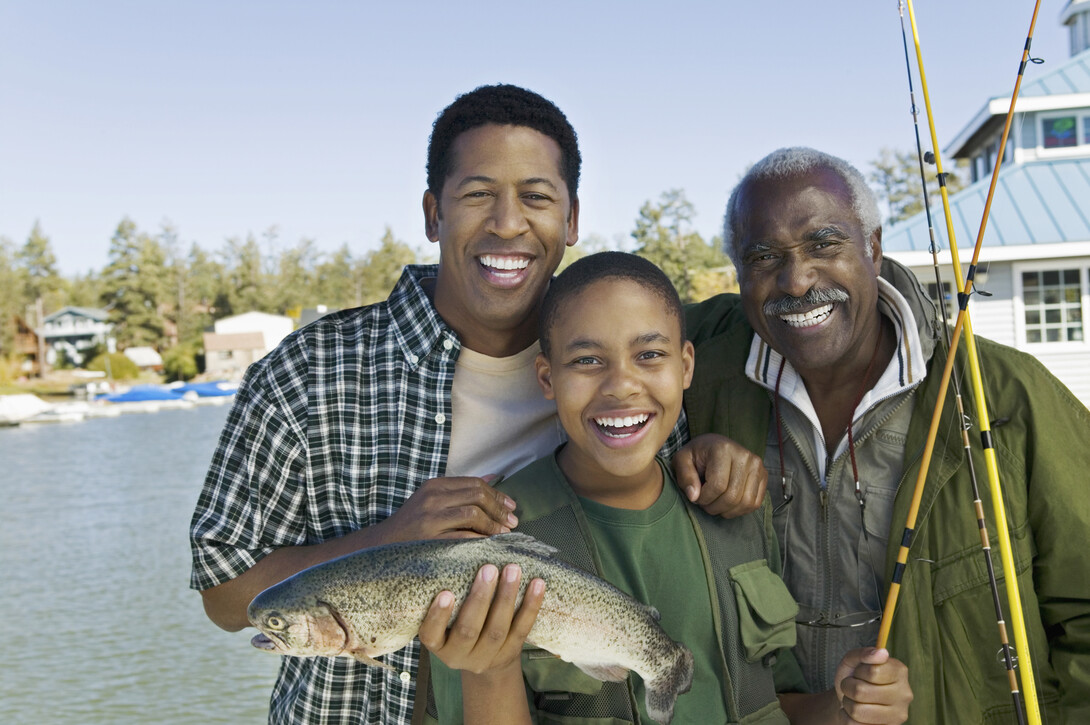 Agich's Kaby Kabins
Address: 2 Roundhouse Road, Hornepayne, ON P0M 1Z0
Phone: 807.228.3942
Email: dsagich@xplornet.com 
Website: www.kabykabins.ca  
A premier outdoor destination offering a wilderness fly-in fishing or hunting experience, Agich's Kaby Kabins is a place to go to experience the rugged and unspoiled beauty of the Canadian North, which becomes permanently etched within the soul.
Air Dale Fishing & Hunting
Address: PO Box 1194, Wawa, ON P0S 1K0
Phone: 705.992.3903
Email: OutpostCamps@me.com 
Website: www.air-dale.com 
This family-oriented destination offers a complete experience with fishing, hunting, enjoying breath-taking views, relaxing in in the beautiful spacious lodge, recreation areas, dining facilities and more or enjoy a true wilderness vacation at one of its seven outpost camps.
Angling Algoma
Phone: 705.943.5286
Email: anglingalgoma@gmail.com
Website: www.anglingalgoma.com
Enjoy the wonders of fishing in waters of Sault Ste. Marie and Algoma on an expertly guided experience with Angling Algoma.
Birchland Cottages
Address: 13775 Hwy 17 East, Thessalon, ON P0R 1L0
Phone Number: 705.842.3356
Website: www.birchlandcottages.com
Birchland Cottages is nestled in a beautiful and peaceful private bay on Clear Lake just west of Iron Bridge, Ontario. Our cottages offer lakefront views with all the comforts of home—each fully furnished cottage includes appliances, running water, electricity, heat, satellite television, and modern bathrooms. Birchland Cottages provides a boat launch along with boat and motor rentals for your fishing or recreational pleasures. We also have canoes, kayaks, BBQs, picnic tables, firewood, ice, and more!
Brennan Harbour Resort
Address: PO Box 389, 308 Brennan Harbour Rd, ON P0P 2A0
Phone Number: 705.844.1136
Email: fishing@brennanharbour.com 
Website: www.brennanharbour.com 
Enjoy a beautiful, Canadian, Northern Ontario getaway at Brennan Harbour Resort, stay within one of their nine cabins, and enjoy the variety of amenities they have available.
Buck Lake Lodges and Outposts
Address: box 577 Hornepayne, ON P0M 1Z0
Phone: 705.534.1992
Email: info@fishbucklake.com
Website: www.fishbucklake.com/
Experience a truly Canadian fly-in fishing trip with Buck Lake Lodges and Outposts. Located in the boreal forests of Northern Ontario, this outpost is the tranquility you've been seeking. Access the pristine lakes that teem with trophy walleye, northern pike and jumbo perch. With 15 cabins on 6 remote lakes, the splendour of this unspoiled wilderness will amaze you.
Garson's Fly-in Outposts
Address: 748A Fourth Line West, Sault Ste. Marie, ON P6A 5K8
Phone: 705.253.4938
Email: Bgarson64@outlook.com
Website: www.flyinfishingoutposts.com
If you've dreamed of a Northern Ontario fly-in fishing trip, dream no more! Garson's Fly-In Outposts offers you two outpost lakes located in the heart of the Nagagami Forest in Northern Ontario. Hop on a Beaver flight to some of Canada's most scenic wilderness and make your first cast into the pristine waters. At the end of your day, sit back, relax, enjoy the sunset and let your cares melt away… contact us today!
Lodge Eighty Eight
Address: PO Box 1380, Sault Ste. Marie, ON P6A 6N2
Phone Number: 705.812.1624 
Email: info@lodgeeightyeight.com
Website: www.lodgeeightyeight.com 
Twenty-seven-mile Esnagi Lake, with fantastic fishing, combined with great accommodations and activities for everyone, makes Lodge Eighty Eight a vacation destination the entire family will love to visit year after year.
Mar Mac Lodge
Address: Mar Mac Lodge P.O. Box 1380 Sault Ste. Marie, ON P6A 5N2
Phone Number: 705.884.2505 (Summer) 705.971.7922 (Winter)
Email: info@marmaclodge.com
Website: www.marmaclodge.com
Nestled on the remote shores of Esnagi Lake, Mar Mac Lodge is your gateway to an unforgettable wilderness adventure.  Unspoiled wilderness, unparalleled beauty, exceptional comfort, world-class fishing and four generations of experience await you.
Ontario North Fishing Adventures
Address: 122 Pine Street, Sault Ste. Marie, ON P6A 3Y4
Telephone: 705.975.0501
Summer Telephone: 705.883.9011
Email: myukich@shaw.ca
Website: www.ontarionorthfishing.com/
Pursue the abundant walleye, northern pike, whitefish, and jumbo perch through fifteen miles of the famous Oba River, and fertile Cameron Lake. Your accommodations are a private six-person cabin with all modern conveniences available to you. Come and experience the best service in Canada featuring professional fishing instructors and guides, top-quality accommodations and equipment, superb shore lunches coupled with fantastic fishing. 
Pine Portage Lodge
Address: 195 Mission Road, PO Box1129, Wawa, ON P0S 1K0
Phone: 705.856.2223
Email: office@pineportage.ca 
Website: www.pineportage.ca
Believing that everyone should have the opportunity to enjoy the wonders of nature, Pine Portage Lodge is a family-friendly, pet-friendly vacation destination to enjoy fly-in fishing or fall hunting on Kabinakagami Lake.
Redwood Sportfishing
Address: 52 Muriel Drive, Sault Ste. Marie, ON P6A 6X4
Phone number: 705.941.8272
Email: redwoodcharters@hotmail.com
Website: https://www.redwoodcharters.net
Located on the beautiful St. Mary's river, Redwood Sportfishing is the perfect spot to catch Atlantic and Pacific salmon as well as brook trout! Climb aboard the Redwood Sportfishing Charterboat to start your fishing experience today!
Snowshoe Camp Resort
Address: Wakomata Lake Road, 9538B Hwy 129, Thessalon, ON P0R 1L0
Phone Number: 705.206.0447
Email: snowshoecamp@lincsat.com
Website: www.snowshoecamp.com
We want you to explore the wilderness with us. Snowshoe Camp Resort is situated on beautiful Wakomata Lake, a clear body of water full of smallmouth bass, lake trout, pike and whitefish that will delight the fishing enthusiasts. We have a sand beach and boat launch right on the property with boat rentals and free use of canoes, kayaks and paddleboats. As our esteemed guests, you are encouraged to make the most of your vacation by checking out some of the many activities available in the area like fishing, hunting, swimming, boating, snowmobiling, ATVing, and hiking.
Tyler Dunn Guiding
Phone: 705.206.0984
Email: tylerdunnguiding@gmail.com
Website: www.tylerdunnguiding.ca
Experience unique adventures and endless fishing opportunities along the shores of Lake Superior as you Explore Algoma and the Salut Ste. Marie area with Tyler Dunn Guiding.
Wallace Timberwolf Lodge LTD.
Address: PO Box 310, Thamesford, ON N0M 2M0
Phone: 519.285.2390
Email: timberwolflodgeinfo@gmail.com 
Website: www.timberwolflodge.net 
Timberwolf Lodge on Nagagami Lake is where you can enjoy trophy fishing, a perfectly maintained lodge, great food, unsurpassed personal customer service and great Northern Ontario hospitality.
Watson's Windy Point Lodge
Address: P.0 Box 1334, Wawa, ON P0S 1K0
Phone: 705.946.4000
Email: windypointlodge@shaw.ca
Website: www.windypointlodge.com
Watson's Windy Point Lodge is your dream outdoor adventure. Relax with friends and family on beautiful Kabinakagami Lake. Enjoy an array of outdoor activities fit for any adventure enthusiast. Equipped with nine waterfront cabins, come for a weekend or stay for a week.