10 Sweet Spots for Ontario Brook Trout
Having the world record on the resume doesn't hurt. Let's go for a little tour of Ontario's world class brookie hotspots.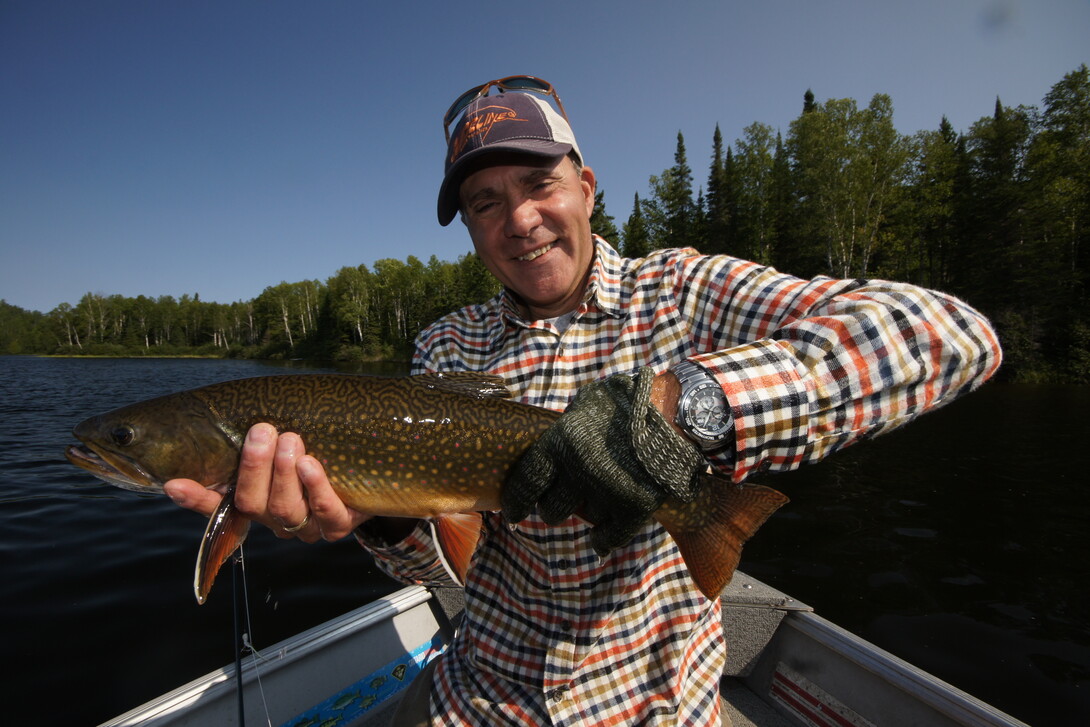 Here are the ten best spots to fish for brook trout in Ontario. 
1. Nipigon System
On July 21, 1915, the world record brook trout was caught in the Nipigon River. Today, people still travel to the region to try and break that record. Lake Nipigon, the headwater of the Nipigon River, remains a remarkably unspoiled place. Some anglers camp and fish around the large islands like Shakespeare and Kelvin. The Nipigon River is broken up by three hydroelectric dams, and each section has brook trout. Below Alexander's dam, the river runs free to Lake Superior. There is much good brook trout water in this section.
2. Lake Superior
Lake Superior has long been a famous destination for brook trout anglers from all over the world. The lake's "coaster brook trout" grow large and provide great sport. Most coaster fishing is centred around Nipigon Bay and the surrounding out islands. Several hotspots east of Nipigon Bay include Terrace Bay, Rossport, Marathon and Pukaskwa Park. West of Nipigon, there are coasters found in Black Bay, Bays End of Thunder Bay, and Pine Bay near the border.
3. The Winisk River
Winisk River is born at Winisk Lake and runs some 700 km north into Hudson Bay. For the trout angler, gorgeous speckled trout up to 6 pounds lurk in the white water rapids found throughout the river. You need a good guide here, but the trip is spectacular.
4. Algonquin Park
Algonquin Park has better than 1,500 lakes and is home to some very famous brook trout water. Lakes in the remote sections of the park are difficult to access so receive little pressure. There are some truly giant brookies available for those who aren't afraid to lug a canoe and swat a few blackflies.
5. Wawa/Lake Superior Provincial Park
So many lakes, so little time. There are literally dozens of stocked and native brook trout lakes throughout this area. Some of the more remote spots provide world-class brook trout opportunities. Again, the deeper you get back into the park, the better the opportunities.
6. Sutton River
The most remote spot on this list, but maybe the only place on earth you can catch dozens of 4-pound brook trout in one day. On a dry fly. A bucket list trip that every trout angler should do. Several outfitters service this area.
7. Thunder Bay district
About 75 stocked lakes, and a dozen or so lakes with natural reproduction, make the Thunder Bay district worth investigating. The easily accessed lakes get worked over but lakes off the beaten path can provide exceptional fishing and true trophies.
8. Longlac/Geraldton /Greenstone area
The Greenstone region has a lot of really great brook trout opportunities in both its lakes and rivers. Anyone who is willing to look over the stocking lists for the Geraldton/Longlac/Nakina area will be richly rewarded. This region has very high-quality lakes, with relatively light angling pressure and the stocked brook trout grow large.  What's even more impressive is the handful of lakes that have naturally reproducing brook trout.
9. The Albany River watershed
One of the largest waterways in Ontario, the Albany flows northeast from Lake St. Joseph before emptying its massive contents into James Bay. The Albany is justifiably legendary for its brook trout fishing, and people have been travelling north to fish its waters for years. Monster fish are not common here, but the potential for a true trophy brook trout is very real.
10. Ignace and Area
One of the more unusual scenarios for trophy brook trout in Ontario can be found in the Ignace area of Northwestern Ontario. A bonus of fishing in the Ignace area is the access to almost all the brook trout lakes is relatively good. Several lakes even have enough of a launch to back a small car topper in on a trailer.