MILES OF BAYS, BASS, AND WALLEYE
Get your fishing fix of smallmouth bass and walleye.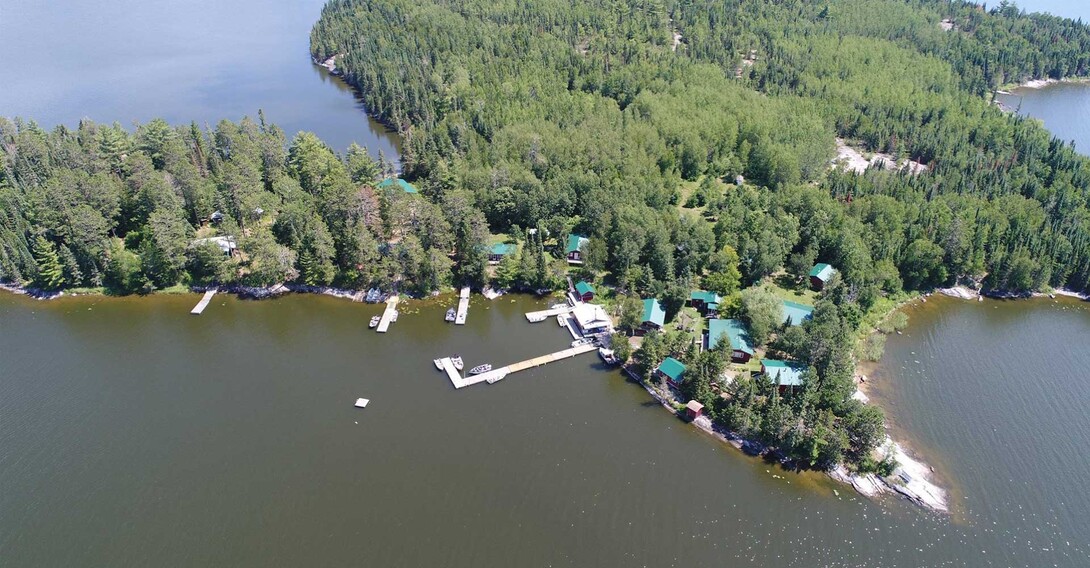 There are still places on earth that look as though they've never been visited by humans. 
No crowds. No lineups. No bumping into people with cell phones stuck to their faces. Just, wide-open wilderness, with forests, natural rock, stone, white sandy beaches, and miles upon miles of natural shorelines lined with thousands of islands—countless locations to wet a line with hardly another human being in sight for days.
Sound interesting?
This was our introduction to Rex Tolton's Miles Bay Camp located on the world-famous Lake of the Woods in Northwest Ontario.
The camp is located on a secluded island in Miles Bay on Lake of the Woods, 13 miles north of Morson, Ontario, and has been family-owned and operated for over 50 years. Everything began with Rex and Agnes Tolton in 1951. The camp was taken over by Larry and Sarah Tolton in 1978 and is now run by their son Matthew Tolton.
They offer you a relaxed and comfortable environment where you can come and go as you please, there are no schedules here! You will find 8 housekeeping cabins, a fish cleaning house, central showers, and a sauna house for your use.
They have fish fries weekly, just bring your own fish to eat (they will cook it up for you) and they supply the rest (homemade buns, potatoes & beans). Trust us, this is delicious.
All cabins come equipped with everything you need such as all dishes and utensils, pots and pans, stovetop coffee percolator, stovetop toaster, dish towels, bath towels, bedding, toilet paper, dish soap, salt and pepper, 5-gallon jugs of drinking water, electric fridge, propane stove, wood stove, deck chairs and BBQ (propane grill). They sell ice, gas, bait, and clothing.
Miles Bay is in the heart of Lake of the Woods, with the camp settled between countless islands so you can always find a safe place to catch fish regardless of the weather.
The fishing in Miles Bay is renowned amongst locals as some of the best on the lake, with walleye, northern pike, bass, muskie and crappie being some of the most sought-after species.
Our visit to Miles Bay Camp started by hooking up with our buddy Mike Gate of Nestor Falls who owns Sunset Cove Resort and with his introduction to Matt Tolton, we planned our trip to Miles Bay Camp. We were excited to get our fishing fix of smallmouth bass and the trophy-sized walleye that call this area of Lake of the Woods home.
Mike and I fished the traditional locations that are literally everywhere on this lake—rocky shallow points, islands, pebble rock and sand shorelines, you name it we fished it with artificial baits that find bass fast with Mike casting spinnerbaits and yours truly a combination of hard-bodied topwater and suspending jerk baits with both of us casting St. Croix rods.
Mike's vast experience on Lake of the Woods paid off quickly with several thick-bodied smallmouth bass in the two to three-pound range pounding our baits on the very first rocky outcropping we fished.
The location is so common on this lake, find a slow tapering rock with basketball-sized boulders, some sand, and a few scattered pencil weeds and you will find smallmouth bass on Lake of the Woods in early summer. Mike and I fished a wide variety of locations on this big lake, with each spot having its own characteristics that made it unique but each spot had one similar feature no matter where we fished, we saw nobody else fishing!
Not a soul.
Understand now what I meant when I said this place was secluded. Virtually unspoiled natural wilderness with hardly a human finger or footprint anywhere. This was classic Miles Bay.
Mike and I continued pounding the bass all morning until he suggested we head back to the camp and invite owner Matt to join us for an afternoon of walleye jigging some of the deeper shoals close to the camp that Matt said were holding some really nice walleye and all within sight of the island and camp.
Priceless.
Mike, Matt, and I left the camp dock and were vertical jigging for walleye within five minutes, and no sooner did Mike drop his jig, he set into a massive twenty-five-plus trophy walleye on the very first drop!
While Matt was netting Mike's fish, I felt that same familiar 'tick' and set the hook into my own giant Miles Bay trophy walleye in the twenty-four-inch class. This incredible madness continued for the next half hour or so until the banter and laughter got the better of us and we decided to keep a few smaller fish for one of the classic fish fries the camp is notorious for.
Will the fishing be this incredible for you in the Miles Bay area of Lake of the Woods? Who knows. It's still fishing, right?  But it came to fruition for us and most likely will for you as well.
Check out the pristine, classic lodge experience at Rex Tolton's Miles Bay Camp for yourself, your family, or with fishing buddies next year and we are sure you will agree, there still are places on planet earth that look as though not another human being has touched it.
Visit http://www.milesbaycamp.com
Call May 15th - October 31st: (807) 488-5800
November 1st - May 15th: (807) 276-0095