14 Best Places for Scuba Diving & Snorkelling in Ontario
From wall dives to wrecks, the Great Lakes are full of surprises.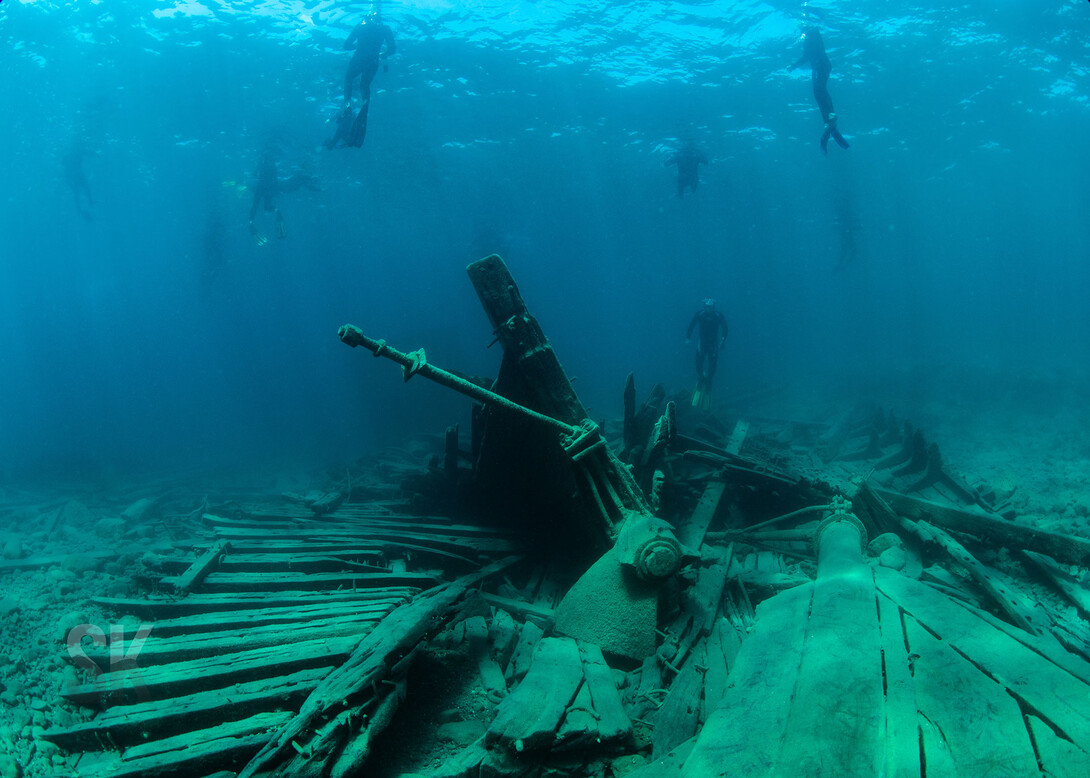 With spectacular water clarity, a relatively long season and shipwrecks aplenty, it's no wonder scuba diving has such a dedicated following of enthusiasts in Ontario. One of the enduring appeals of scuba diving anywhere is the ability to explore a vast, silent realm filled with unfamiliar sights and surprises. Scuba diving and snorkelling in Ontario is full of surprises: from incredible wall dives and verdant wetlands to amazing blue waters with more than 30 m of visibility. Wreck dives in the Great Lakes and St. Lawrence River are among the best places to scuba dive in Ontario, offering a fascinating glimpse into Canada's storied shipping history.
If you've never donned a tank and fins before, you'll need to learn how to dive with a certified scuba instructor. Fortunately, there are a wealth of renowned dive schools across Ontario that can help you get beneath the waves safely. Ontario scuba dive schools are registered with the Professional Association of Diving Instructors (PADI), Scuba Schools International (SSI) or Scuba Diving International (SDI/TDI); these are all globally recognized diver training organizations with thorough courses that cover the basics in the safety of a swimming pool, before progressing to open waters. If you're already an avid diver, Ontario scuba dive shops are a great resource for discovering new dives and connecting with other divers.
Wondering where to scuba dive in Ontario? This article highlights some of the best places to scuba dive in Ontario's Great Lakes, with a focus on Northern Ontario dive sites that exemplify the crystalline water and spellbinding shipwrecks for which the province is known. We've also included some of the best places to snorkel in Ontario. Becoming a proficient diver is an equipment- and training-intensive process; for those looking for an easy and low-cost alternative, snorkelling is a wonderful way to experience Ontario's underwater beauty. Whether you choose to dive or snorkel, remember: always tell someone where you are going and when you will return, and never dive or snorkel alone.
From beginner to advanced deep-water, you'll love the unique snorkel and scuba dive experiences in Ontario.
Thunder Bay
Lake Superior is widely regarded as one of the best scuba diving destinations in the world. Dip beneath the surface of the largest and clearest of the Great Lakes to explore a magical realm of shipwrecks, geological wonders and northern freshwater marine life. The only catch: Superior's rugged shore and deep, frigid waters can make accessing dives a challenge.
"The best sites are old abandoned towns, fishing villages and, of course, wrecks," says Wally Peterson, owner and international training director at Thunder Country Diving. "None of which are easy, drive-up shore dives." For Thunder Bay divers, increasing shore access is still a work in progress. But here are a few suggestions from the man with over 40 years of local diving experience.
Welcome Islands
Situated 10 km offshore from the City of Thunder Bay, this cluster of four small, rugged islands is home to a historic lighthouse that has guided more than a century of mariners toward safe harbour. With land so tantalizingly close, a number of shipwrecks surrounding the islands provide testament to the vessels that never made it to shore. Novice divers can tour the wreck of the Robert L. Freyer, a wooden steamer which breaks the surface and slopes to a depth of 10 m. The archipelago is also home to some unique bird species—catch sight of a scoop of snowy-white pelicans roosting on the tiny southernmost islands. Access is by boat charter from the Thunder Bay harbour.
Porphyry Island
Departing from Thunder Bay or Silver Islet, charters to Porphyry Island enjoy breathtaking views of the legendary Sleeping Giant across the bay. This formation of 300-m-high volcanic rock mesas rises from the Sibley Peninsula, bearing an uncanny resemblance to a giant, stone figure lying on his back. Anchoring the western end of the vast Lake Superior National Marine Conservation Area, Porphyry Island offers a variety of fascinating wrecks to explore, gorgeous underwater geology, and a painstakingly restored historic light station complete with lighthouse accommodations, camping, black sand beaches and a lakeside sauna.
Tips for visiting Thunder Bay and the surrounding area:
Nipigon
For Lake Superior wreck diving, you won't find a more knowledgeable historian and dive master than Captain Richard Harvey. Chair of the Superior chapter of Save Ontario Shipwrecks and owner of By the Bay Adventures in the north shore town of Nipigon, Harvey runs charters to iconic shipwrecks across the Canadian shore of Lake Superior. Popular sites include recreational dives on a Whaleback Barge and the wreck of the Mary E. McLachlan, as well as advanced technical dives on the spectacular Gunilda and Judge Hart wrecks.
Whaleback Barge 115
Whaleback Barge 115 provides a great opportunity for intermediate divers to experience a novel piece of maritime history. Launched in 1891, Barge 115 was one of a series of uniquely built vessels that plied the waters of Lake Superior and beyond. Barge 115 has the distinction of being the last Great Lakes shipwreck of the 1800s; after drifting helplessly in a winter blizzard for five days, it washed ashore on remote Pic Island in December 1899. The story is a dramatic tale of survival, as the crew fashioned a raft from an abandoned cabin and managed to drift to the mainland, where they trekked overland through deep bush for two days to reach the railway town of Middleton.
One of the distinctive characteristics of the Whaleback design is its turret, which is still intact. Dive depth ranges from 12- to 27 m. The site is fairly remote and access is by boat, from a launch at Neys Provincial Park, two hours east of Nipigon. Camping is available at Neys, where you can also learn about the history of this former World War II prisoner-of-war camp and hike to views that inspired some of Canada's greatest landscape painters.
Mary E. McLachlan Wreck
It's easy to see why the Mary E. McLachlan is such a popular recreational wreck dive. Sitting upright in 12 m of bright and clear water, the ship's decks are just 5 m below the surface, making this a very accessible site for divers of all skill levels. At a length of 75 m, this was the largest four-masted schooner to sail the Great Lakes. The ship swamped in a treacherous November gale in 1921 and sank in Mountain Bay near the mouth of the Gravel River. Nearby, a wreck of a different sort—a derailed Canadian Pacific train—makes for an equally fascinating novice dive off Cavers Point. Divers looking to stay in the area will find motel-style rooms and a restaurant at the nearby Gravel River Resort.
Rappahannock Wreck
One of the last wooden, steam-powered freighters operating on the Great Lakes, the Rappahannock was lost during a freak July 1911 gale. This is a beautiful yet rarely dived wreck resting in 24- to 28 m of water in Jackfish Bay. Descending the mooring line, divers begin at the bow decks with plenty of opportunity to explore below deck and around the massive bow. Following the hull towards the stern, covered walkways and windows lead into the interior. Although it is possible to access the wreck site from Jackfish Lake using a small inflatable, charters typically depart from Terrace Bay, passing the historic ghost town of Jackfish en route.
Wreck of the Gunilda
Called "the most beautiful shipwreck in the world" by the 1980 Cousteau Expedition, a descent to the luxury steam yacht Gunilda is considered by many technical divers to be the pinnacle of their diving careers. After more than a century beneath the waves, the entire superstructure remains intact and perfectly preserved by Lake Superior's frigid waters—from the gold-covered bowsprit glittering in the dive lights, to the binnacle housing the ship's compass. Looking inside, divers can see ornate furniture and a grand piano in the salon, as well as personal items still in place.
The Gunilda sits upright at a depth of 85 m, making this an advanced dive requiring trimix and a great deal of planning. For those with the skills to make this dream dive a reality, the reward is one of the most captivating freshwater wrecks in the world. The site can be accessed from the sleepy village of Rossport, which is a beautiful spot to visit in its own right. Stay at the Serendipity Gardens Guesthouse whose beautifully crafted suites evoke the lines of a fine wooden ship. The same owners run a nearby café offering fine dining with lovely Rossport Harbour views.
Tips for visiting Nipigon and the surrounding area:
Sault Ste. Marie
Scores of shipwrecks, sunken airplanes and spectacular underwater rock formations—scuba diving in the clear waters around the city of Sault Ste. Marie is hugely rewarding, with a variety of easily accessible shore dives. The "Soo" is also home to an active and welcoming scuba diving community; join their Facebook group to tap into a wealth of local expertise and shipwreck lore. Longtime local diver and recently retired owner of the Sault Scuba Centre, Colleen Bennett, shares her recommendations for first-time visitors.
Gros Cap
Start your underwater explorations at Gros Cap, a rugged headland of scenic rocky sea cliffs and inviting waters just north of the city. A small beach entry provides easy access for snorkellers and divers, with sights including an old set of lock gates in 6 m of water.
St. Marys River
For a little more of a challenge, try the upper St. Marys River, which flows out of Lake Superior through a series of dramatic rapids and historic locks before sliding more sedately along the city's waterfront. There's lots to see in the waters just off Pointe aux Pins. This interesting shore dive visits a well-preserved, late 1800s wooden-hulled sailing vessel followed by a drift to a fish-filled Beechcraft airplane overturned on the sandy river bottom.
Mamainse Harbour
North of the Soo, Highway 17 is a beautiful coastal drive with countless pull-offs beckoning divers into the crystalline waters of Lake Superior. A local favourite is Mamainse Harbour, where the rugged landscape hints at the treasures awaiting beneath the surface. Lake Superior's 30-m visibility reveals stunning underwater canyons with veins of copper and brilliant seams of quartz. Watch for boat traffic from nearby Ferroclad Fishery at this dive site.
Tips for visiting Sault Ste. Marie:
Tobermory
Surrounded by the glittering expanse of Lake Huron, the spectacular Bruce Peninsula is a mecca for scuba diving and snorkelling in Ontario. All along the peninsula, towering limestone cliffs plunge beneath the waves, creating a radiant underwater world of white stone and transparently clear turquoise water. But it's at the tip of the Bruce Peninsula, in the quaint harbour village of Tobermory, where Ontario's cold water scuba diving and snorkelling reach their pinnacle.
Famous as the "Graveyard of the Great Lakes", Tobermory is guarded by a gauntlet of rugged islands, treacherous shoals and unpredictable weather that have claimed dozens of ships over the past two centuries. Today, the area's unparalleled wreck diving and snorkelling make Tobermory one of the world's best places for exploring these watery time capsules.
Fathom Five National Marine Park
Tobermory is the gateway to the Fathom Five National Marine Park, a National Marine Conservation Area covering an expanse of more than 200 square km of surface water sprinkled with cedar-crowned islands, natural flowerpot rock formations and picture-perfect 19th-century lighthouses. Everyone, from the novice snorkeller to the most advanced diving enthusiast, can find lots to explore and enjoy within the park. Below the water, Fathom Five protects 24 well-preserved barges, schooners and steamers—with many of these vessels dating back to the mid-1800s. Shipwreck diving depths range between as shallow as 3 m to as deep as 45 m; a handful are accessible from shore, while many others are only reachable by boat charter.
Big Tub Harbour
A peaceful inlet of crystal-clear water easily accessed from the Tobermory waterfront, Big Tub Harbour is considered the best snorkelling in Ontario for checking out shipwrecks. Largely intact and resting in just 7 m of water, the Sweepstakes is a twin-masted schooner that hit a rock off Cove Island in September 1885 and was towed to the harbour before it sank. A short swim away, the City of Grand Rapids passenger steamer burned and sank in 5 m of water in 1907. All divers and vessels must register prior to entering this area; contact the national park for the most up-to-date information. Nearby, Big Tub Lighthouse Point offers an interesting wall dive along a submergence of the Niagara Escarpment to depths of 23 m; watch for numerous crayfish in the rock crevices.
W.L. Wetmore Wreck
Snorkelling Tobermory Ontario doesn't get much better than this haunting wreck dive in Devil Island Channel on the west side of Russel Island. The Wetmore wrecked during a November 1901 blizzard, when heavy seas forced the steamer onto the rocky shallows of Russel Reef. Today, it lies in 7 m of cold, clear blue water accessible by charter boat from Tobermory. Snorkellers and divers can see the sunken steamer's impressive boiler, propeller, anchor and massive oak rudder lying on the reef bottom.
Arabia Wreck
Known as the "Jewel of Tobermory," the Arabia is hailed by many divers as the best schooner wreck in Ontario. Sunk near Echo Island on a stormy day in 1884, the wreck is one of the furthest flung and most advanced Tobermory area dives. Its 32-m depth along with the cold water temperatures and strong currents make this wreck suited only to very experienced divers. The bow section—with its striking jib-boom and windlass, bilge pump and three anchors—is particularly impressive, and the ship's wheel is a favourite photo op.
The Grotto
The stunning natural sea caves at the Grotto are well known to hikers and campers in Bruce Peninsula National Park, but they are even more spectacular seen from underwater. On a bright summer day, shafts of iridescent sunlight pierce the caverns and submerged passages leading from inside the Grotto to the open waters of Georgian Bay, creating an otherworldly effect. The caves are located 19 km east of Tobermory; the entrance is at a depth of 6 metres. Snorkelers can access the Grotto from the park's Cyprus Lake trailhead, while scuba divers will need to get there via boat charter from Tobermory.
Tips for visiting Tobermory: