10 Incredible Experiences to Have in Lake Superior Provincial Park
Plan an outdoor adventure vacation to this expansive & beautiful park.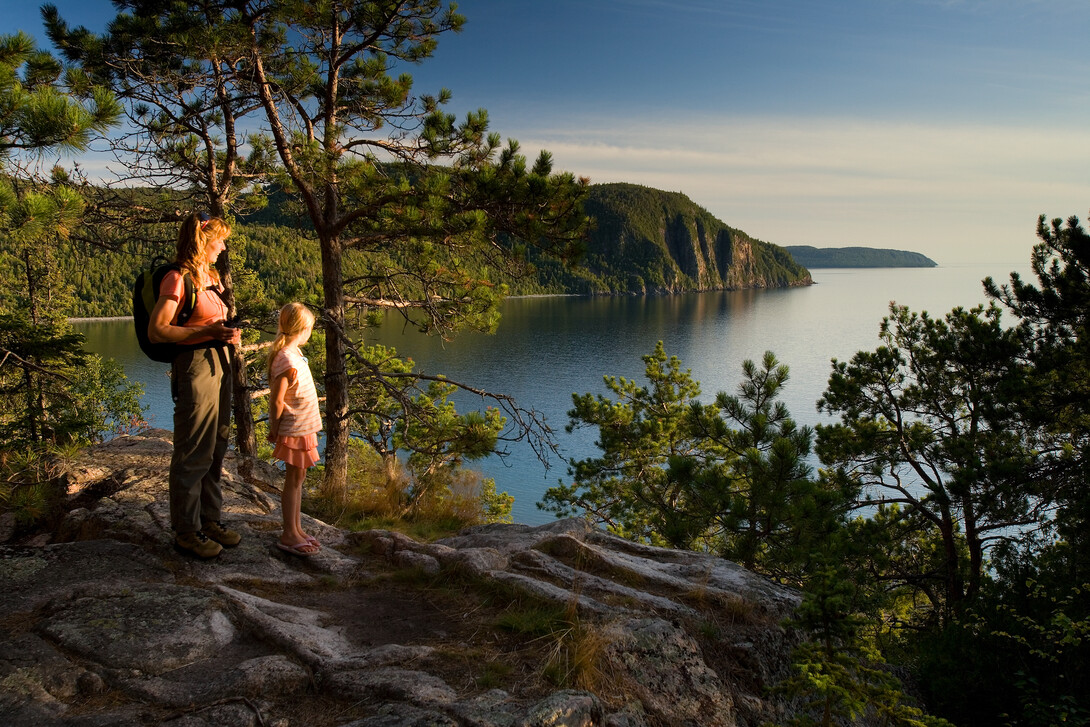 The stretch of Trans-Canada-Highway that passes through Lake Superior Provincial Park is arguably one of the most scenic drives in the entire country. Drivers see the expanse of the largest great lake as the road twists, turns, climbs and descends atop ancient granite. On the inland side, picturesque lakes and rivers interrupt stretches of dense forest.
For many of these travellers, the park is a stretch of road along the way to another destination—but they are missing out. The natural beauty of Lake Superior and the surrounding landscape captivates visitors, and those who fall in love with the park keep coming back year after year.
Where is Lake Superior Provincial Park? The massive park's boundaries extend from the Montreal River, 120 kilometres north of Sault Ste. Marie, to Smokey Point, approximately 15 kilometres from Wawa. Lake Superior Provincial Park encompasses land on both sides of the Trans-Canada Highway, as it was established in 1944, before the highway's completion in 1960. It offers two serviced campgrounds, 11 hiking trails, and numerous inland lakes to explore. Lake Superior looms intermittently, visible from peaks along the trails. When on the lake itself, paddling on Lake Superior can be a magical experience as ocean-like swells move under your boat and reflect off rocky headlands or foam into cobble beaches.
Things to do at Lake Superior Park include hiking, fishing, visiting waterfalls, or viewing incredible pictographs. Stay at either of the campgrounds or pitch a tent in the backcountry under the Milky Way, maybe even glimpsing the northern lights' glow.
Lake Superior Provincial Park marks a transition between biozones. Large sugar maples and beech trees gradually give way to the twisting white cedars and spindly black spruce typical of the boreal forest. In the park, it's not uncommon to see moose, black bears, beavers, otters, or other mammals. Visitors looking for birds will find bald eagles, grouse, and many waterfowl or warbler species. 
Deciding what to do at Lake Superior Park when you visit? Check out some of the great options below.
Go for a Hike
In Lake Superior Provincial Park, hiking trails range from short beach walks to multi-day adventures. There are 11 different trails, including the 56-kilometre Coastal Hiking Trail - more on that below.
The Nokomis trail is a must for any visitor to Lake Superior Provincial Park. It's a five-kilometre, hour-and-a-half climb with views overlooking Superior and the cliffs of Old Woman Bay. Along the way, you travel along an ancient riverbed, through cedar groves and along a ridge above the winding Old Woman River.
If you're only planning on hiking one trail, the Orphan Lake hiking trail is a great sampler of the park's natural beauty. Beginning in a spacious hardwood forest, this moderate eight-kilometre hike takes you alongside a quiet lake, under towering cliffs and to the base of a small waterfall. Before looping back, you'll have a chance to dip your toes into Lake Superior on the cobble beach at the mouth of the Baldhead River.
You'll pass some incredible scenery on your drive up to Lake Superior Provincial Park. Forest the Canoe and Thrive Tours both offer guided hiking experiences in the area between Sault Ste. Marie and the park.
Go Fishing
Fishing opportunities exist in every season in Lake Superior Provincial Park. Steelhead—a type of rainbow trout which lives in Lake Superior but returns to rivers annually—begin spawning in late April and early May. Anglers line the Sand, Agawa, and Old Woman River for a chance to land these hard-fighting fish.
In the summer, inland lakes like Mijinemungshing are popular spots for catching lake and brook trout. Roadside lakes like Red Rock Lake or Rabbit Blanket Lake are stocked with splake, a hybrid brook-lake trout. If you're comfortable in a canoe, secluded fishing is really just one portage away on any of the inland lakes. Lake Superior's coast can be trolled in a fishing kayak on calm days. Fishing with a local guide like Tyler Dunn will get you into the best spots and onto a beautiful fish.
Motorized boats are not permitted on the park's inland lakes, but salmon and lake trout fishing on Lake Superior is extremely popular in August and September. Go out for a day or half-day with Superior North Charter Services, and catch big fish with the rugged coastline as a backdrop.
There are some easily accessible ice fishing spots in the park in the winter for catching trout, all along the highway.
Stock up on tackle and pick up some local information at Superior Coast Outfitters in Wawa. Young's General Store in Wawa also sells any gear you might need.
Visit Waterfalls
You can't miss Lake Superior Provincial Park's waterfalls—you'll drive right past some like the Sand River Falls. Park on the north side of the river and it's a short walk to the rushing water. For a longer experience, continue walking up the six-kilometre Pinguisibi Trail.
Other falls take a bit more work to reach but are well worth it. Agawa Falls is a day-long or overnight hike along the 24-kilometre (round trip) Towab Trail, one of the tougher trails in the park.
The tallest waterfall in the park is Till Creek Falls, which is only accessible by water. It's located on a cobble beach that is great for camping. This can be part of a stop on a longer paddling trip or a short out-and-back from Old Woman Bay.
Go Backpacking
Go deeper and experience Lake Superior Provincial Park's backpacking route. The 56-kilometre Coastal Trail is one of Ontario's most challenging multi-day hikes. The trail clings to Superior's rugged shoreline; you'll scramble over boulders, dance across cobble, and peer over cliffs jutting straight out of the lake. The backcountry sites along the way are all adjacent to the lake, perfect for watching sunsets. It's best to hike the entire trail from Agawa to Gargantua in four days or longer. The multiple access points along the trail mean that it can be divided into shorter hikes. Check out a full guide to hiking the Coastal Trail in Lake Superior Provincial Park to learn more.
Lake Superior Provincial Park Camping
Camping at Lake Superior Provincial Park looks different for everyone. There are two campgrounds: Agawa in the south and Rabbit Blanket in the north. On the coast, there are backcountry camping options along the Lake Superior Coastal Trail and interior backcountry sites on the lakes like Mijinemungshing or Gamitigama.
Like all Ontario Parks, Lake Superior Provincial Park camping sites must be booked in advance, either online or by phone. It's possible to purchase a permit for interior sites at any of the park offices, but there is no guarantee that they will be available, especially in the busy summer season.
Backcountry sites are booked by zone and activity type (hiking or paddling). Your booking is valid for that zone which often has multiple campsites in it. The sites within the zone are first-come-first-serve. 
The Agawa campground is right on Lake Superior, adjacent to a long beach that's a mix of pebble and sand. There are 147 sites at Agawa, with 38 electrical sites. The immersive Visitor Centre is on-site, with weekly program opportunities. The Lake Superior Coastal Hiking Trail begins here, with easily accessible sections just a short drive away.
Rabbit Blanket Lake is a quiet inland campground just 25 minutes from Wawa. Here, you'll find 60 campsites, with 20 of them having electrical hookups. The 10-kilometre Peat Mountain hiking trail begins here, or if you'd like to travel by water, you can paddle from Rabbit Blanket Lake to Surf Lake for some great brook trout fishing. The scenic Nokomis hiking trail is a short drive away, overlooking Old Woman Bay. The Fenton-Treeby Lake system is also nearby for more angling and canoeing opportunities.
Go canoeing
While it doesn't have the same name recognition as Algonquin, Quetico or Killarney, the canoe routes in Lake Superior Park are worth the drive. Beginner canoeists can enjoy the quiet inland routes at either end of the park: Crescent Lake to the south and Fenton-Treeby in the north end. Both lakes are suitable for day trips or short overnight trips.
Those keen for a longer trip can start on Mijinemungshing or Gamitigama lakes and travel into the beautiful Old Woman Lake. Experienced canoeists can use either as a staging point to paddle down the Sand River. There are some gruelling but rewarding portages from Gamitigama into Old Woman Lake. Detailed route maps and descriptions are available through the Park, online and at the visitor centre. 
On the right day, experienced canoeists can also paddle out on Lake Superior. It's a fantastic experience but only possible in ideal conditions; Lake Superior is cold even on warm summer days, so appropriate paddling clothing is necessary. The wind and waves can change rapidly, so proper preparation is essential. A sea kayak is more suitable for long trips on the Lake Superior coast.
Canoe rentals are available at the Agawa and Rabbit Blanket Lake campgrounds. Canoe rentals are available at Naturally Superior Adventures in Wawa, Forest the Canoe in Goulais River, or Great Lakes Outfitters near Sault Ste. Marie.
Go kayaking
Frequent roadside access points provide tons of options for kayaking in Lake Superior Provincial Park, it's truly a kayaker's paradise. You can launch straight from the Agawa campground or drive north to the white sand beach of Katherine Cove. Sinclair Cove's boat launch is a quick paddle to the Agawa pictographs, if wind and weather allow.
Gargantua Harbour is a relatively sheltered spot at the north end of the park to launch a kayak. You'll need a vehicle that can handle 11 kilometres of rough gravel road (22 kilometres, if you want to drive home). At the west end of the harbour, "The Columbus" is a 130-foot shipwreck which rests a few feet below the water. On a calm day, you can see the wreck beneath you in Superior's clear water.
If you've got the time and gear, kayak the entire length of Lake Superior Provincial Park's coastline, from Agawa to the Michipicoten River outside Wawa. This trip is roughly 85 kilometres, and is best paddled in at least five or six days, allowing for the weather (winds tend to be stronger in August). If you'd like, take this trip as part of a guided group with Naturally Superior Adventures.
The area is recognized as a Dark Sky Preserve by the Astronomical Society of Canada. Lake Superior's low horizon creates a wide frame to see the cosmos through, and on calm nights, the stars and moon will reflect on the water. It's one of the darkest Provincial Parks, especially in the secluded backcountry locations like Gargantua Harbour.
The darkness and distance north makes Lake Superior Provincial Park a northern lights hotspot. As the summer ends, the days get shorter, increasing the likelihood of seeing the aurora borealis. The best time to see them is often winter with its longer nights, but temperatures plummet, and the park isn't as accessible. There are plenty of chances to see the northern lights in late summer and fall while the park campgrounds are still open.
View Pictographs
The Lake Superior Provincial Park pictographs are on Agawa Rock, a brief drive from the Agawa campground. It's a short 500-metre hike from the parking lot to the pictographs, and well worth it. This site contains some of the province's most accessible Indigenous rock art. Anishinaabe artists made the art with a mixture of red ochre, dating to at least the 17th century. When Lake Superior is calm, you can walk along the rock ledge and see the art - but use caution if there are wind or waves. The pictographs depict a war expedition, with familiar images of canoes and animals. One of the most noticeable pieces is Mishipeshu, the great-horned lynx of lore who lives in the depths of Lake Superior and can stir up storms with a flick of its tail.
The site is culturally important to the Anishinaabe people, so please be respectful when visiting the pictographs.
See Wildlife
In Lake Superior Provincial Park, wildlife encounters are frequent. Visitors regularly see larger mammals like moose and black bears. Keep an eye out while driving along the highway, especially in the mornings and evenings. The Agawa Visitor Centre keeps a list of recent wildlife sightings from the park, and staff may be able to give more information on areas where bears were seen. When hiking or camping in bear country like Lake Superior Provincial Park, it's important to take appropriate precautions - don't hike with headphones on and store food properly at camp.
If you know where to look, you'll find wildlife throughout the park. More than 150 species of birds have been recorded in park boundaries. Sleeping near any body of water, you're likely to hear loons calling back and forth. Bald eagles often soar overhead or congregate at river mouths, and the hiking trails fill with the sounds of warblers and vireos. Otters make their home on Lake Superior's shores, and the massive beaver lodges on inland lakes are hard to miss.