Find Magic At These 15 Skating Trails & Outdoor Rinks In Ontario
Find serenity skating through snowy forests and fun playing shinny on wide-open lakes.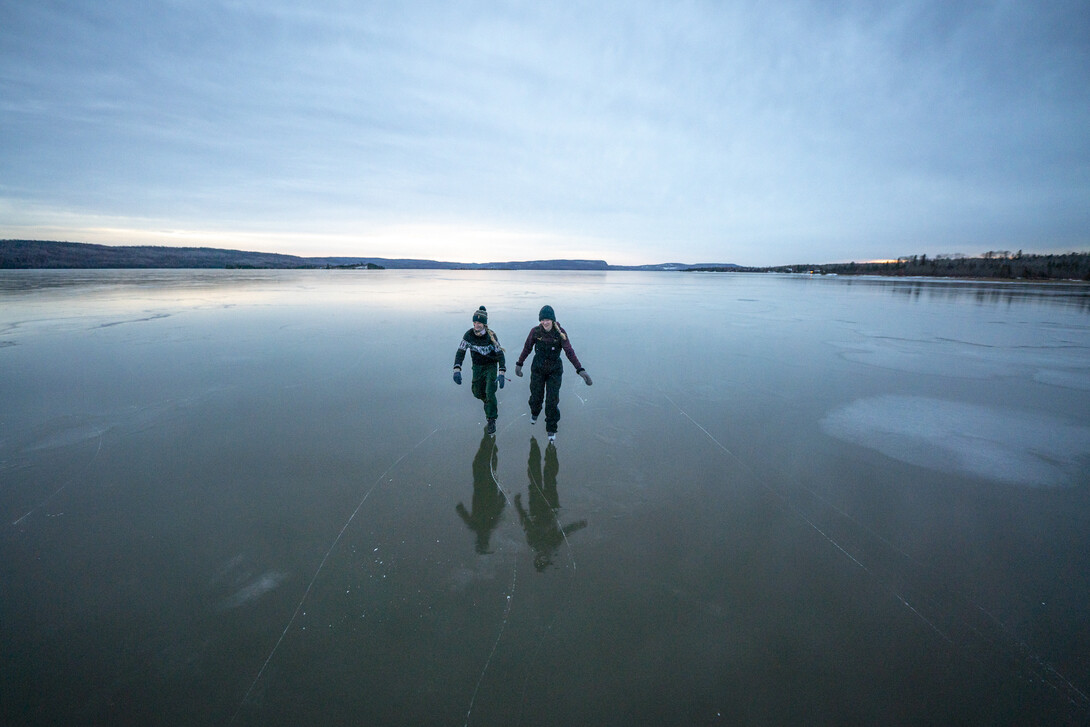 It's no surprise why so many great skaters—from Olympic figure skaters to NHL all stars—come from Ontario. This is a province that truly loves winter! Northern Ontario in particular swings well above its weight, with legendary ice athletes ascending to stardom from all corners of the map.
Assembling a list of the best outdoor skating rinks, skating trails and outdoor hockey rinks in Ontario is a challenging task. The City of Greater Sudbury (birthplace of Olympian Meagan Duhamel and NHLer Mike Foligno) alone boasts more than 50 outdoor skating rinks. So we looked for a representative mix of the best rinks and trails, focusing most of our attention on Ontario's north.
The outdoor skating season on natural ice extends from late December through mid-March, with peak season being mid-January through the end of February. But regardless of the time of year, remember that outdoor skating rinks are weather-dependent. Be sure to check conditions before packing your skates and hitting the road.
Prince Arthur's Landing, Thunder Bay
This outdoor skating rink in downtown Thunder Bay boasts remarkable views of the city's harbour and legendary Sleeping Giant skyline. Prince Arthur's Landing offers one of the longest outdoor skating seasons in Ontario, spanning mid-December through late March most winters.
Access is free and the rink is open Monday to Thursday from 12 p.m. to 8 p.m. and Friday, Saturday and Sunday from 12 p.m. until 9 p.m.
Esposito Park, Sault Ste. Marie
The hockey legends Tony and Phil Esposito got their start at this timeless outdoor rink located in Sault Ste. Marie's historic Canal District. Needless to say, this outdoor hockey rink is best for shinny enthusiasts. Access is free, and Esposito Park is typically open from early January through early March. It features a changing and warming facility and lights, with times set aside for recreational skating.
Ernie's Coffee Shop, a longtime greasy spoon favourite located adjacent to Esposito Park, has been modernized and updated by new owners, and features diner classics and a changing menu highlighting local ingredients
Stay at the Delta Hotels by Marriott along the Sault Ste. Marie waterfront
Arrowhead Provincial Park, Huntsville
The 1.3-km frozen forest path at Arrowhead Provincial Park, just north of Huntsville, is one of the most popular skating trails in Ontario. Go midweek for fewer crowds, or check out one of the evening Fire and Ice torch skates scheduled for Fridays and Saturdays throughout the winter for a unique experience.
Be sure to book your daily vehicle permit ($21 per vehicle) online in advance. Skates are available to rent ($15 for three hours) on a first-come, first-served basis.
Huntsville is best-known as the capital of Central Ontario's cottage country, with several excellent dining options available year-round. Check out The Artisan House for Mediterranean cuisine, Allora for homemade pizza, and Main St. Local Kitchen for farm-to-table fare.
Looking for a full adventure? Arrowhead Provincial Park offers winter camping as well as a limited number of camp cabins for rent
Learn all about
Whitecap Pavilion, Kenora
Over a century ago, the Kenora Thistles won the Stanley Cup in a challenge series against some of the best hockey players from Montreal. You can ponder this little-known hockey fact while skating at the Whitecap Pavilion, located on the Lake of the Woods waterfront in downtown Kenora.
This covered outdoor rink offers one of the longest skating seasons in the province, generally starting in mid-December and extending through late March. The smaller ice surface is perfect for beginner skaters. Admission is free.
Located 45 minutes north of Kenora, Minaki Yurt Adventures offers unique year-round accommodations on the edge of the wilderness. Inquire about the possibility of ice skating on the lake and take advantage of the resort's network of groomed cross-country ski trails.
The Lake of the Woods Brewing Company reclaimed an old firehall for its popular taproom in downtown Kenora—a great place to sample some locally inspired brews after a day on the ice
Stanhope Gardens, Algonquin Highlands
Current NHL player Matt Duchene was born in the Central Ontario town of Haliburton and got his start on outdoor ice rinks like Stanhope Gardens in the nearby community of Algonquin Highlands. Stanhope Gardens is a classic destination for pond hockey, with plywood boards and lights. Admission is free and the rink is open daily until 11 p.m.
Ramsey Lake Skating Path, Sudbury
Sudbury is known as the City of Lakes and Ramsey Lake, located minutes from downtown, is the centrepiece. A 1.5-km-long ribbon of impeccably smooth wild ice extends from the Sudbury Canoe Club at the corner of McNaughton Terrace and Elizabeth Street to Science North.
The Ramsey Lake Skating Path usually opens in mid- to late January and closes by mid-March, depending on ice conditions. Skating is free; no hockey, ringette or shinny is allowed.
After skating on Ramsey Lake, warm up with a cup of coffee that's roasted nearby at Old Rock or Twiggs
Hartman House is a top-rated B&B in downtown Sudbury and is a great place to stay a weekend of winter fun
Clergue Park Skating Trail, Sault Ste. Marie
Clergue Park in downtown Sault Ste. Marie is home to one of Ontario's best skating trails, which has rapidly become a favourite for locals and visitors alike. A smooth, 1-km path runs alongside the historic St. Marys River, allowing great views of the impressive waterway connecting Lake Superior and Lake Huron. You'll have a front row view of the huge freighters that ply these icy waters until the shipping season closes in late January.
A warming facility is located on-site, the trail is lit for night skating and admission is free. Skating trail hours are 12 p.m. to 10 p.m. on weekdays and 10 a.m. to 10 p.m. on weekends.
Cranberry Ice Trail, Bala
Imagine skating through frozen cranberry wetlands—that's the heart of the winter outdoor skating experience at Johnson's Cranberry Marsh, part of the Muskoka Lakes Farm & Winery in the Central Ontario town of Bala. When the bogs freeze over in late December, the Johnson family creates a 1.2-km skating loop around the cranberry field, which they maintain until spring conditions pervade in early to mid-March. Highlights include a nearby waterfall and daily bonfires, as well as four separate frozen ponds for playing "bog hockey."
The ice trail is open daily from 11 a.m. until 4 p.m. Plan your visit on a Saturday night for a truly unique experience that's highlighted by 400 flickering tiki torches with skating between 6 p.m. and 9 p.m. Admission is $10 and on-site skate rentals are available.
You don't have to go far for apres-skating activities, with the Muskoka Lakes Farm & Winery serving a variety of hot mulled and alcoholic drinks as well as cheese plates and other appetizers
Located in nearby Gravenhurst, The Inn on the Bay is a century-old home with Georgian-style architecture that speaks to a time when Ontario's cottage country was ruled by lumber barons. Four rooms with private baths are available and there's a cozy wood fireplace in the communal lounge
Waterfront Skating Trail, Temiskaming Shores
The endless frozen surface of sprawling Lake Temiskaming is the backdrop for skaters on the Waterfront Skating Trail in Temiskaming Shores. This city in Northeastern Ontario celebrates its long winters with an exceptional outdoor rink experience, perfect for those looking for some outdoor exercise. The ice trail is open daily, with the skating season extending from mid-December through late March. Admission is free.
Lee Park Oval and Skating Trail, North Bay
Of North Bay's many outdoor ice rinks, the Lee Park Oval and Skating Trail, located near the Lake Nipissing waterfront on Memorial Drive, gets a nod as the best for families and fitness skaters. Facilities include an oval skating path along with a unique trail through the mixed hardwood and evergreen trees of Lee Park, near downtown. Admission is free and the oval and trail are open until 11 p.m., with lights for night skating.
Kivi Park, Sudbury
This 480-acre not-for-profit wild space is quickly becoming a year-round destination for outdoor activities in Sudbury. Besides offering great Nordic skiing and fat biking, Kivi Park maintains Nina's Way, a 1.3-km skating trail that's open daily from 11 a.m. to 8 p.m. during the winter (conditions permitting) with a cool network of LED lights for night skating.
The path features rolling terrain and is best for experienced skaters. Day passes are $9 for singles or $25 for families consisting of two adults and up to four youth.
Massey Rink, North Bay
Looking for an outdoor hockey rink in North Bay? Shinny enthusiasts gather at the Massey Rink in West Ferris Lions Park, located in the city's north end, off Massey Drive. This well-maintained outdoor rink benefits from Northeastern Ontario's long winters, with a season extending from the Christmas holidays through March Break. The rink is open daily until 11 p.m. with lights and a heated change building, and no admission fee.
Kinsmen Park, Parry Sound
The small town of Parry Sound is best-known for two things: being the gateway to Georgian Bay's magnificent 30,000 Islands and being the hometown of hockey great Bobby Orr. Kinsmen Park is located on Parry Sound Drive, in the heart of the community.
From late December through mid-March, the Park's centrepiece is a covered outdoor rink where hockey enthusiasts channel their own inner Orr while chasing pucks across pristine ice. This outdoor ice rink is open Monday to Friday from 3 p.m. to 10 p.m. and weekends from 8 a.m. to 10 p.m., with specific times allotted for skating and hockey. Admission is free, and facilities include washrooms and changerooms.  
Woodview Mountaintop Skating Trail, Blue Mountain
Collingwood's Blue Mountain Resort is Ontario's preeminent winter destination for more than just great skiing. The resort is also home to fantastic dining and accommodations—and one of Ontario's best skating trails. The Woodview Mountaintop Skating Trail is a 1.1-km skating loop that twists through a forest of snow-covered trees, with openings that reveal awesome views from the Niagara Escarpment out over Georgian Bay.
The trail is accessed via Scenic Caves Road, with the skating season generally running from January through early March. Go at night to experience the magic of thousands of twinkling lights suspended over the skating surface. A Blue Mountain Winter Attraction Ticket provides you with two hours of skating. On-site skate rentals are available.
You don't have to go far for apres-skating entertainment: The Coors Light Off-Piste Patio is located adjacent to the skating hut, serving up drinks and appetizers with amazing views
Roy Nicholson Park, Timmins
The dual ice pads at Roy Nicholson Park are popular winter destinations in the Northern Ontario city of Timmins. This neighbourhood park located between 7th and 8th Avenue was recently upgraded with a concrete pad to serve as a foundation for a perfect outdoor ice rink. Access is free, the rinks are open daily and lit for nighttime use, and times are set aside for both skating and hockey.