The Best Mountain Bike Trails Ontario Has To Offer
Discover the most challenging places to ride, the best mountain bike parks and the most scenic routes to explore.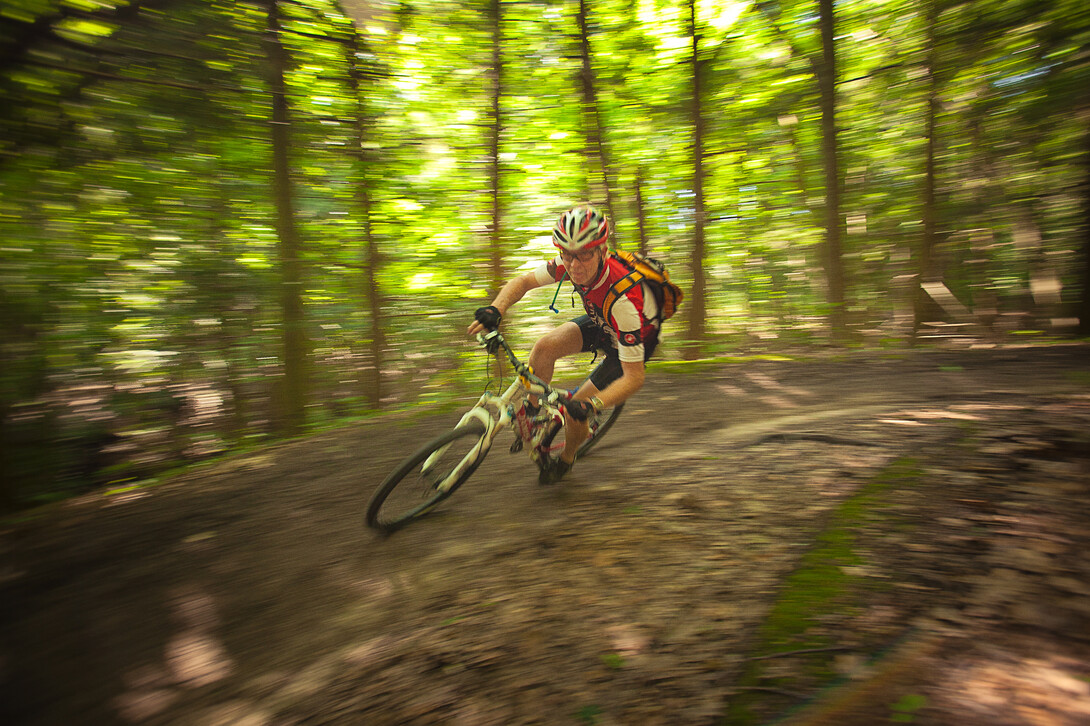 Every sport has its iconic destinations and events that get your adrenaline rushing when their names are mentioned. In Ontario, the diverse terrain makes it a natural venue for free riding and mountain bike touring on single or double-track trails. Discover the best mountain bike trails Ontario has to offer.
The top places for you to ride will depend on your level of experience and type of ride you are looking for. Do you want an easy scenic tour through a forest, a thrilling descent down a mountain or to test your skills in a mountain bike park? Check out these best places to mountain bike in Ontario.
Northern Ontario mountain bike Trails
If you are looking for real challenge and adventure, these Northern Ontario destinations have some of the most rugged mountain bike trails in Ontario.
Sudbury and Area
The Lake Laurentian Conservation Area has a multi-use trail system used by both hikers and bikers. Some of the trails are very technical and challenging with lots of exposed bedrock.
Kivi Park, with higher altitude expert trails to gentle single track trails, is one of the most popular places to ride in Sudbury.
The Walden Mountain Bike Trails are trails built by mountain bikers for mountain bikers. Home to the longest and best descents in the city and strategically built climbs, this trail system is addicting.
Sault Ste. Marie and Algoma Country
Thunder Bay and Area
North Bay and Area
North Bay offers four seasons of cycling with excellent mountain biking and fat biking trails. Discover a local's guide to cycling in North Bay.
Central and Southern Ontario Mountain Bike hot spots
Mountain Bike - Haliburton Forest
For beginners to experts, Haliburton Forest has over 300 km of incredible mountain bike trails to explore plus lots of other fun adventures to round out your getaway. Rental bikes are available.
For a unique and thrilling adventure, why not try bikejoring? The Haliburton Forest Siberian huskies that love to pull sleds in the winter also love to pull bikes in the fall. It is great exercise for both the rider and the husky.  
Visit The Cookhouse for a well-deserved dinner after your ride and take advantage of overnight accommodation (campsites or holiday units). A visit to the Wolf Centre to see wolves and learn about wolf behaviour is a must.
Turkey Point Mountain Biking  
The Turkey Point Mountain Bike Club has created some of the best mountain bike trails in Ontario. Over 86 km of single track trail will take you along 100-foot deep cut ridges adjacent to the Long Point World Biosphere Reserve and through Turkey Point Provincial Park, Long Point Eco Adventures and St. Williams Conservation Reserve.
If you want to learn how to mountain bike or better your skills, Long Point Eco Adventures offers a 2 hour mountain bike tour with a professional mountain bike guide and instructor. After your ride, visit the Burning Kiln Winery. Make it a weekend getaway and stay in a glamping suite or pod. 
Mountain Bike Parks in Ontario
Bruce Peninsula Mountain Bike Adventure Park 
Ride in the Bruce Peninsula Mountain Bike Adventure Park, Eastern Canada's first Mountain Bike Park—built in the heart of the Niagara Escarpment, just north of Wiarton.
Over thirty technical trail features including skinnys, rock drops, teeter totters and suspension bridges. The Park boasts a progressional riding design and is suitable for all skill levels. Helmets are mandatory.
Horseshoe Bike Park - Horseshoe Resort
Explore the Horseshoe Bike Park, offering fourteen trails of downhill adventure. The park's trails are accessed by riding their high-speed chair lift to the top with a lift ticket or season pass. Horseshoe's trails have less vertical than other bike parks, but the advantage is that you can get more laps in during your time there. The trails are fun and the park offers options for all levels of riders.
Rentals, including bikes and protective armour, are available on site. Stay at the Horseshoe Resort and ride from your doorstep.  
Where to Ride Your Electric Mountain Bike in Ontario
According to the Ontario Ministry of Transportation, an e-bike or electric bicycle is a bicycle with an added battery-powered electric motor that assists the rider in pedalling. Learn about e-bike laws and where to ride your e-bike safely and legally.  
Mountain Bike Events in Ontario
Mountain bikers love to share the adventure with friends and/or challenge themselves at an event. Discover the ultimate list of cycling and mountain bike events in Ontario. 
Plan your Mountain Bike Adventure
There's no shortage of places to mountain bike in Ontario. Click here for a full list of mountain bike trails in Ontario. Start planning your trip now.