6 Best Places To Camp On Manitoulin Island
Park the RV or pitch a tent at any one of these six amenity-packed campgrounds that make for the perfect base from which to explore the island's communities, natural wonders and Indigenous culture.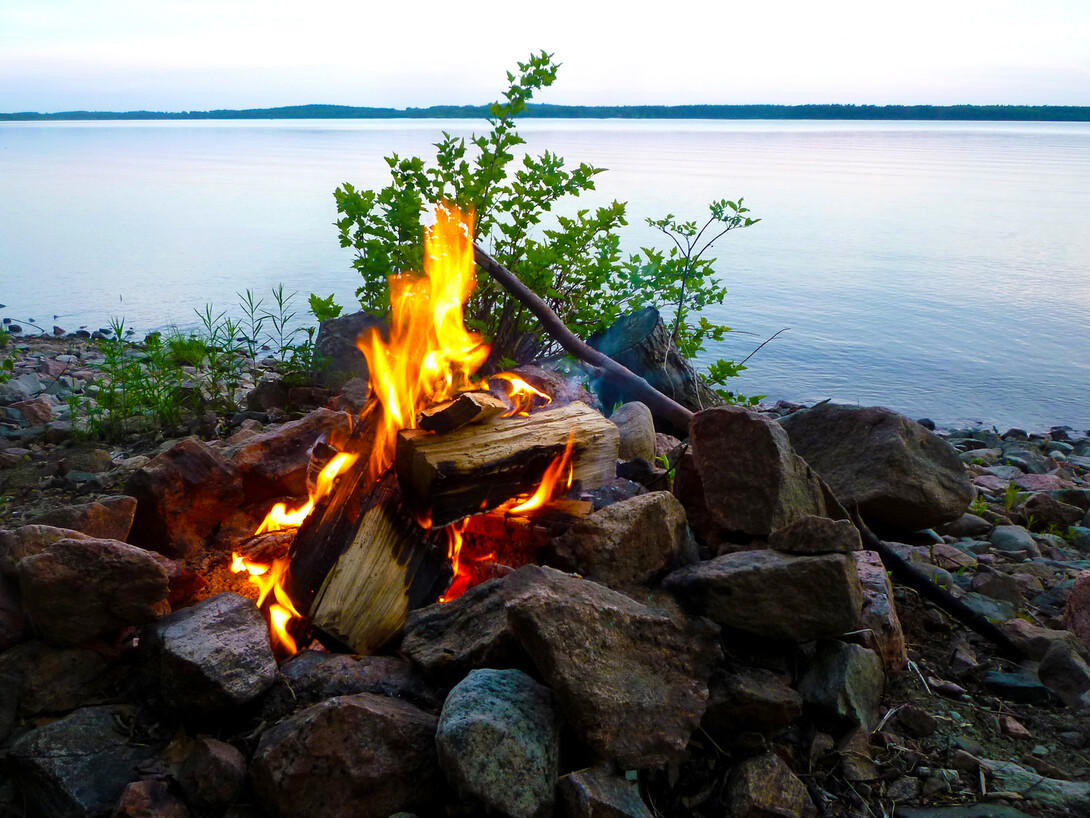 Manitoulin, the world's largest freshwater island, offers a little piece of rugged heaven, without ever being too far away from essential amenities. From the north, the island is accessible by road—Hwy 6 through Espanola will drop you onto the famous former rail bridge built in 1913, which now enables vehicle traffic to travel over the channel between Goat and Manitoulin islands. Be sure to plan ahead; the Little Current Swing Bridge opens for the first 15 minutes of every daylight hour during the summer to allow boat traffic through.
If you arriving from the south, the Chi-Cheemaun cruises back and forth between Tobermory on the Bruce Peninsula and South Baymouth on Manitoulin Island three times a day June through August, and twice daily (with a third trip on Fridays) in May, September and October.
Once you're on the island, one of the best ways to experience everything it has to offer is by camping. Camping provides an affordable alternative to other accommodations (which means you can spend more on the amazing cuisine and adventure options on the island) and allows you to more deeply appreciate the natural beauty of Manitoulin.
Spending time outside can have invaluable benefits for your physical, mental and spiritual health. Practice good stewardship by protecting the habitat of resident plants and animals. Preserve the wilderness for the enjoyment of others by leaving as few footprints as possible. Know and practice Leave No Trace principles.
There's a Manitoulin Island camping experience for everyone—choose from the following and start planning your retreat to this Lake Huron gem.
Frontcountry campgrounds 
Camping that you can drive to is considered frontcountry camping. It's commonly referred to as car camping. Most frontcountry campgrounds offer similar amenities (e.g. parking spots, restrooms, showers, potable water, picnic tables, fire rings and more). It is similar to living in a neighbourhood. You'll likely have neighbours surrounding you, kids playing and riding bikes and a little night life when the campfires start up. It's a great way to make new friends and spend time with family. 
Gordon's Park 
Love to stargaze? Gordon's Park, designated as a Dark Sky Preserve in 2009, has an observation deck where you can experience the night sky magic. Forest camping, cabins, tipis and tenting sites offer plenty of sleeping options. It's an eco-park and so is off the grid, but don't despair—a charging station keeps your devices ready for use. With a solar-heated swimming pool, a mini-putt course, WiFi, an interpretive centre and hiking trails all on offer, this Manitoulin Island campground balances space for solitude and space for activities. Located within a 15-minute drive of the ferry, it's open May to September and welcomes pets. 
Nearby attractions 
Enjoy four-legged hiking partners? On the Bebamikawe Memorial Trail, you may just be accompanied by local dogs, whose mission it is to scare the bears away. With four lookouts, picnic tables, and three loops spanning easy to moderate in difficulty and totalling 14 km, these rugged marked trails offer inclines, declines and stunning views. Interested in wildlife or the medicinal use of plants? Guided tours customized to your interest are available through the Wikwemikong Tourist Information Center, from May to November.  
Breakwater Park Campground 
A former logging and mill town, Meldrum Bay, located at the far western end of the island, is home to the Breakwater Park Campground. This Manitoulin Island campground beckons you to spend the night or a few days far away from the modern world. Fourteen sites, most with hydro, are lined with cedar hedges for privacy and are perched along the barrier protecting the Bay. The Meldrum Bay Marina offers showers, a laundromat, boat slip rentals and a boat launch. The campground is open from May to October.
Nearby attractions 
Enjoy a delicious meal lounging on the patio overlooking the bay. Across the street from the campground, the Meldrum Bay Inn & Restaurant, built in 1876, serves up jumbo shrimp, smoked trout or baby back ribs.
Make a visit to the Mississagi Lighthouse, which was initially erected in 1873 to guide vessels through the Mississagi Strait, a waterbody with dangerous ledges and rocks. Snap a photograph of the lighthouse with surrounds of limestone cliffs and crashing waves. Experience incredible sunsets. Camping is also available here.  
Mindemoya Court Cottages and Campground 
Play sports? This RV, cottage and tent campground located on the edge of Lake Mindemoya has a baseball diamond, volleyball court, horseshoe pit and bicycle trails, as well as a children's play area. Mindemoya Court Cottages and Campground is home to 11 cottages and 15 tent/trailer/RV sites snuggled among a 100-year-old maple forest. All sites have a firepit, picnic table and electric connections (20- or 30-amp). Free WiFi blankets the area. For a day's adventure, rent a motorboat to fish or explore Treasure Island. The campground is open May to October. 
Nearby attractions 
With 230-foot-high cliffs extending almost 2 km, the Cup and Saucer Trail is one of Ontario's real gems. There are a couple different trail options you can take. The Main Trail (also known as the Red Trail) will take you up to three main lookouts—there is a small loop at the top, but for the most part this is an out-and-back trail totalling 4 km roundtrip. If you're up for a longer hike, you can continue on the South Loop (also known as the Blue Trail) at the top of the Main Trail. This trail goes past an additional lookout and loops around to link up with the Main Trail again, adding 5 km onto your trip. There's also a 500-m Adventure Trail (also known as the Yellow Trail)—a small loop off the Main Trail that provides challenging terrain, ropes, ladders and stairs.
The Great Spirit Circle Trail offer authentic nature-based and cultural tourism from an Aboriginal perspective. Experience a canoe heritage tour, medicine walk, arts and culture, storytelling and more. 
Are you a history buff? The Centennial Museum of Sheguiandah depicts the history of the area through black and white photographs, a pioneer log home, military artifacts and First Nation stone implements, among other exciting finds. 
Providence Bay Tent & Trailer Park 
Love the sun and sand? At Providence Bay Tent & Trailer Park, pine, birch and poplar trees shelter 250 campsites along the longest beach on the island. Water and hydro hook-up are both available. The beach beckons on a steamy day and if you enjoy windsurfing or kayaking, catch some Lake Huron waves here. A convenience store stocked with essentials and firewood is located onsite, with a marina, laundromat and ice cream shop nearby. The campground is open from May to October. 
Nearby attractions 
Ravenous? Lake Huron Fish & Chips Co. delivers. Inhale lip-smacking battered local whitefish or Manitoulin beef burgers. 
Mixing art and coffee? The Mutchmor is an artist hub and cafe that displays local artwork, sells one-of-a-kind gifts, and offers fresh baked goods and coffee at the onsite Peace Cafe.
Backcountry camping 
There is no formal backcountry camping on Manitoulin Island—as most of the land is privately owned, it's even difficult to find opportunities for crown land camping. However, there is a backcountry camping experience available on the other side of Georgian Bay, near Killarney, that has close ties with Manitoulin Island. This is a great option if you are doing a road trip on the Georgian Bay Coastal Route.   
Point Grondine Park is located east of the town of Killarney along Hwy 637 and is First Nation owned and operated. In 1968, the Point Grondine and South Bay West bands amalgamated with the Manitoulin Island Unceded Indian Reserve to form the Wikwemikong Unceded Indian Reserve. Historically, the Odawa and Amikwa Nations of Manitoulin and the French River used the Point Grondine area for harvesting berries, wild rice and game; there was also a permanent settlement called the Beaverstone village here, which was inhabited up until the early 1900s. The land is still used today by Wikwemikong citizens for the same hunting and gathering purposes.
The development of Point Grondine Park in the central interior of Point Grondine began in 2007, both protecting the land and resources, and providing visitors with the opportunity to experience the beauty of the area. With six interior lakes, 28 km of hiking routes, 130 km of traditional paddling routes of the Anishnaabek people and 26 backcountry camping sites, you can wander for days. It's open from Canada Day until September.
Nearby attractions 
In Wikwemikong on Manitoulin Island, discover tour bus excursions, eco-adventures, sunset canoe tours and many more cultural experiences with Wikwemikong Tourism. Join a motor coach tour like The Unceded Experience where you'll learn the history of the island, visit Monument Hill, view Holy Cross Church and Ruins, sample traditionally prepared food, and participate in a hands-on drumming and song afternoon. Prefer an overnight option? Check out the Paddle Into The Wild tour, an experience where luxury and nature converge.
Provincial park camping 
There are no opportunities for Manitoulin Island provincial park camping; however, there are several provincial parks on the island that can be explored and enjoyed by visitors in other capacities.
Misery Bay Provincial Park, a day-use only area, offers over 15 km of trails, a park store, a spectacular beach, bird-watching and excellent programming. Physical geography buffs will be interested to know that this area was once a flat rock sea bottom. When the glaciers retreated, their ragged edges and corners raked over the rocks here, leaving a limestone surface called alvars—a unique sight to see!
There are three non-operating provincial parks located on Manitoulin: Blue Jay Creek, Queen Elizabeth The Queen Mother Mnidoo Mnissing and Strawberry Island. These parks don't offer camping, facilities or organized activities, but are wonderful for bird-watching and hiking. Be sure to check the website for each to find out exactly what activities are permitted at different times of the year.
Pet-friendly camping
Batman's Cottages and Campground
Interested in playing bocce, going fishing or taking in the sunset on a beach? Batman's Cottages and Campground is a 74-acre family tent, RV and cabin campground that's also pet-friendly. Your dog will have a spot to splash and an off-leash section to run. For humans, free WiFi, boat rentals of all types, a laundromat and souvenirs are just a few of the services available here. The campground contains four cottages and 142 tent/trailer campsites nestled among the tall trees. Sites have hydro service (30- and 50-amp) and pull-through sites are also available.
Nearby, pet-friendly attractions 
Batman's is less than a 12-minute drive to Little Current, where you can meander past waterfront stores, sip coffee and eat local chocolate at shops like Loco Beanz, and sample craft brew at the Manitoulin Brewing Co. 
South Bay Resort and Campground 
Located 1 km from the ferry, South Bay Resort and Campground entices with 2,000 ft of waterfront and a pet-friendly swimming spot. Offering tent sites, RV sites (30- or 50-amp) and a cabin, you have plenty of choices for your sleeping bag. With kayak rentals, a boat launch, laundry facilities, firewood sales, a swimming area and a playground, you don't need much more. This Manitoulin Island campground is less than a 25-minute drive to Rainbow Ridge Golf Course and is open from May to September. 
Nearby, pet-friendly attractions 
Take a day trip with your furry friend from South Bay to nearby Kagawong—a 45-minute car ride away—and uncover the only off-leash dog park on the island, the Kagawong Canine Social Club.
Equipment rentals 
Manitoulin Wind and Wave 
Manitoulin Wind and Wave rents and sells new and used canoes, kayaks, and stand-up paddleboards (SUP). This vast indoor showroom stocks all accessories, including roof racks. A SUP rents $50 a day or $40 a day for three days or more.
Address: 10221 Hwy 540, Kagawong
Phone: 705-210-0914
Noah's Bike Rental 
Noah's Bike Rental, located near the ferry terminal in South Baymouth, rents bicycles and shares routes between 27 and 46 km in length that roam over the quieter roads in the area.
Canadian Yacht Charters 
Interested in chartering a boat to sightsee or fish? Check out Canadian Yacht Charters in Gore Bay, stocked with catamarans, powerboats and sailboats. Cruise through the North Channel and view the enormous white cliffs of the fjord of Baie Fin, or explore hundreds of unspoiled bays in which you can anchor, float or fish. 
Plan Your Trip Now
Camping allows you to more deeply appreciate the natural beauty of Manitoulin Island. Plan your leave no trace camping adventure now.