11 of Ontario's Most Jaw-Dropping Natural Landscapes
Finally a list that goes beyond the CN Tower and Niagara Falls.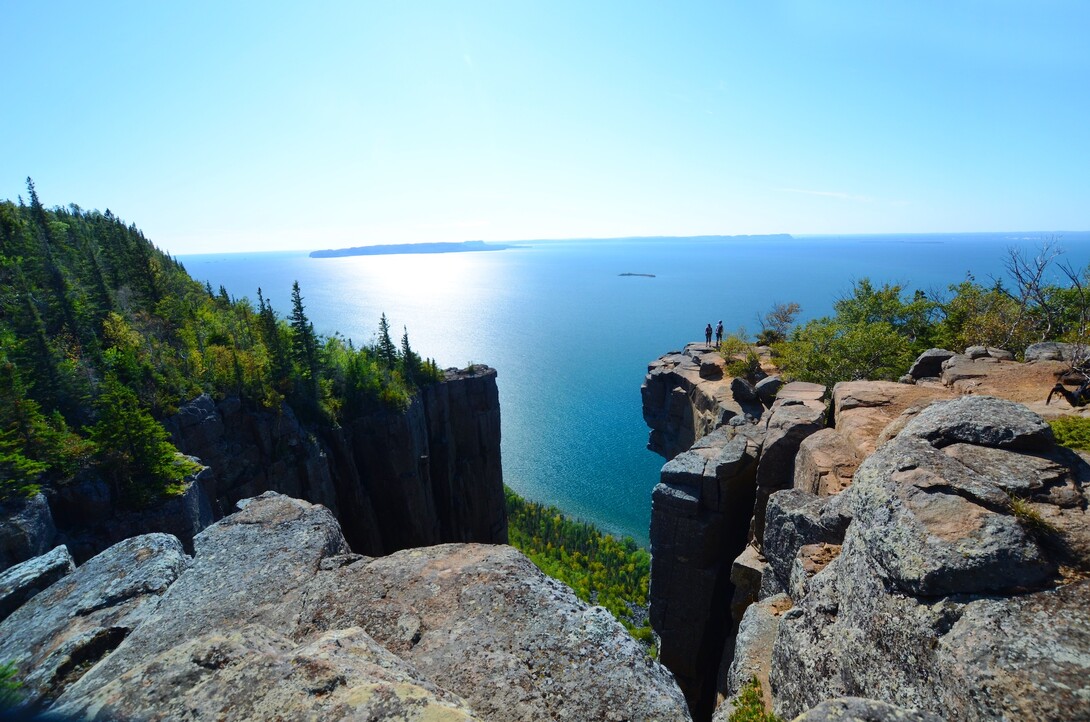 There's no shortage of tourist sites in Ontario. People from around the world flock to climb Toronto's CN Tower, gaze at the misty torrents of Niagara Falls, and experience the museums and urban greenspace of Ottawa's National Capital Region. Central Ontario attractions like Algonquin Provincial Park and the Bruce Peninsula's Fathom Five National Marine Park are also renowned for their natural splendor.
There's no problem with these attractions—but to focus on them alone is to miss out on the northern half of Ontario, which spans an immense area including the pine and granite of the Canadian Shield, the Great Lakes' rugged shorelines and the endless boreal forest of Northwestern Ontario. Not to mention the big wild of the Far North and the James and Hudson Bay coasts.
Open the map and look beyond the boundaries of Southern, Eastern and Central Ontario. Use these 11 beautiful Ontario outdoor destinations as your starting point; we promise you'll find even more.
1. Agawa Canyon
This spectacular landform north of Sault Ste. Marie was described as the "original site of the Garden of Eden" and "a little Yosemite" by Group of Seven artist J.E.H. MacDonald. In fact, scenes from the Agawa Canyon and the surrounding wilderness comprise a large part of the canvases that defined Canadian landscape painting a century ago.
The Agawa Canyon remains a remote treasure, accessible only on a one-day train adventure starting in Sault Ste. Marie. Visitors have time to hike easy trails for breathtaking views of the deep, pine-cloaked canyon carved by the Agawa River and cascading waterfalls.
Things to do in the area:
2. Lady Evelyn River
The Lady Evelyn River carves through the heart of the Temagami wilderness in Northeastern Ontario. This wild waterway is more appropriately described by its Indigenous name: Menjamagosipi, the "Trout Streams." The river flows in two branches with countless cascades and tricky portages, making it a favourite for experienced canoeists. The payoff for all the hard work are secluded campsites and a sense of accomplishment for having tackled one of Ontario's best canoe routes.
However, you don't have to be an experienced paddler to visit the only cabin accommodations in Lady Evelyn-Smoothwater Provincial Park. The fly-in Cabin Falls Ecolodge is owned and operated by legendary canoe guide, author and artist Hap Wilson, and offers a stunning place to stay overlooking a tumbling waterfall. The lodge is a popular destination for photographers, nature enthusiasts and those looking to learn wilderness canoe tripping skills from experts.
Things to do in the area:
3. Sleeping Giant
This iconic landform in Northwestern Ontario is one of Canada's most recognizable vistas, resembling a prostrate giant rising from the silver waters of Lake Superior and dominating the viewscape from downtown Thunder Bay. Hikers can access over 100 km of trails at Sleeping Giant Provincial Park via the Trans-Canada Highway and Highway 587, about an hour's drive from city limits. Plan on a full day to complete the challenging 21.8-km hike to the summit—and be prepared for a jaw-dropping view at the top of Ontario's tallest vertical cliffs.
It's easy to spend a weekend or more at Sleeping Giant's drive-in Marie Louise Lake campground exploring all the Sibley Peninsula has to offer. The campground features family-friendly beaches and paddling options; mountain biking is allowed on several park trails; and the park is renowned among birders, with dozens of songbirds and raptors calling it home. Backcountry campers will find 27 hike- and paddle-in sites, most of which are along the Lake Superior coastline. The backcountry campsites at Tee Harbour can be reached by bicycle as well.
Things to do in the area:
4. French River
The French River flows between Lake Nipissing and Georgian Bay and was an Indigenous canoe route long before it was a key link in the Canadian fur trade. Today, the polished granite shores of the French River echo with voices of the past; it remains one of Ontario's best routes for novice and intermediate paddlers and backcountry campers. Most canoeists access the French River at Dry Pine Bay, east of Highway 69. Sea kayakers, meanwhile, usually launch west of the highway at Hartley Bay to reach the myriad pine-topped islands that mark the river's mouth at Georgian Bay.
Black Feather Wilderness Adventures offers a wide array of guided French River trips, including family-friendly, four-day canoe adventures and sea kayak trips on Georgian Bay. The Parry Sound-based outfitter celebrated its 50th anniversary in 2022 and is noted for professional guides and great meals.
Things to do in the area:
5. Manitoulin Island
Manitoulin Island is the largest island on the Great Lakes with an abundance of outdoor attractions for visitors. For starters, getting to the island is an adventure in itself, with a half-day ride on the MS Chi-Cheemaun ferry from Tobermory. You can also drive to Manitoulin via the Trans-Canada Highway, through the town of Espanola on Highway 6 and over the swing bridge at the town of Little Current.
Manitoulin is an extension of Southern Ontario's Bruce Peninsula. You'll find the same great scenery—without the crowds—on the Cup and Saucer trail, a half-day hike located near Little Current. Many adventure-seekers come to Manitoulin for road cycling, with countless options for scenic tours on quiet roads. Sign up for the all-inclusive Alvar Cycle Tour for a taste of some of Ontario's finest cycling.
Things to do in the area:
6. Killarney
Killarney was a sleepy Georgian Bay fishing village long before landscape painters with the Group of Seven made its austere quartzite surroundings famous and Killarney Provincial Park earned the moniker "Ontario's crown jewel." Today, the village is one of the most scenic tourist destinations in the province, located adjacent to the stunning George Lake Campground, and providing a wide range of accommodation and dining options for paddlers, hikers and campers seeking wilderness adventures in Northeastern Ontario.
Killarney draws visitors for its rugged Georgian Bay coastline (a dreamscape for intermediate to advanced sea kayakers) and interior network of lakes and canoe portages. Killarney Kanoes and Killarney Outfitters both offer canoe and kayak rentals and insider advice on the best paddling routes.
Hikers can get an intimate glimpse of Georgian Bay on the easy, 2-km-long Chikanishing Trail and panoptic views of Killarney's inland hills from The Crack, a towering lookout on a rugged 6-km trail. Backpackers, meanwhile, rank the 78-km La Cloche Silhouette Trail as Ontario's finest. 
Things to do in the area:
7. Lake of the Woods
Lake of the Woods offers world-class canoe tripping, kayaking and camping in the heart of the continent. Hidden bays and countless islands make Lake of the Woods legendary. The city of Kenora in Northwestern Ontario is your gateway to countless lakes, with easy access on the Trans-Canada Highway between Thunder Bay and Winnipeg. The region is also within a day's drive of the U.S. Midwest.
Life here revolves around the waterfront. Rent a canoe or kayak from Green Adventures and launch right from Kenora's bustling downtown. Experienced paddlers can plan a longer trip on the Path of the Paddle, a water trail segment of the Trans-Canada Trail, which traces the shore of Lake of the Woods and passes through nearby Rushing River Provincial Park.
Things to do in the area:
8. Quetico Provincial Park
This vast wilderness park west of Thunder Bay is Northwestern Ontario's answer to Algonquin Provincial Park. Quetico Provincial Park is a canoe tripper's dream, with an astounding 2,000 lakes and over 500 portages. Quetico has something for everyone, including long-distance routes spanning a week or more and shorter trips suitable for beginners and families. The park has great fishing for trout, bass and pike, and provides the chance to visit Indigenous pictograph sites and to see iconic wildlife like moose.
Atikokan, Ontario, AKA the canoe capital of the world, is the park's main entry point. Voyageur Wilderness is a local outfitter with services ranging from cabin and lodge accommodations on the wilderness edge to guiding and complete canoe trip outfitting. DIY trippers are well-advised to book their backcountry campsites up to five months in advance.
Things to do in the area:
9. James Bay Frontier
You don't have to be a hard-core adventurer to visit some of the most remote communities in Ontario. The James Bay towns of Moosonee and Moose Factory are accessible via the Polar Bear Express, a passenger rail service departing Cochrane, located on Highway 11 in Northeastern Ontario. The day-long train journey traverses boreal forest wilderness, tracing the edge of the rugged Canadian Shield and entering the endless muskeg of the James Bay Lowlands.
Moosonee is located at the end of the line at the mouth of the Moose River, mere kilometres from the tidal water of James Bay. Moose Factory, meanwhile, is located on an island just offshore and accessible by water taxi. This Indigenous community is one of the oldest in Ontario; it was once the site of a Hudson Bay Company post and today offers unique accommodations at the Cree Village Ecolodge. Book a stay and get a taste of the James Bay Frontier, with authentic Indigenous food and cultural experiences (including wildlife tours and more).
Things to do in the area:
10. Woodland Caribou Provincial Park
The dense spruce and birch of the boreal forest blends into the expansive skylines of the Canadian Prairies in Woodland Caribou Provincial Park, located in the northwest corner of Ontario. Woodland Caribou appeals to canoe trippers and diehard anglers, with hundreds of kilometres of established backcountry routes, picture-perfect campsites, and world-class fishing for walleye, northern pike and lake trout.
Goldseekers Canoe Outfitting and Wilderness Expeditions is located on Woodland Caribou's doorstep in Red Lake, Ontario. The outfitter offers trip planning services, rentals, and guided trips for paddlers and anglers alike. Chukuni Outdoor Supply sells outdoor gear, and offers guided canoe and fishing trips. Hard-core anglers and hunters can check out Viking Outposts for remote walleye fishing and moose hunting, while Sunset Lodge offers drive-in accommodations on Red Lake.
Things to do in the area:
11. Pukaskwa National Park
Anyone who has driven the Trans-Canada Highway between Sault Ste. Marie and Thunder Bay knows that Lake Superior is best described as an inland sea. The best spot to experience this rugged, wild shoreline is in Pukaskwa National Park, located between the towns of Wawa and Marathon in Northern Ontario. Pukaskwa has something for everyone, from a peaceful drive-in campground with access to gorgeous sand beaches and easy hiking trails, to some of the wildest backcountry camping in the province.
The Lake Superior coastline is fantastic for hiking. Book a water taxi with North Shore Adventures to access the southern trailhead of the 60-km Coastal Backpacking Trail. The trail traces an isolated shoreline of beaches and stalwart headlands north to the Pukaskwa visitor centre, and ranks among the toughest—and most scenic—treks in Ontario. Intermediate backpackers can get a glimpse of the same type of scenery on the two- to three-day Mdaabii Miikna ("go to the shore") trail. Meanwhile, fit day-hikers can follow a 7.5-km linear route through the boreal forest to an impressive suspension bridge atop a roaring gorge on the White River.
Things to do in the area:
Explore Northern Ontario's best tourist attractions
Beaches, canyons, waterfalls, endless forests and oceanic shores: it would be easy to spend a lifetime exploring Northern Ontario. Use this list as your start—and prepare to discover more hidden gems when you experience the region for yourself.