9 Best Day Trips by Canoe and Kayak in Ontario
Find out where to go, why you need to do this and what you need to take.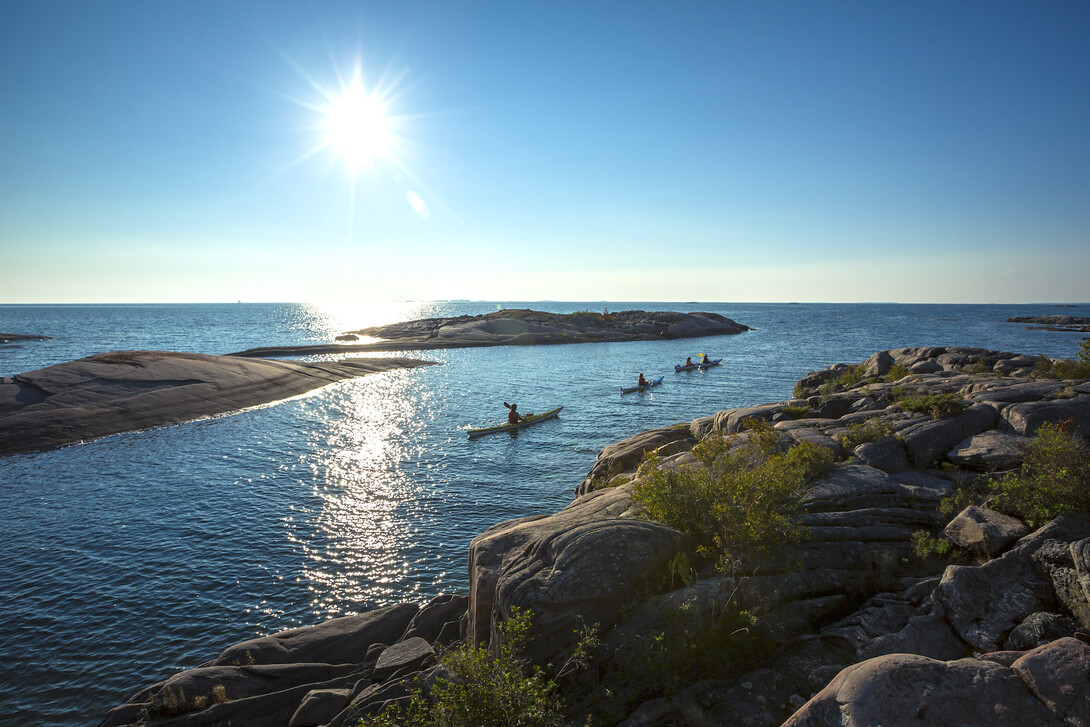 A paddling getaway, even for a day, will make you feel better both physically and mentally. Feel the stress melt away as you dip your paddle into the pristine water. Renew your sense of wonder as you watch ravens soar high above you, playful otters slide down a riverbank or magnificent loons glide silently by. Breathe in the fresh air and marvel at the incredible beauty of nature.   
Beginner to advanced paddlers will enjoy escaping into the wilderness on these nine canoe day trips and kayak day trips in Ontario but there are many more options to choose from. Just google 'canoe day trips near me' or 'kayaking in Ontario day trips' to find more. 
Don't worry if you are a beginner and don't have your own equipment, guided trips provide everything you will need. Seasoned paddlers can enjoy these day trips using their own equipment or the equipment provided.
Best Kayak and Canoe Day Trips in Ontario
Best Getaway #1: Mattawa River
Package: Guided or Self-Guided Canoe Day Trip on Mattawa River
Skill Level: Beginner to Advanced
Dates: June to September
Distance/Time: Full day
Why You'll Love It: Explore the Mattawa River, a rugged and historic waterway that's been travelled for thousands of years. As you paddle this Canadian Heritage River, virtually untouched by development, you'll learn about Indigenous people, explorers, voyageurs and courers des bois who travelled before you. Read more about the trip. 
How To Do This Trip: Algonquin North Outfitters provides inspiring guided canoe day trip packages on the Mattawa River. Their Aboriginal guides share their skills, experience, native traditions, culture and beliefs as you paddle down the river. Lightweight canoe equipment and a delicious shore lunch are provided. If you prefer to go on your own, a total outfitting package is available. You can book online or call 1-705-744-3265 or 1-877-544-3544.       
While You're There: You can camp at Samuel de Champlain Provincial Park and visit their Mattawa River Visitor Centre to learn about the historical, cultural and natural features. Visit the nearby quaint and friendly town of Mattawa.
Best Getaway #2: Georgian Bay, near Parry Sound
Package: Guided Georgian Bay Kayak Day Trip
Skill Level: Beginner to Advanced
Dates: Daily, June to September
Distance/Time: 10 am to 4 pm
Why You'll Love It: A guided kayak day trip with Ontario Sea Kayak Centre (OSKC) is one of the best ways to experience the beauty of Georgian Bay, a designated UNESCO World Biosphere Reserve. Paddle quietly along the shoreline of pink granite islands, crowned with windswept white pines and lush juniper bushes. Stop for lunch and a refreshing dip in the crystal-clear water. 
How To Do This Trip: Ontario Sea Kayak Centre provides all the equipment (kayak, safety gear, paddles and skirts) plus an experienced, certified kayak guide who will show you the beauty of the area. The guided trips can accommodate groups up to six people with one guide. Book online or call OSKC at 1-905-399-1216.
While You're There: Stay at OSKC in a cozy glamping tent and take a basic to advanced kayaking skills clinic. Longer kayaking camping adventures are also available. Be sure to visit the Trestle Brewing Company for unique craft beer and local food. For an experience of a lifetime, enjoy a fly and dine tour with Georgian Bay Airways. Fly in a float plane from Parry Sound to iconic Henry's Fish Restaurant, on San Souci Island, where you'll have the best pickerel dinner you've ever tasted.
Best Getaway #3: French River
Package: Guided or Self-Guided Canoe Day Trip or Kayak Day Trip on French River
Skill Level: Beginner to Advanced
Dates: June to September
Distance/Time: Various - half and full day
Why You'll Love It: The French River, a Canadian Heritage River and Ontario Park, offers paddlers stunning scenery, abundant fishing opportunities and incredible wildlife viewing as it cuts through the beautiful Canadian Shield landscape. It is one of the best and most easily accessible wilderness river trips in Canada. Photographers love the guided Morning Mist and Great Blue Heron kayak trip. Families and friends connect on the guided canoe trips as they learn about the voyageurs who travelled the French in the 17th century or paddle in a voyageur canoe to a pow wow. Couples love the self-guided canoe trip to the nearby archipelago of small islands where they can savour a delicious picnic lunch on their own deserted island. Read more about French River paddling trips. 
How To Do This Trip: French River Adventures, based out of the Lodge at Pine Cove in Woseley Bay, offers a variety of customized guided and self-guided canoe, kayak or voyageur canoe day trips and outfitting. You can book online, call 705-898-2500 or email info@frenchriver.com.
While You're There: A visit to the French River Visitor Centre on Highway 69 is a must. While there, enjoy a 1.5-km hike to the beautiful Recollect Falls. The Lodge at Pine Cove is a fabulous place for a base camp for day canoe trips or day kayak trips.
Best Getaway #4: Rossport
Package: Guided or Self-Guided Kayak Day Trips in Lake Superior National Marine Conservation Area
Skill Level: Beginner to Advanced
Dates: July and August
Distance/Time: Various – half and full day
Why You'll Love It: Explore some of the spectacular natural, historic and geologic attractions of Lake Superior's largest island archipelago. Intermediate paddlers will enjoy the 22-km round-trip paddle to visit the Battle Island Lighthouse. All paddlers will love exploring the unforgettable Rossport Islands in the heart of the Lake Superior National Marine Conservation Area. Learn about the natural and cultural history of the area, the story of Gunilda—one of the best-preserved, most prestigious shipwreck in the world—and discover the ancient rock formations dating back more than a billion years.     
How To Do This Trip: Rossport is located approximately two hours east of Thunder Bay. Superior Outfitters offers half- and full-day guided kayak trips as well as outfitting for self-guided day kayak trips. Contact them at 807-824-3314 to book your kayak trip. 
While You're There: While in Rossport, enjoy a delicious meal at Serendipity Garden Café. Stay at the Willows Inn Bed & Breakfast or camp at nearby Rainbow Falls Provincial Park boasting fabulous hiking trails.  
Best Getaway #5: Killarney Provincial Park
Package: Self-guided day canoe trip to OSA Lake
Skill Level: Intermediate to advanced 
Dates: June to September
Distance/Time: Full day
Why You'll Love It: This is one of the most spectacular spots to visit in Killarney Provincial Park and it only takes four to five hours of paddling to complete the round trip. Although there are three easy portages that you will do twice, there are no steep climbs to worry about. This turquoise lake, surrounded by white quartzite mountains and towering pines, was a favourite of Group of Seven painter A.Y. Jackson and will become your favourite too. Read more about Killarney canoe routes, rentals and reservations.
How To Do This Trip: Get your Ontario Parks permit at the main office at George Lake Campground in Killarney Park. The route starts at George Lake campground. Paddle northeast to the first 80-m portage into Freeland Lake. Paddle northeast to the 455-m portage into Killarney Lake then head west to the 455-m portage to OSA Lake. After soaking in the beauty, the return trip to George Lake is the reverse route. Be sure to get a good map of the area. Killarney Outfitters can provide planning services, full outfitting, maps and supplies for all your canoe trip needs. 
While You're There: In the town of Killarney, be sure to visit Herbert Fisheries, rated as one of the top 10 fish and chip restaurants in Canada, and Aunt Bea's Corner Kitchen for burgers and poutine. You can stay and enjoy fine dining at Killarney Mountain Lodge or Sportsman's Inn.
Best Getaway #6: Grand River
Package: Self-guided or guided canoe day trip from Paris to Brant Park
Skill Level: Beginner
Dates: May to October
Distance/Time: 13 km/4 hours paddle time
Why You'll Love It: This leisurely canoe day trip starts in Paris on the Nith River and goes into the Grand River. You'll enjoy a scenic paddle from a quaint town setting into a pristine wilderness. Highlights include swimming, bird watching and a picnic stop. Choose to travel by canoe, kayak, raft or SUP. 
How To Do This Trip: Book this trip with Grand River Rafting online or call 519-442-2519. Package includes boat, paddle, life jacket, safety kit, one dry bag per group, river map and orientation talk, shuttle ride to the start point, free parking, and picnic area and water refill. One-hour lessons and guided trips are available at an additional cost.
While You're There: There are lots of other exciting adventures to do in the area. Do a "trip to the tip" with a zodiac boat trip to the tip of Long Point; bike and hike in the Grand Valley; try kayak fishing or fly fishing, or find your zen on a SUP or kayak yoga trip. Find out more.  
Best Getaway #7: Barron Canyon, Algonquin Park
Package: Self-guided canoe day trip to Barron Canyon
Skill Level: Intermediate to Advanced
Dates: June to September
Distance/Time: Full day
Why You'll Love It: The Barron Canyon is located in the east side of Algonquin Provincial Park. Paddling through the 2-km-long Barron Canyon, a spectacular 100-m-deep granite canyon, is breathtaking. Drift slowly between the rock walls, enjoying the ravens soaring overhead. Watch for nesting swallows in the spring.
How To Do This Trip: Most canoeists take two to three days to complete a backcountry paddling trip through the Barron Canyon; however, it is possible to do a canoe day trip up the canyon from Squirrel Rapids. The best way to do this is by using the outfitting and shuttle service provided by Algonquin Portage Store. Contact them at 613-735-1795 to arrange the best options for your trip. Strong canoeists can complete the route from the Achray access point to Squirrel Rapids in a long day trip. A shuttle will be required to return to Achray.   
While You're There: Be sure to stop in at the Algonquin Portage Store for all your trip needs. You can even stay overnight before doing your canoe day trip to the Barron Canyon. Camping is available at Grand Lake in the Algonquin - Achray Campground. Be sure to hike the 1.5-km Barron Canyon Loop Trail which will provide an excellent view of your canoe route far below. Other exceptional guided or self-guided Algonquin day canoe trips are available through Algonquin Outfitters, Opeongo Outfitters, Algonquin Bound Outfitters and Voyageur Outfitting.     
Best Getaway #8: Haliburton Highlands
Package: Path of the Paddle Guided Canoe Day Trip
Skill Level: Beginner to Advanced
Dates: May to October
Distance/Time: 7 hours
Why You'll Love It: Discover the beauty of the Highlands as you carve a paddle through the quiet waters on Margaret, Dan, Horse and McEwen lakes. Practice your canoe strokes, portage a canoe and visit a local canoe builder who crafts birch bark canoes. 
How To Do This Trip: Join Yours Outdoors for this active and inspiring experience. Trip includes all canoeing equipment, lunch, snacks and expert local guide. Book online, call 705-754-3436 or email info@yoursoutdoors.ca.
While You're There: A visit to the Haliburton Forest and Wild Life Reserve is a must-do experience. Learn about wolf behaviour at the inspirational Wolf Centre, an Ontario Signature Educational Experience. Go biking or hiking on the fabulous trails. Be amazed as you 'Walk in the Clouds' on the world's longest canopy walkway.
Best Getaway #9: Michipicoten River | Lake Superior, near Wawa
Package: Guided or self-guided canoe, SUP or kayak day trips
Skill Level: Beginner to Advanced
Dates: June to September
Distance/Time: Half or full day
Why You'll Love It: From your base location at Rock Island Lodge, experience the scenic beauty of the Michipicoten River and/or Lake Superior with Naturally Superior Adventures. After some basic instruction, you will spend your day (with or without a guide) enjoying some of the best paddling experiences in the area.
How To Do This Trip: Learn more about these trips, then book online, call 1-800-203-9092 or email info@naturallysuperior.com.   
While You're There: Be sure to visit nearby Lake Superior Provincial Park. Take a hike to the Agawa Rock Pictographs and learn more about the Park's cultural history, natural features and recreational opportunities at the exceptional Visitor Centre.    
What To Take On A Canoe Or Kayak Day Trip: A Checklist 
Local outfitters and Ontario Parks staff are very knowledgeable about trip planning for canoe and kayak trips. They can recommend what you should take on your adventure and provide good maps, guidebooks, outfitting equipment and more.
Most guided trips will provide all the necessary paddling and safety equipment that you will need so you will only have to bring your own personal items. Remember that different gear and clothing will be needed depending upon which season you are paddling in. 
Here is a basic checklist of the items you will need for a canoe or kayak day trip.
Essential Items
Canoe or kayak, paddles and boating safety kit
Park permit or pass as required
Good map and/or guidebook for the area you are paddling in
Sunscreen, sun hat and sunglasses
Insect repellent, bug jacket for spring paddling
First aid kit with antihistamines
Waterproof jacket and pants
Quick-dry layered clothing (e.g. t-shirt, long-sleeved shirt, pants, shorts, wool or fleece jacket, swimsuit)
Appropriate footwear for portaging/shore excursions (e.g. closed-toe sandals)
Dry bag
Reusable water bottle (full) and extra water bottles or water purifier
Snacks and lunch
Small waterproof pack
Waterproof matches
Toilet paper in waterproof bag (plus extra plastic bag to pack out used toilet paper)
Optional Items
Camera or cell phone in waterproof bag (remember, not all places will have a signal)
Binoculars
Fishing rod
Folding camp saw & cooking gear (if planning to cook lunch)
Headlamp/flashlight
Pocket knife or multi-tool
Escape Now
If you are new to paddling or just looking to get away for a day, it's easy to explore Ontario's beautiful landscapes on a canoe day trip or kayak day trip.