6 Best Canoe Routes in Temagami
There's a trip for everyone to discover the beauty and wilderness of this Northeastern Ontario gem.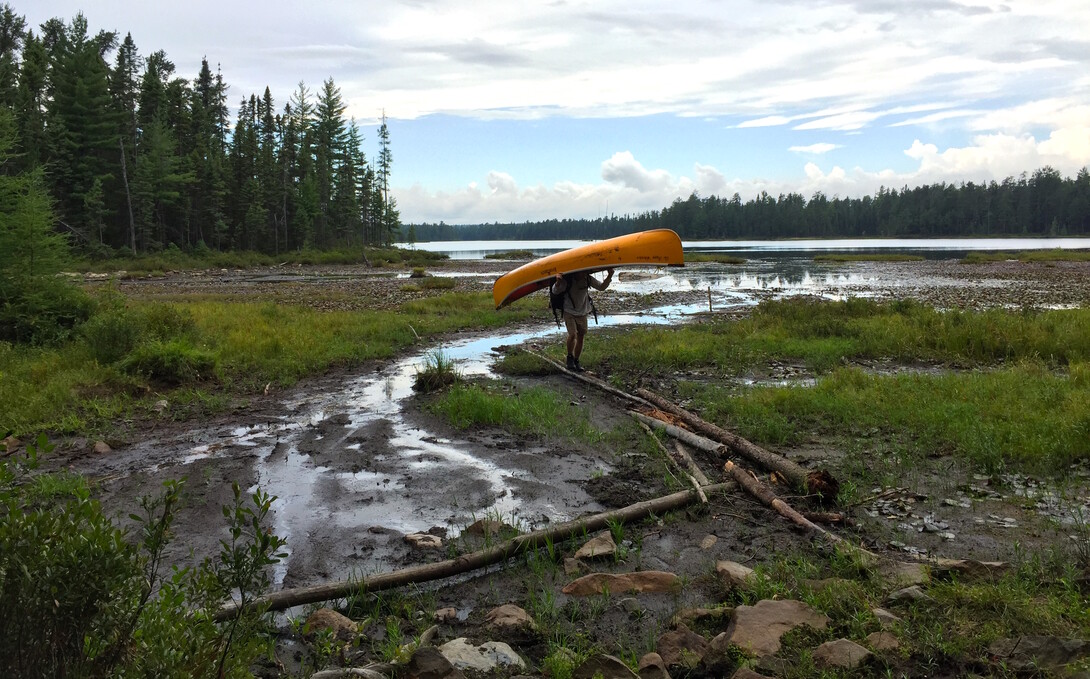 Temagami is a big region. Its huge, old-growth pines, deep, clear lakes, rugged portages, and ancient history make it perfect for canoe tripping. The network of summer and winter trails, known as Nastawgan, have been in use by the Teme-Augama Anishnaabe for thousands of years. 
Temagami is less busy than Algonquin or Killarney parks, yet still an easy travel distance from major urban centres, located about a 4.5 hours' drive from either Ottawa or Toronto.
The 16,000-square-km area contains over 4,700 km of canoe routes—three times as many as Algonquin Park—spread out between 16 parks and 26 conservation reserves. These protected areas cover only 15% of the entire Temagami canoeing region, so on any given canoe trip you're likely to travel between parks, conservation reserves, and crown land in the span of a few days.
This means that planning a Temagami canoe trip can be quite confusing. Is the effort to plan a Temagami canoe trip worth it?
Of course it is! To make things easier, we've highlighted some of our favourite Temagami canoe routes. For more trip planning help, consult our Ultimate Guide to Canoe Tripping in Temagami.
Obabika Loop 
Best for: Novice to intermediate paddlers
Length: 100 km
Access point: Central Lake Temagami Access Road, Lake Temagami
The 100-kilometre canoe route including Lake Temagami, Diamond, Wakimika and Obabika lakes is a classic, providing novice to intermediate canoe trippers with an excellent introduction to the region. There are four portages, all under 900 metres, and great day hiking options at the north end of Obabika Lake to experience Temagami's towering old-growth pine.
Beginners should plan on at least five days to complete the circuit starting and ending at the Central Lake Temagami Access Road. A week will give you more time to enjoy. Wind delays are possible since most paddling is on larger, exposed lakes.
Ontario Parks camping permits are required for Diamond, Wakimika and parts of Obabika lakes.
Cassels Lake Loop 
Best for: Novice paddlers
Length: 30 km
Access point: Temagami Outfitting Company, Snake Island Lake
This 30-kilometre weekend canoe route is accessed from the town of Temagami, making for easy logistics—yet it's often overlooked by canoe trippers. Leave your vehicle at the Temagami Outfitting Company and portage 675 metres to Snake Island Lake.
Head east from there, into Cassells Lake and south to Rabbit Lake before making two short portages to Sunrise Lake. Another couple of carries completes the loop back to Cassels. Be sure to make a side trip to Blueberry Lake for its pristine campsites and old-growth hiking trails. Camping permits are not required for Canadian residents.
Iceland, Driftwood and Wasaksina Lakes 
Best for: Novice paddlers
Length: Varied, options for weekend or weeklong
Access point: Central Lake Temagami Access Road, Iceland Lake
This is a great choice for an introduction to portaging and wilderness canoe tripping, with many options for weekend to weeklong routes. Access Iceland Lake from the Central Lake Temagami Access Road. There's good parking at the five-kilometre mark.
From there you'll trace intimate, pine-cloaked channels and two short portages to arrive at the island-pocked waters of Wasaksina Lake—a great place to set up base camp.
For more ambitious and experienced paddlers it's possible to portage from Wasaksina to Cross Lake or make a series of portages through smaller, secluded bodies of water to reach Lake Temagami's Shiningwood Arm. Temagami Outfitting Company can assist with vehicle shuttles for one-way trips.
Lake Temagami to Anima Nipissing Loop 
Best for: Experienced paddlers
Length: Varied
Access point: Varied
Anima Nipissing Lake sees a fraction of the canoe traffic of Lake Temagami and that's a shame because its deep, clear waters serve as a hub for a wide range of canoe routes. You can launch at Anima Nipissing Lake (a gravel access road that leaves Highway 11 just south of Latchford); Red Squirrel Road (another gravel road accessed from Highway 11); or the Central Lake Temagami Access Road.
A challenging portage route heads west from Anima Nipissing through Harris and Shallow lakes, arriving at the scenic wilderness waters of Eagle and Turner lakes (the latter is a possible fly-in destination). Head south from there, following smaller bodies of water and several portages to Aston Lake and the North Arm of Lake Temagami.
Check out Smoothwater Outfitters for complete trip outfitting, including shuttles and accommodations before and after your trip.
Temagami River 
Best for: Experienced whitewater paddlers
Length: 80 km
Access point: Lake Temagami
The Temagami River offers some of Ontario's best whitewater canoeing for intermediate to advanced paddlers, runnable all season long. You'll need to organize a vehicle shuttle with Temagami Outfitting Company to complete the one-way, 80-kilometre downriver trip from Lake Temagami to the village of River Valley.
Plan on five days to a week and anticipate class I to III whitewater rapids, some portaging and calm interludes to catch your breath on pristine lakes.
Obabika-Nasmith Loop 
Best for: Experienced paddlers
Length: Varied, approximately 100 km
Access point: Central Lake Temagami Access Road, Lake Temagami
The best way to find solitude in the Temagami wilderness is to explore smaller, more intimate waterways like the Obabika River and Nasmith Creek. Starting at the Central Lake Temagami Access Road, head west to Obabika Inlet portage to Obabika Lake. Access the winding Obabika River near the lake's north end. Heading downstream, watch carefully for the portage route through old-growth pine forests to Lahay Lake and Nasmith Creek.
You'll journey upstream on the smooth-flowing Nasmith, navigating obstacles like beaver dams and portaging around a scenic cascade. After a day or two on the Nasmith, portage east, making a series of rugged carries to Wakimika Lake. From there you have the option of returning to Lake Temagami via Obabika, Diamond or Bob lakes. The latter offers more portaging challenges and great solitude, linking to Lake Temagami's Sharp Rock Inlet.
Backcountry permits from Ontario Parks are required for a portion of this weeklong route.
Pick a route and head into the backcountry
No matter where you choose to go in Temagami, you'll be immersed in the Canadian canoe culture. You'll encounter wildlife, history, wilderness, excellent fishing, solitude, primeval forests, clear lakes and friendly locals. Many portages are rough and difficult and the winds and weather can be gnarly, but as long as you plan ahead and know what you're getting into, you'll be in for a truly memorable backcountry experience.