11 Of The Best River Canoe Trips In Ontario
From daytrip adventures to wilderness expeditions, these rivers offer the very best canoeing, fishing, and rapids in Ontario.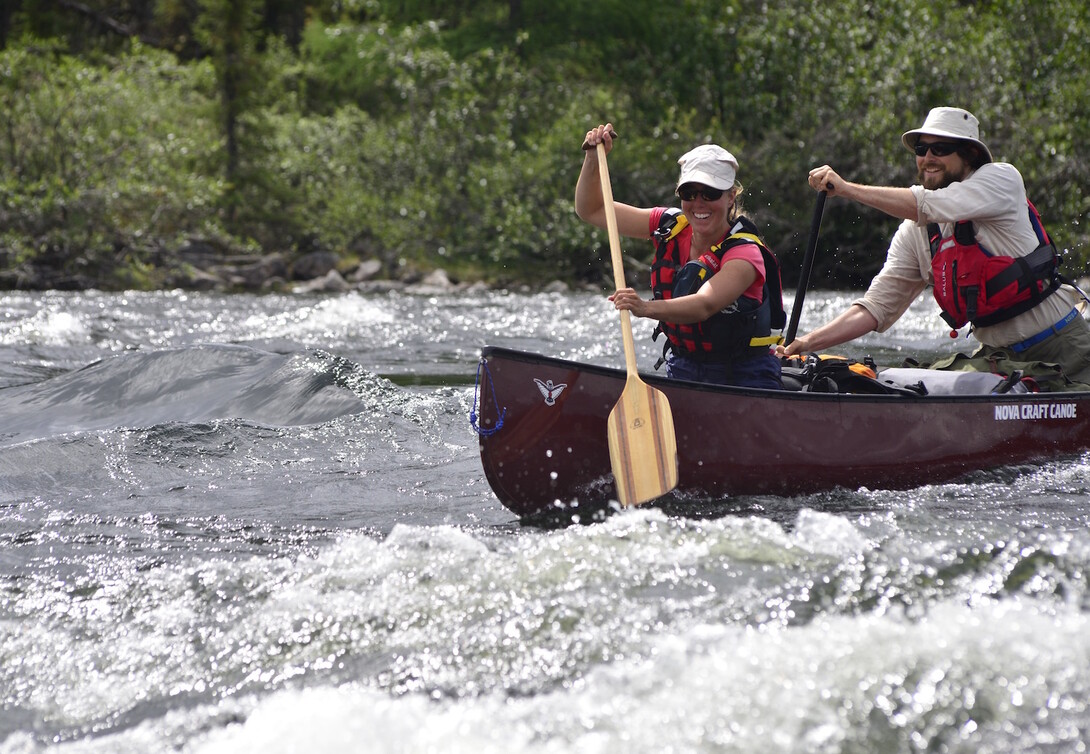 Ontario has some of the best river canoe trips in the world. I'm especially fond of the wild rivers in Northern Ontario. As an avid backcountry canoeist, I sometimes worry that my bucket list may exceed my longevity. Here is a collection of eleven of my personal favourites in Northern Ontario and some of the  river canoe trips in Ontario.
Missinaibi River Canoe Trip
This 550-km-long watercourse is one of Ontario's most famous wilderness canoe trips, ultimately draining into James Bay. The Missinaibi can be tackled by intermediate paddlers in two sections. The so-called Upper Missinaibi flows from the village of Missanabie, located between Chapleau and Wawa, to Highway 11 at the town of Mattice. The Lower Missinaibi continues from Highway 11 to the rail-access town of Moosonee, near James Bay.
Both sections require 10 to 14 days of paddling and have unique attributes, including wildlife and whitewater on the upper river and stunning Thunder House Falls on the lower portion, as well as a rail ride south on the famed Polar Bear Express. MHO Adventures offers guided trips and vehicle shuttles. Learn more about Missinaibi River Provincial Park.
Sand River canoe trip
A favourite of backcountry trout anglers, the Sand River takes canoeists deep into the wilderness of Lake Superior Provincial Park, north of Sault Ste. Marie. It is best paddled in high water—typically late May through the middle of June and after periods of heavy rainfall. Access is by way of launches at Mijinemungshing or Gamitagama lakes.
From either, you'll cross a series of pretty, fish-filled lakes and ponds to intersect the Sand River at its midway point. From here, the river flows over easy rapids and stunning cascades. This five- to six-day trip is physically demanding but all sections of rapids can be portaged. Contact Naturally Superior Adventures for a vehicle shuttle and canoe rentals. Learn more about Lake Superior Provincial Park.
Albany River canoe trip
Ontario's longest waterway forms part of the northern border of northwestern Ontario's immense Wabakimi Provincial Park. Best for experienced wilderness trippers, the Albany flows across the rugged Canadian Shield and into the James Bay Lowlands, eventually spilling into the Arctic Ocean. It includes a mix of whitewater rapids, smooth-flowing sections and lakes, and is often accessed by floatplane or woven into longer, three- to four-week adventures including Wabakimi's myriad of waterways. For a guided adventure or for lodging along the way, check out Wilderness North, which operates an all-inclusive lodge on Miminiska Lake. Wabakimi Outfitters offers guided and self guided canoe trips.
Magnetawan River canoe trip
Central Ontario's Magnetawan is a quieter antidote to the popular French River. The deep canyons and still, pine-cradled lakes of the Magnetawan conjure images of the lumberjacks and log drivers that worked this historic waterway a century ago. An easy to organize, four- to five-day loop trip for hearty, novice to intermediate paddlers starts and ends at Harris Lake, on Highway 69 north of Parry Sound. Bring a lightweight canoe and gear, as there are numerous lengthy portages on this route, which can be paddled all season long.  Book a guided canoe trip with Black Feather.
Michipicoten River canoe trip
This river forms the southern link in a historic waterway connecting Lake Superior to the Arctic Ocean at James Bay. Today, the final 20 km of river is a perfect day trip for visitors to the town of Wawa. Sign up for a self-guided, one-day ecotour by canoe or sea kayak with Naturally Superior Adventures.
St. Mary's River canoe trip
Once a critical water route for Indigenous people, explorers and fur traders, the St. Mary's now marks the border between Ontario and Michigan at the city of Sault Ste. Marie. It is also Lake Superior's only outflow. Paddling the St. Mary's River offers a unique perspective on rich cultural history and wonderful insight into how the waterway shaped one of Northern Ontario's largest urban centres. Paddlers of all levels can sign up for a three-hour interpretive tour with the Lake Superior Watershed Conservancy in a replica 36-foot voyageur canoe.
Spanish River canoe trip
This waterway park northwest of Sudbury provides one of the finest introductions to whitewater canoeing in Ontario. The Spanish demands four to seven days of paddling, with a mix of lakes, easy rapids, and scenic cascades. Along the way you'll encounter Indigenous pictographs (rock paintings) and the same pine-cloaked hillsides that inspired famous author and conservationist Grey Owl. Agnew Lake Lodge is your best bet for assistance in handling the required vehicle transfer to the starting point on Highway 144. Black Feather offers guided canoe trips along this river. Learn more about Spanish River Provincial Park.
Lady Evelyn River canoe trip
This wild river deep in the heart of central Ontario's Temagami canoe area is renowned for its waterfalls—and the precarious portages that go along with the countless cascades. Once known as the Trout Streams, the Lady Evelyn has long formed an important link for canoeists. Today, it's the centrepiece of Lady Evelyn-Smoothwater Provincial Park. The river is navigable all summer long, but go in spring if you are looking for whitewater. Check out Cabin Falls Ecolodge, a wilderness retreat located on the Lady Evelyn River, for off-grid accommodations, whitewater canoe instruction, and a more immersive experience with hosts and Temagami icons Hap and Andrea Wilson. Get complete outfitting packages from Smoothwater Outfitters and Lodge. Learn more about Lady Evelyn-Smoothwater Provincial Park.
Pukaskwa River canoe trip
The namesake river of Ontario's largest national park is also one of the province's toughest—and wildest—whitewater canoe expeditions. Canoeists with a high level of skill and experience will experience deep solitude on this five- to seven-day trip. The Pukaskwa is a spring-only river (late May to early June is the best time to run it) and rarely paddled, so its portages are extremely rugged and physically demanding. If you're up for the challenge, you won't be disappointed by the pristine campsites, glorious Class I to III rapids and stunning waterfalls. The Pukaskwa spills into a remote corner of Lake Superior, and a 90-km coastal paddle is necessary to return to civilization. A boat pick-up may also be arranged. Contact Naturally Superior Adventures for assistance with logistics.
French River Canoe Trip
As far as river trips go, canoeing the French River, a Canadian Heritage River, is one of the easiest wilderness trips thanks to its accessible location and friendly whitewater. Just north of Parry Sound, the French River is only 3.5 hours from downtown Toronto. The river flows 110 km from Lake Nipissing west to Georgian Bay, cutting through the spectacular Canadian Shield landscape. Many rapids can be run, depending on water levels.  Black Feather offers excellent guided and fully outfitted 4-day intro to whitewater canoe trips designed for families, women only or any paddlers.  Wild Women Expeditions offers guided canoe trips designed for women. If you are looking for canoe outfitting, choose from Hartley Bay Marina, French River Supply Post and Marina or Bryer Lodge. Read the ultimate guide to planning a French River canoe trip.  
Petawawa River Canoe Trip
The Petawawa River, located in the north east corner of Algonquin Park, is considered one of Ontario's best white water canoe routes. The most common route is from Travers Lake to McManus Lake. It is 49 km in length and has a mix of Class 1 to 3 rapids and strong swifts. For the best experience, take a 4-day fully outfitted and guided trip with Black Feather or MHO Adventures. Read why it's Becky Mason's favourite Algonquin trip.
Best River Canoe Trips in Ontario
Ontario is well known as a paddler's paradise. In addition to its 250,000 lakes, Ontario river canoe trips are some of the best in the world. Learn more about the Canadian Canoe Culture in Ontario.