Take your dog Canoeing
These stunning canoe trips are dog-friendly, and even more photogenic when shared with a furry friend.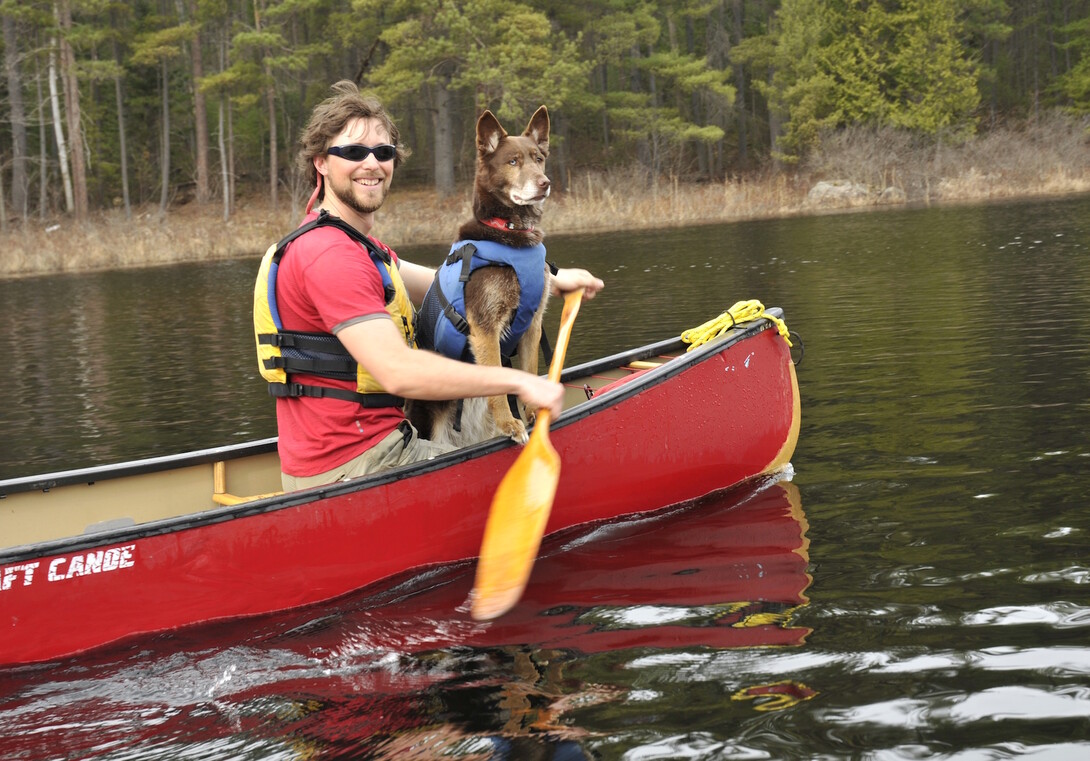 As paddling pet owners know, not every destination is suitable for Fido. That's why we came up with this list of our favourite places in Ontario where your pooch can share the adventure with you.
If you are planning a trip to an Ontario Provincial Park, please learn about the important do's and don't before you go.  
Paddle and Portage Lake Temagami
Temagami's rich mosaic of crown, conservation, Ontario Parks, and public lands means this vast region of sublime lakes and old-growth forest offers something for everyone—including avid canoe dogs. For an introductory, three-day trip with easy logistics, leave your vehicle at the Central Lake Temagami access point (the turn-off is just south of the village of Temagami), and paddle north for a scenic circuit through Kokoko Lake and Lake Temagami's North Arm. Island campsites in quiet Kokoko Lake are especially lovely (and ensure your pup can't wander too far from camp), and a smattering of short portages are perfect for stretching legs.
On your second day, circle up through the North Arm and Ferguson Bay, crossing a 400-metre portage, and camp on either shore of Lake Temagami. On day three, look for pictographs on the lake's rocky cliffs as you paddle south back to your vehicle. Local outfitters can assist with trip planning, rentals, meals, and more.
Basecamp at Lake Superior's Agawa Bay
If you and your loyal companion haven't spent the night in spectacular Lake Superior Provincial Park, you're both missing out. Basecamp beach-side at pet-friendly Agawa Bay Campground and watch jawdropping sunsets right from your campsite.
On a calm day, launch your canoe or kayak from the expansive 3-km sweep of pebbles and cruise along the shore, marvelling at the clarity of the aquamarine water. If the big lake is rough (as it often is, especially in late summer), stroll Agawa's off-leash beach or enjoy a day trip paddle on one of the park's peaceful inland lakes—we recommend nearby Crescent Lake, scenic Fenton-Treeby Lake or sprawling Lake Mijinemungshing. Find out more about backcountry adventures.
Canoe and Hike Killarney's Silver Peak
This adventurous trip to the highest point in Killarney Provincial Park is the stuff dog-dreams and Instagram daydreams are made of: sprakling blue lakes, the quiet glide of a canoe, the smell of pine and a scenic hike with panoramic views. From the summit of 539-metre Silver Peak, you can gaze across the park's distinctive white quartzite mountains to the distant shores of Georgian Bay.
Although it's possible to complete the paddle-and-hike roundtrip in a single day, it is more enjoyable as an overnight or even as part of a longer, multi-day canoe trip. The steep, rocky trail to the summit can be accessed from either Boundary, David, Clearsilver (via Johnnie) or Bell lakes. Put-in at Bell Lake access point for a 3-km paddle and 5.5-km hike (each way), or Johnnie Lake access for a 7.5-km paddle (plus 800-metre portage) and 4-km hike (each way).
Backcountry campsites on all of these lakes allow for an overnight stay, or spend a week looping north from here through David, Balsam, and Three Mile lakes.
Test the Waters at Halfway Lake
Less than an hour from Sudbury and with a spacious, pet-friendly campground and beach, Halfway Lake Provincial Park makes a perfect destination for first-time doggy paddlers. Putter around the park's namesake lake, then tackle one of the four scenic hiking trails—the 6-km Osprey Heights Trail is especially rewarding, with mossy clearings, forests and clifftop views from 50 metres above Antrim Lake. This narrow lake at the north end of the park also makes an ideal canoe or kayak day trip; kids and canines love swimming and picnicking on the sandy beaches. Think you're pup is ready for a longer trip? Paddle and portage south from Halfway Lake on the Two Narrows Canoe Route and stay overnight at a backcountry site in the heart of the park, where you can spot nesting bald eagles and great blue herons.
Go under-the-radar at Restoule
Southwest of North Bay is Restoule Provincial Park, a relatively unknown gem with beauiful lakes rimmed in cliffs, swimming rocks, and scenic paddle-in campsites. There's also a pet-friendly beach and exercise area, so your four-legged companion can feel as at-home in this park as you do. Onsite rentals of canoes, kayaks or standup paddleboards make it easy to get on the water. Paddle beneath the 100-metre cliffs and ancient cedars at Stormy Lake Bluff, or explore the winding Restoule River, secluded Clear Lake, and island-studded Restoule Lake.
Easy-access backcountry sites are perfect for first-time campers, while more experienced paddlers and pups can complete a five-day loop that heads out of Restoule on the French River, then north to Lake Nipissing, and back to the park via Shoal and Bass lakes.
MORE DOG-FRIENDLY ONTARIO PARKS
Many more Ontario Provincial Parks offer excellent opportunities for paddling and camping with your furry companions. Check out this list for suggestions on dog-friendly beaches and parks across the province.