14 Ontario Resorts for an Amazing Family Vacation
Recharge, reconnect and maybe even start a new family tradition.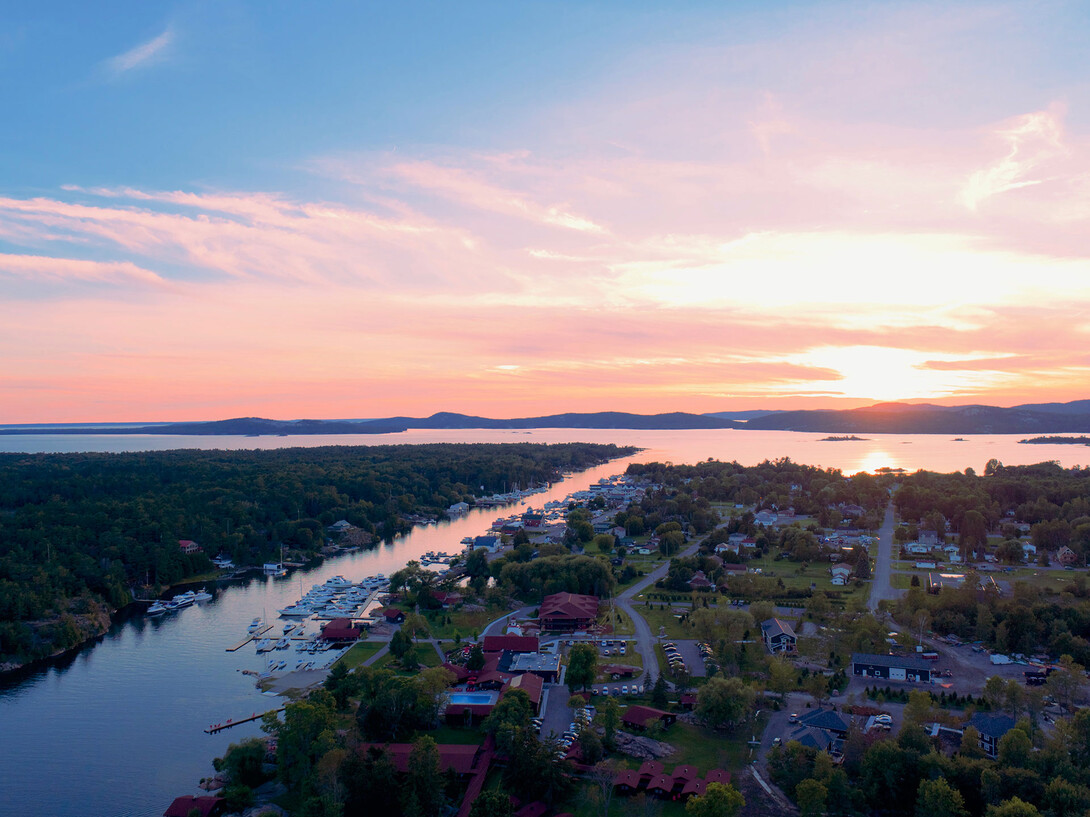 Ontario's best family resorts are a treat for every member of your clan. Ontario resorts offer gorgeous natural settings that evoke a sense of wonder and adventure, with all the comforts of a cozy home-away-from-home. Discover lakeside resorts with fabulous swimming and water sports, or head to a mountain resort for amazing trails and views.
Choose from one-and-done, all-inclusive packages, or find a charming housekeeping cottage and make day trips for sightseeing. These family resorts in Ontario are the perfect place to recharge, reconnect, and maybe even start a new family tradition.
Bayview Wildwood Resort
Set on the doorstep of Muskoka and the historic Trent Severn Waterway, Bayview Wildwood Resort enjoys an idyllic location on the shores of Sparrow Lake. Run by the Stanton family for six generations, this year-round resort offers a welcoming, fun-filled atmosphere that keeps families coming back year after year. Room options range from spacious two-bedroom suites to modern waterfront cottages with incredible lake vistas.
Perfect for an all-inclusive vacation, packages include three top-notch meals daily, supervised children's programs, endless activities, and evening entertainment. Highlights of a summer stay are the floating trampoline and water park, sandy swimming beach, hiking trails, biking, watersports, boating and outdoor games. Use of canoes, kayaks, standup paddleboards and bicycles is complimentary, plus there's an indoor pool and playground for rainy days. Choose from weekend, 5-night and 7-night getaways—but be warned, the whole family will want to stay longer.
Deerhurst Resort
A classic, all-season family resort just minutes from Algonquin Provincial Park's west gate on Highway 60, Huntsville's Deerhurst Resort is much more than just a comfortable gateway to exploring the park—it's also an incredible destination in its own right. Deerhurst's modern amenities belie a venerable past. Established in 1896, this is one of the oldest resorts in Ontario's Cottage Country.
Today, it's a must-see destination for any adventurous family. You would be hard-pressed to find a resort with more activities to choose from: sandcastle-building on the sprawling beaches, swimming in Peninsula Lake or the resort's indoor and outdoor pools, waterfront activities, treetop trekking, indoor rock climbing, hiking trails, mountain biking, wakeboarding, disc golf, daily social activities for kids and families, nightly campfires and guided nature experiences. Whew!
On top of all that, there's also a top-ranked golf course and spa. Families can dine at four on-site restaurants and lodging options include comfortable hotel rooms, lakeside rooms, villas, and spacious resort homes.
Ojibway Family Lodge
Situated on an island in the pristine northern reaches of Lake Temagami, Ojibway Family Lodge offers a comfortable wilderness experience surrounded by tranquility and natural beauty. The lodge and its breathtaking setting are perfect for families who love exploring the outdoors together.
Grab a canoe, kayak or standup paddleboard from the canoe barn and paddle to ancient pictographs and secret swimming holes; hike to the spectacular lookout atop Devil's Mountain; spot loons and beavers from the dock; and roast marshmallows beneath the Milky Way. If it's raining, Ojibway's historic lodge is a cozy gathering place for indoor games.
A scattering of private, waterfront cabins and cheerful glamping tents exude wilderness charm without skimping on comfort. All stays include three delicious meals per day, served in the main dining room and announced with the ringing of an old-fashioned bell in true summer camp style. Getting to the lodge is by water taxi or floatplane—this is one family vacation you'll never forget.
Cedar Meadows Resort & Spa
Nestled on 175 peaceful riverside acres just outside Timmins, Cedar Meadows Resort & Spa enjoys a natural setting along the meandering Mattagami River. The resort's relaxing day spa with Nordic baths is sure to please parents, while kids adore Cedar Meadows' 100-acre wildlife park. Young animal-lovers get the chance to hand-feed some of the residents—which include bison, elk and fallow deer—during daily tours aboard a tractor-drawn wagon.
Just minutes away, Timmins Adventure Tours offer guided half- and full-day canoe or kayak trips on area rivers. After a day of exploring, refuel at the resort's on-site restaurant and relax in your spacious family suite or cozy housekeeping chalet.
Horseshoe Resort
If your family loves an action-packed itinerary, the adrenaline-pumping activities at Horseshoe Resort, near Barrie, will keep them busy for days. Go ziplining, treetop trekking, mountain biking, ATV-riding, paddling and hiking, or take a rip down the giant water ramp. Of course, you can also enjoy lounging on the sand beach, playing a round of golf, or basking in the new on-site spa.
Horseshoe offers traditional hotel rooms and apartment-like suites so families of any size can stay in comfort. Diverse dining options and stay-and-play packages make this resort a one-stop-shop for busy families.
Melwel Lodge
Located on scenic Basswood Lake in Algoma, just off Highway 17 about an hour's drive east of Sault Ste. Marie, Melwel Lodge offers private cottage rentals in a sublime setting of pine forest, crystal clear lakes and craggy granite bluffs. The lodge's 11 wonderfully restored, historic cottages each have their own unique charm and are scattered along the shoreline, giving Melwel a playful, summer-camp-for-families vibe.
Kayaks, canoes and standup paddleboards provide plenty of paddling options for exploring one of the largest and cleanest inland lakes in the province. Looking for more to do? There's also swim docks, a huge 25-foot water trampoline, exploring the Voyageur hiking trail, lawn games, and outstanding fishing for trout, salmon and bass.
Killarney Mountain Lodge
For an unforgettable luxury family vacation in one of Ontario's quaintest communities, look no further than Killarney Mountain Lodge. This historic resort about an hour's drive from Sudbury at the end of Highway 637 boasts waterfront chalets, cabins and lodge rooms sprinkled around a park-like setting on the edge of Georgian Bay.
The waterfront is the beating heart of the resort, with kayaking, canoeing, boat rentals, and guided sailing excursions. For more terrestrial adventures, don't miss hiking the spectacular lookout trails of famed Killarney Provincial Park. Or spend a sunny afternoon simply splashing in the resort's outdoor pool. Après adventure, enjoy a family fish fry on the rocks overlooking the Killarney Channel.
Fox Lake Resort
For an authentic Northern Ontario family resort experience of the more rustic variety, Fox Lake Resort is a hidden gem that feels far removed from the frenzy of day-to-day life. This peaceful, off-grid cabin and RV resort is blessed with a natural wilderness setting on Fox Lake, surrounded by the rugged beauty of the Canadian Shield and close to the dancing waters of the Spanish River, west of Sudbury.
Expect tidy, cozy cabins with no TV, telephones or wi-fi. In other words, this is the perfect place to disconnect and foster family connections. A place where children can roam freely and a busy schedule means a morning of fishing and paddling, followed by an afternoon swimming in the lake and dunking in the wood-fired barrel hot tub.
Saenchiur Flechey Resort
Serving up family fun and Francophone culture on the West Arm of Lake Nipissing, off of Highway 64, east of French River, Saenchiur Flechey Resort is set amid a landscape of sparkling waters and deep Boreal forest. Outstanding fishing is just one of the attractions at this lakefront resort; families also enjoy paddling, hiking, swimming, boating, guided eco tours, and a wild animal farm.
Newly renovated cottages are sprinkled around the enchanting grounds, and the resort's woodsy lodge offers a cozy place to gather after a day of exploring.
Nature's Harmony Ecolodge
Embraced by wild nature and overlooking the Laurentian Mountains near Mattawa, Nature's Harmony Ecolodge provides a uniquely different resort experience where families can share in an active, off-grid lifestyle while learning about environmental sustainability. Hike and bike the extensive trail system or paddle the tranquil waters of Bang's Bay, then cozy up beneath the stars in your choice of unique glamping sites—including domes, yurts, canvas tents and log cabins.
Northridge Inn & Resort
Lovely lake vistas and charming boutique resort vibes make this low-key resort a favourite for laid back summer holidays. Northridge Inn & Resort is situated on Lake Bernard, close to the attractions of Muskoka and Algonquin Provincial Park. Beautiful gardens, patios and docks create a relaxing ambience, but there's no shortage of outdoor adventure to be had.
A fleet of complimentary bikes, standup paddleboards, kayaks and canoes makes it easy to explore local trails and waters, then cool off or warm up in the outdoor pool and hot tub. One look at the captivating accommodation options—which range from lakeside cedar chalets and gorgeous glamping tents to rustic chic lodge rooms—and you'll feel like your family has stepped into a magazine spread.
Manitoulin Eco Park
Tucked between hardwood forest and panoramic meadows, Manitoulin Eco Park is a unique home base for families exploring the beaches, trails and picturesque small towns of Manitoulin Island. Take the MS Chi Cheemaun ferry to get here, and then check out the park's amenities including hiking trails, a nature centre, access to Manitoulin's family-friendly cycling routes, and your choice of private campsites, tipi-tenting or rustic cabins.
Manitoulin Eco Park is also a designated Dark-Sky Preserve where you can enjoy out-of-this-world stargazing beneath some of the inkiest skies in Ontario. The park hosts guided stargazing night hikes and astronomy evenings throughout the summer, making staying up late so worth it.
Voyageur Island Lodge
Foster family connection and discover the beauty of the Quetico region at Voyageur Island Lodge on Nym Lake. The secluded island lodge offers all-inclusive, all-ages stays in their unique cabins or cozy lodge rooms. This is the perfect spot if your dream family vacation includes plenty of swimming, canoeing and standup paddleboarding far from the distractions of everyday life.
Day trip into the labyrinth of lakes and pristine boreal forest that is Quetico Provincial Park, paddle a replica Voyageur canoe, and then refuel with a traditional "fur traders feast" served family style.
Blue Mountain
No list of Ontario's best family resorts would be complete without a mention of Collingwood's Blue Mountain. Nestled between the Niagara Escarpment and the shores of Georgian Bay, the province's largest mountain village resort is endowed with a surplus of natural beauty and adventure possibilities. With a variety of family-friendly attractions, from paddling on a private lake and exploring wonderous caves to riding world-class mountain bike trails or Ontario's only mountain coaster, there's an activity for every age and interest.
Craving relaxation? Take advantage of on-site child care programs and slip away to the beautiful indoor/outdoor Scandinave Spa. As you'd expect, there's also a huge range of dining and lodging options, from luxurious hotels to private family resort homes.
Plan Your Trip Now
There's nothing like hitting pause on your day-to-day life and enjoying an immersive family experience at one of Ontario's beautiful resorts. Choose from the unique destinations on this list, and start making family memories to last a lifetime.