19 Hidden Gems & Secret Spots in Ontario You Need to Visit
Canyons, trails, resorts, beaches and more.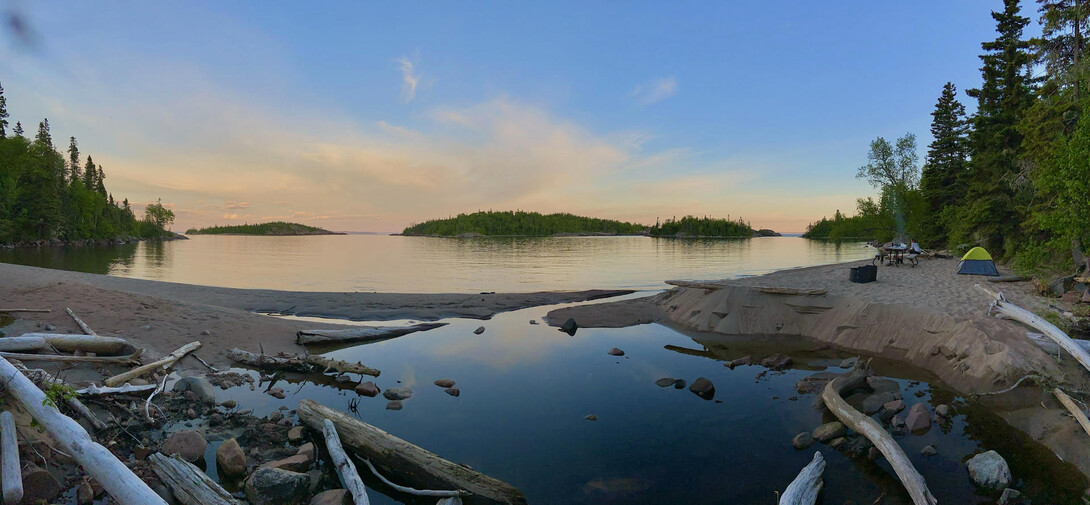 Do you want to get off the beaten track? Ontario provides plenty of options that don't require international flights or expensive itineraries. This list of hidden gems and secret spots throughout Northern Ontario includes something for everyone, from adventurous families seeking fun attractions to couples looking for unique places to stay—all with serious wow factors! Get ready to discover the Ontario attractions you never knew existed.
Fort William Historical Park, Thunder Bay
Visiting Fort William Historical Park in Thunder Bay is like stepping back in time and being suddenly immersed in the hustle and bustle of the Canadian fur trade, 200 years ago. Located at what came to be known as the Lakehead, Fort William was once a meeting place for colourful voyageurs and Indigenous trappers. Today, this family-friendly attraction features in-character interpreters and facilities—including a great hall, canoe-building shop, and doctor's office—that recreate the historic fur trade post that was once at the centre of the Canadian economy.
Norm's Cabin, Goulais River
Looking to get away from it all? You won't find a retreat more idyllic than Norm's Cabin, tucked away in the Precambrian hills of the Algoma Highlands, north of Sault Ste. Marie. This trail-access, off-grid retreat is located on quiet Bone Lake, with immediate access to a huge network of mountain biking and hiking trails. Norm's is popular for couples, families and getaways with close friends. Contact Blaq Bear Eco Adventure Routes to plan your stay.
Bushplane Museum and Entomica, Sault Ste Marie
The Canadian Bushplane Heritage Centre in downtown Sault Ste. Marie attracts flight enthusiasts from all around the world for its huge collection of historic aircraft, with a special focus on the history of aviation in the Canadian wilderness. There's something for everyone at the Bushplane Museum, including family-friendly interactive displays that put you in the pilot's seat. What's more, the former hangar is also home to Entomica, an award-winning insectarium that gives you the opportunity to encounter (and touch!) many types of colourful and sometimes creepy bugs. The Northern Superior Tap Room, located next door, offers local beers and pub fare with a large outdoor patio near the St. Marys River waterfront.
Kivi Park, Sudbury
Sudbury is recognized as an outdoor hub because of attractions like Kivi Park, an all-season destination for mountain biking, hiking, paddling, and cross-country skiing, located minutes from the city centre on Long Lake. This 480-acre green space takes advantage of rugged Canadian Shield and boreal forest terrain, offering something for everyone including on-site bike, SUP, kayak, and canoe rentals.
Canadian Ecology Centre, Mattawa
The Canadian Ecology Centre specializes in year-round outdoor education. Combined with 32 rental cabins, it makes for a fantastic destination for a learning vacation for curious and adventurous families. Book a cabin in the woods and explore the on-site trails; facilities are located next door to Samuel de Champlain Provincial Park, where you can enjoy the Mattawa River waterfront or rent a canoe to paddle this Canadian Heritage waterway.
Recollet Falls trail, French River
The French River has always been a waterway for travellers, and today it marks the beginning of Northern Ontario. This waterway, bisected by Highway 69 between Parry Sound and Sudbury, has a rich history as an indigenous canoe route and a key link in the "voyageurs' highway" of the Canadian fur trade. The French River Visitor Centre is a great spot to stop and gain a greater appreciation of the area's history. Better yet, take 90 minutes and stretch your legs on the easy 4-km hiking trail to Recollet Falls.
Wawa Beaches
Few Ontario towns can match the adventure potential of Wawa, a small community just northeast of Lake Superior. Wawa has two family-friendly beaches right next to downtown on Wawa Lake. Meanwhile, Sandy Beach, located 10 minutes out of town on Michipicoten Bay, is certainly one of Ontario's finest for its amazing Lake Superior vista. Walk a kilometre of shifting sand and enjoy Lake Superior's changing moods; some days the water is warm and swimmable, other times it's angry and rough. A gourmet dinner at Kinniwabi Pines Restaurant is a great way to wrap up a sunny day at the beach.
Nipigon Recreational Trail
One of the finest day hikes north of Lake Superior stretches 10-km between the communities of Nipigon and Red Rock, about an hour's drive east of Thunder Bay. The Nipigon River Recreational Trail provides a great introduction to the rugged boreal forest landscape of northwestern Ontario, with steep climbs in dense, rocky woods. You'll also enjoy outstanding views of the islands and open waters of the Lake Superior National Marine Conservation Area. A flat, easy section traces the shores of the Nipigon River, providing great opportunities to view shorebirds and waterfowl, as well as boreal songbirds. Finish your hike at Ducky's Diner, which offers home-cooked meals and a fun and friendly dining experience in Nipigon.
Ouimet Canyon
Northwestern Ontario's "Grand Canyon" is a stunning sight that's a true hidden gem. The Ouimet Canyon is a 100-meter-deep rift in the Canadian Shield, with its own unique community of arctic vegetation (remnants of the Ice Age). What's more, this is a family-friendly destination, featuring a one-kilometre loop trail to the rim of the 150-metre-wide canyon and great opportunities for birdwatchers, especially during the migration periods of spring and fall. Reach the day-use park from Highway 17, just east of Thunder Bay.
Carden Cove, Marathon
This secluded beach on Lake Superior in Marathon, midway between Sault Ste. Marie and Thunder Bay and a short drive off of Highway 17, features great views of some of the prettiest coastline on the Great Lakes. Carden Cove also serves an access point along the Lake Superior Water Trail segment of the Trans Canada Trail with a sheltered launch for sea kayakers. You'll also find short hiking trails in the area radiating out to other pristine beaches. 
Boom Camp Trails, Blind River
Blind River's Boom Camp is a great natural space in Blind River with wetlands, rocky ridges, and tall pines, overlaid by a tapestry of easy trails for hiking (and groomed for cross-country skiing in the winter). Discover Blind River's rich logging history as you walk an interpretive trail to the mouth of the Mississagi River, featuring an impressive sand beach and excellent swimming on Lake Huron. The trailhead is accessed from Highway 17, just west of the town centre.
Casque Isles Trail and Slate Islands, Terrace Bay
Terrace Bay is home to a brand-new visitor centre for the Lake Superior National Marine Conservation Area. The town's marina at the mouth of the Aguasabon River is set on an immense sand beach that serves as the eastern terminus of the Casque Isles hiking trail. This 50-km trail has options for long-distance backpackers and day hikers alike. From the marina you can take an easy stroll to view the cascades of the Aguasabon gorge. Terrace Bay is perched on a steep shoreline with long views to the Slate Islands—a remote provincial park and popular destination for advanced sea kayakers—about 10 km offshore. Novice paddlers can experience the Slates on a guided trip with SAND Adventures or Naturally Superior Adventures.
Manitoulin Eco-Park, Manitoulin Island
Manitoulin Island is a unique vacation destination easily accessible by ferry from Tobermory. The island is especially popular among cyclists who come to ride the quiet back roads. Families will enjoy a stay at Manitoulin Eco Park, which provides campsites for tents and trailers, as well as bunkie and tipi rentals. The park is part of a Dark Sky Preserve with some of the finest stargazing in the province and offers a great base camp for visiting Manitoulin's other attractions.
WildExodus Glamping, Timmins
Timmins is a decidedly vibrant Northern Ontario community with plenty of attractions. You can get a sense of the city's rugged wilderness surroundings with WildExodus. This local outfitter offers a wide range of services, including glamping and yurt accommodations (with gourmet dining) on the shores of Kenogamissi Lake, as well as paddling, hiking, and fishing tours in the boreal forest.
Fort St. Joseph
There are plenty of reasons to visit St. Joseph Island, located on Lake Huron's North Channel, about an hour's drive east of Sault Ste. Marie. Fort St. Joseph National Historic Site is a lesser-known destination with walking trails, excellent birding (with the opportunity to see more than 200 species), historical reenactments of the War of 1812 and sweeping views of Lake Huron. Maria's Cabins offers waterfront vacation rentals.
Lake of the Woods Houseboating
There's no better way to explore the numberless islands and inlets of Lake of the Woods than on a multi-day houseboat vacation with family and friends. Houseboats are popular among anglers and provide paddlers with the opportunity to bring along SUPs or kayaks for closer encounters with boreal forest shores. You'll find plenty of options for houseboat rentals in Kenora, a vibrant waterfront community in Northwestern Ontario's Sunset Country. Book your trip with Houseboat Adventures or Lake Life Houseboats.
Cochrane Polar Bear Museum
It's fitting that one of Ontario's northernmost road-accessible communities features a distinctly arctic attraction. Located near Highway 11, several hours north of North Bay, Cochrane's Polar Bear Habitat includes three resident (rescued) polar bears and exhibits to learn more about their biology and role in the Far North ecosystems of James and Hudson Bays. The historic Ontario Northland Station Inn makes a great place to spend a night.
Cree Village Eco Lodge
Looking for a bucket-list adventure? Getting to the remote communities of Moosonee and Moose Factory on Ontario's James Bay coast begins with a wilderness rail journey aboard the Polar Bear Express. When you arrive, the Cree Village Ecolodge on Moose Factory Island provides a unique indigenous cultural experience, with plenty of opportunities to enjoy regional food and get a sense of life in the Far North.
Deer Trail, Elliot Lake
The Deer Trail Touring Route is a scenic 120-km drive on paved secondary highways 546, 639 and 108, between Sudbury and Sault Ste. Marie. This stunning route boasts the same great scenery and hills of more popular drives like Algonquin Park's Highway 60, but with a fraction of the visitors. Elliot Lake is the main community en route and you'll find quiet camping, hiking and paddling at Mississagi Provincial Park. For upscale accommodations check out Laurentian Lodge, a great base camp for couples, outdoor photographers and adventurous families on Flack Lake.
visit these seldom-seen Ontario gems
As you can see, there's infinitely more to Ontario than Algonquin Park, Toronto, the National Capital, and Niagara Falls. This list of Ontario's hidden gems is only the beginning. Pack your bags and hit the road to discover all of the province's secret destinations for outdoor experiences.