7 Best Places to Go Bird Watching in Ontario
Pack your binoculars, take a hike, and prepare to be fascinated by soaring eagles, diving loons, trilling warblers and more.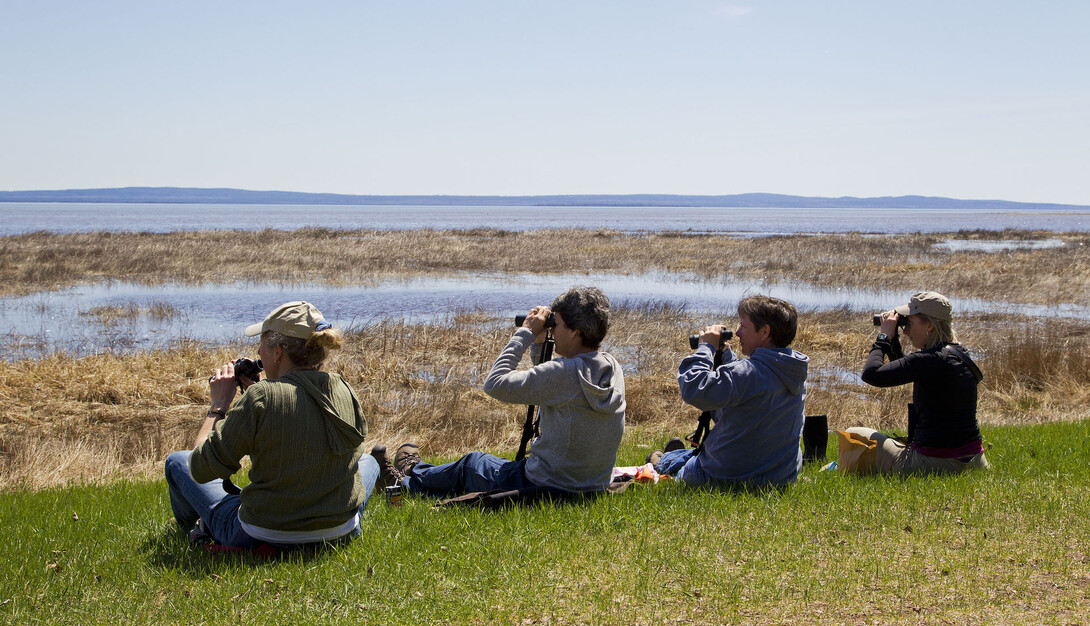 Bird watching in Ontario is an absolute delight. The province's one million square kilometres contains sprawling forests, four out of the five Great Lakes, and countless rivers, lakes, and wetlands. All reasons for birds to be attracted to Ontario whether they need a migratory stopover for a meal or a place to nest.
With so many geographic areas and conserved lands it can make it difficult to figure out just where the best bird-watching spots in Ontario are. The good news is, you can't go wrong. But to help you take flight and enjoy time observing Ontario's avian life, here are some tips for the best birding hotspots.
Best time of year to go bird watching in Ontario
Spring is the name of the game when it comes to bird watching in Ontario. When ice begins to recede the migratory bird season of Ontario ramps up. This is also an exciting time for birders to witness nesting, and eventually fledging nestlings.
Second to spring is the fall, when northern birds make a turn for warmer winter grounds. The fall bird migration in Ontario is a great time to catch sandhill cranes in open fields, or hawks circling in search of a meal as they cruise south.
Summer provides excellent opportunities as well once the spring migration has faded and the holdovers remain. The forests are filled with the chirping of songbirds, and ospreys can be seen diving for trout.
Winter birding in Ontario is a slower time of year, but the bare landscape opens up your view in local forests. If you have the time, it's worth travelling north to see gray jays (or, as we like to call them, Canada jays) in the boreal forest and massive snowy owls visiting from the Arctic.
Best birding spots in Ontario
St. Joseph Island
St. Joseph Island sits on the western edge of Lake Huron, near the mouth of the St. Marys River. The island makes for a great Ontario birding destination, just a 50-km drive southeast of Sault Ste. Marie.
While birding opportunities abound, the jewel of the island is the St. Joseph Island Migratory Bird Sanctuary. Much of the action happens here spring through fall with migratory birds. You'll find bald eagles, caspian terns, spotted sandpipers, eastern kingbirds and more.
Plan your trip:
Walk the 1.4-km LaPointe Point Trail at Fort St. Joseph National Historic Site through prime birding habitats.
Take an interpretive tour of the 19th-century archaeological ruins at Fort St. Joseph.
Did you know St. Joseph Island produces 18 percent of Onatrio's maple syrup? Watch the pot boil and enjoy some of your favourite maple treats at Gilbertson's Maple Products, one of 30 producers on the island.
Spend the night at Busy Beaver Campground.
Rainy River
In the far west corner of Ontario, the Rainy River forms the border between the province and Minnesota. The Rainy River begins on Rainy Lake, near the city of Fort Frances, and extends west to Lake of the Woods. The Rainy River itself and neighbouring fields and forests provide diverse opportunities for birding.
Birders can spot sharp-tailed grouse in fields and scarlet tanagers in the forest. In spring, Ontario birders can witness a colony of white pelicans on islands near the mouth of the Rainy River where it joins Lake of the Woods. The shores of Lake of the Woods are one of the fews places in Ontario to encounter the endangered piping plover.
Plan your trip:
Sleeping Giant Provincial Park
The Sleeping Giant mesa rises from Lake Superior in magnificent fashion within view of Thunder Bay. For birders, the southern end of the peninsula, called Thunder Cape, makes a spectacular area to explore in search of an array of avian species. In the forests, listen for warblers and sparrows. While along the cliffs, you will spot hawks and turkey vultures. Out on the water, view ospreys diving for brook trout and hear loons calling to one another.
Plan your trip:
Moosonee
Located at the "gateway to the Arctic," the far Northern Ontario town of Moosonee is the province's only saltwater port. Ontario birders will need to take a train or plane to reach this remote locale. The wild landscape of the Moose River and James Bay are well worth the trek for adventurous birders.
The Moose River braids its way north to James Bay as it passes Moosonee. Watch shorebirds like semipalmated sandpipers and dunlin, or catch migrating flocks of lesser snow geese in spring and fall. Visitors are likely to have spectacular viewing of seals and even beluga whales along the coast.
Moosonee is a near roadless region of the province, and to have the best experience at this Ontario birding spot be sure to seek out a boat ride.
Plan your trip:
Ride the Polar Express train line connecting Cochrane to the town of Moosonee.
Take a bird-watching boat ride to James Bay with Moose River Tours.
Take the MV Niska ferry from Moosonee to the historic fur trading post of Moose Factory Island.
Nipigon River
If you are looking for a dramatic wildlife show, take a drive up the Nipigon River in search of bald eagles. The Nipigon River empties into its namesake bay 100 km northeast of Thunder Bay. Each fall, salmon running up the Nipigon cause birds of prey to congregate for a feast.
October is prime time for eagle viewing on the Nipigon River. The 10-km-long Nipigon River Recreational Trail provides a walking path with lookout points along the river corridor. The trail has terminuses in the towns of Nipigon and Red Rock. Starting at either town will provide opportunities to see eagles diving for salmon, as well as other birds and wildlife.
Plan your trip:
Long Point Provincial Park
This 40-km-long peninsula in Southwestern Ontario is the longest freshwater sandspit in the world, not to mention a UNESCO World Biosphere Site. Nearly 400 species of birds have been observed along the coastal habitat of this area. Long Point provides an integral layover for migrating birds, and for this reason is home to the Long Point Bird Observatory, featuring three research stations.
The Long Point Birding Trail is the best way to find observation points on your first trip. Late spring brings the most diversity at this Ontario birding hotspot, with more than 100 species recorded daily. During summer, you'll find warblers singing in interior woodlands. Or visit in fall to catch sandhill cranes preparing for the winter journey south.
Plan your trip:
Point Pelee National Park
Point Pelee National Park is arguably the best birding spot in Ontario. The national park is established on the most southern point of mainland Canada, which extends south into Lake Erie, catching the path of nearly 400 species of birds.
The breaking hours of a May morning are when you will find the forest here at maximum vibrance with songbirds travelling north from South America. In fact, when it comes to warblers, 43 out of 52 species found in Canada have appeared at Point Pelee.
May is also the time the Park hosts the annual Festival of Birds, where you can meet up with fellow birding enthusiasts in Ontario. No matter what time of year you visit this Ontario birding hotspot, Point Pelee National Park will be an experience of a lifetime.
Plan your trip:
Get outfitted
To have the best bird-watching experience in Ontario, you'll need to bring the right gear.
Binoculars are one of the most important items you'll need, enabling you to enjoy all the details of the wildlife you are viewing from a distance at the best birding spots in Ontario. Equally, it helps to have a bird identification book or app on your phone.
Other equipment is integral to a great experience, too. Comfortable hiking shoes are a necessity for days on the trail. Don't forget to carry water, a first aid kit, and a map for the region you are exploring.
Whether you need a new set of binoculars and hiking boots, or are just on the hunt for a cool field guide, here are some businesses that would be happy to outfit you for bird watching in Ontario.
Plan a bird-watching adventure in Ontario
Birding in Ontario is an enjoyable outdoor experience whether you are out for a leisurely day trip, or on the hunt for the rarest species in all the province. Birding makes for a great activity with your family or solo, and pairs perfectly with other fun activities like hiking and paddling.
When visiting any of these Ontario birding hotspots, please be courteous to both your fellow outdoor goers and the wildlife you are appreciating. Another great way to learn about birding is by reaching out to organizations in your area, such as Birds Canada, the Ontario Field Ornithologists, or the Toronto Ornithological Club.
The best part about enjoying birding in Ontario is the ability to walk out the door and start today.