13 Of The Best Hikes in Ontario to Add to Your Bucket List
From short day hikes to multi-day epics, there's a trail for everyone.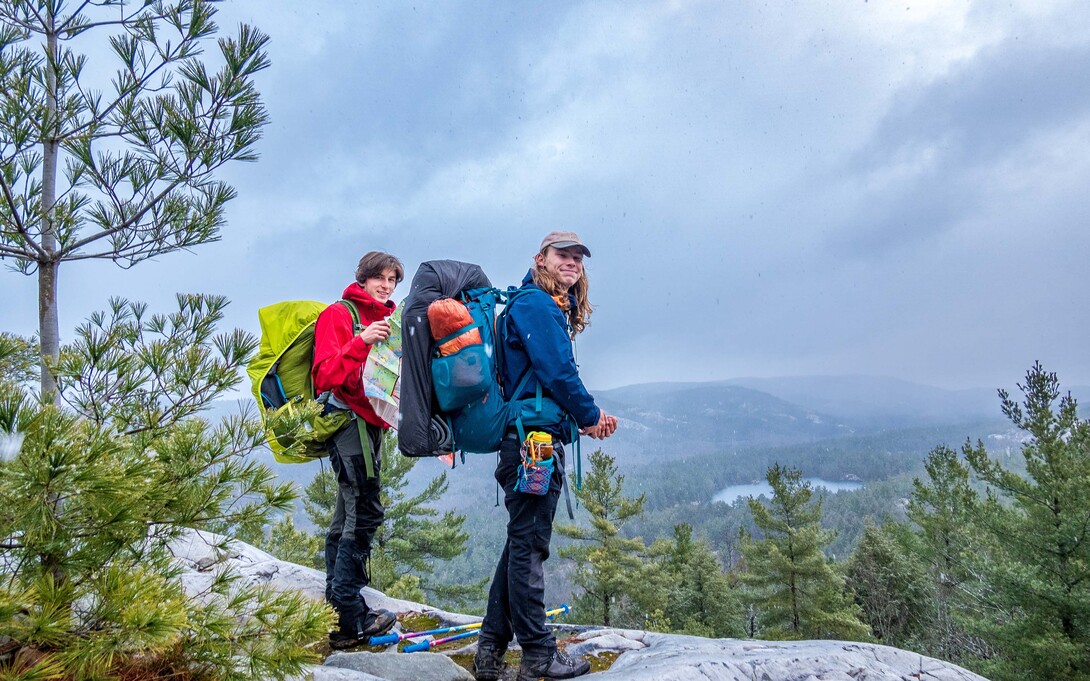 Assembling a list of the best hikes in Ontario is easy. But keeping that list to a reasonable number is a huge challenge. We aimed for an even dozen, focusing on the wilds of Northwest Ontario, Algoma Country and Northeastern Ontario, then added a couple of must-do hikes in other areas. Still, it wasn't enough.
This list includes hikes for everyone—families, multi-day backpackers, nature enthusiasts and trail running fiends. Find insider tips and trips in the "Locals Know Best" sections that will help you to get the most out of your hike in Ontario.
NORTHWEST ONTARIO
The iconic Sleeping Giant of Thunder Bay offers perhaps the greatest view in Ontario, from the top of the province's tallest cliffs. You'll want to book a couple nights at the Sleeping Giant Provincial Park campground or, for more luxurious accommodations, Beyond the Giant Nature Retreat, before setting off on one of the top hikes in Ontario, a challenging 22.4-km trek (with 300 metres of elevation gain) to the Top of the Giant.
Park at the Kabeyun South Trail Head near the end of Highway 587. From there, you'll take the Kabeyun Trail for 7.5 km to reach the Talus Trail, which you'll then hike for 0.8 km before reaching the turn off for the Top of the Giant Trail.
LOCALS KNOW BEST: The Thunder Bay Hiking Association offers a variety of guided hikes throughout the year. Outdoor Skills & Thrills offers a number of guided hikes of varying lengths around the Thunder Bay area, and has a range of equipment for use.
Once a locals-only trail, this 10-km footpath between the Superior Country communities of Red Rock and Nipigon, less than an hour's drive west of Thunder Bay, has become a centrepiece of the Lake Superior National Marine Conservation Area. The challenging hike involves over 150 metres of elevation gain, and includes wildlife waterfront sections on the Nipigon River and expansive views of Lake Superior.
Book a room at the Red Rock Inn for a great place to stay, or combine it with the grassroots Live From the Rock folk music festival in August.
LOCALS KNOW BEST: Nipigon River Adventures, located in Red Rock, offers guided hiking, kayaking, or fly fishing adventures. Spend the day exploring, then stay in comfort at The Lodge.
The rugged, 53-km trail between Terrace Bay and the village of Rossport is one of Canada's best-kept backpacking secrets. The entire trail will take experienced hikers three to five days to complete, tracing the shoreline of the Lake Superior National Marine Conservation Area. You can also get a glimpse of some of the trail's highlights (such as Mount Gwynne, near the community of Schreiber) on day trips.
Book a room at one of Rossport's famous bed and breakfasts or a campsite at one of Rainbow Falls Provincial Park's two campgrounds.
One of the newest trails in Pukaskwa National Park captures the best of the Lake Superior coastline in an easy-to-plan, two- to three-day loop—a great introduction to wilderness backpacking in some of Ontario's best scenery. Be sure to spend a night in Pukaskwa's secluded campground before or after your hiking trip. Tackling the Mdaabii Miikna trail will whet your appetite for trying Pukaskwa's epic 60-km Coastal Trail, one of Canada's greatest backpacking routes.
ALGOMA COUNTRY
It's easy to get blown away by the namesake feature of Lake Superior Provincial Park. The Inland Sea is awe-inspiring, and Lake Superior Provincial Park's Coastal Hiking Trail—available to day hikers and backpackers on three- to six-day trips—ranks amongst the finest hiking trails in Canada. The 10-km Peat Mountain Trail explores the other side of Lake Superior Provincial Park—rugged boreal forest backcountry with serious elevation gain—with outstanding long views of the famous coastline.
The peaceful, private, oversized campsites of Rabbit Blanket Lake make for a great family-friendly base camp at the trailhead. Or, for more luxury, book a waterfront room at Rock Island Lodge in nearby Wawa. If you're a trail runner check out the Defeat the Peat race in early September.
LOCALS KNOW BEST: Blaq Bear Eco Adventures offers guided day hiking adventures from Sault Ste. Marie to explore local hotspots in Algoma Country made famous by Canada's Group of Seven, as well as self-guided hiking packages including one to a hike-in, off-grid cabin on Bone Lake.
This out-and-back, 5-km leg on the Voyageur Trail offers spectacular views north of Sault Ste. Marie. Visit in the fall for spectacular colours. If you're up for a serious challenge, the Robertson Cliffs are central to October's UT Stokely Creek, a trail running event that includes distances from 5 to 170 km and is recognized as the only sanctioned qualifier for the prestigious Ultra Trail Mont Blanc in Central Canada.
Make it a weekend with an overnight at Bellevue Valley Lodge or Glenview Cottages.
NORTHEASTERN ONTARIO
One of Ontario's finest long-distance backpacking trails takes experienced hikers on an 80-km circuit of Killarney Provincial Park's iconic La Cloche Mountains, departing from the George Lake Campground. This week-long journey will take you deep into the landscape that inspired Canada's Group of Seven artists.
Reward yourself with a night at the luxurious Killarney Mountain Lodge when you finish your trek.
LOCALS KNOW BEST: Killarney Outfitters offer complete multi-day backpacking trip planning and outfitting for the La Cloche Silhouette Trail. Whether you're a novice or seasoned adventurer, you'll appreciate their all-inclusive outfitting package (starting at $99 per day per adult) including high-quality equipment and delicious, healthy wilderness meals. They will help you to plan and pack, and give you tips and tricks to happily complete this challenging trail, one of the best multi day hikes in Ontario.
Combine day hiking with some of the finest backcountry canoeing in Ontario in Obabika River Provincial Park, near Temagami. These canoe-access trails on Obabika Lake will take you through some of the province's largest old-growth pines. It's easy to spend a half-day or more exploring the trails.
LOCALS KNOW BEST: Temagami is a big region. Smoothwater Outfitters or Temagami Outfitting Company can help you plan and get outfitted with food, gear and a canoe for your adventure.
Nestled deep in the Temagami wilderness and perched over a 30-foot waterfall, is Cabin Falls Ecolodge. After paddling into one of Canada's most unique rustic lodges, you'll spend your days hiking and paddling in old-growth forest, learning about the local legends and history.  
Get an authentic Indigenous experience on this 7-km trail in Point Grondine Park, southwest of Killarney. This loop trail includes interpretive stops revealing the local Anishinaabek history, medicines and connection to the land. Point Grondine Park also offers longer self-guided hiking trails as well as excellent paddling, backcountry camping and cultural experiences. 
LOCALS KNOW BEST: Point Grondine Park is part of the Wikwemikong Unceded Indian Reserve. Wikwemikong Tourism offers an Amik Ziibing guided hike, focusing on Anishnaabek use of plants, as well as an array of authentic Indigenous experiences that reflect the cultural traditions and lifestyles of the Anishnaabek people.
It's a little-known fact that the unique limestone geology of the Niagara Escarpment extends into Manitoulin Island, in Northeastern Ontario. The Cup and Saucer trailhead is located 18 km southwest of Little Current, on Highway 540. The 12-km trail involves steep sections with uncertain footing; the reward is an expansive lookout from a limestone balcony, 70 metres above the hardwood forest.
LOCALS KNOW BEST: Explore Manitoulin Island with Great Spirit Circle Trail. Travel, discover and learn from an Indigenous perspective. Embark on a guided journey on the Mother Earth Hiking Trail (Cup and Saucer Trail) as interpreted by your Indigenous guide. Learn about different local plant life used for edible, practical and medicinal purposes as well as local legends and history.  
ALGONQUIN PARK
There are no shortage of hiking options in Ontario's Algonquin Provincial Park, ranging from easy day hikes to challenging multi-day backpacking treks. What the 1.5-km Barron Canyon Trail lacks in distance it makes up in scenery, with one of the most spectacular lookouts in the Algonquin region—soaring 100 metres above the Barron River. This trail is definitely one of the best day hikes in Ontario.
Make it a weekend by booking a site at the secluded Achray Campground on Grand Lake.
LOCALS KNOW BEST:  Be sure to stop at Algonquin Bound Outfitters on Barron Canyon Road to plan and get geared up for your hike to the Barron Canyon Trail. Their full-service stores provide all the camping, canoeing and fishing equipment you'll need. See all outfitters servicing Algonquin Park.
BRUCE PENINSULA
This short, 3-km loop explores one of Ontario's most unique landscapes and shorelines, offshore in the crystalline Georgian Bay waters of Fathom Five National Marine Park. Flowerpot Island is only accessible by boat, with tour boat service through Bruce Anchor Cruises or Blue Heron Boat Cruises available mid-May through mid-October (weather permitting). You'll experience stunning natural limestone pillars and caves and rare communities of plants, as well as a historic lighthouse.
Make your reservation early to score a campsite on Flowerpot Island or stay in Tobermory and do day hikes.
SCARBOROUGH
This 6-km trail takes you to the top of one of the Greater Toronto Area's most recognizable natural features, and is one of the best hikes in southern Ontario. Start in Bluffer's Park, east of downtown Toronto, off of Kingston Road and trace the Lake Ontario shore.   
Take A Hike, eh?
From short day hikes to multi-day epics, Ontario has a trail for everyone. Skirt lakes, traverse mountains, navigate forests—take your pick from a variety of landscapes, each more beautiful than the last at these best places to hike in Ontario!