National Parks in Ontario
National Park designation doesn't come easy. Each of these six protected areas was chosen for a reason.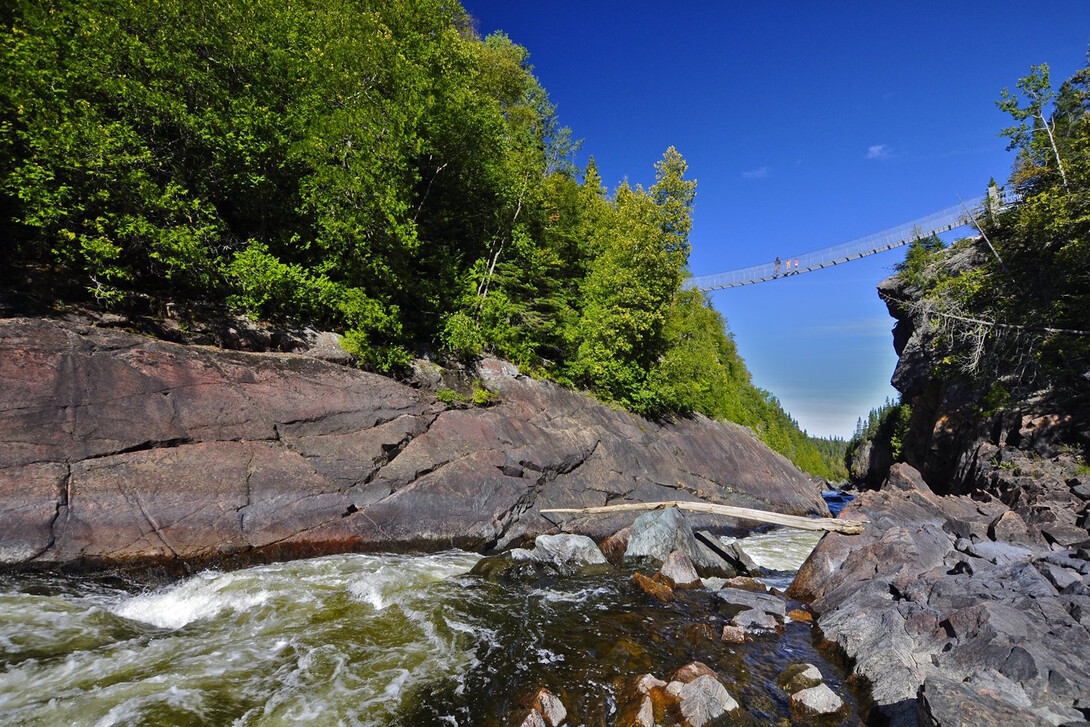 Natural areas aren't bestowed with national park status just for having a picnic bench and a fire pit. The six areas in Ontario that are marked by Parks Canada signs all exhibit qualities that put them above and beyond the ordinary. Whether it's an archipelago in the St. Lawrence or a rugged shoreline on Superior, a marshy wedge of land in Lake Erie that's thrumming with life or the hard rock shores and islands of Lake Huron, these areas are some of the best of the best, and they are open to visitors like you, so plan your visit now.
Georgian Bay Islands National Park, Georgian Bay
There's no mistaking the eastern shore of Georgian Bay for anywhere else on earth. Its 30,000 islands form the world's largest freshwater archipelago. Islands of smooth, pink and grey granite are topped with wind-formed white pines and surrounded by the clear waters of what Samuel de Champlain called the Sweetwater Sea.
It's a kayaking playground, with innumerable channels to explore and uninhabited islands on which to camp. Georgian Bay Islands National Park encompasses a sampling of these islands along the southern half of the shoreline. The collection is spread pretty thin, but the largest island in the park by far is Beausoleil Island, just offshore of Honey Harbour.
Beausoleil is the only place in the park where camping is allowed, or you can rent cabins at Christian Beach or Cedar Springs toward the south end of the island. The island has a network of trails spreading toward the north end that offer great swimming spots and scenic lookouts. Biking is allowed on most trails, and you can rent appropriate bikes from the visitor centre at Cedar Springs. This map will give you the lay of the land.
To get to the island from Honey Harbour, book a ride on the Day Tripper. If you want to take your own bikes or if the boat is full, you can book a water taxi ($60 one way to Cedar Springs for up to eight people) from the Honey Harbour Boat Club Marina.
For maximum independence, you can rent a canoe or kayaks from the The Swift Outdoor Centre on Highway 400, 7 km south of the Port Severn exit toward Honey Harbour. The closest point of Beausoleil Island is only about 2 km from Honey Harbour through protected but often busy boat channels. However, given the size of the island, any exploration will likely entail a longer paddle. Given the surroundings, that's definitely a good thing.
Fees for admission, Day Tripper boat trips, mooring, and camping are available here.

Point Pelee National Park, Lake Erie
You can't get any further south in Canada without getting your feet wet. Point Pelee is a dramatic point of land (much of it marsh and sandbar) that points due south into Lake Erie. Stand at the very tip, and all of mainland Canada is north of you. The park isn't large, but is so unique to Canada with its swamp forests, cedar savannah, and extensive marshland that you'll want to spend a whole day experiencing it.
The 12 km of trails are sectioned off so there are easy options for everyone. Favourites include the Marsh Boardwalk, with its observation tower and floating boardwalk, and the shorter Botham Tree Trail that highlights the southern-accented Carolinian forest.
The park is 65 km east of Windsor and 350 km southwest of Toronto. It's the second smallest national park in Canada, but the most ecologically diverse. How's that for a natural concentration?
The Friends of Point Pelee offer guided birding hikes and freighter canoe tours and will rent canoes for tours through the park's expansive and active wetlands, or bikes for rolls along 17 km of trails and quiet roadways.
If one day isn't enough, consider bunking in comfort and convenience at one of the park's 24 oTENTik cabin-style prosptector tents abodes. They sleep groups up to six for $120 per night. Reserve here.
Bruce Peninsula National Park, Lake Huron / Georgian Bay
The Niagara Escarpment gives form to the Bruce Peninsula as it juts north to divide Lake Huron from Georgian Bay. The dolomite landform's ragged edge forms the dramatic shoreline of Georgian Bay to the east, but on the west side of the peninsula there's a gentler meeting with Lake Huron. Parents with kids and committed beachgoers will want to head west, to the spacious Singing Sands Beach. Here you'll find no lifeguards but dunes behind you and the limitless horizon of Lake Huron ahead.
The main highlights of this national park and UNESCO World Bisophere Reserve are further east, though. From the campground at Cyprus Lake, the Georgian Bay Trail leads out to the Georgian Bay shoreline to hook up with the northern end of the 782-km Bruce Trail, the oldest and longest footpath in Canada.
Hiking options are many, but for a great 3-km loop, head to Halfway Rock Point. The trail leads to a great swim spot at Indian Head Cove and two sea caves: the Grotto with its two underwater entrances, and Natural Arch. From Boulder Beach near Marr Lake, you can loop back to Cyprus Lake. Count on at least three hours to do it right.
There is a great bouldering area for ground-level, rope-free rock climbing at Halfway Log Dump (note: this is not Boulder Beach). The Ontario Alliance of Climbers has put out a guidebook to show where it's allowed.
For cottage accommodations, check in at Cedar Grove Cottages, just outside the park boundary. They offer boat rentals with a handy sneak route through a stream that leads east to Cyprus Lake in case the campground there is full. Other boat rentals are available in Tobermory at Thorncrest Outfitters.
Pukaskwa National Park, Lake Superior
For everything that Ontario's national parks have going for them, Pukaskwa is the only true wilderness park in the bunch. And what a wilderness… imposing headlands, secluded beaches, wild rivers, coastal trails; Pukaskwa National Park is made for adventurers.
With no roads in the park, it must be experienced by paddle or foot in the summer. Paddling is not for the faint of heart. The White River catches the northern corner of Pukaskwa, but the stretches upstream of the park have been compromised by hydro development. In the south, the Pukaskwa River is a wilderness whitewater river, but has a fairly narrow window when it is run with sufficient water flows in the late spring or early summer. In between is 135 km of Superior coastline that beckon the brave.
The backcountry paddling Trip Planner asks: are you prepared for primitive campsites, exposed waters, possibly being windblown for days? If the answer is yes, or even maybe, contact Naturally Superior Adventures for sea kayak rentals and guided trip options. The very experienced outfit also offers the coastal accommodation for those travelling to the park from points east, and will put together custom trips.
If you'd rather stay on land, there is a collection of day hikes available, but the real draw at Pukaskwa is the 60-km Coastal Hiking Trail. Consult the trip planner for route information, and contact the park for backcountry reservations and information on boat shuttles if you don't want to do an out-and-back. Though with the trail being so spectacular, it's hard to imagine a reason you wouldn't want to retrace your steps.
Thousand Islands National Park, St. Lawrence River
The best way to explore the Thousand Islands National Park and the thousands of granite-lined channels that exist in this archipelago in the St. Lawrence River is by plying parts of the Thousand Islands Paddling Trail. It consists of nine interconnected day trips that link Kingston and Brockville. You can always combine them to go for a multi-day adventure. Docks, beaching sites, composting toilets and picnic tables are available on all serviced islands, with access points listed here. If you plan to camp out, make sure to make a reservation.
A favourite trip is the 20-km circumnavigation of Grenadier Island, complete with swimming beaches, vibrant marshes, interesting architecture, hiking trails, and even a shipwreck.
For service, advice, rentals, and guiding, get in touch with Thousand Islands Kayaking Company in Gananoque. They also keep a listing of area B&Bs, inns, motels, and camping spots. For accommodations and boat rentals, check out Misty Isles Lodge and Harmer's Cottages, and to pick up a boat in Kingston go to Ahoy Rentals.
If you'd rather get a better view from higher up off the water, these boat tours all have their own routes and schedules: Gananoque Boat Line, Rockport Cruises, St. Lawrence Cruise Lines, 1,000 Islands Cruises, and 1000 Islands and Seaway Cruises. 
Rouge National Urban Park, Toronto
Rouge National Urban Park includes incredible natural, cultural, and agricultural landscapes that have amazing biodiversity. It has one of the region's largest marshes, a Lake Ontario beach, Carolinian ecosystems, and more. There are lots of things to do: you can take an award-winning guided walk, paddle, go bird watching, cycling, fishing, or Learn-to Camp.
Discover iconic places with Parks Canada
Each Park is worth a visit, in fact many visits. If you purchase a Parks Canada Discovery Pass, you will have unlimited admission to Bruce Peninsula National Park, Georgian Bay Islands National Park, Point Pelee National Park, and Pukaskwa National Park as well as many other National Parks, Historic Sites, and Marine Conservation Areas in Ontario and across Canada.