Best Waterfalls in Ontario (That Aren't Niagara Falls)
Discover the most beautiful waterfalls in Ontario. Find out where they are and how to get there.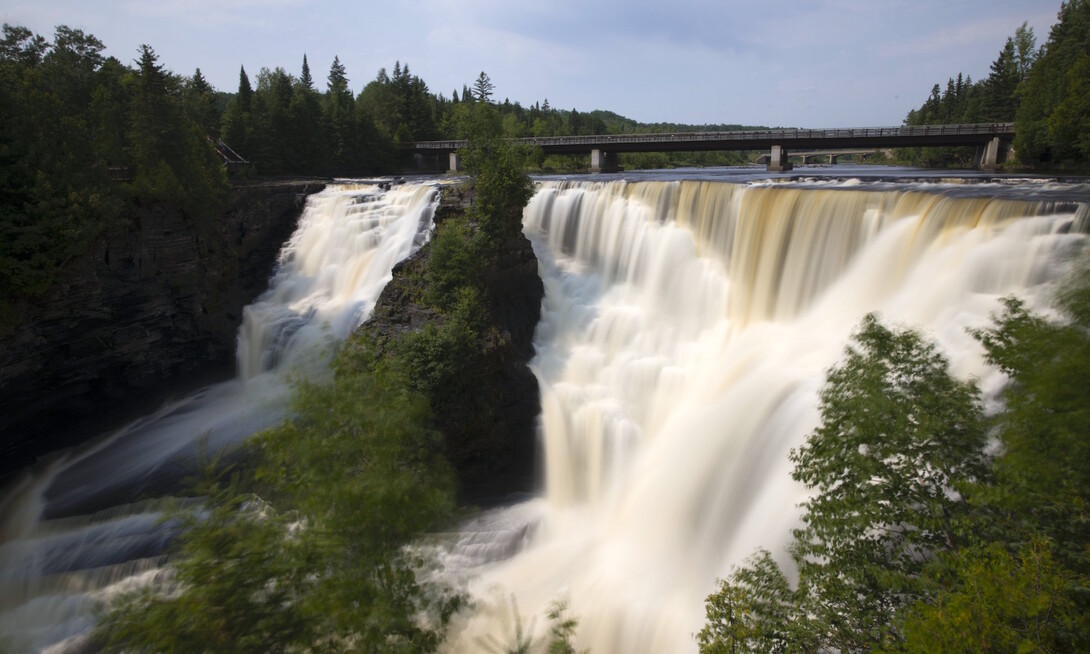 Beautiful waterfalls express the power and magnificence of the natural world. They are both incredibly calming and invigorating at the same time. Waterfalls make you feel alive, enriched and reflective. They can improve your mood and help create a positive mental state. They are great places for hikes, photography, family and friends outings and connecting with nature.  
Waterfalls are so alluring that people are drawn to them all over the world. While some travel in search of the world's tallest or widest, the beautiful waterfalls in Ontario provide magnificent experiences and beauty. They are the perfect reason to get out and explore the region around you. Before heading out, hone up on your photography skills to capture their beauty. 
Our list of some of the best waterfalls Ontario has to offer will get you started. Get more information on these and many more waterfalls in the book and website, Waterfalls of Ontario by Mark Harris.
Best Waterfalls in Northern Ontario 
Northern Ontario is home to the best waterfalls Ontario has to offer. This vast region has thousands of lakes that are connected by flowing rivers with cascading waterfalls. Many of these natural wonders are located in Ontario Provincial Parks. You can hike or paddle to these magnificent features.  
Northeast Ontario Region 
The Northeast Ontario region is full of big, beautiful waterfalls. Many are accessible through short hiking trails. For a unique trip, journey to New Post Falls by kayak or canoe. See full list of waterfalls. Find travel information here.    
Bridal Veil Falls, Manitoulin Island 
Bridal Veil Falls is a popular and pretty waterfall near the village of Kagawong. It has a small visitor centre and a short hiking path to the nearby quaint shops, church and art gallery. The falls is a key highlight of the Kagawong cycling route.
Chutes Provincial Park 
Enjoy the 6 km Twin Bridges hiking trail with great views of scenic waterfalls along Aux Sables River. Stay in the Chutes Provincial Park's quiet campground that's close to the town of Massey. It's a great base to explore the beautiful waterfalls on Manitoulin Island. 
Duchesnay Falls, North Bay
The iconic Duchesnay Falls draw visitors in every season. The access off Highway 17 offers the best vantage point to the series of falls as they cascade down the escarpment. The full trail is 11.6 km with 3.5 km groomed from cross-country skiing. Find out more.
Eau Claire Gorge, Mattawa
Follow the 2.75 km interpretive trail that leads to the incredible waterfalls and open rock face of the gorge. Learn about the natural and human history of the area. Find out more.
Kap-Kig-Iwan Provincial Park
Kap-Kig-Iwan Provincial Park is located just off Hwy 11, two km south of Englehart. Enjoy walking, photography and hiking in the Englehart River valley. Hike the 2.5 km Hell's Gate Trail along the Englehart River's rushing waterfalls and rapids. Car camping is available.
New Post Falls, Abitibi River
This breathtaking spectacle is the highlight of this two-day beginner kayak trip with Howling Wolf Expeditions. Water gushes through a rock gorge then drops 120 m towards the Abitibi River. Experience one of nature's most precious wonders as you hike up the side of the gorge to the top of the falls. Find out more.  
Onaping Falls, Sudbury
These falls were made famous by the 'Spring on the Onaping River' painting by A.Y. Jackson, one of the founding members of the Group of Seven. It's a short hike or snowshoe on the A.Y. Jackson trail to Onaping Falls.  
Lady Evelyn-Smoothwater Provincial Park
Imagine staying in a rustic ecolodge perched over a rushing 9 metre high waterfall deep in the Temagami wilderness. Nestled in a pristine setting, surrounded by old-growth pine forests, Cabin Falls Ecolodge offers an authentic wilderness experience like no other.
Algoma Region 
The Algoma region is home to many beautiful waterfalls, many located along Hwy 17. Most are accessible by short to medium hiking trails. For an incredible adventure, take a guided kayak and hiking trip to spectacular Denison Falls. See full list of waterfalls in Algoma region. Find travel information here.    
Aubrey Falls
It's worth the drive off the Hwy 17 corridor to Aubrey Falls Provincial Park. This waterfall is really big (53 m high) and is composed of 7 to 10 different sections. Capture the magic as the Mississagi River tumbles over beautiful granite rock. 
Denison Falls
Kayak along one of Superior's most remote sections with a day hike to a remote and awe-inspiring waterfall. This 6-day guided fully outfitted wilderness trip by Naturally Superior Adventures takes you to the incredible Denison Falls with a 40 m drop. 
Silver Falls and Wawa Falls
The Wawa area is well known for some of the best waterfalls in Ontario. Silver Falls is one of the big three in the area. You can see this falls from the road but a moderate hike through the woods will get you up close to it. Follow the trail further to Wawa Falls.  
Thunderhouse Falls
This is the ultimate wilderness waterfall adventure. On this guided canoe trip with MHO Adventures, you will paddle 80 km of the Lower Missinaibi to the magnificent Thunderhouse Falls where you'll camp perched 45 metres above the canyon.   
Northwest Ontario 
Northwest Ontario is home to many spectacular waterfalls. Most are accessible by short to medium hiking trails (top 8 easily accessible waterfalls). Here are a few to inspire you. See full list of waterfalls for Northwest Ontario. Find travel information here.
Kakabeka Falls
It's an easy hike or snowshoe to Kakabeka Falls, known as "Niagara of the North." Being the second highest waterfall (40 metres) in Ontario with year round access for viewing, it's considered one of the best waterfalls Ontario has to offer. Get excellent views of the falls and gorge from the boardwalk that wraps around the top of the falls. Stay in one of the three campgrounds. 
Pigeon River
Pigeon River Provincial Park is open year round for day-use only. Pigeon River offers two hiking trails leading to waterfalls. The 2 km loop High Falls trail, steep in sections, takes you to a spectacular view of the High Falls (28 m). The 700 m Middle Falls trail is an easy walk to one of the most beautiful waterfalls in Ontario.
Rushing River
The Rushing River cascades over rocks in a series of rapids and small waterfalls. Follow the 1.8 km looped Lower Rapids trail for scenic views. Enjoy car camping or walk-in camping at Rushing River Provincial Park.
Rainbow Falls
Looking for Ontario hiking trails with waterfalls? Rainbow Falls Provincial Park is the place for you. The Rainbow Falls Trail is part of the 52 km Casque Isles Trail section of the Voyageur Trail. Hike to see cascading waters as they plunge over the rock ledges on their way to Lake Superior. Follow a series of stairs and platforms down to a sturdy bridge over the falls. Leave the river and climb to a scenic lookout over Lake Superior. Camp at Whitesand Lake or along the rugged shore of Lake Superior at the Rossport Campground.     
Wabakimi Provincial Park
Join Wabakimi Canoe Outfitters for a guided 6 day, 5 night Waterfalls and Wilderness Nature Tour in Wabakimi Provincial Park. Canoe through pristine waterways to discover incredible, remote waterfalls in the planet's largest wilderness paddling area. 
Best Waterfalls in Southern Ontario 
In addition to the magnificent Niagara Falls, the Niagara Escarpment provides lots of waterfalls within an easy drive of the Greater Toronto Area. Find waterfalls near London and Lake Huron. It's easy to create a waterfall day trip or multi day tour.   
Grey County Waterfall Tour
Feel the rush as the sparkling rivers cascade over the edges of the Niagara Escarpment. Visit some or all 10 of the beautiful waterfalls on this 250 km driving or cycling tour. Discover the beauty of Eugenia Falls, Hogg Falls, Holstein Dam, Inglis Falls and more. Explore the local area and discover small town hospitality, delicious local foods and must-see attractions. Download a brochure here.  
Waterfalls near Hamilton and Burlington
There are over 100 waterfalls in and around Hamilton, including the larger and popular Albion Falls, Webster Falls and the ribbon-like Tew Falls. Discover some of the lesser known gems such as Borer's Falls or Tiffany Falls. Explore the 17-metre high Sherman Falls in Ancaster Heights, located along the Bruce Trail.  See full list from Waterfalls of Ontario. Find travel information here. 
best Waterfalls in Cottage Country and Central Ontario
The area north and east of Toronto provides great waterfalls to explore. Many of these falls flow all year long and are fun to explore in all seasons. Visit waterfalls near Bancroft such as the Egan Chute and Farm Chute. See full list for this area from Waterfalls of Ontario.
Best Waterfalls in Eastern Ontario 
The falls in this region are generally smaller and less impressive than those in other regions, however, many are connected to old mills, old bridges or dam ruins. Search the full list from Waterfalls of Ontario to find waterfalls near Kingston or Ottawa.
Plan your Waterfall Trip Now 
Waterfalls have many alluring qualities. Whether they are powerful and majestic or small gently flowing cascades, they are a true expression of the magnificence of nature. Start planning your hiking, photography, paddling or driving waterfall adventure now.