The Ultimate Guide to Visiting Sleeping Giant Provincial Park
Enjoy astounding natural beauty in every season.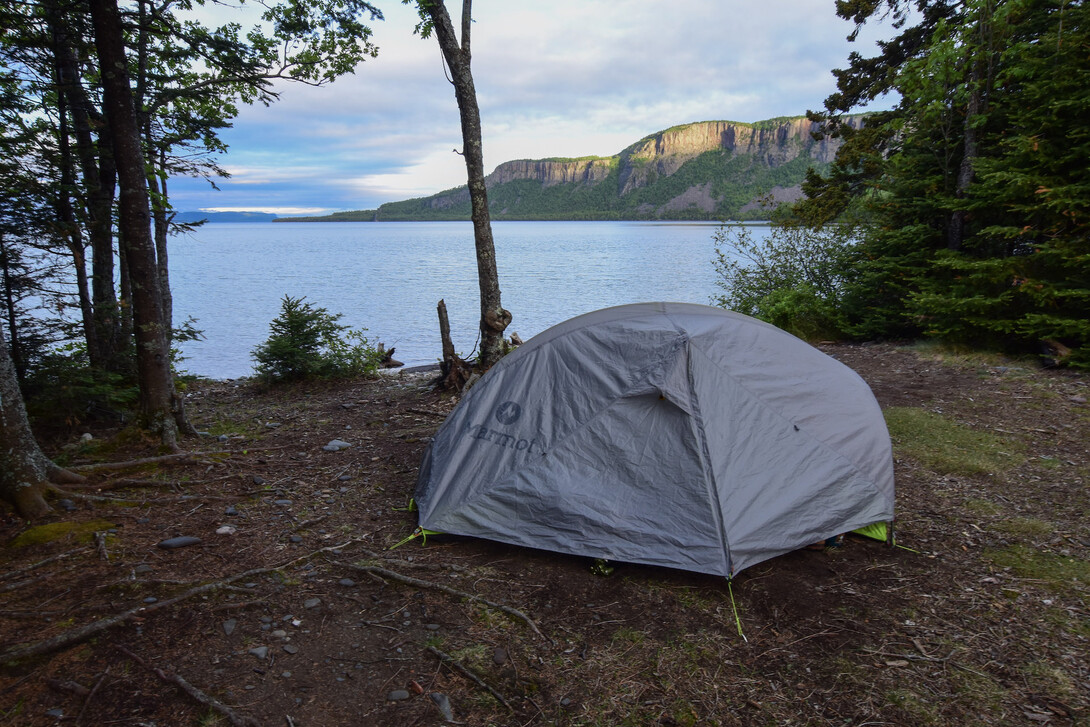 The Sleeping Giant landform is a local landmark, adorning t-shirts and stickers, even becoming the name of a craft brewery. Climbing to the top of the Giant is one of the most rewarding hikes in the area. It's hard to believe you're still in Ontario when you're standing atop the vertical cliffs and looking out on the endless horizon. Come winter, the challenging ski trails are some of the most scenic in the province.
Established in 1944, Sleeping Giant Provincial Park boasts 200 campsites and more than 100 kilometres of trails. There are frontcountry and backcountry camping opportunities, activities galore and paddlers can even get out on the vast Lake Superior or the warmer inland Marie Louise Lake. This guide will help you plan your trip and learn more about this unique place.
The Basics
Why do they call it Sleeping Giant Provincial Park?
After spending any time in Thunder Bay, it would be easy to see how Sleeping Giant Provincial Park got its name. The cliffs on the end of the Sibley Peninsula resemble a human figure laying supine. Ojibwe oral tradition names it as Nanabijou, a protector who was turned to stone after the location of the silver deposits in Silver Islet was revealed to Europeans. Read an account of the story here.
Where is Sleeping Giant Provincial Park?
Sleeping Giant Provincial Park is on the Sibley Peninsula, just an hour's drive from Thunder Bay. You'll turn off the Trans-Canada Highway and wind down Highway 587 through Pass Lake, a small community where you can pick up some groceries at the Pass Lake Campground's convenience store.
Things to Do at Sleeping Giant Provincial Park
Summer
Sleeping Giant Provincial Park kayaking
The frontcountry campground is right on Marie Louise Lake - a calm, sheltered lake perfect for launching kayaks. It's four kilometres long, with different types of shoreline to explore.
More experienced paddlers can take properly outfitted kayaks onto Lake Superior if the weather allows. Silver Islet's boat launch can be busy, but kayaks are allowed to launch for a fee.
Silver Islet, the cottage community near the park, is a popular start/finish point for multi-day sea kayak trips through the Lake Superior National Marine Conservation Area. These trips are guided by Naturally Superior Adventures and Such A Nice Day Adventures.
Canoe, kayak, and paddleboard rentals are available at the Park Store, located in the Visitor Centre. If you're staying in Thunder Bay, Wilderness Supply also provides rentals.
Hiking Sleeping Giant Provincial Park
There are more than 100 kilometres of trails to explore in the park and something for everyone. Of course, most visitors to Sleeping Giant will want to ascend the Giant. There are many different ways to do so, beginning in the South Kabeyun parking lot. Think of the Kabeyun Trail as the "highway" to the Giant. This is a former logging road, now a double-track trail with rolling hills. The first 7.5 kilometres of the South Kabeyun are easy walking and will take you to the Tee Harbour and Lehtinen's Bay campsites. From here, you can also access the following trails:
Top of the Giant Trail takes you up to the "knees" of the Giant where you'll be treated to stunning views from the tall cliffs. This is a 22-kilometre round-trip hike from the South Kabeyun trailhead. Give yourself 6 to 8 hours to complete this strenuous hike. It can be busy, and you'll see why when you get to the top. For inspiration, read about outdoor writer Monica Prelle's experience on the Top of the Giant.
Linking the Kabeyun, Talus Lake and Sawyer Bay trails will turn your hike into a loop and offer a different vantage point. The Talus Lake Trail travels the valley between Thunder Mountain and the Sleeping Giant. Near the top, a one-kilometre spur known as The Chest Trail will take you to a lookout above Sawyer Bay. Finish the loop along the Sawyer Bay Trail to round out a 20.5-kilometre hike. This is also a 6-8 hour undertaking for experienced hikers.
A shorter option is to bag the Head of the Giant via the Sawyer Bay Trail. This 17-kilometre out-and-back round trip also starts in the South Kabeyun Parking Lot. Don't be fooled by the shorter distance - this route has 550 metres of elevation gain, most of which are in the final climb up the Giant. You can stop and relax in Sawyer Bay campsite afterward, or even brave a dip in Lake Superior's cold water.
For those who just want to get a taste of Superior, head down the South Kabeyun trail to glimpse the Sea Lion, a thin formation of diabase rock that's only about one metre wide but extends into Lake Superior for 15 metres, with an archway eroded through near the end. It's a 2.4-kilometre round trip from the parking lot, with a tiny section of rock steps.
Some of the park's lesser-known trails are more suitable for short, half-day excursions.
The Piney Woods Nature Trail is a 2.8-kilometre round trip. It takes hikers through a quiet pine forest filled with large trees, ending at a lookout over the peaceful Joeboy Lake.
For a self-guided interpretive tour, walk the Sibley Creek Nature Trail. Interpretive signs are posted along the way to inform about the area. You'll pass through wetlands and over Sibley Creek. Although it is just a 2.3-kilometre loop, hope for lots of wildlife along the way.
The Plantain Lane Nature Trail is suitable for hikers of all abilities and is wheelchair accessible. This short, 600-metre trail travels over Sibley Creek and is situated right off the highway.
Biking
Before the park was established in 1944, a network of logging roads ran along the peninsula between the base of the cliffs and Superior's shores. Many of these roads remain as rugged paths for biking.
The Park allows biking on the following trails:
South Kabeyun to the junction with Talus Lake Trail.

If you are heading out to Thunder Cape Bird Observatory, or the Top of the Giant hike, biking saves a significant amount of time. This trail passes campsites at Tee Harbour and Lehtinen's Bay.

Sawyer Bay Trail

Choosing to bike at least part of this trail will make a trip to the Chest or Head of the Giant much quicker. The last section of the trail towards Sawyer Bay can be quite bumpy, so use caution.

Sawbill Lake Trail

This trail links directly to the Sawyer Bay Trail from the Marie Louise Lake Campground, allowing you to ride into the backcountry while avoiding the busy road.

Pickerel Lake Trail

A mix of grass and compacted soil most of the year, in the winter, this trail turns into an excellent ski/fat bike route. It's quieter in the summertime.

Burma Trail

More popular in the winter on fat bikes, you can ride this 11.4-kilometre linear trail if conditions are dry enough - but often it is quite muddy and wet.
Most of these trails are best ridden with a mountain bike as sections can be quite bumpy. Quieter routes in the park, like the road out to the Thunder Bay Lookout, are suitable for gravel bikes. Road cyclists also enjoy pedalling down the shoulders of Highway 587 to Silver Islet on warm summer mornings. Local cycling expert Keith Ailey knows these trails extremely well. Let him tell you where to ride on your trip. You can easily fill a full trip cycling in and around the park.
Mountain bikes are available for rent at the Park Store. Many people ride bikes to the base of the Top of the Giant Hike, where there's a bike rack to lock your bike.
BIRDING
Sleeping Giant Provincial Park is a hotspot for bird activity, especially during the spring and fall migrations. The Sibley Peninsula sticks out into Lake Superior in a welcoming way, making it an appealing resting point for migratory birds.
Thunder Cape Bird Observatory is a monitoring station which collects data on bird populations and their migratory patterns. It's at the very end of the peninsula, where staff track birds they see. Birds caught in nets are "banded" with a small numbered ring around their leg. When these banded birds are found at other stations, it gives valuable insight into bird behaviour and migrations.
Visitors are welcome to visit the station (open from late April to June and again from August 1 to October 30). The station lies just off the end of the Kabeyun Trail and is a 13-kilometre round trip from the trailhead. If you're camping in the backcountry sites, you may arrive early enough to see birds being banded and released. Climb the observation tower for a unique view of the Giant—you may come eye-to-eye with soaring birds.
The other trails in the park are phenomenal for bird-watching as well. Bring binoculars on your hikes, or just listen to the birdsong as you walk through the boreal forest. The park's Discovery Leaders and staff at the Visitor Centre will be happy to help identify birds you may have seen.
Sleeping Giant Provincial Park in Winter
Snowshoeing
The hiking trails remain open throughout the winter. Those who strap on snowshoes and get out on the trails will find they have most of the park to themselves. You can snowshoe any of the trails that aren't groomed for skiing.
Skiing
Sleeping Giant Provincial Park boasts some of the finest cross country skiing in Northern Ontario. There are both skate and classic ski trails, with options for beginner or experienced skiers. The 20-kilometre loop around Marie Louise Lake is a mellow tour typically sheltered from the wind.
If you're looking for a longer, more challenging ski, take the Burma and Pickerel Lake trails to make a 30-kilometre loop. There are some steep climbs on this route, and the skiing is pretty remote - it's best to always ski with a partner.
Since 1978, the Sleeping Giant Loppet has taken place on the first Saturday in March. This ski tour draws competitive athletes and casual skiers into the park for a fun-filled day. Distances range from 8 kilometres to the 50-kilometre ski marathon.
Fat Biking
The cycling opportunities don't end in autumn at Sleeping Giant - Fat bikers are also allowed to use the ski trails. After the ski Loppet, Thunder Bay's Blacksheep Mountain Bike Club hosts a Fat Bike Loppet, with distances of 8, 20, and 50 kilometres.
Winter Camping
Cabins are available for rent at Marie Louise Lake all year, including winter. These comfortable accommodations have propane heat, potable running water, and three bedrooms, sleeping six people comfortably. It's great to have a cabin in which to warm up and hang wet gear after skiing and snowshoeing adventures.
All-Season
Sleeping Giant Provincial Park's Northern Lights
Most of the places in the park are great for stargazing - or hopefully seeing the northern lights. Nights are short in June and July, but darkness falls sooner toward the end of August, and your chances of catching the northern lights increase with longer nights all the way until Christmas. You can check the Aurora Forecast for a three-day prediction of geomagnetic activity.
On clear nights, try to go near the water, whether Marie Louise Lake or Lake Superior. The Milky Way is often visible, reflecting onto the lake's surface. If there's northern light activity predicted, you'll want to go somewhere with a north-facing view. The Thunder Bay Lookout is a good spot to drive to at night.
Sleeping Giant Provincial Park Camping
Sleeping Giant Provincial Park campground
Marie Louise Lake's campground has 200 sites, 85 of them being electrical. Every campsite has a fire pit and picnic table. Two of the sites are designated as barrier-free, accessible sites. The park also has standard comfort stations, showers, flush toilets, and laundry services.
At the Marie Louise Lake campground, you'll also find a boat launch. Fishing rods and tackle are available here for free loan through the Ontario Federation of Anglers and Hunters.
The Visitor Centre features interactive exhibits and programs that are perfect for rainy days and is where you can rent kayaks, canoes, and mountain bikes. The centre also houses the park store, where visitors can purchase books, maps, and souvenirs.
Sleeping Giant Provincial Park Backcountry Camping
Sleeping Giant has 27 backcountry sites throughout the park. Most of the sites are clustered along the Kabeyun Trail. The most popular ones are in Tee Harbour, Lehtinen's Bay, and Sawyer Bay. This is for good reason—they are stunning sites, all with great views. The sites each have a fire ring and shared bear boxes and outhouses. Because of their coastal location, you can hike, bike or paddle to most of the sites in these zones. These first-come-first-serve sites fill up quickly in the summer, so you'll want to arrive at your campsite early. Below, we'll detail how to reserve sites in the park.
The other backcountry sites see much less use and are good stopover sites—these are Zones 3, 4, 6 and 7. If you're planning a big push the next morning or comfortable camping away from Lake Superior, these sites are adequate, but they wouldn't be the first choice of most people.
Best Campsites at Sleeping Giant Provincial Park
The best backcountry sites at Sleeping Giant are the sites at Tee Harbour, Lehtinen's Bay, and Sawyer Bay. Tee Harbour has the closest backcountry sites to the trailhead. If you arrive early enough, you'll have your pick of open, grassy areas or secluded spots deeper in the harbour. A relatively short walk from the trailhead, Tee Harbour is a good spot for first-time backcountry campers.
Lehtinen's Bay sites are further down the Kabeyun Trail but are adjacent to a quiet pebble beach. Cliffs loom over the site for a spectacular backdrop. Typically, these sites are not as busy as Tee Harbour. These are good sites to base yourself and do day trips. The Top of the Giant Trail access is nearby, or you could continue on the Kabeyun to Thunder Cape.
In the frontcountry, all the sites are just a short walk to Marie Louise Lake or a nearby comfort station. If you prefer a quieter site with some privacy, sites 200-220 are away from the main cluster of campsites. Sites 310-319 are even more secluded on the west side of the lake.
Sleeping Giant Provincial Park Camping Reservations
You can make reservations for Sleeping Giant over the phone or online. You'll need to reserve both frontcountry and backcountry sites before your visit, but the process of site selection differs.
Booking frontcountry sites is fairly straightforward. Visit the Ontario Parks' reservation website, select the dates, and see the available sites. The roofed accommodations are also booked through this web portal. It's helpful to read the descriptions of each site before booking. Pay special attention if you are taking an RV or trailer, as not all the sites are pull-through.
Backcountry site reservation is similar, except bookings are made for zones rather than specific sites. Selecting the "Backcountry Camping" option brings up the available zones for your selected dates. Making a booking will ensure you have one of the campsites in your desired zone, but specific sites are occupied on a first-come, first-serve basis on the day of your booking.
Accommodations In and Near Sleeping Giant Provincial Park
Sleeping Giant Provincial Park Cabin Rentals and Cottages
Just outside the park is the comfortable Beyond the Giant Nature Retreat. They have three beautiful off-grid log cabins, all on the shores of Black Bay, just a 30-minute drive from the park. 625 Portage Drive, Shuniah, 807-251-5853.
The cottage community of Silver Islet has some rental options available, like this one overlooking Lake Superior. 702 Camp Bay Road, Silver Islet, 807-628-4908.
Closer to Thunder Bay, there are cottages available for rent in Shuniah. This community is just off Highway 11/17, an ideal halfway spot between Sleeping Giant and Thunder Bay. There are excellent beaches and rivers to explore here as well.
Hotels near Sleeping Giant Provincial Park
Most hotel accommodations are in Thunder Bay. For a stay near Thunder Bay's waterfront, you've got quite a few options, including:
The Courthouse Hotel, a boutique hotel with 40 rooms. The hotel is perched on a hill, overlooking Thunder Bay's downtown with a view of the Sleeping Giant in the distance. 277 Camelot Street, Thunder Bay, 807-699-7666.
In the heart of downtown Port Arthur, the Prince Arthur Hotel is within walking distance of some of the city's best restaurants. 17 Cumberland St. North, Thunder Bay, 807-267-2675.
Hostels
The Haven Hostel is right in downtown Port Arthur, Thunder Bay. The hostel caters to social travellers, emphasizing communal space and offering both private and shared rooms. The hostel also provides motorcycle/bicycle storage and adventure packages to book rock climbing excursions. 226 Ambrose Street, Thunder Bay, 807-285-1142.
Maps of Sleeping Giant Provincial Park
Sleeping Giant Provincial Park trail maps can be purchased at the Visitor Centre or online through the map-maker, Chrismar. Basic maps of the park and campground are available on the Ontario Parks website. The trails are signed, and a map is posted at the South Kabeyun trailhead, but it's still a good idea to have a detailed map when travelling in the backcountry.
A map of the ski trails is available through Thunder Bay Nordic Trails.
Sleeping Giant Provincial Park Fees
All visitors to Sleeping Giant must pay the day-use fee, in this case, a vehicle permit. If you're going in for a day hike, purchase your permit at the Joeboy Lake Trail parking lot on your way into the park. It's a self-purchase station open at any hour. Vehicle permits can also be purchased at the Visitor Centre if it is open.
A Thunder Bay Nordic Trails membership gives skiers and fatbikers access to the park in the winter. If you aren't a member, you'll need to purchase a day-use permit.
Consider getting an annual or seasonal permit if you frequent any other Ontario Provincial Parks. The annual permit works out that if you visit a park at least ten times a year, it's worth the money.
Campsite fees range depending on the site and time of year. There are also discounts for seniors. View the complete breakdown of front-country camping fees here.
Backcountry camping fees are on a per-person, per night basis. The fees vary depending on age, and a full breakdown of this year's fees is available online.
Sleeping Giant Provincial Park Weather
The weather at Sleeping Giant can be very different from Thunder Bay. Because the Sibley Peninsula sticks out onto Lake Superior, it catches a lot of wind that those in the city may not feel. Being right beside the coldest Great Lake also keeps the local climate damper and cooler than further inland. This makes the temperature pretty comfortable for outdoor activities like hiking or biking - it rarely gets too warm. The cool breeze near the shore also keeps bugs away, but you'll want a bug net handy if you're in the park's interior.
However, when you're out hiking, it's a good idea to bring an extra layer at any time of the year. Bringing warm sleeping gear is a really good idea if you're doing any backcountry camping. Even in the summer, temperatures can plummet into single digits at night near Lake Superior.
As the snow stays fairly late, the trails are usually muddy for most of spring. The best biking conditions are from late June to September.
In the winter, temperatures are generally very cold through January and February. The wind off of Lake Superior brings the temperatures down to as low as -40 Celsius with wind chill. The peninsula gets a lot of snowfall, which stays until late April. Skiers can enjoy the best skiing conditions through March.
It's best to prepare for any weather that may occur on your visit by dressing in layers that can be added or removed. The Weather Network offers 14-day forecasts and check out Windy for a detailed wind forecast, with updates every three hours.