Where are the Best Lakes in Ontario for Paddling?
Discover the deepest, cleanest, clearest and best swimming lakes.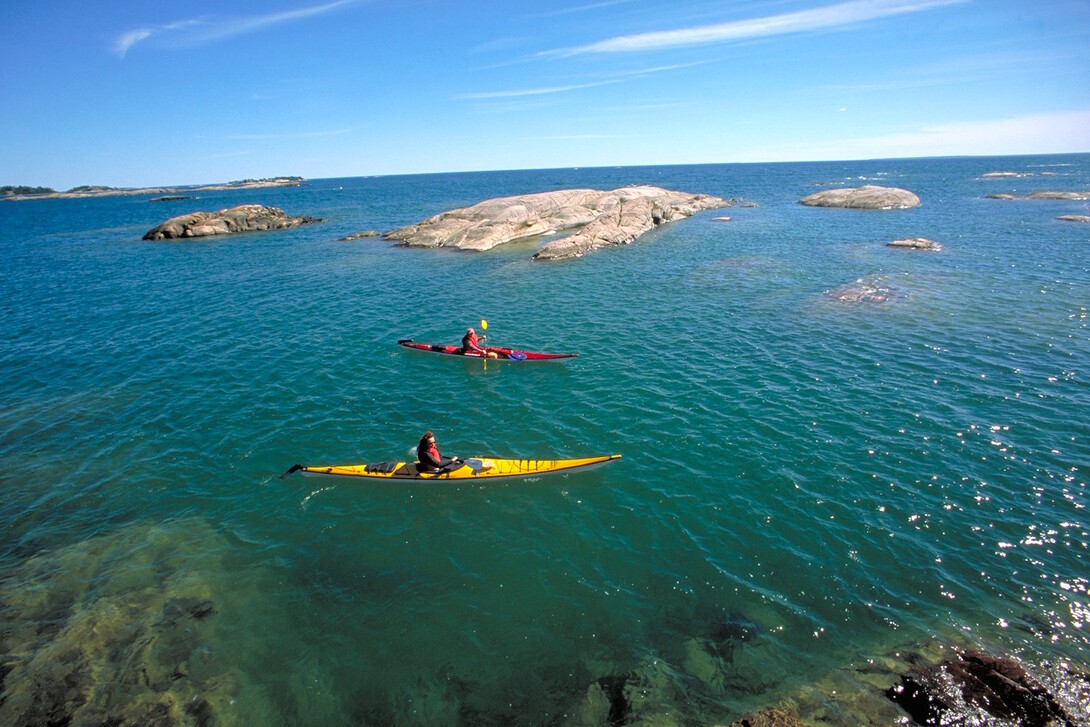 How many lakes are in Ontario? I'm not sure who counted them but the standard answer is 250,000. With around 20% of the world's fresh water, it's no wonder Ontario is touted as the best canoeing destination in the world.
Historically, the canoe, Canada's well-known craft and national symbol, was a staple of transportation and civilization. Today, it is used for recreational enjoyment and as a means of exploring the best lakes in Ontario. The paddling experience has expanded beyond the canoe to include kayaking, rafting and stand-up paddleboarding (SUP).
What are the Best Lakes in Ontario for Paddling?
At a glance, this seems like a pretty simple question. The first answer that comes to mind is the lakes of Killarney Provincial Park. They are absolutely stunning with their turquoise waters surrounded by white quartzite hills. But what about Lake Superior with its jaw-dropping scenery and the sparkling lakes in Northern Ontario?
It's just not easy to choose the best lakes in Ontario for paddling — it depends on what you are looking for. Parks Canada and Ontario Parks provide some of the best paddling and backcountry tripping opportunities.
Use the information below to find the perfect lake for your paddling trip.
Deepest lakes in Ontario 
It's no surprise the Great Lakes are the deepest lakes in Ontario. They are some of the largest freshwater lakes in the world. If you have seen photos of turquoise lakes in Ontario, most likely you are looking at the waters of a Great Lake. The Great Lakes Guide has lots of information about each of the lakes and what to do in the Great Lakes region.
BEST PADDLING ON LAKE SUPERIOR 
Lake Superior, the deepest (406 m/483 ft), coldest, cleanest, least developed and most pristine of the Great Lakes, is the largest freshwater lake in the world by surface area. It's immense, wild, rugged and powerful. Here are some of the best places to paddle its turquoise waters.
LAKE SUPERIOR NATIONAL MARINE CONSERVATION AREA 
Lake Superior National Marine Conservation Area, one of the world's largest protected freshwater areas, runs from Sleeping Giant Provincial Park to just east of Terrace Bay. Paddlers can explore this rugged, wilderness coast on a guided sea kayak trip or a unique Voyageur Canoe trip with Naturally Superior Adventures. 
PUKASKWA NATIONAL PARK 
Pukaskwa National Park's 135-km Coastal Paddling Route features pristine backcountry campsites, beautiful sandy beaches and stunning views. Explore this quintessential Canadian wilderness paddling route on a guided sea kayak or Voyageur Canoe trip.
LAKE SUPERIOR PROVINCIAL PARK 
Lake Superior Provincial Park's coastline features spectacular scenery, varying from sheer cliffs to white-sand beaches. The coast is extremely rugged and wild. Explore from the pictographs at Sinclair Cove to the Michipicoten Bay.
BEST PADDLING ON LAKE ONTARIO 
Lake Ontario, with a maximum depth of 244 m/800 ft, is the smallest of the Great Lakes but has the most people living in its watershed. It's home to many ecologically significant ecosystems that sustain wildlife, birdlife and more. Here are some of the best places to explore with your canoe, kayak or SUP in Toronto. 
TORONTO HARBOURFRONT 
Toronto Harbourfront Canoe and Kayak Centre is the most popular paddling centre in Toronto for canoeing, kayaking, voyageur canoe tours and stand-up paddleboarding.
TORONTO ISLANDS 
The Toronto Islands are a great destination to escape the busy city. Paddle the natural habitat for aquatic life, fish and birds. Rent a canoe or kayak from The Boathouse or Toronto Harbourfront Canoe and Kayak Centre.
BEST PADDLING ON LAKE HURON 
Lake Huron, with a maximum depth of 229 m/750 ft, is one of the most unique lakes on Earth. It's renowned for its turquoise waters, rocky shoreline, unique geological features, beaches, sand dunes and islands. It's a favourite destination for sea kayakers.
GEORGIAN BAY 
Georgian Bay, a UNESCO World Biosphere Reserve, offers some of the best sea kayak touring in the world. Explore the 30,000 islands around Parry Sound, Key Harbour and Killarney through a variety of trips and adventure providers.
GEORGIAN BAY ISLANDS NATIONAL PARK 
Georgian Bay Islands National Park is a boat-access nature preserve that's a paddler's paradise. Camp or cabin glamp on Beausoleil Island and explore its beautiful shoreline.
TOBERMORY 
Explore the beauty of Bruce Peninsula National Park and the Fathom Five National Marine Park. Paddle alongside unique ancient rock formations or over the numerous shipwrecks, the remains of which can easily be seen through the crystal-clear, turquoise waters. Get outfitted at Thorncrest Outfitters in Tobermory.
BEST PADDLING ON LAKE ERIE 
Lake Erie is the most southerly and biologically diverse of all the Great Lakes. At its deepest point, it is 64 metres deep; however, it is the shallowest of the lakes, with an average depth of 19 m, which makes it the warmest and a favourite for summer recreation and migrating birds. Here are some of the best parks to explore.
LONG POINT PROVINCIAL PARK 
Long Point Provincial Park provides lots of opportunities for paddling the warm waters of Lake Erie. The sheltered marsh of Long Point Bay is a great place to see birds and wildlife. It's part of the Long Point Biosphere Reserve, an area of global ecological significance. Canoe and kayak rentals are available at Cronmiller's At the Bridge.
POINT PELEE NATIONAL PARK 
Point Pelee National Park is Canada's smallest but most ecologically diverse national park, home to over 390 bird species. Paddling around the "Tip," the southernmost point of the Canadian mainland, is a fun adventure. Birdwatchers love to explore the marshes, teeming with birds especially during migration months.
Cleanest lakes in Ontario 
Northern Ontario lakes are some of the cleanest waters in the province as they have extremely low human impact. There is little to no pollution, garbage or phosphorus run-off from residences, industry, golf courses and other types of human development.
The Ontario Parks that offer backcountry paddling experiences are filled with lakes so pristine and so clean, you can enjoy swimming and eating their fish with no worries. Here are just a few of the northern Ontario Parks that offer exceptional beauty without many people.
WOODLAND CARIBOU PROVINCIAL PARK 
Woodland Caribou Provincial Park is a paddler's paradise with almost 2,000 km of maintained canoe routes on a variety of rivers and lakes. With fewer than 1,000 paddlers per season, you'll be sure to enjoy solitude and incredibly clean waters. Trip planning is essential for this remote park. 
HALFWAY LAKE PROVINCIAL PARK 
Halfway Lake Provincial Park provides excellent wildlife viewing opportunities on its easy canoe routes through a series of small lakes. Rent canoes at the Park Store.
FUSHIMI LAKE PROVINCIAL PARK 
Fushimi Lake Provincial Park offers exceptional backcountry canoe campsites on a clean, clear lake surrounded by the boreal forest. Enjoy visiting summer songbirds and lots of wildlife viewing.  
Clearest lakes in Ontario 
Blue-water lakes, the ones paddlers dream about, contain low concentrations of algae and other substances so they are very clear. The deep blue or turquoise colour is a testament to the pristine character of the water and low human impact in the surrounding watershed. They are some of the most beautiful lakes in Ontario as well as some of the most popular lakes in Ontario.
Here are some amazing paddling destinations with lakes so clear you can see to the bottom and water so turquoise you'll feel like you are in the tropics.
KILLARNEY PROVINCIAL PARK 
Killarney Provincial Park, primarily a wilderness park, is famous for its over 50 crystal-clear, turquoise lakes, bright-white quartzite peaks and incredible sunsets. It has some of the most beautiful lakes in Ontario, so stunning that The Group of Seven lobbied to make it a park. Get outfitted by Killarney Outfitters, Killarney Kanoes, Widgawa Lodge & Outfitters or Charleton Lake Camp.
FATHOM FIVE NATIONAL MARINE PARK 
Fathom Five National Marine Park, off the tip of the Bruce Peninsula on Lake Huron, is a  popular destination for snorkelling and scuba diving. Along with striking geology, exceptional visibility and turquoise waters, there are nearly two-dozen shipwrecks. For a unique experience, paddle over the two most accessible, found in 5 m to 7 m of water in Big Tub Harbour. Camp and tour Flowerpot Island. Get out paddling with Thorncrest Outfitters in Tobermory.
BLUE LAKE PROVINCIAL PARK 
Blue Lake Provincial Park, near Kenora, is renowned for its crystal-clear waters and long sandy beach. As its name suggests, it is one of the best blue-water lakes in Ontario. Paddle for the day or try a longer 97-km loop adventure. Canoe and kayak rentals are available at the park.
Best swimming lakes in Ontario 
There is nothing like the feeling of freedom you get from a refreshing dip in the clean waters of Ontario's lakes. Swimming is definitely one of the best rewards after a long day of paddling or gruelling portaging. Although these are not the warmest lakes in Ontario, they are some of the best spots to take the plunge on your paddling adventure.
KILLBEAR PROVINCIAL PARK 
Killbear Provincial Park has over 12 km of rugged shoreline and three islands to explore on beautiful Georgian Bay, plus there are dozens of other islands within a short paddle of the park. Just pull your canoe or kayak up on one of the many sandy beaches or rocky shorelines for an amazing swimming experience. Visit White Squall Outdoor Store or learn to kayak with Ontario Sea Kayak Centre in nearby Parry Sound. 
QUETICO PROVINCIAL PARK 
Quetico Provincial Park is an iconic wilderness park known for its rugged beauty, towering rock cliffs, majestic waterfalls and hundreds of beautiful lakes. Be prepared for rugged portages on its backcountry canoe routes. At the end of the day, you'll be happy to "go take a jump in a lake." There is lots of outfitting expertise on hand, including at Quetico Outfitters, Canadian Quetico Outfitters, Canoe Canada Outfitters, Voyageur Wilderness and Branch's Seine River Lodge.
NEYS PROVINCIAL PARK 
Neys Provincial Park offers a true, pristine Great Lakes swimming experience. Situated on the wild northern shores of Lake Superior, its gorgeous 2-km beach is situated along Ashburton Bay and is made of soft, fine sand with fairly shallow water. While Lake Superior is notoriously cold, these waters are shallow enough that you can enjoy a warmer, more refreshing swim! Novice and experienced paddlers can cruise along the pristine shoreline. Canoe rentals are available in the park. Kayak rentals and guided trips on Lake Superior are available at Naturally Superior Adventures.
Hidden lakes in Ontario 
If you've googled "hidden lakes in Ontario," you're probably looking for a quiet, isolated, remote, secluded or secret place to explore. In Northern Ontario, you'll have no trouble finding wilderness paddling routes where you'll not see another person for days.
One of the best and easiest ways to truly get away from it all is with a fly-in canoe trip. Load up and get dropped off deep in the wilderness. Pick your park and plan your hidden lake adventure now.
LADY EVELYN-SMOOTHWATER PROVINCIAL PARK 
Lady Evelyn-Smoothwater Provincial Park, with its 2,400 km interconnected canoeing network, is in the heart of the Temagami region. Lakeland Airways can fly you into almost any of the hundreds of secret lakes in the region. Get geared up with Temagami Outfitting Company or Smoothwater Outfitters or fly-in and stay at Cabin Falls Ecolodge.
MISSINAIBI PROVINCIAL PARK 
Missinaibi Provincial Park is 500 km long and encompasses the Missinaibi River and many large lakes and scenic waterfalls. MHO Adventures offers several fly-in canoe trips to explore this remote area. 
WABAKIMI PROVINCIAL PARK 
Wabakimi Provincial Park is an incredibly beautiful wilderness park with more than 2,000 km of lake and river routes. There are no roads within the park so visitors must arrive by train, plane or canoe. Explore the boreal forest with a fly-in canoe adventure with Wilderness North, Wabakimi Canoe Outfitters, Mattice Lake Outfitters or Thunderhook Fly-ins.    
Plan your Trip Now 
As you can see, it's not easy to choose the best lakes in Ontario for paddling, but with over 250,000 options you're sure to find the perfect one for your paddling adventure.