9 Enchanting Places to Paddle Near Sudbury
Explore the region's diverse waterways by kayak and canoe.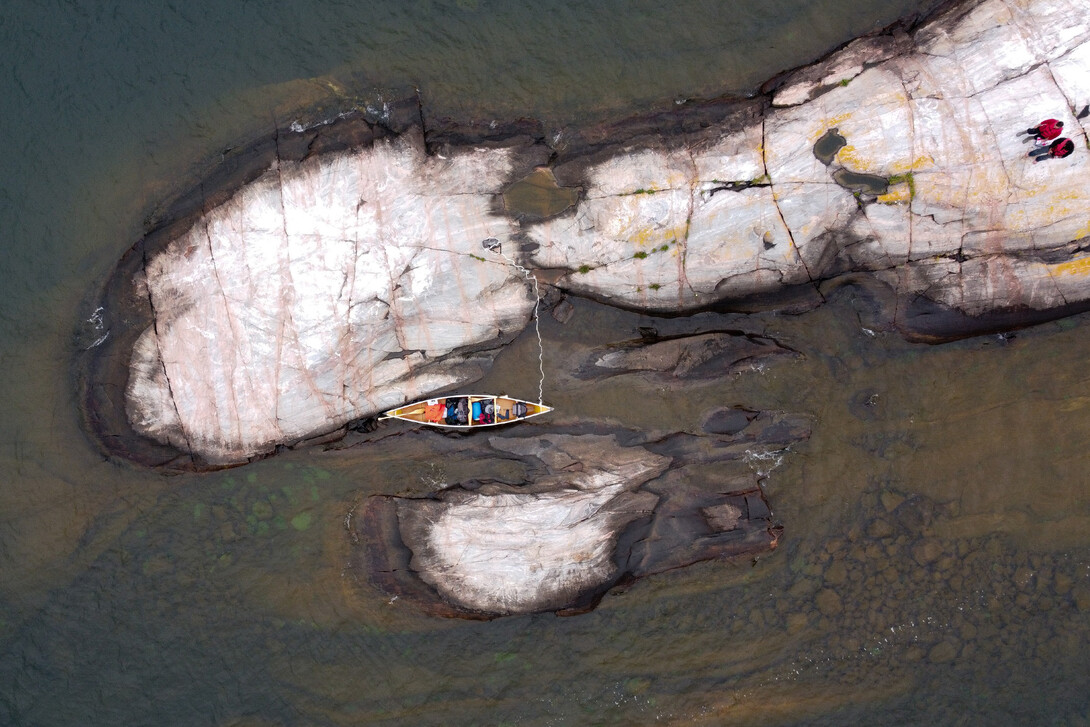 Sudbury is shedding its gritty Nickel City reputation and replacing it with the greener title of "City of Lakes." A quick look at the map shows that the distinction is well-earned: Greater Sudbury is surrounded by freshwater, ranging from dozens of urban lakes to pristine freshwater jewels that offer canoe route connections to some of Ontario's finest backcountry tripping, as well as easy access to magnificent sea kayaking on Lake Huron's North Channel and Georgian Bay. In fact, there are 330 lakes within city limits, more than any other municipality in Canada.
In Sudbury you'll discover amazing day paddling by kayak or canoe on lakes in the heart of downtown. Nature is always close at hand, even within city limits. Local outfitters can set you up for a great day trip or the wilderness adventure of your dreams. The region bridges the open waters of the Great Lakes with the labyrinth of inland waterways in Ontario's Killarney and Temagami regions, with excellent season-long whitewater canoe tripping on the Spanish and French rivers.
Paddling only enhances a visit to this Northern Ontario hub. Sudbury is a bustling city with plenty of attractions, accommodations, fine- and casual dining, coffee shops, breweries and more, making the city a great destination for paddlers who love to travel. A trip to Sudbury isn't complete without a visit to Science North, the city's award-winning science centre on the shores of Ramsey Lake. This list is an introduction to what makes Sudbury a great place to paddle.
Kivi Park
Located in Sudbury's south end, Kivi Park is a splash of boreal greenspace within the tapestry of the city. This 480-acre park includes great mountain bike, hiking and cross-country ski trails as well as scenic paddling. Crowley Lake provides the feeling of a northern lake, with a shoreline of rocks and dense forest, as well as a sandy beach at the launch. Canoeists can paddle and portage from Crowley into adjacent Camp and Linton lakes for further exploration. Kivi Park offers on-site canoe, kayak and standup paddleboard rentals. A day pass is required.
Ramsey Lake and the Lake Laurentian Conservation Area
Along with Kivi Park, there are multiple options for paddling mere minutes from downtown Sudbury. There's a boat launch on Ramsey Lake located just east of Science North, or you can carry your canoe, kayak or SUP and put in at Bell Park, located off of Paris Street. Ramsey Lake is large with a convoluted shoreline that invites exploration, and offers a unique perspective on the city.
The nearby Lake Laurentian Conservation Area also offers urban paddling in a natural setting. The launch is located at the area's Nature Chalet on South Bay Road, about 10 minutes from downtown Sudbury. Lake Laurentian offers plenty of paddling opportunities, with connecting channels and portages to nearby wetlands and ponds (including the larger waters of Ramsey Lake). Fishing is reasonable for northern pike and perch, and birders can admire loons, herons, eagles and a variety of songbirds.
Windy Lake Provincial Park
This protected area is located on Highway 144, less than an hour's drive north of Sudbury. Windy Lake Provincial Park features an outstanding drive-in campground with 93 sites for tents, trailers and RVs as well as two camp cabins. The park offers great access to its namesake lake, a large, crystalline body of water surrounded by a northern forest of jack pine that begs exploration by canoe or kayak. You'll find great fishing for walleye, northern pike, lake trout and smallmouth bass.
Be sure to check out the stunning 55-metre cascades at Onaping's High Falls and the A.Y. Jackson Lookout, which inspired some of Canada's greatest landscape painting.
Visit Ruby Berry Farms in nearby Chelmsford to pick your own strawberries.
Cousin Vinny's offers (you guessed it) great Italian food in Chelmsford.
Kukagami Lake
The majestic white and red pine that once dominated all of central Ontario still stand tall over Kukagami Lake, about an hour's drive east of Sudbury. The area is accessed via Kukagami Lake Road, where Sportsman's Lodge offers a launch site, parking, vehicle shuttles and waterfront accommodations. Kukagami Lake is great for kayakers and canoeists alike.
Besides a virgin forest, the region also beckons with clear, aquamarine waters, plenty of backcountry camping (free for Canadian residents; non-Canadian residents must purchase Crown Land camping permits) and portage connections to many more lakes and waterways, stretching north to the vast Temagami canoe area. You can paddle for a day or a weekend on Kukagami Lake or venture off on a wilderness adventure for a week or more.
Kukagami Lake and neighbouring Matagamasi Lake provide the best access to the stunning scenery of Temagami's Wolf Lake area, an azure wilderness gem surrounded by white quartzite hills and old-growth red pine, located within a few days' paddle (and several portages) from the nearest launch.
Sportsman's Lodge is the preeminent outfitter for the region, providing a peaceful place to stay and secure parking to start and finish your canoe trip to Kukagami, Matagamasi or Wolf lakes.
Spanish River
The Spanish River is a classic Ontario canoe route that's beloved amongst trippers for its great scenery, wilderness camping and novice-level rapids. The Spanish has plenty of history, beginning with the Indigenous paddlers who traced its corridor to the log-drivers who named many of its rapids.
Multiple trip options are available depending on your river-tripping experience and how much time you have to explore the river. The classic 5- to 7-day trip from Duke Lake (accessed by way of Highway 144, north of Sudbury) to Agnew Lake (located about an hour west of Sudbury, off of Highway 17) is paddleable all summer long. You'll need a backcountry camping permit to travel this popular route; reservations can be made online up to two weeks before your departure.
More experienced paddlers can ride the VIA Rail passenger train west from the station in Capreol to Biscotasing Lake to paddle the more boisterous whitewater of the Spanish's West Branch. Fly-in canoe trips to the sprawling waters of Biscotasing Lake are also possible with Sudbury's True North Airways.
Local outfitters including Agnew Lake Lodge and Fox Lake Lodge can help with Spanish River canoe trip logistics, including canoe rentals, vehicle shuttles, accommodations and more.
Black Feather Wilderness Adventures offers all-inclusive guided canoe trips on the Spanish River, including early season whitewater adventures on Bannerman Creek and the Spanish River in May and June and a West Branch Spanish River getaway in July.
Lake Huron and Georgian Bay
Lake Huron's North Channel and Georgian Bay offer some of the finest sea kayaking in the world, with a mix of open water and archipelagos of glacier-polished granite islands. Sudbury provides easy access to multiple options: The community of Whitefish Falls, located on Highway 6 on the way to Manitoulin Island, has a launch site for the aptly named Bay of Islands at the eastern end of the North Channel. Or you can start a trip at the community of Spanish, about 90 minutes west of Sudbury on Highway 17, to paddle out to the stunning Benjamin Islands.
The quaint Georgian Bay hamlet of Killarney is located an hour's drive southwest of Sudbury, at the end of Highway 637. Launch from Killarney Provincial Park's Chikanishing River to access the open water and amazing offshore islets of Phillip Edward Island. You'll need a park vehicle permit to launch (available for purchase at the nearby George Lake Campground); camping is free for Canadian residents (non-residents require a Crown Land camping permit). Note that the sheltered waters of Collins Inlet on the north side of Philip Edward Island are part of Point Grondine Park and camping permits are required.
Killarney
Killarney Provincial Park's George Lake entry point is wildly popular amongst paddlers for good reason. It's the gateway to some of Ontario's finest backcountry canoe tripping. But access to the lesser travelled (and equally spectacular) west side of the park is even closer to Sudbury city limits, with Widgawa Lodge on Highway 6, just south of Espanola, serving as the entry point to breathtaking Nellie and Grace lakes.
You'll find accommodations and canoe rentals at the launch site, but you're best to book your backcountry camping permits in advance online. For a more adventurous trip you can venture into the sprawling waters of nearby Lake Panache, with portage connections to and from the more common Nellie Lake loop.
For authentic Indian food in Espanola check out Sukhdev Restaurant and visit Farquhar's Dairy Bar for post-trip ice cream.
The western edge of Killarney was a favourite sketching destination for Group of Seven artists Franklin Carmichael and A.Y. Jackson. Willisville Mountain offers great day hiking with outstanding views that inspired iconic Canadian landscape art.
Point Grondine Park
Point Grondine Park is an Indigenous Protected Area nestled between Killarney and French River provincial parks on the Georgian Bay coast. The 7,300-hectare expanse is accessed from Highway 637, with a trailhead located 38 kilometres from the Highway 69 exit. The park is managed by Wiikwemkoong Unceded Territory, the traditional stewards of this amazing landscape, and open to paddlers looking for an immersive wilderness experience in an ancient land. The park offers a limited number of rental canoes.
There are options for day trips and multi-day adventures, including day paddling on Mahzenazing Lake and about 20 km of interior canoe routes with several portages. A portage connection to Collins Inlet on Georgian Bay allows for longer trips, with connections to the village of Killarney, the mouth of the French River and beyond along the 48.5-km Coastal Water Trail, for more experienced paddlers.
French River Provincial Park
The historic French River forms a key central link in the ancient canoe route between the Great Lakes and the Ottawa River. There are multiple options for kayakers and canoeists, all within an hour's drive south of Sudbury on Highway 69. Kayakers can access Georgian Bay (by way of the maze of islands at the French River delta) from the launch at Hartley Bay.
Meanwhile, the 18-Mile Island loop starting at Loon's Landing is a popular 4- to 5-day canoe trip for novice to intermediate paddlers. Backcountry camping permits are required, with reservations available within two weeks of your departure date.
Black Feather offers all-inclusive guided canoe trips on the French River, with multiple options available for groups and families.
For luxurious French River lodging and canoe rentals check out The Lodge at Pine Cove. Canoe rentals are also available at Grundy Supply Post if you're arriving from Southern Ontario.
Don't discount the French River for sea kayaking! The river's island-strewn delta provides access to the offshore Bustard Islands, a great destination for experienced open water paddlers. Horizons Adventures offers a guided Bustard Islands trip.
Sudbury Area Outfitters
While you're in Sudbury be sure to stop by Ramakko's for outdoor gear, exceptional service and great local advice.
The Laurentian University Outdoor Centre offers canoe and outdoor gear rentals in Sudbury.
Take advantage of the expertise of long-time local guides at Horizon Adventures and the experience of Black Feather Wilderness Adventures and enjoy an all-inclusive paddling adventure in the Sudbury area.
Discover Sudbury's Exceptional Kayaking and Canoeing Routes
From open water paddling on inland seas to easy day trips on sheltered water, there's a lifetime of kayaking and canoeing available to all levels of adventurers in and around Sudbury. Come discover exceptional multi-day canoe routes and some of the finest kayaking in Canada. It's all here and waiting for you.