Best All-Inclusive Canoe Trip Packages in Ontario
Start dreaming and planning your summer vacation now.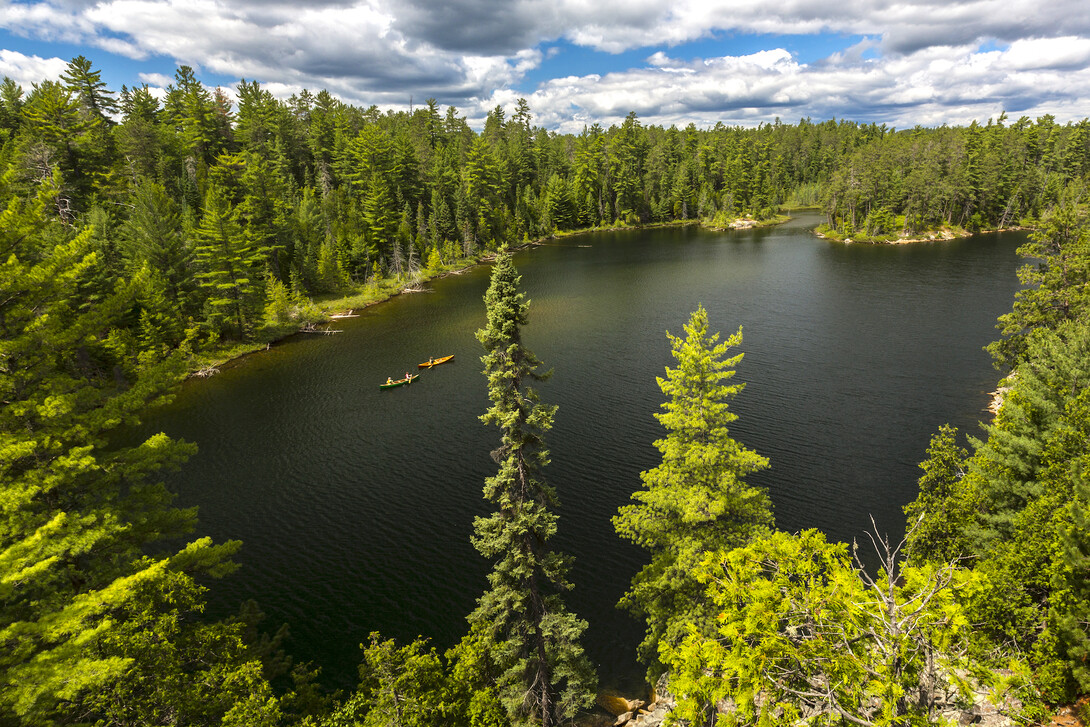 You'll find some of the best guided canoe trips in the world in Ontario. All-inclusive guided canoe trips are an easy and safe way to explore the wilderness – even if you have never paddled before.
It's a similar concept to planning a fun, stress-free and safe active holiday to a foreign country that you are not familiar with. You choose an all-inclusive active vacation package where all the planning, accommodation, meals and activities are taken care of. You simply pick the package that meets your needs and go. 
What To Expect on an All-Inclusive Guided Canoe Trip
All-inclusive canoe trip packages are designed for true beginners (no experience), novice, intermediate or advanced paddlers. Each trip route is carefully planned to match the level of skill required.
Almost all the gear is provided. Most trips include high quality tents, sleeping bags, sleeping pads, cooking equipment, safety equipment, equipment packs/barrels and paddling equipment. All you need to bring is your personal clothing (a list will be provided by the outfitter). Just book the trip and show up.  
The guides have paddling, wilderness camping and first aid training. They love to create delicious campfire meals and provide a wealth of local knowledge (including the best campsites and fishing holes).   
You can learn as much or as little as you want. If you want to hone your paddling skills or discover the joy of campfire cooking, your guide will be happy to teach you.
7 TO 15-DAY Guided Canoe trip packages 
WOODLAND CARIBOU PROVINCIAL PARK
Canoe Trip Package: Goldseekers Outfitting and Wilderness Expeditions
Get ready for adventure Woodland Caribou style on this all inclusive exploration to one of the most remote paddling destinations in Ontario. Your guided canoe trip begins with a 30-minute floatplane flight from Red Lake into the far northwest corner of WCPP. You'll paddle and portage through this unique landscape, home to the elusive Woodland Caribou, Wolves, Moose, Beaver, Marten, Bald Eagles, and more! 
QUETICO PROVINCIAL PARK
Canoe Trip Package: Voyageur Wilderness 
Quetico is a world-renowned destination for backcountry canoeing and angling. Explore its rugged beauty, towering rock cliffs, majestic waterfalls, virgin pine and spruce forests. Enjoy its magnificent sunsets and spectacular stargazing. Your wilderness canoe trip starts with a delicious dinner and overnight stay at the eco-friendly lodge, where you will get a professional orientation and fully outfitted for a self-guided canoe trip into Quetico Provincial Park. Guides are available upon request.     
MISSINAIBI RIVER
Canoe Trip Package: MHO Adventures 
After flying over Thunderhouse Falls, you will land on the Missinaibi River, 40 miles north of the last road and the last portage. From here, it's an easy downstream paddle to Mooseonee and the historic Cree settlement of Moose Factory on the James Bay coast. This incredible expedition is for women only but other guided trips for families and friends on the Missinaibi River are also available.
2 TO 6-DAY Guided Canoe trip packages 
ALGONQUIN PROVINCIAL PARK
Canoe Trip Package: Voyageur Quest 
Rated as one of Canada's Signature Experiences, this 3-day guided canoe trip, combined with 2 nights at the Log Cabin, lets you fully experience Algonquin's world-renowned wilderness and waterways. The all-inclusive canoe trip provides lots of time to paddle, search for moose, swim, and roast s'mores around a campfire. The Log Cabin is the perfect finishing place, with comfortable beds, a wood-fired floating sauna, and tasty homestyle meals. Choose from a variety of other guided canoe trips or lodge-based experiences.
MADAWASKA RIVER 
Canoe Trip Package: Madawaska Kanu Centre (MKC)
Enter the exciting world of whitewater! Go from zero to hero in this 5-day white water program. Both new and seasoned paddlers learn to master skills and build confidence on the water. Operated by Claudia Van Wijk (10-time Canadian Whitewater Kayak Slalom Champion and Bronze medalist at the World Championship) and her husband Dirk, MKC is one of Canada's premier white water Paddling Centres. 
TEMAGAMI 
Canoe Trip Package: Smoothwater Outfitters and Ecolodge
Leave all your worries behind as expert guides help you get the most out of your wilderness adventure. Experience the pristine beauty of this Northern Ontario wilderness, home to the world's largest old-growth red and white pines, in safety and comfort. Stay in comfort at Smoothwater Ecolodge before and after your canoe trip.  
MOOSE RIVER TO MOOSONEE
Canoe Trip Package: Howling Wolf Expeditions
This beginner level canoe trip package is a must for adventure seekers. It combines the beauty and solitude of the Moose River, along with the historic Cree settlements of Moosonee and Moose Factory. The adventure starts with a ride on the famous Polar Bear Express Train from Cochrane to Moose River Crossing where the canoes and gear will be unloaded. See bald eagles, moose or bear as you paddle for four days before arriving in Moose Factory. Spend the last night at the Cree Village Ecolodge before returning to Cochrane by train.
FRENCH RIVER – A Canadian Heritage River
Canoe Trip Package: The Lodge at Pine Cove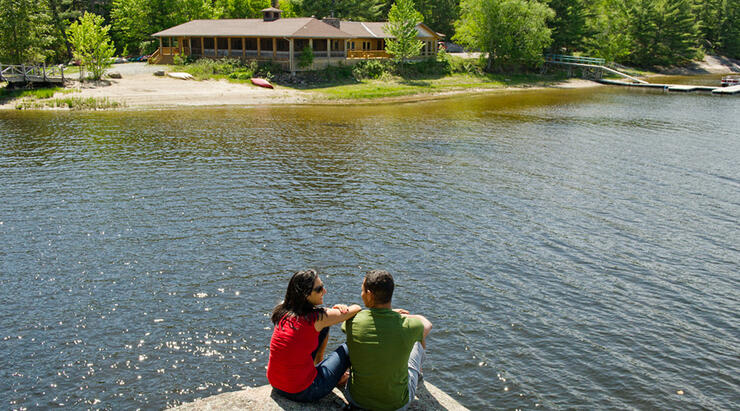 If you have ever dreamed of paddling a canoe or kayak, the quintessentially Canadian boats, why not combine it with a stay in rustic luxury at the Lodge at Pine Cove? You will enjoy fine dining and a soft bed in a private cottage. 
DAY Guided Canoe trip packages 
HALIBURTON HIGHLANDS 
Canoe Trip Package: Yours Outdoors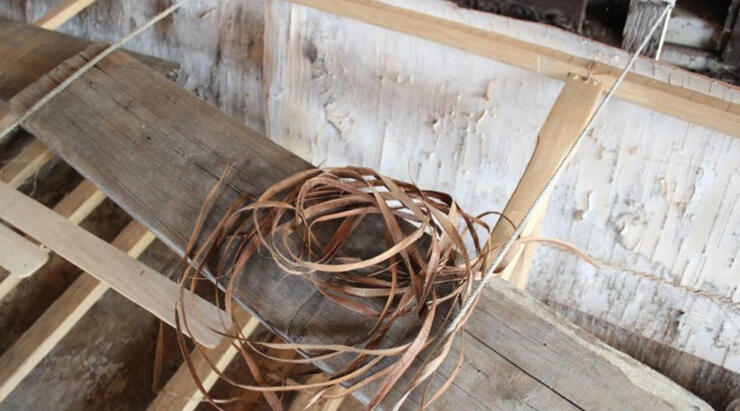 Carve a paddle through the still waters on Margaret, Dan, Horse, and McEwen Lakes. On this full day guided canoe trip, you will learn paddle strokes, portage a canoe, get some canoe tripping tips, and visit a canoe builder who crafts birchbark canoes.  
MATTAWA RIVER—A Canadian Heritage River
Canoe Trip Package: Algonquin North Outfitters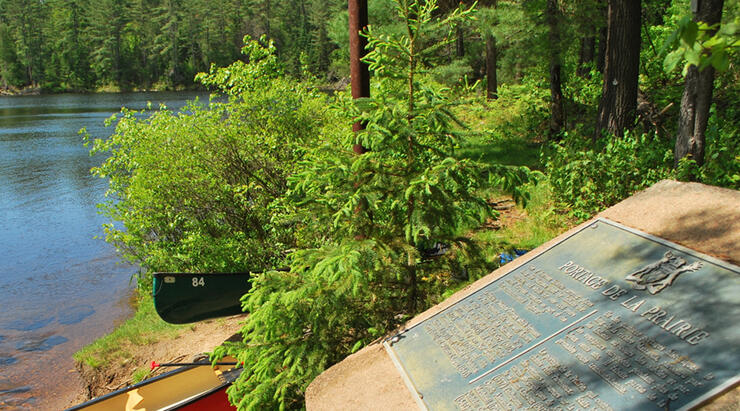 After orientation and instruction, you will paddle down the scenic Mattawa River, once an important route for Voyageurs, trappers, and loggers, on this guided trip. Your knowledgeable guide will share stories about the rich heritage of the area. A great family trip! 
PLAN your Dream Trip Now 
Ontario has some of the best guided canoe trips in the world. They are a safe and easy way to explore Ontario's backcountry. Just book your trip and go.