11 Indigenous-Owned Outdoor Adventure Companies in Ontario
Guided canoe trips, wilderness parks, camps, eco-lodges and more.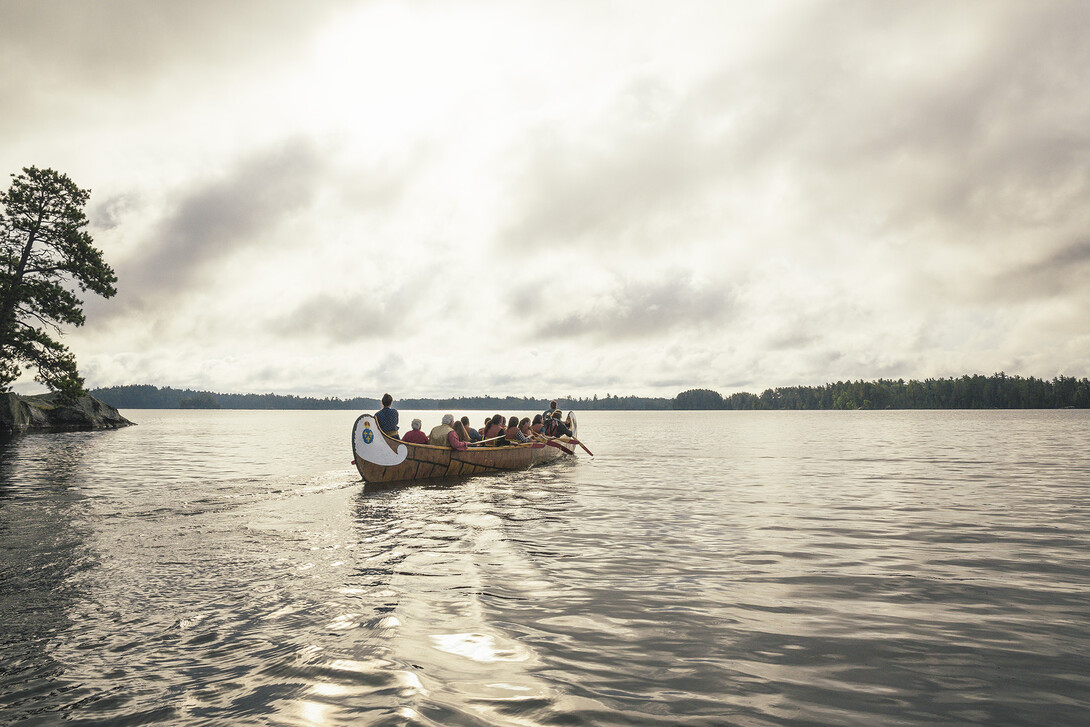 There's no better way to appreciate the lands and waters of Ontario than through the rich perspectives of the land's original inhabitants. All across the province, you'll find Indigenous-owned adventure tourism businesses offering incredible outdoor experiences. Reconnect with the natural world while exploring local communities and practicing sustainable adventures. Book a trip with one of these organizations and enjoy a unique cultural experience! 
Voyageur Wilderness
The operators of Northwestern Ontario's Voyageur Wilderness have a long standing connection to the waterways of Quetico Provincial Park. This outfitter provides guided canoe trips, rental canoes, camping equipment, and lodge-based accommodations on Quetico's Nym Lake, near Atikokan. The business is inspired by its Métis heritage. The Savoie family, which took over the business in 1986, traces its lineage to the French Canadian voyageurs who plied the lakes and rivers during the fur trade. Today, the business remains committed to ensuring that its operations support a sustainable environment.
A guided canoe trip with Voyageur Wilderness provides an intimate glimpse of the values of a holistic attitude toward nature. Five- to nine-day trips are available, including a family canoe trip that includes both cabin and backcountry accommodations. Or, you can book a cabin and spend time exploring the area on your own — a great option for those looking for a memorable way to wrap up a Quetico canoe trip. The company's long history in the area makes them a great source of local knowledge, with rental outfitting equipment that's right for the task at hand. The outfitter also has a replica voyageur canoe that's ideal for groups.
Wasse-Giizhiik Tours
This Wiikwemikoong First Nation-based business combines world-class fishing with a unique appreciation of the natural splendours of Manitoulin Island. Wasse-Giizhiik Tours, owned and operated by Luke Wassegijig, offers custom guided fishing excursions for salmon, trout, walleye, northern pike, and muskie on Lake Huron as well as inland Manitoulin Island lakes. You'll benefit from local knowledge in targeting the best places to fish—as well as top of the line gear and fish cleaning services. Would you rather just experience the watery surroundings? Wasse-Giizhiik also provides small-group guided boat tours to iconic destinations, including the Georgian Bay village of Killarney and the stunning fjord of Baie Fine.
Point Grondine Park
Nestled between Killarney and French River provincial parks, Point Grondine Park is an oasis of wilderness on the Georgian Bay coast, part of the traditional territory of Wiikwemikoong First Nation. Point Grondine encompasses a diverse range of ecosystems of terrestrial and aquatic habitat that have supported generations of Indigenous people, with wild rice and cranberries in the sheltered waters of Collins Inlet and plentiful fish, moose, and deer, set along an ancient water route traversing the Great Lakes.
Wiikwemikoong welcomes visitors to Point Grondine with a 6.9-km interpretive day hike, a 22-km overnight backpacking trail, established canoe routes on interior lakes and the Georgian Bay shoreline, camping and nature-based and cultural guided tours, in partnership with Killarney Mountain Lodge. An interactive map provides an alluring glimpse of Point Grondine's possibilities, and reservations for hiking, paddling and camping can be made online.
Great Lakes Cultural Camps
This Anishinaabe outdoor education centre is based in Sault Ste. Marie and offers mobile programming across Ontario. Great Lakes Cultural Camps is known for its active outdoor adventures and immersive learning programs, including whitewater canoe training and guided trips for groups on ancient waterways, including the Missinaibi River. The company focuses on land-based learning, sharing the outlook of Indigenous culture with individuals and groups of all ages. Great Lakes Cultural Camps developed unique virtual programming during the Covid-19 pandemic, demonstrating their flexibility and resilience as entrepreneurs.
Mukwa Adventures
Literally thousands of kilometres of trails form a maze across the landscape of Northern Ontario. Your key to unlocking this labyrinth is Mukwa Adventures, an Indigenous-owned guided ATV tour operator based in Spanish, Ontario, on Lake Huron's North Channel. First Nations owner-operator Arthur Trudeau is passionate about exploring the backcountry; Mukwa ("bear" in Anishinaabemowin) offers half-day, full-day and weekend trips for all levels of enthusiasts. Don't see what you want? No problem, Trudeau will arrange a custom tour based on your exact desires.
Thrive Tours
The present-day city of Sault Ste. Marie has been a bountiful year-round home and a meeting place for travellers since well before colonial settlers arrived. Indigenous-owned and operated Thrive Tours provides a comprehensive encounter with Baawaating, the place by the rapids, and the surrounding wilderness of Algoma. Thrive Tours offers guided paddling experiences on the historic St. Marys River from the Sault College Waterfront Adventure Centre, providing a unique glimpse of natural oases on the urban waterfront. The company also leads guided hikes for individuals and families of all levels, in all seasons. 
Algonquin Canoe Company
Located on the shores of the Ottawa River, Algonquin Canoe Company services a vast expanse of waterways and wilderness from its base in Thorne, on Highway 63 northeast of North Bay. This Indigenous-owned outfitter provides kayak, canoe, and SUP rentals. They also specialize in local knowledge, providing guides to the portage routes, campsites, and historic sites within Wolf Lake First Nations traditional territory.
Minaki Yurt Adventures
Minaki Yurt Adventures provides waterfront accommodations and outdoor activities in the wilderness of northwestern Ontario's Sunset Country, near Kenora. Five yurts are available, ranging from small and intimate to the palatial 260-square-metre Mee-naa-kee yurt for families and groups. The company also maintains 20 kilometres of trails for hiking, mountain biking and cross-country skiing, and offers kayaking, canoeing, and standup paddleboarding.
Mattawa Eco Farm and Learning Centre
Looking to get back to the land? Check out this Indigenous-owned and operated, small-scale, ecologically friendly farm located near the town of Mattawa, on the Trans-Canada Highway. The Mattawa Eco Farm and Learning Centre offers guided agri-tours focusing on wild edibles and sustainable living, including composting, solar power and geodesic dome demonstrations. Two-hour programs offer a great introduction to sustainable living techniques; contact the farm through Facebook to book your tour.
Cree village Ecolodge
Cree Village Ecolodge on Moose Factory Island provides visitors an Indigenous cultural experience, with plenty of opportunities to enjoy regional food and get a sense of life beyond the roads in the North. A 20-room facility on the shores of the Moose River provides an intimate glimpse of the cultural values of the Cree nation. The centrepiece of the lodge is an impressive great hall, modelled after a traditional Cree Shaapuhtuwaan, meaning a "long teepee with doors at each end."
Locally inspired food is part of any visit to Moose-Cree Ecolodge. While you're there, locals from Moose-Cree First Nation also offer boat tours and trips to James Bay, part of Ontario's oft-forgotten ocean coastline. Birders can experience some of the finest avi-fauna diversity in all of Canada, with huge numbers of migratory songbirds, shorebirds and waterfowl. Moose Factory Island is also one of Ontario's finest destinations for viewing the northern lights.
Cape Croker Park
Looking for an alternative to the busy national and provincial parks of the Saugeen Peninsula, popularly known as Bruce Peninsula? Visit Cape Croker Park, on the traditional land of the Chippewas of Nawash Unceded First Nation. This year-round outdoor adventure hotspot includes a family-friendly campground with 315 sites (open May through October), with options for tents, trailers, and RVs. Enhance your stay with a guided Anishinaabe cultural experience, including hikes, art, and storytelling, all focused on first-hand experiences on Indigenous land. Book your stay online.