14 Best River Rafting & Tubing Companies in Ontario
Find thrilling whitewater adventures and relaxing flatwater floats below.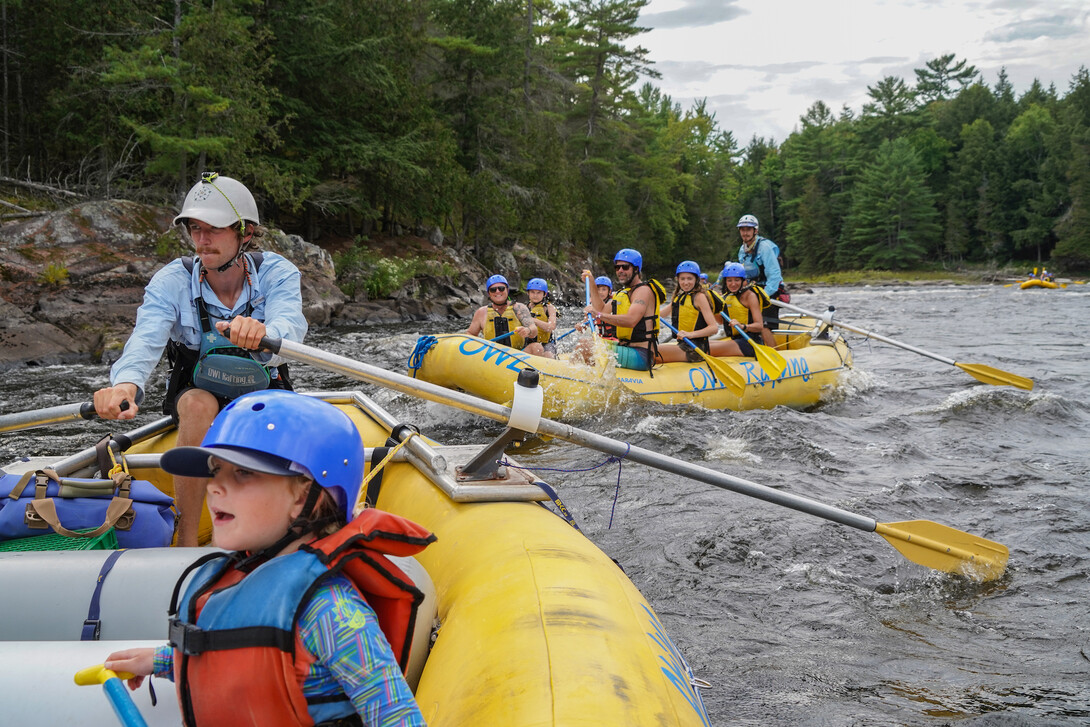 There's no better way to beat the summer heat than by immersing yourself in one of Ontario's many amazing rivers. From gentle family floats to high-adrenaline whitewater rafting, you'll find outstanding river rafting and tubing adventures across the province. For thrill-seekers, the world-renowned whitewater playground of the Ottawa River is famous for huge waves, exhilarating but friendly rapids and warm water. At the other end of the spectrum, slow-moving rivers like the Kaministiquia and Vermilion offer relaxing tubing and swimming outings in the midst of pristine nature. Read on for more of Ontario's top river rafting and tubing destinations, and get ready to go with the flow.
Enjoy a fun and relaxing day of tubing just northwest of Sudbury on the Vermilion River. This slow float can take a couple of hours or an entire afternoon, depending on how much swimming and exploring you decide to do along the way. The Vermilion is a beautiful, winding river with clear, shallow water and sandy riverbend beaches. Chillin' N Tubing offers shuttles to the start of their float and provides a range of cushy rides for swimmers of all ages and sizes. They even have special cooler tubes, so you can keep snacks and drinks cold while you're chillaxing.
Location: Vermilion River, Chelmsford
Where to Stay: Choose from a wide variety of places to stay in Sudbury.
Flowing from spectacular Kakabeka Falls down to Lake Superior at Thunder Bay, the Kaministiquia River—or "Kam," for short—makes for a tranquil two- to three-hour float through the lush boreal forest of Northern Ontario. River Rat Rentals provides tubes and transportation for an easy, hassle-free tubing adventure just west of Thunder Bay.
Location: "Kam" River, Thunder Bay
Where to Stay: The city of Thunder Bay offers a range of accommodations, including the family-friendly TownePlace Suites by Marriott. While you're in the area, see the second-highest waterfall in Ontario at Kakabeka Falls Provincial Park.
Experience Ontario's Near North cottage country the way it was meant to be seen: from a floating seat on the lovely Gull River. The river traces an unhurried route from Haliburton down through the scenic Minden Hills, where family-owned Minden River Run offers a weekend-only tube rental and shuttle service.
Location: Gull River, Minden Hills
Where to Stay: Located on the shores of Mountain Lake, just north of Minden, Ogopogo Resort is perfect for families with a selection of cozy waterfront cottages, a sandy beach, swim docks and a fleet of canoes, kayaks and paddleboards for guests.
Nestled in the Madawaska Highlands just south of Algonquin Park, the Madawaska Kanu Centre (MKC) is Ontario's premier destination for whitewater kayaking and canoeing instruction. Overlooking the cascading rapids of the Middle Madawaska River, MKC offers all the comforts of a European-style vacation resort with delicious buffet meals and comfortable cabanas for guests of their multi-day programs. For a shorter visit, join their two-hour, fully guided Madawaska whitewater rafting trip on the edge of Algonquin Park. Choose from exciting family rafting in stable nine-person rafts, or adventure rafting in smaller five-person rafts that you'll paddle, surf and even attempt to flip!
Location: Madawaska River, Barry's Bay
Where to Stay: Extend your family vacation with a cottage stay at Sunny Hill Resort on beautiful Bark Lake, or Pine Cliff Resort on the banks of the Madawaska River at Kamaniskeg Lake.
Less than an hour from the Greater Toronto Area, the Grand River offers the perfect summer escape from the city. Experience one of the prettiest and most diverse sections of this Canadian Heritage River on an eight-kilometre float with Tubing the Grand. Using "Turbo Tubes"—think one-person rafts propelled with kayak paddles—you'll launch in the village of Blair and spend the next two to three hours drifting and paddling with the current through protected eagle habitat and a Nature Reserve to Old Galt in Cambridge. Despite their name, Turbo Tubes are all about slowing down and savouring the bird-filled islands and serene beauty of the Grand River.
Location: Grand River, Cambridge
Where to Stay: Perfect for families, Flamboro Valley Camping Resort is situated just east of Cambridge in a scenic, wooded setting. Tent and RV sites, cabins and cottage rentals available.
With its placid, steady flow and sections of swift water to spice things up, the Grand River offers many options for river tubing and gentle rafting. Discover some of the finest day runs with Grand Experiences. Launching from the private docks at their 140-year-old outfitters shop in the historic village of Paris, tubers and rafters can float 13 kilometres downstream to Brant Conservation Area, one of Southern Ontario's largest protected wildlife areas. En route, you might spot herons, ospreys, eagles, turtles and muskrats as you pass between banks lined with remnant Carolinian forest. Guided and self-guided trips available.
Location: Grand River, Paris
Where to Stay: Located in nearby Kitchener, Bingemans Camping Resort blends theme park thrills with camping or cabin stays beside the Grand River for a uniquely fun family getaway. There's even an on-site water park in case your crew didn't get enough wet and wild action on the river.
For the greatest variety of Grand River rafting and tubing adventures, choose the Grand River Rafting Company. They offer four different float trips using Turbo Tubes, ranging from two hours (5 km) to five hours (13 km) in length. Families and friends who want to paddle together in the same boat can rent 8-person rafts for a self-guided float from Paris to Brant Conservation Area or Glen Morris down to Paris. For thrill-seekers, the company also runs guided whitewater rafting trips on the Nith River during spring high-water. Expect plenty of splashes on this beginner-friendly, 3- to 4-hour rollercoaster ride ending in Paris.
Location: Grand and Nith Rivers, Paris
Where to Stay: Brant Conservation Area offers both serviced and basic sites for camping plus a giant swimming pool so families can make it a multi-day, water-filled vacation.
Known as one of Ontario's prettiest little towns, Elora is also one of the province's best places for scenic river tubing. Hold on for the float-of-a-lifetime through the exhilarating rapids of the Elora Gorge. From rushing whitewater to towering cliffs, tubing in the Gorge offers more than just a refreshing ride on a hot summer day. Tube rentals are available from Elora Rapids. There are no shuttles operating in the Elora Gorge park, but when you've finished your one-hour float you can walk back to the start for another run… and another.
Location: Grand River, Elora
Where to Stay: Stay on-site in the beautiful Elora Gorge Conservation Area; both serviced and basic camping sites are available.
Experience Ontario's only RiverBug whitewater rafting adventure on this award-winning guided day trip with Elora Raft Rides. Using flippers to aid with propulsion and webbed gloves for hand-paddling and steering, tubers will captain their own RiverBug mini rafts down the swiftly flowing Grand River between Elora and Fergus. Along the way, you'll raft through 36 gentle rapids, descend five small waterfalls, navigate around scenic islands and discover 400-million-year-old fossils.
Location: Grand River, Elora
Where to Stay: Treat yourself to a luxurious stay in one of the most iconic and historic buildings in Elora. The Elora Mill Hotel & Spa offers refined rooms, a restaurant, spa and outdoor pool set in a 19th-century riverside mill perched atop the Elora Gorge.
Founded in 1975, Wilderness Tours is the original white water rafting company on the Ottawa River. Nearly five decades later, Wilderness Tours is the top raft and kayak resort in Canada, having introduced some 2.5 million guests from around the world to the magic of the Ottawa Valley. Year after year, more people raft the Ottawa River than any other river in Canada. The action centres on a 10-kilometre-long stretch of river known as Rocher Fendu (Split Rock), where the Ottawa careens through a maze of 175 wild islands and rollicking Class III–V rapids—some of the largest commercially run, white-knuckle whitewater in North America!
Location: Ottawa River, Foresters Falls
Where to Stay: Wilderness Tours offers a tremendous variety of Ottawa River whitewater experiences, including multi-day packages that combine rafting with waterfront resort activities like kayaking, paddleboarding, swimming and mountain biking. Accommodation options include secluded riverside campsites, RV sites, rustic cabins and self-contained luxury cottages.
Family-owned and operated since 1981, OWL Rafting is one of the oldest, and best-known and most-loved Ottawa River rafting companies. Friendly and experienced guides, delicious food, a peaceful waterfront location and a terrific variety of rafting day trips and two-day packages make this whitewater resort a top choice for families. Trips are rated low-, medium- or high-intensity, so it's easy to choose a just-right experience. OWL Rafting is also the only Ottawa River rafting resort that ends each day of whitewater rafting with a scenic pontoon boat cruise down the lovely Lower Channel. Enjoy a BBQ dinner aboard as you return to OWL's beachfront resort on Voyageur Bay.
Location: Ottawa River, Foresters Falls
Where to Stay: Overnight guests at OWL Rafting Resort can choose from rustic cabins, cozy cabana suites and tent or RV camping.
River Run Rafting occupies the same superb 165-acre, riverfront location—right at the take-out for Ottawa River rafting day trips—as Wilderness Tours, which relocated to the shared site in 2020 after it acquired River Run. Offering the same amenities as its parent resort, River Run Rafting experiences include high-intensity, six-passenger sport raft day trips and medium-intensity day trips aboard bigger 12-passenger rafts. After a day on the water, guests can explore the resort property's 1,200 metres of beautiful shoreline or hike through old-growth forest to spectacular river views in the adjacent Ottawa River Provincial Park.
Location: Ottawa River, Foresters Falls
Where to Stay: There's no need to travel anywhere. River Run Resort's riverside campsites, RV sites, rustic cabins and self-contained luxury cottages are all on site or minutes away.
Situated at the Deschênes Rapids, just a few kilometers upriver from Parliament Hill, Ottawa City Rafting offers three-hour urban rafting adventures in the heart of the country's capital city. Combining fun, excitement and history with stunning vistas of the city (plus optional body surfing and cliff jumping), Ottawa City Rafting guided trips are suitable for all abilities and children as young as five years old. The company also runs scenic, two-hour float trips from their Britannia Beach location to downtown Ottawa, paddling inflatable "Turbo Tubes" through smaller rapids and relaxing river sections.
Location: Ottawa River, Ottawa
Where to Stay: Choose from a wide variety of places to stay in Ottawa.
The whitewater experts at Boreal River Adventures offer river trips as far afield as Patagonia and Canada's Northwest Territories. For an unforgettable experience closer to home, join their one-day Ottawa River Kayarafting Adventure. Using inflatable mini rafts and kayak paddles, participants learn about river safety and hydrology while developing swiftwater paddling and swimming skills during this 4.5-hour intro to whitewater right in the city of Ottawa.
Location: Ottawa River, Ottawa
Where to stay: Less than an hour from Ottawa with a lovely riverside campground, Fitzroy Provincial Park is an ideal family basecamp for enjoying everything the Ottawa Valley has to offer.
Plan Your Ontario River Rafting and Tubing Adventure
Ontario's friendly and experienced river rafting and tubing outfitters make it easy to float your way down the many beautiful rivers across the province. Whether you're seeking whitewater thrills or a lazy afternoon of river tubing, you'll find a river journey that's just your speed. And if wacky river adventures are your jam, be sure to mark Port Hope's annual Float Your Fanny Down the Ganny event on your calendar. Held each April on the spring floodwaters of the Ganaraska River, this 10-kilometre fun race celebrated its 40th anniversary in 2022. With participants donning colourful costumes and paddling makeshift "crazy craft" down the rapid-filled river, the event is even more fun than it sounds!