8 Sublime Ontario Paddling Hotspots Only Locals Know About
Leave the crowds behind and enjoy these secret gems.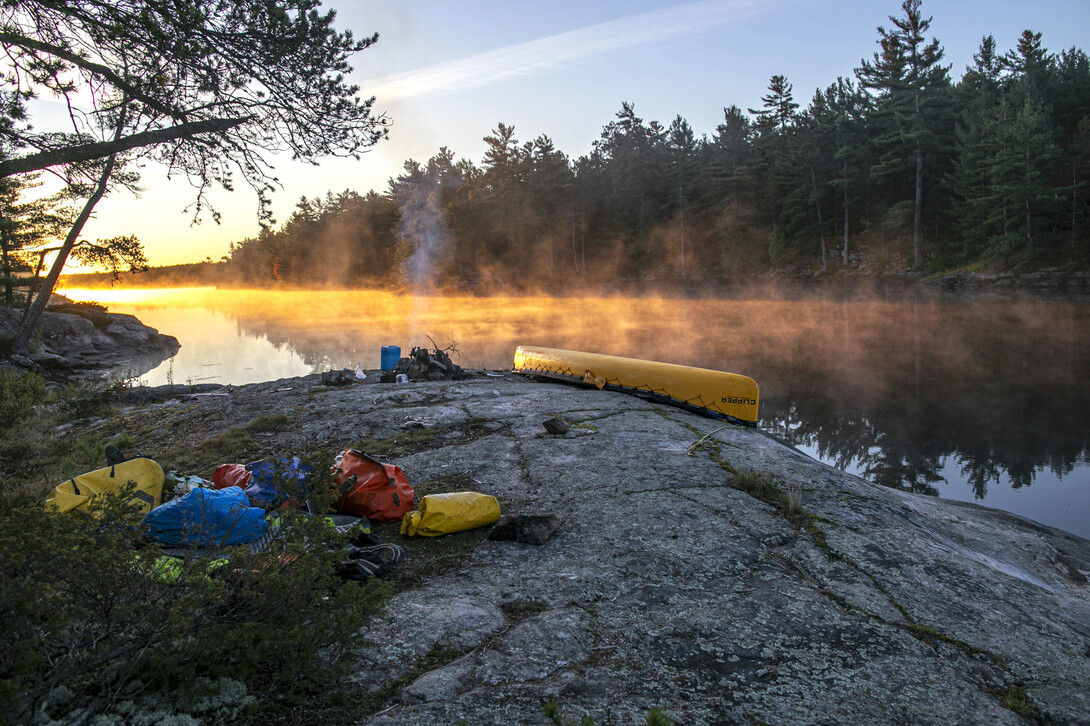 Ontario's premier paddling destinations are well-known, and for good reason. But too many paddlers suffer from tunnel vision and neglect equally stunning areas that aren't framed by a provincial park boundary. Truth is, Ontario is home to countless secret paddling hotspots that are rarely paddled, and seldom shared. These places are best described as "locals only." You won't be sorry you checked them out. But you didn't hear it from me.
Temagami
Temagami is a well-known target for city-weary canoeists looking for a not-so-far-away retreat. The land is rugged and reminiscent of Northwestern Ontario, yet the portages are well-kept and the options for accommodations and outfitting are many.
But what if you want a unique trip that only the outfitters and locals know about? There are quiet walleye hotspots in pools up and down the Black Sturgeon River, and there are world-class campsites on Dougherty Lake that ought not be missed.
The crown jewel lies to the north, in the smooth water of the fabled Lady Evelyn River.  It's here you'll find tributary streams and pools filled with secret brook trout. There are different trip options, but all the adventurer really needs to know is that the higher up the river one travels, the finer the pools, the colder the water, and the wilder the fishing. 
If you don't need a guide but do need some gear, outfitting is available through Smoothwater Outfitters and Lodge. Anyone wanting to get a head start up the river can talk to Lakeland Airways about a float plane drop-off. Stay in rustic comfort at Cabin Falls Ecolodge. 
Ottertooth is a great resource for maps and all things Temagami, including maps by longtime Temagami fixture Hap Wilson. 
Read the Ultimate Guide To The Best Canoeing Routes In Temagami for more ideas.
Little Current to Killarney
There's a burgeoning paddling culture emerging on the edge of Killarney Provincical Park. No, it's not overflow from paddlers being pushed out of the popular park. The idea of sea kayaking or canoeing northern Georgian Bay has an appeal all its own, and it derives from pure coastal Great Lakes beauty.
There are ample Crown land camping opportunities between the two coastal towns of Little Current and Killarney, and just enough headwind-shy route options, including the historic Rat Portage in Killarney Bay. Here you will discover intimate islands and channels between the docks of two paddler-friendly towns.
For example, book a spot at the Sunset Motel and Cottages in Little Current for the end of your trip and you can paddle right into their beach before heading to Little Current's own brewery for a refreshment. Or if you are paddling east, finish with a sauna and stay at the Killarney Mountain Lodge.
From an outfitting point of view, the main resources are at the Killarney end, including Widgawa Lodge, Killarney Outfitters, and Killarney Kanoes.
Read our Guide To Canoe Tripping In Killarney for more ideas. 
The Turtle River
The clearest water you might find in Ontario is in the various reaches of the Turtle River—just ask anyone in nearby Atikokan. While many outsiders rush to Quetico Provincial Park, locals disappear into the Turtle River's labyrinth of lakes and falls to take advantage of sprawling beaches and non-stop fishing action. 
There are multiple access points, but often paddlers will start trips via the river bridge on Highway 622 and paddle up to Clearwater Lake, exiting at Browns' Clearwater West Lodge, or head downriver to where Highway 11 passes through Mine Centre, where Bliss Cabins will be a comfortable ending to the trip. There's always a midway access point at Eltrut Lake that is perfect for staging a vehicle or taking day trips.
With Atikokan being the self-proclaimed canoeing capital of Canada, you know there is lots of outfitting expertise on hand, including at Quetico Outfitters, Canadian Quetico Outfitters, and Canoe Canada Outfitters. Branch's Seine River Lodge is an option in Atikokan for canoe-friendly lodging.
Read The Ultimate Guide To Quetico's Best Canoe Trips for more ideas.
Pickle Lake and Parts Beyond
Pickle Lake is dubbed Ontario's Last Frontier, and anyone who ventures this far north will understand why. This isn't the town where you show up to a bustling outfitter base and wait in line.
Pickle Lake is a launching point to the trip of a lifetime. The lakes and rivers north of town were only accessible by air or hard travel until recently. A new all-season road running northward to the Oji-Cree First Nation of Weagamow Lake has changed that. Start driving north on Highway 599 and you'll cross every major watershed of the so-called Little North.
The options start with Lake St. Joseph, headwaters of the Albany River. After that, you'll cross the Otoskwin River, which flows into the Attawapiskat River. Next up is the Pipestone River, which feeds into the Winisk River. Finally, you'll be passing one of the Severn River headwaters on Weagamow Lake. The area is rich with canoe routes, best outlined in The Canoe Atlas of the Little North. It's a road many don't know about yet, but it accesses some of the most remote and finest canoe travel and fishing in Ontario.
It's best to use your own gear and plan to stay at one of the many accommodations around Pickle Lake, like Lakeview Manor Bed and Beakfast, The Pickle Lake Hotel, Birch Bark Lodge, or the base camp at North of 51.
Check out this page for information on chartering floatplanes out of Pickle Lake. It's a great option for getting back to town if you plan to head downstream on any of the rivers.
Abitibi River
If you talk with folks around Cochrane or Kapuskasing, they probably won't tell you about the gems of the Abitibi Canyon, and they definitely won't mention the brook trout streams which flow into the historic river. The Abitibi is known as a river that was important to the fur trade, being situated a relatively short paddle from the James Bay Coast at Moosonee, but locals know it still has plenty of currency for its world-class fishing with easy access.
Howling Wolf Expeditions is available to guide or outfit different trips on the river, including a shorter two-day trip that takes in the spectacular New Post Falls, a cataract that drops into a 50-metre deep gorge. Rentals are also available from Missinaibi Outfitters.
The Green River, Washago
The protected waters of the Green River, not far from the hordes of civilians amassed south of Highway 7, is a secret the locals hold close. The Green River might be more readily associated with a cottage feel and lazy river vibes, but for a core group of dedicated canoeists and kayakers, the river is one of the best marathon training rivers in southern Ontario.
In the winter it seldom freezes, in the summer towering white pines sweep across the river, and for vast distances there is uninterrupted but protected and gently flowing water that glows green in the afternoon sun.
Local accommodation options include Little Falls Cottages, situated right on the river and equipped with a riverside wood sauna. For canoe, kayak, and SUP rentals, check out Muskoka Paddle Shack and A Breath of Fresh Air.
The Steel River, Lake Superior
Few rivers that flow towards the rugged north shore of Lake Superior are safely navigable by canoe. Deep canyons are riddled with stretches of what can seem to be continuous falls and rapids. And when you get to the coast, the battle is only half won as you meet long expanses of remote coastline.
The bottom line is, most people discount Superior's rivers, but the Steel River is a north shore classic that seems like it was purpose-made for canoe tripping. It's a road-accessed wilderness trip that can be done as a loop by way of a set of parallel lakes.
Check out trip reports here and here for detailed information. Its moderate level of challenging water and its seemingly untouched fishing make for a Northwestern hotspot that's little-known outside local circles.
Bearskin Outfitters offers four-day or custom-length, fully guided or partially outfitted trips on the Steel River. The Coach House Motel is situated conveniently along this quiet stretch of the Trans-Canada Highway
The Little French
The French River has to be one of the more popular canoeing rivers in Ontario. But how many people have done the Little French? It's a great route because most paddlers stick to the main channel, leaving the more intimate Little French quiet.
The route makes a counter-clockwise circuit of Okikendawt Island. That's right, no shuttle necessary. The upstream portion of the circuit is on the Main Channel of the French, where there is negligible current except when you enter the narrows around Chaudiere Dams to portage upriver. The island itself is Dokis First Nation territory, so there's no camping on river-left as you circumnavigate, only river-right or mid-river channels.
It's a 40-km trip around the island—give yourself plenty of time to explore and play in the collection of channels and drops at Five Finger Rapids, where the Little French emerges to meet the main channel.
Good starting off points are Wajashk Cottages or Riverview Cottages, the latter of which is right at DOKIS Marina where you can park, launch and buy needed permits for French River Provincial Park. French River Adventures will rent canoes and offer route advice.
Read The Ultimate Guide To Planning A French River Canoe Trip for more ideas.
Go where the locals go
You don't have to go far from the familiar favourites to find hidden gems away from the crowds. Be sure to practice the leave no trace principals to keep these areas pristine and lovely—because once you have checked them out, it will be hard to keep the secret.