Fishing the Michipicoten
Chinook Salmon Fishing on Lake Superior in late August and September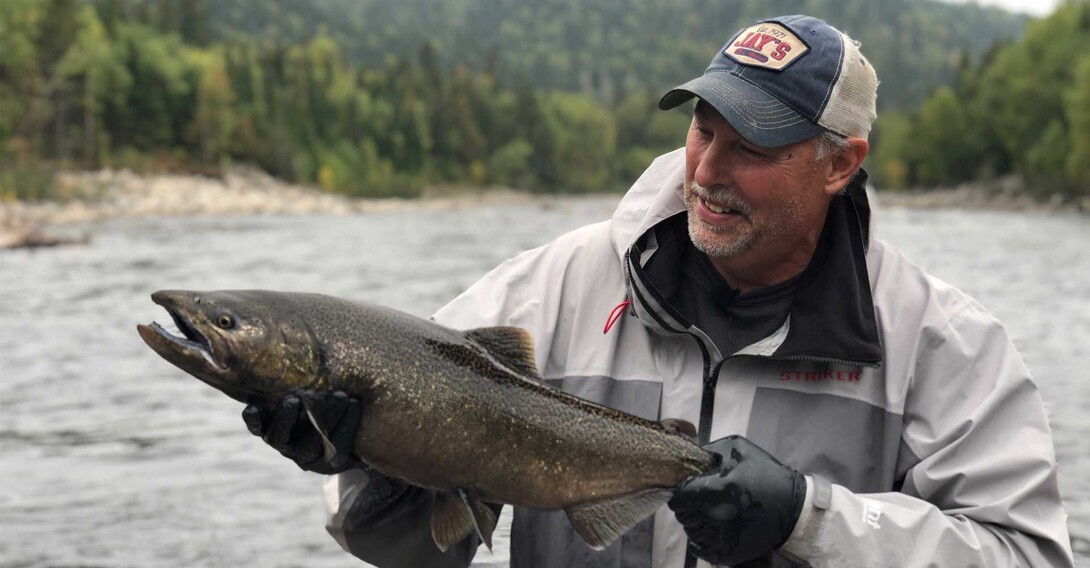 Wawa, Ontario is located dead in the middle of the Algoma Country tourism district. Best known for producing outstanding walleye, northern pike, and brook trout fishing, the Michipicoten River, which flows into Lake Superior not far from Wawa, harbours a little-known and completely different fishing treasure.
THE CHINOOK SALMON OF LAKE SUPERIOR
For many years, Lake Superior was heavily stocked with chinook salmon on both the United States and Ontario sides of the lake. While this stocking program was eventually discontinued by Wisconsin, Minnesota and Michigan, the Ontario Ministry of Natural Resources continues to stock modest numbers of chinook salmon in Lake Superior.
Every year in late August and throughout September, impressive numbers of chinook salmon run the Michipicoten River. The Michipicoten features a nearly ideal spawning habitat that supports an impressive population of wild-reared chinook salmon. Some hatchery fish stocked by the Ontario Ministry of Natural Resources also run the Michipicoten River.
WHITEFISH LODGE
The newly remodelled Whitefish Lodge, located on Whitefish Lake just 15 minutes east of Wawa, Ontario, is located on the Michipicoten Drainage Basin. In this perfect location for both fishing and hunting adventures, visitors to Whitefish Lodge can rent fully equipped housekeeping cabins located right on the shores of Whitefish Lake. In addition, anglers will find outstanding walleye, pike, and trout fishing in a host of lakes and rivers within easy driving distance. The Michipicoten River is about a 20-minute drive from Whitefish Lodge.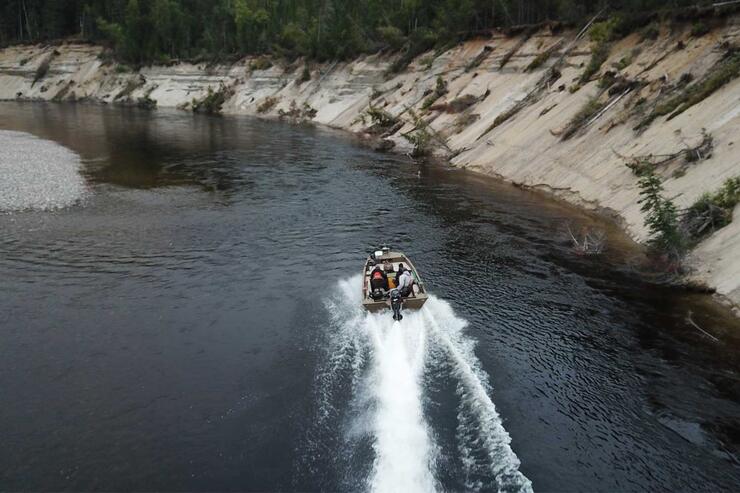 DO SALMON FEED DURING THE SPAWN?
While many anglers believe that salmon don't feed and are difficult to catch when they enter spawning rivers, this is only partly true. It's true that as salmon reach sexual maturity, their digestion system shuts down and these fish are no longer feeding to sustain themselves. However, salmon will readily strike a variety of fishing lures including spinners, spoons, and crankbaits.
Fresh or cured skein fished below a float is another popular way to target river-run salmon. Salmon are eager to gulp down the eggs of other salmon in an effort to eliminate competition for their own offspring. Taking advantage of this instinctive behaviour is one of the best ways to catch river run chinook.
BRETT ROBINSON OUTDOOR ADVENTURES
On a recent visit to the Michipicoten River, Fishing 911 TV Executive Producer Mark Romanack teamed up with local guide Brett Robinson of Brett Robinson Outdoor Adventures. "Not a lot of anglers realize that the Michipicoten and a few other Lake Superior tributary streams enjoy a solid run of chinook salmon in early fall," says Robinson. "Compared to Lakes Michigan, Huron and Ontario, Lake Superior doesn't have huge numbers of chinook salmon, but there is plenty of fish to make fishing interesting."
Robinson spends most of his time fishing borax-cured skein tied into "dime-sized" sacs. "A spawn sac stays on the hook a little better than fishing chunks of the skein," he suggests. "Mostly I'm concentrating on the deeper river pools that feature 10 to 20 feet of water. A good rule of thumb when float fishing spawn is to concentrate on fishing the middle of the water column."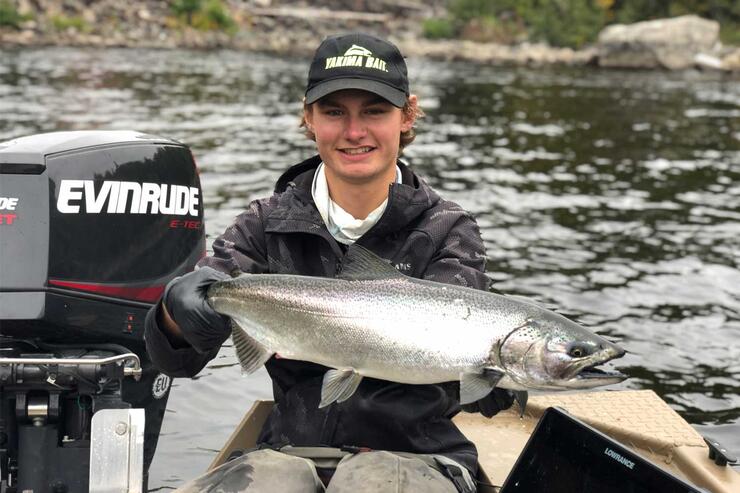 FLOAT FISHING TIPS
Anglers can use clip-on or slip-style floats for drift fishing skeins. During his recent visit to the Michipicoten River, Romanack took the opportunity to field test a new slip float produced by Hawken Fishing called the Aero Float. "Most floats are made from balsa or hard plastic that are delicate and easily damaged," he says. "Aero Floats are made from a flexible foam material that prevents them from shattering if they hit a rock or when fishing in freezing conditions."
Steelhead-style spinning rods and reels are ideally suited for targeting salmon with floats. "We used 9'-6" medium action Daiwa North Coast Steelhead rods matched up with a Daiwa Fuego 3000 series spinning reels loaded with 20-pound test J-Braid line," says Romanack. "We tied the braid directly to a 3/8-ounce sinker that features a swivel on both ends. At the business end, we added an 18-inch leader of 10-pound test fluorocarbon line and a No. 4 Eagle Claw Trokar Octopus hook completed the rig."
One of the secrets to floating fishing spawn for salmon is to create a "drag-free" drift. "I often have my guide clients simply drop the float right out the back of an anchored boat. Simply playing line off the reel as the current carries the float and spawn downstream generates a drag-free drift," says Robinson. "When casting a float rig, make a long cast quartering upstream and point the rod tip right at the float. As the float drifts downstream a bow of the line will begin to form on the surface as the float drifts downstream. This bow causes the float to drift slightly slower than the current. To correct this situation, use the rod tip to lift the slack line out of the water and re-position the line downstream of the float. This process is known as 'mending line' and helps to keep the float and spawn moving at exactly the same speed as the current."
Strikes, when fishing spawns with floats, are easy for even novice anglers to detect. "Most times the float will simply plunge straight down indicating a solid take," says Robinson. "Other times the float will tilt or teeter briefly indicating a fish has picked up the spawn, but not moved off with the bait."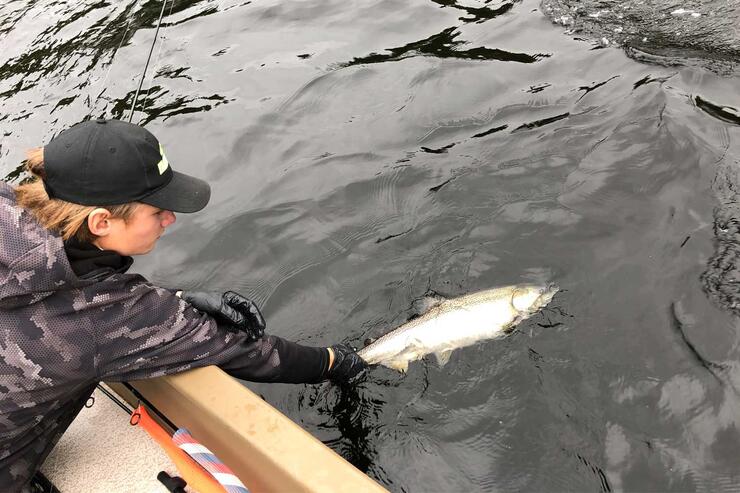 The rule of thumb when float fishing skein is to set the hook on anything that causes the float to plunge, tilt or wobble. "Hook sets are free," says Romanack, who admits that not every time the float goes down is there a fish waiting to be hooked.
The name of the game when fishing spawns for salmon is to keep the bait in the water as much as possible. It often takes many drifts before a strike occurs. Experimenting with different colour spawn sac netting and using natural scent products is also a good way to entice bonus strikes. "Pro-Cure Super Gel in the Salmon Egg formula is my favourite scent for fishing salmon or steelhead with fresh or cured eggs," says Romanack. "I use a couple of drops applied to either a spawn sac or cured skein. After a few casts, I re-bait and apply more Super Gel. When fishing spawns, it's important to keep the bait fresh so it milks naturally into the water."
WRAPPING IT UP
The Michipicoten River is a sleeper when it comes to salmon fishing. Only a handful of anglers have discovered this diamond in the rough. To arrange a guided fishing trip with Brett Robinson on the Michipicoten River or other fisheries near Wawa, visit his Facebook page and reach out with a personal message.