Top 5 Musky Destinations in Ontario
Jim Saric The Musky Hunter shows you where to land the best musky in Ontario waters.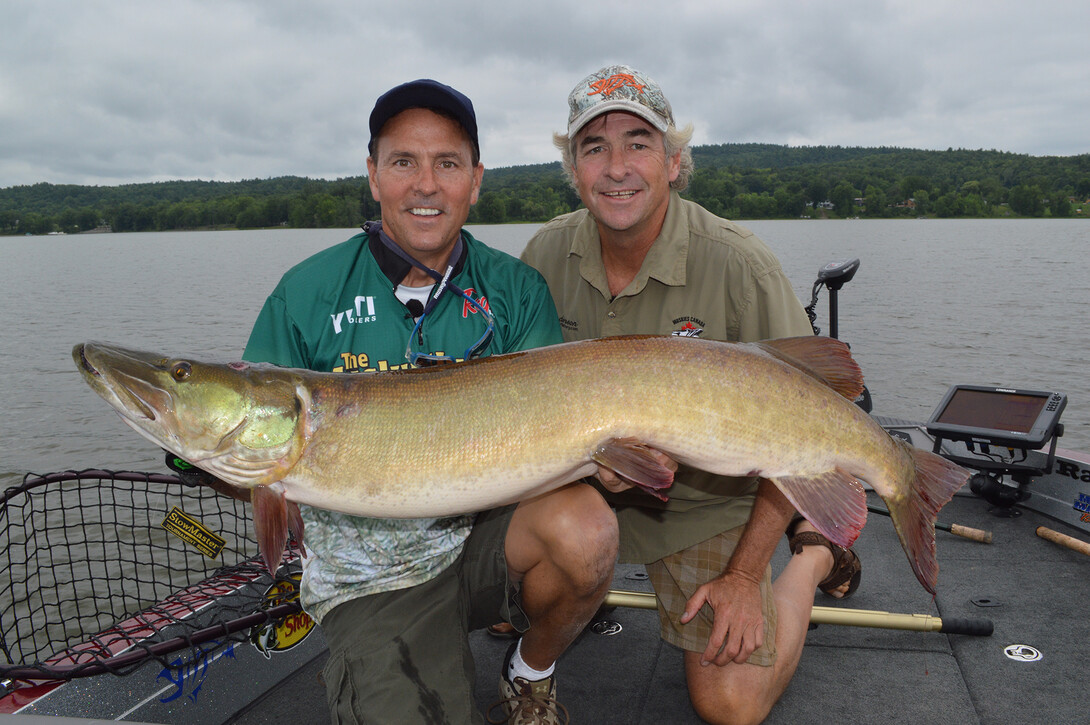 I travel all across Ontario chasing muskies, and there are lots of great musky waters.  Ontario is the dream destination of all musky anglers, for one simple reason: there are lots of big muskies in shallow water. Your ability to catch a trophy musky in excess of 50 inches is greatly enhanced throughout Ontario. Although I have lots of favourite musky waters, here are s five you just have to consider from West to East throughout Ontario.
1. LAKE OF THE WOODS
Lake of the Woods (LOW) in Northwest Ontario is often known as Lake of the Muskies. The lake is huge and relatively shallow, with thousands of islands. The overall fertility of this water supports a tremendous musky population, where you have a realistic opportunity to encounter a 50-inch musky every trip. Plus, the LOW has a large musky population, so once you catch one musky there's usually more to come. 
Island, reefs, bays, and shorelines with characters including rocks, sand, points, and emergent vegetation typically hold muskies. One of your best tools to locate muskies on LOW is simply your eyes. If you catch muskies from weeds on LOW, most likely you'll notice some type of emergent vegetation or sand along the shoreline. Once you catch a musky, the key is looking for similar areas. So when fishing LOW, look around and you might see a similar area with sand or reeds on an adjacent island. Pull up to that spot and most likely you'll find a weed bed and more muskies. Taking advantage of the multitude of musky spots and muskies is what makes musky fishing on LOW so enjoyable.
Expect lots of daily musky encounters whenever you fish LOW!  There are lots of great places to stay all across LOW.
2. EAGLE LAKE
There are few musky waters as rich in musky fishing lore as Eagle Lake in Northwest Ontario. Talk to any serious musky angler and they have either heard, fished, or are planning a trip to Eagle Lake, home to giant muskies. If you are in search of a trophy, Eagle should be on your bucket list. However, Eagle Lake is not "trophy only" water. Over the last 10 years, many of the resorts and anglers have worked together to promote a strong catch and release ethic and proper musky handling. As a result, there is a solid population of 40-inch class muskies as well as the giants. This has really enhanced the overall musky fishing experience on Eagle Lake.
Eagle is known for its clear waters, where witnessing a 40-pound musky following your lure is the stuff that can make any musky angler's knees buckle. However, the eastern end of the lake also offers stained water and holds giant muskies as well.
There are lots of islands rimmed with beautiful weeds beds, and spectacular rock points that are classic musky spots, which you can't imagine looking any better.  Also, there are deeper rock humps that hold muskies that any savvy musky angler can't ignore.
If you are in search of a 54-inch musky reaching 40 pounds or more, there's no better place in all of Northwest Ontario than Eagle Lake. If you need proof, just look at the photographs from all of the lodges on Eagle Lake; they are simply amazing.
3. LAKE ST. CLAIR
Also known as the sixth Great Lake, Lake St. Clair may be one of the best musky waters not only in Ontario but in all of North America. Two-thirds of Lake St. Clair is located in Ontario. It is a shallow water fishery, with most of the lake being less than 15 feet deep. Therefore, the wind can have a big impact on fish location, as well as fishable areas. The idea is to fish stained water with 3-4 feet of visibility, not muddy water with less than 2 feet of visibility or super clear water with visibility in excess of 6 feet. Fishing on Lake St. Clair is all about locating schools of bait and the packs of muskies following the bait.
Throughout Ontario, you can locate muskies suspended adjacent to many of the rivers on the southern shore such as the Detroit, Pike, Puce, Belle, and Thames Rivers. In summer, the muskies may be located several miles offshore, but in fall, they may be located very close to the mouths of the river.
Given the large size of Lake St. Clair trolling is a great way to locate muskies, as you can cover large areas quickly. However, casting is still viable and becoming more popular.  Once you find a pack of muskies making long drifts through an area is an exciting and effective way to catch muskies on Lake St. Clair. Don't let the large size of Lake St. Clair scare you, as the number of muskies that can be caught in this musky mecca is unbelievable. I know anglers that catch a couple of hundred muskies from the lake every year!
4. LAKE NIPISSING
Lake Nipissing is known as the Land of Giants. It is big water and has big muskies. This sprawling lake, located approximately four hours north of Toronto, is the headwaters to the famed French River and annually produces a 50-pound class musky. Although the entire lake has stained water, it is almost like fishing in several different lakes. The West Arm area is shallow with lots of smaller islands. Moving east towards the mouth of the French River, North Bay, and South Bay, the water is deeper and the islands larger.
Large Islands, clusters of reefs, and large bays are all classic Lake Nipissing musky spots. The best approach is to pick a section of the lake and take the time to learn it. Big muskies exist throughout the entire lake. However, the population isn't as large as Lake of the Woods. Lake Nipissing is a musky gem that's well worth the time and effort, as the musky rewards can be as great as any musky water throughout Ontario.
5. OTTAWA RIVER
The Ottawa River in eastern Ontario flows hundreds of miles across the province. Every year, the Ottawa River produces some of the largest muskies caught in North America every year. The Ottawa has been the subject of much musky research, and the Ontario Ministry knows much about muskies due to studies.
The Ottawa is divided by a series of dams, and each individual reservoir has its own character. Some sections of the Ottawa are deep and rocky, while others are wide and more fertile. I had the opportunity to fish with pro guide John Anderson, who operates The Ottawa River Musky guide service.
We fished several spots that consisted of large weed beds associated with either a creek mouth, bay, or quiet area of the river. These are classic musky spots on any section of Ottawa and when you find them, you usually find muskies.
The stretch of the Ottawa River directly above the city of Ottawa near Arnprior or below the city of Ottawa near Plantagenet are incredible musky areas. If you are used to fishing lakes, this is a unique and musky fishing experience, as the Ottawa is a large river. If you are up for the challenge of the frequently changing conditions associated with any river, the Ottawa is well worth the trip.
CONCLUSION
Ontario is rich in musky waters, and although there are many more that can and should be mentioned, all of the above waters can produce musky gold. Consider them as you plan your next musky adventure.