How to Get Into Fishing
I know what you're thinking: I haven't gone fishing in years, how in the world would I get started?
Let's face it: while every generation has struggled to stay positively connected with their children as they grow up, it has never been more challenging or more difficult than it is today. For a whole host of reasons, the amount of quality time we get to spend with our kids and grandkids is at an all-time premium and the distractions are endless.
Then, there is the critical 5 to 1 ratio. Experts tell us that for every negative interaction, we have with our kids that leaves them feeling bad or sad, it requires five positive connections to remedy it. Based on personal experience, I am here to tell you that spending time fishing in Ontario's great outdoors will not only work wonders for your relationships—both young and old—it will leave you feeling inspired and invigorated and will soothe your soul.
But I know what you're thinking: I haven't gone fishing in years, how in the world would I get started? And do you really think the kids would enjoy it?
I am glad you asked.
Getting Started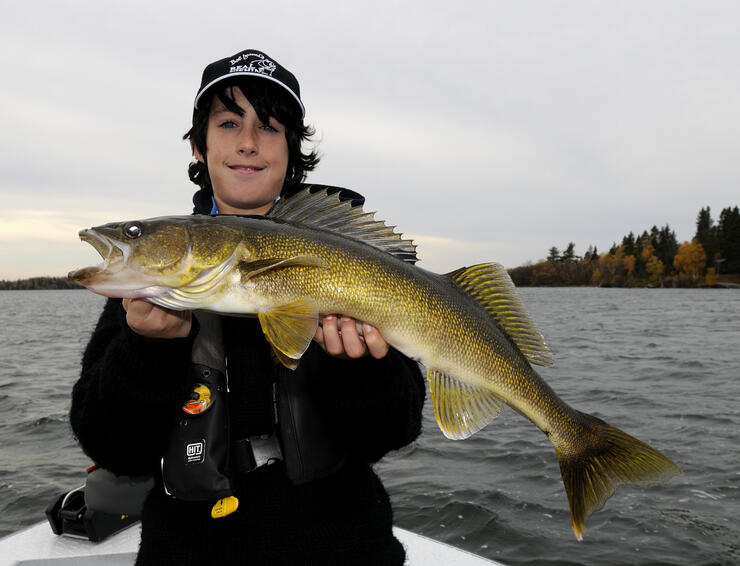 If you had never driven a car before and wanted to learn, what would you do? I am betting you wouldn't run out, spend tens of thousands of dollars buying a new car, and then try to teach yourself how to drive. Instead, you would likely contact a trusted friend or hire a Driving School, use their equipment, and have them show you how to do it. Guess what? This is the best way to learn how to fish as well.
And four times a year—in February, May, June and July—there are special Ontario licence-free fishing opportunities to try your hand. Not that obtaining a licence isn't trouble-free. The Ontario Ministry of Natural Resources' new online system makes it as easy as buying a loaf of bread. 
Learn from a friend
If you have a family member or a friend who fishes, let them know that you and the kids would love to tag along on one of their next adventures and have them show you the ropes. It's funny, but there are two things anglers are justifiably famous for one is exaggerating the size of the fish they catch—they are always bigger—and the other is offering non-stop instruction and advice.  So trust me, you will be greeted with open arms and total enthusiasm.
Find a guide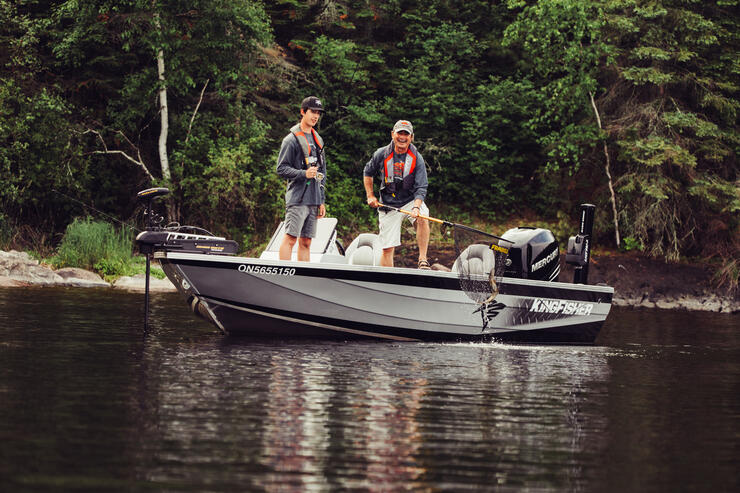 Equally helpful, perhaps even more, is hiring an expert guide for a fun-filled day or two on the water. Top-notch guides abound in Ontario and cost less per person than a ticket to a professional sporting event. And get this: it typically costs no more to have up to four people in the boat than just one. But if you go this route, remember to tell your guide the purpose of the trip, so he or she can prepare for your needs.  
Then again, you may simply want to enjoy a day in a luxurious, well-equipped boat, using the fanciest, most up-to-date rods, reels, and electronic gear, landing trophies of a lifetime. I've done it so many times with my grandsons and granddaughter, and I can tell you that at the end of every day, the hugs and kisses will tell you everything you need to know.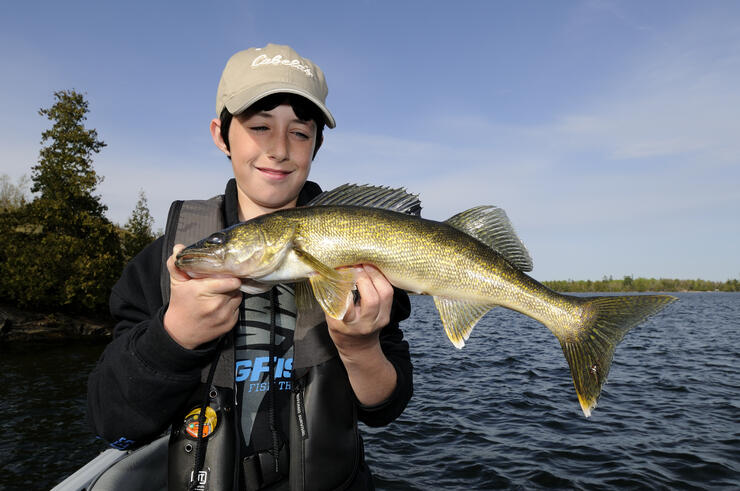 As a matter of fact, I make it a point always to take a back seat, literally, when I bring my grandkids on a guided fishing trip. I make sure they spend the entire day up front with the captain, receiving hands-on instruction running the electric trolling motor, talking on the two-way radio, baiting hooks, netting fish, and playing the Gilligan role of first mate.  
It is important to highlight, too, that Ontario is so blessed with world-class fishing opportunities that you can leave home in the morning, spend a day fishing with an expert guide, and be back home again in the evening. You can troll for salmon in Lake Ontario within sight of the CN Tower, cast for muskies in the Ottawa River a stone's throw away from the House of Commons, catch walleyes in the Kawartha Lakes downstream of the Lift-locks, or drop-shot for smallmouth bass in Lake Simcoe, one of the finest bass lakes on earth, only an hour away from downtown Toronto.
And I promise you'll learn more in one day of fishing with a competent guide than you will in a year or two trying to do it on your own. As a matter of fact, a recent analysis of on-the-water creel survey data has shown that on average, you will catch two to five times more fish when you hire a guide than you will fish on your own.
Make a weekend out of it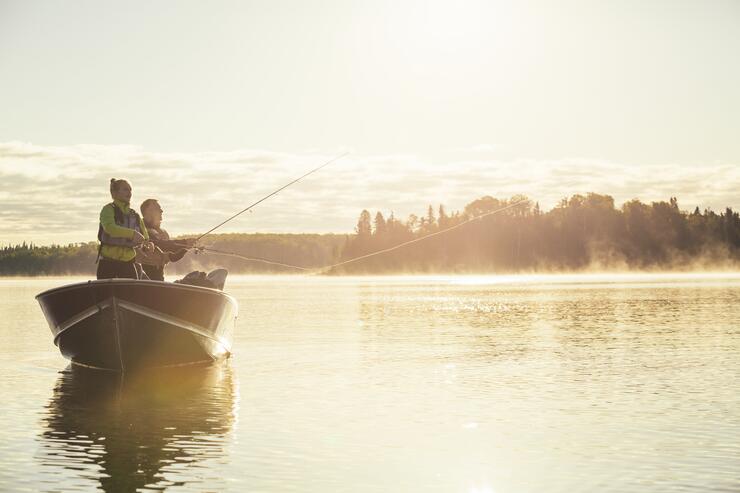 Want to be even more adventurous? Flip through the tourism listings in a part of the province you enjoy spending time, in or have always wanted to visit and look for a resort or lodge where you can stay for the weekend or a few days, enjoying the hospitality and scenery. Your guide will greet you and the kids at the dock each morning, take you to the best fishing spots, supply all of the required gear, bait your hooks and net your fish, and at noon pull up on shore and cook a fabulous lunch over an open wood fire, featuring the fish you caught that morning. It gives new meaning to the term "finger-licking good!"  
The other nice thing about this option is that it lets you plan your fishing getaway according to your budget and needs. A cozy housekeeping resort, for example, lets you rent a shoreline cabin with a modern kitchen and outdoor barbeque, where you can cook your meals, the kids can swim from the beach, play games, sit around a campfire in the evening roasting marshmallows, hire a guide for a day or two and then, after instruction, use one of the resort's boats to do it on your own. Of course, you can also pamper everyone in velvet and opt for the full American Plan that typically includes plush accommodation, gourmet meals, and top-notch professional guide service. You simply show up at the resort and your every need is looked after.
Just be forewarned—if you follow any of my recommendations, it is not only the fish that are going to be hooked. You are suddenly going to find yourself daydreaming about new boats, motors, rods, reels, and must-have tackle items, and preoccupied with planning your family's next great Ontario fishing adventure to a renowned lake or river with a mystical name like Georgian Bay, Lake Nipissing, Lake Temagami, Kesagami Lake, the St. Mary's River, Lake Superior, Lake Nipigon, Lac Seul, Eagle Lake, and Lake of the Woods. And when that happens, you'll be well on your way to making fishing memories with your kids.