A Northern Ontario Cold Front
An exciting smallmouth bass fishing trip to Sunset Country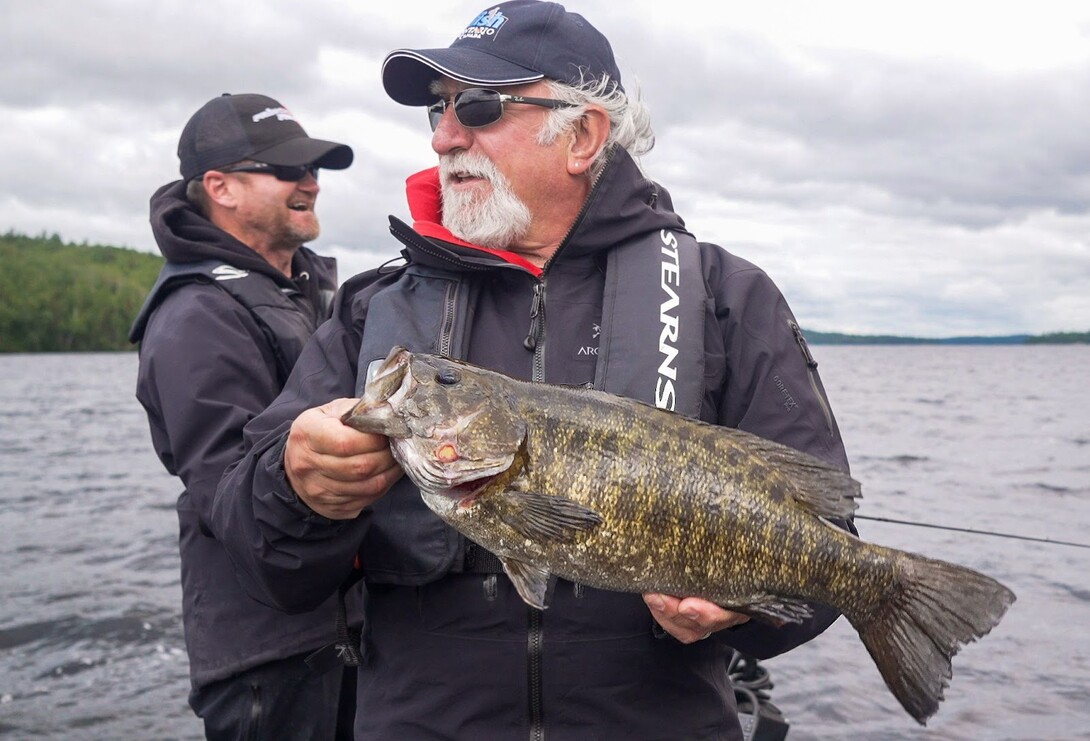 This Fish'n Canada episode was an exciting one!
Not that the others during this season haven't been… but, in this one, we're going head to head with what is often referred to as the best pound-for-pound fighting freshwater gamefish in all of Canada, heck, maybe the world—the smallmouth bass.
On this trip, the smallies that we located were what we call "anything but positive" which is just a wordy way of saying they were negative.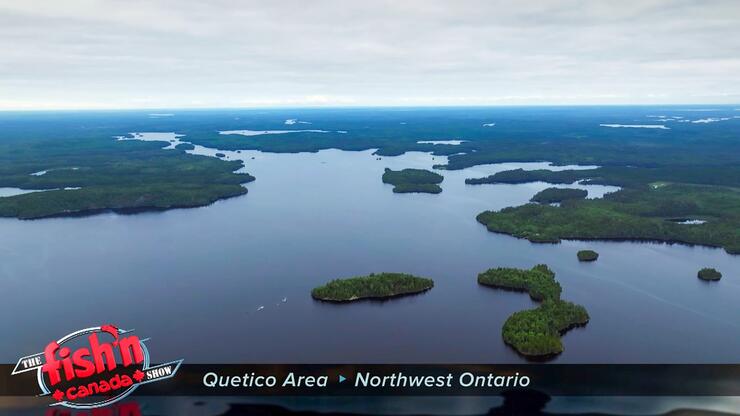 A cold front blew through the area just days ago and Ang and Pete were AGAIN stuck with trying to figure out these bottom-huggers.
The area was weed free, with lots of flat rock bottom, and the odd boulder. The depth varied from about 12 feet to over 20.
In addition to this, we had a very unique situation in the world of smallmouth, and that was smallies relating to timber, and more specifically standing timber, under the water's surface and not visible to the naked eye.
Not all of the fish were in and amongst the wood, however. On the contrary, in typical smallmouth fashion, it seemed like they were roaming around hunting for food and then moving back into the timber for cover. This was quite interesting and not all that common in our smallmouth fishing history.
COLD FRONTAL CONDITIONS
When confronted with post-cold-front fish, Ang and Pete are always "optimistic" if you will, in that they'll at least try their luck with moving baits like crankbaits, jerkbaits, and even topwater baits.
Unfortunately on this day, it was quickly evident that they'd have to dig deep and slow WAY down to connect. This means staying in contact with the bottom with either some kind of jig or by drop shotting, both of which they're very familiar and confident with…(transitioning into first fish in the boat)
THE SMALLMOUTH BASS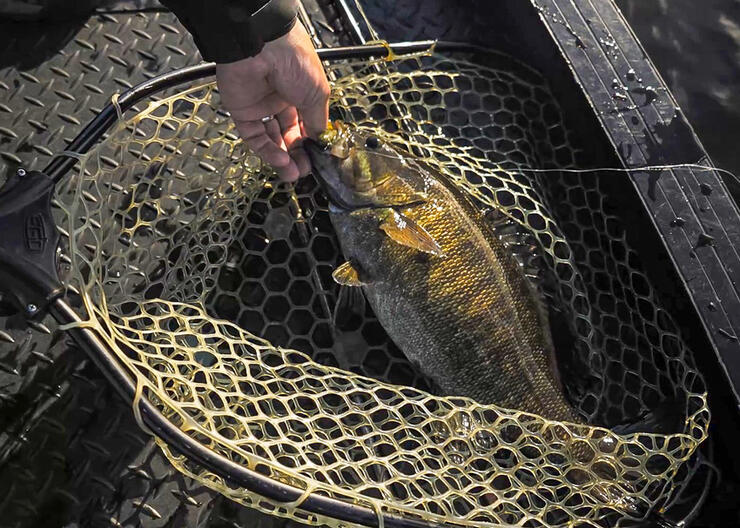 Here's a little smallie insight for you. Ang and Pete have fished for smallmouth on several lakes, in several provinces, and the commonality of this species, from coast to coast, is almost surprising.
For instance, the fish they were catching in this lake in northern Ontario, act and feed very much the same as river fish in New Brunswick, or even inland lakes on Vancouver Island.
The point we're trying to make here is that if you plan on travelling throughout a province, across Canada, or anywhere else where smallmouth bass live, the basic fishing tactics you use successfully on your home lake should work elsewhere. Don't be intimidated by the geographic location. Smallies love to hunt and eat!
PRESENTATION
Want to see how the boys from Fish'n Canada caught their fish on this trip to northern Ontario? Head over to fishncanada.com for the full breakdown!
Read: Cherry Picking Smallmouth
LUNCH BREAK
Just to let you know, we're not ALL about hardcore fishing through every minute of a shooting day. We've gotta keep the machinery fueled.
When staying at most full-service, all-inclusive lodges, bringing out a boxed lunch prepared by the kitchen staff is always an option. And unless there's a chance at a classic Canadian shore lunch, we normally take our lunch to go. It saves so much time in a day.
SMALLMOUTH BASS ADAPTABILITY
If you want to talk about an adaptive creature, the Smallmouth Bass surely fits nicely into the category.
In Ontario, for instance, their numbers are as incredible in Lake Erie, the most southerly point in the province, as they are past the upper reaches of Lake of the Woods in the northwest portion of the province. That's about 2,000 km of highway driving.
When you add in pretty well every Fisheries Management Zone in between, you can see these fish can tolerate a wide variety of conditions.
The area we were fishing for this shoot is slightly north of Quetico Provincial Park (out of the park zone), a world-famous park known for its excellent portaging and fishing, with an emphasis on smallmouth bass. Only barbless hooks, artificial bait, and no outboard motors are permitted in the Park.
This massive park is almost 5,000 square kilometres and shares its southern border with Minnesota's Boundary Waters Canoe Area, part of the Superior National Forest.
Quetico Provincial Park includes over 2000 unofficial, unimproved wilderness campsites spread throughout more than 600 lakes. That, my friends, is a lot of fishable water!
CONCLUSION
As you can probably tell from this trip and many that we've documented previously, Ang and Pete are huge fans of the smallmouth bass.
Yeah, there are a number of skeptics out there that still consider the Smallmouth as damaging and invasive…hey, everyone's allowed their opinion. But as far as we're concerned, regardless of how they got there, where they came from, and how they play in the sandbox, we've learned to love these little brown beauties. God bless the smallmouth.
GETTIN' THERE PRESENTED BY RAM TRUCKS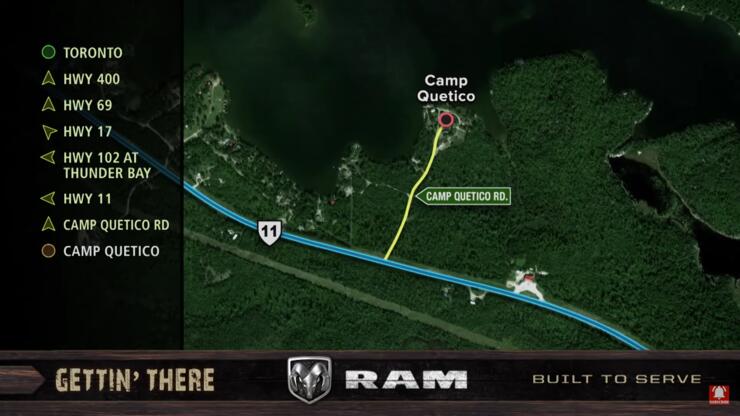 To get to some of the best smallmouth bass fishing in all of Northern Ontario, drive north on Hwy 400 to Hwy 69. From there turn west on Hwy 17. Next, take 102 Bypass at Thunder Bay.
From there, head west on Hwy 11 and finally turn right on Camp Quetico Road which takes you to the beautiful Camp Quetico on Eva Lake.
This great resort oozes "everything fishing" from the moment you arrive.
Eva Lake is an awesome fishery if you want to stay close to the lodge. However, with over 40 lakes nearby, your party can fish a different lake each day for smallmouth bass, northern pike, walleye and lake trout.
As with most Ontario lodges, you can choose an all-inclusive American Plan or you can bring your own food and go with the housekeeping plan.
Either choice will make for a great fishing vacation.
CAMP QUETICO
Fishing is believing. That's the motto at Camp Quetico. Because you won't believe how incredible the fishing is until you experience it for yourself. And once you do, you'll keep returning year after year – like the rest of our guests – for one of the best Canadian fishing adventures possible.
This drive-to fishing lodge is nestled in a magnificent wilderness setting on the shores of Eva Lake and is a dream-come-true resort for hunters and sport fishermen. With over 40 lakes within a short drive of the resort, your fishing party can try different spots for catching a wide variety of fish.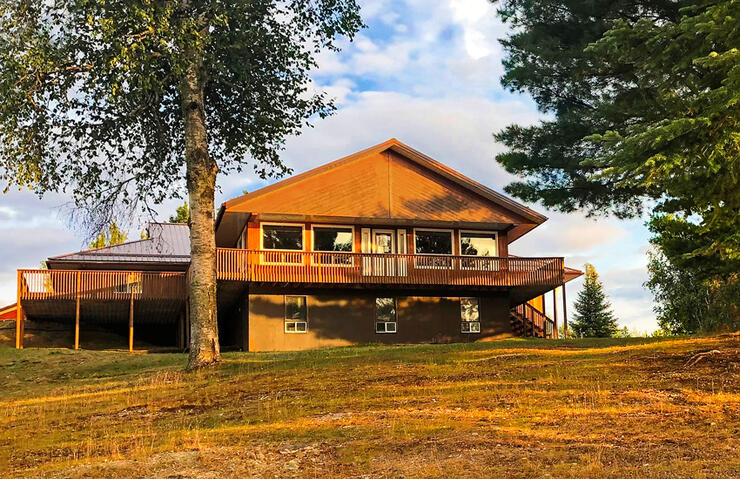 Each housekeeping cottage is fully equipped for your comfort and convenience including, electric cooking facilities including a microwave, toaster, coffee maker, full 30-inch range stove with oven and fridge with freezer. Hot and cold running water. Air conditioning. Full living room with dining area. All cooking utensils, dishes and cutlery. bedding and towels. Access to 105 boats on 40 lakes.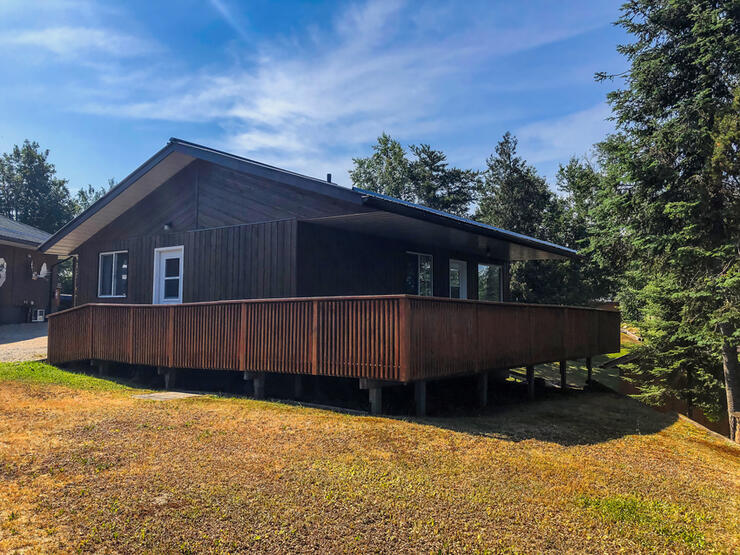 After a great day of fishing, it's time to relax on the deck of your private lakeside cabin. Or perhaps enjoy the camaraderie of other guests at the lodge.