Algoma Country Grouse: Exploring a New Region to Hunt
"On the way to the bear stand each day I would kick up five to ten birds on the walk."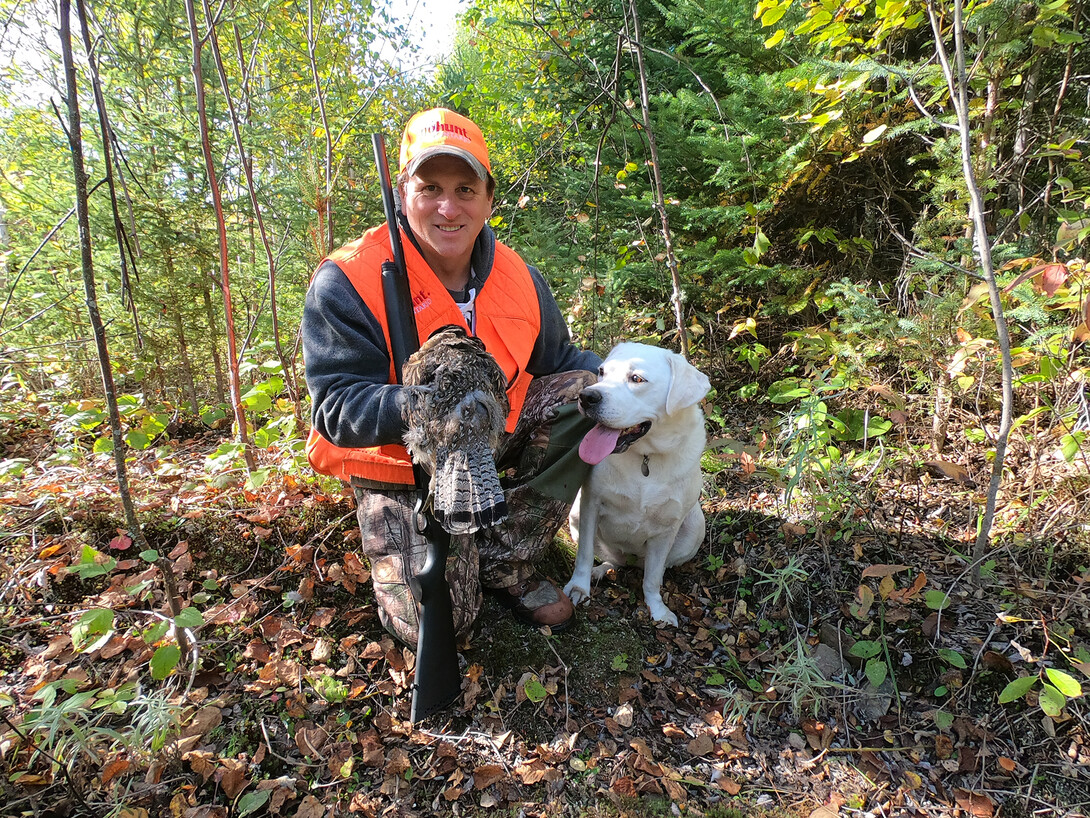 I've always been a grouse hunter for as long as I can remember. Like many people, my dad was an important part of my outdoor DNA. Growing up he always had my brother and I in the truck driving logging roads spotting those camouflage birds. Grouse, to me, are one of the most enjoyable game birds to hunt and I'm sure that all leads back to him and our time in the truck together.
Ontario's vast untouched grouse habitat
Back in those younger years, the grouse population around my hometown in Minnesota was always fantastic with lots of opportunities to bring home a limit on every trip. With the growing development and loss of great grouse habitat, that is no longer the case. Sure, there are still areas that do have a decent grouse population but nothing like Ontario's vast area of perfect untouched habitat. It seems on every trip, it is lights out with lots of opportunities to bag a limit of those tasty game birds. 
About five years ago, I made my first trip to Ontario to chase grouse with my then 1 1/2-year-old white lab, Rikki. We both cut our teeth on Ontario grouse, which may be just one more reason I love it in Ontario so much. During those first few years, she and I took a number of grouse limits traveling to the Sunset Country Region of Ontario.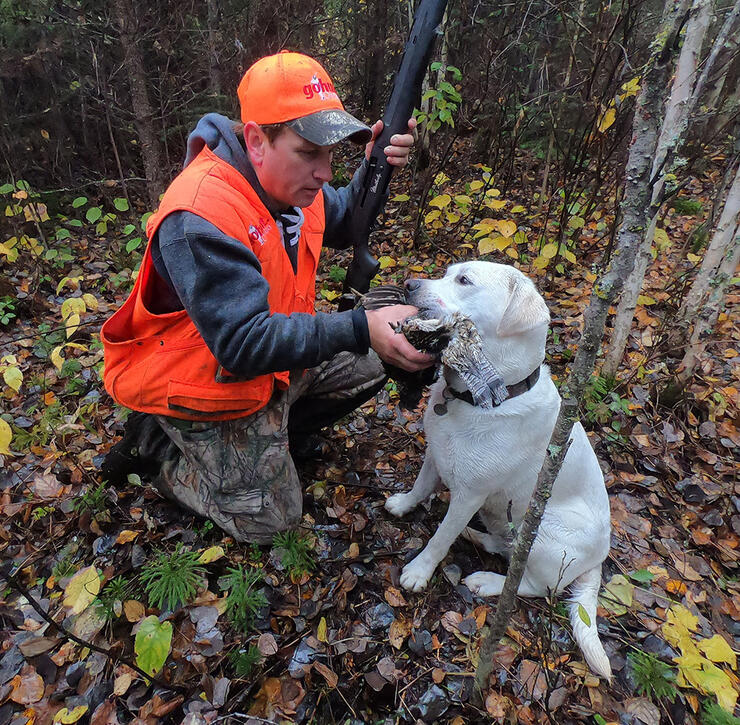 I truly enjoy Rikki and my grouse hunting adventures together. It is a tradition I started with my best four-legged friend and we have continued that yearly tradition, minus the obvious pandemic break the previous year. With that year off we were more anxious than ever. Exploring a new region in Ontario had me chopping at the bit to get back.
Algoma's High Grouse populations in 2021
This season I went on a bear hunt to Whitefish Lodge and Outpost Camps, which is located in the Algoma Country Region of Ontario. What I found in addition to amazing bear hunting was that the grouse population was incredibly high. On the way to the bear stand each day I would kick up five to ten birds on the walk. After that trip, I decided to make a plan to come back a month later in the middle of September. 
The Algoma Region has thousands of miles of logging roads, walking trails, and Crown Land with opportunities at every turn. We had no problems catching up to birds and I was on my game, most of the time. I call my misses, practice. It makes me feel better but seems Rikki disagrees based on the look she gives me when I come up empty on my shot. At the end of our daily hunts, we bagged our limit with numbers of flushes that were far into the double digits.
road hunting and walking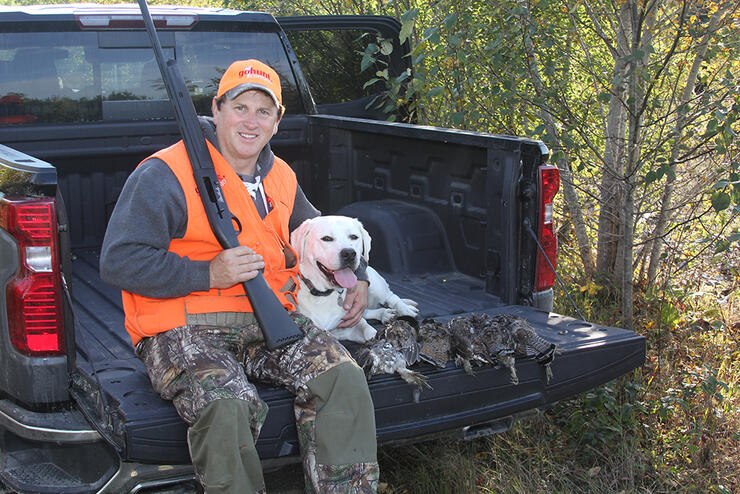 With both drivable logging roads and walking trails, I always combine road hunting with walking during my hunts. There are advantages to both but at the end of the day not everyone, including your dog, can walk all day on a multiple-day hunting trip. Driving covers a larger area and you can encounter more birds in most cases. Plus, once you see a grouse while road hunting you can park your truck, go back with your dog and get the full hunter and dog experience in flushing and bagging the bird.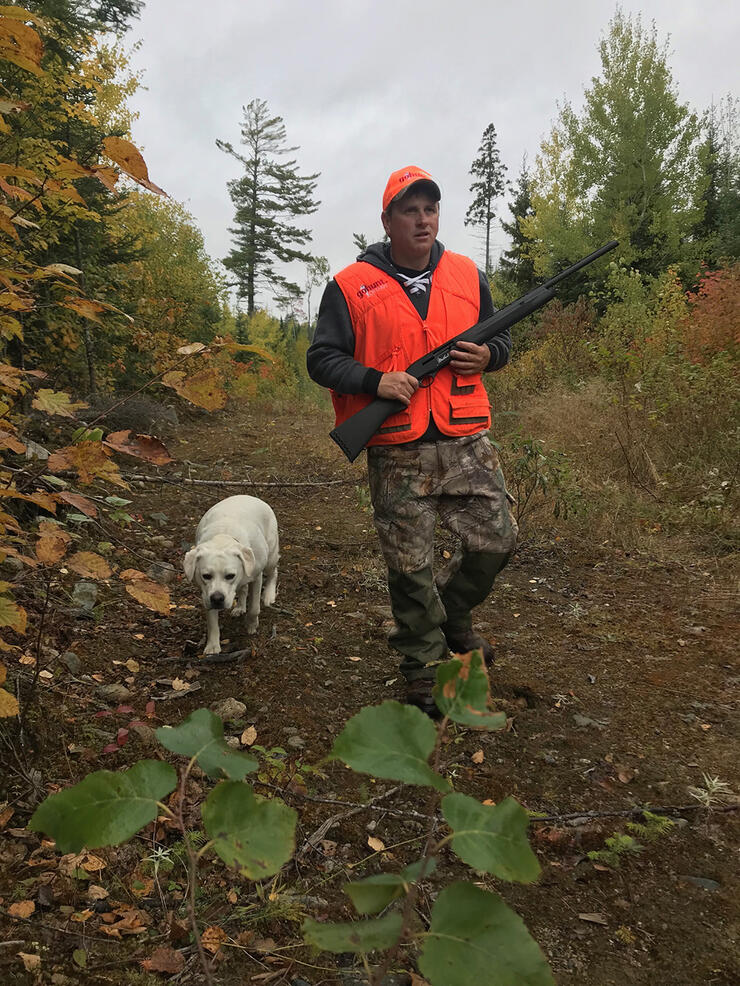 the perfect base for grouse hunting
On this grouse hunt, I returned to a place I had been to the month prior, Whitefish Lodge and Outpost Camp. They have a fantastic facility with comfy bedrooms, a full kitchen and bathroom, and all the amenities of a home away from home. And the views from the cabin are worth the trip all on their own.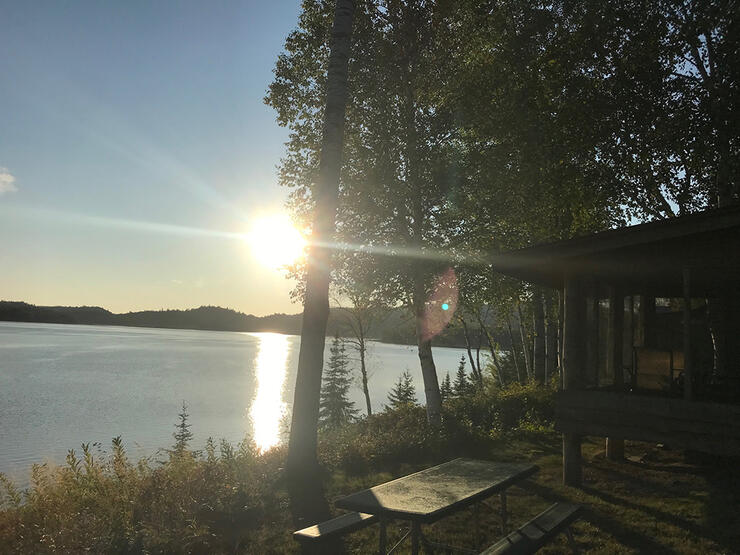 There are many great lodges and resorts in Algoma Country that offer small game hunting packages. If you're looking for amazing fishing to go along with your fantastic grouse hunting experience, you definitely need to check out the Algoma Country website to get more information. It will make one heck of a cast and blast vacation!! 
For more information on small game hunting opportunities in Algoma Country, please click here.
For more on Whitefish Lodge and Outpost Camps, please click here.