Ontario's Largest Moose Harvested by a Female Hunter
Avid hunter Ralph Romano remembers his young daughter's first big hunt and big record moose, harvested near Wawa, Ontario.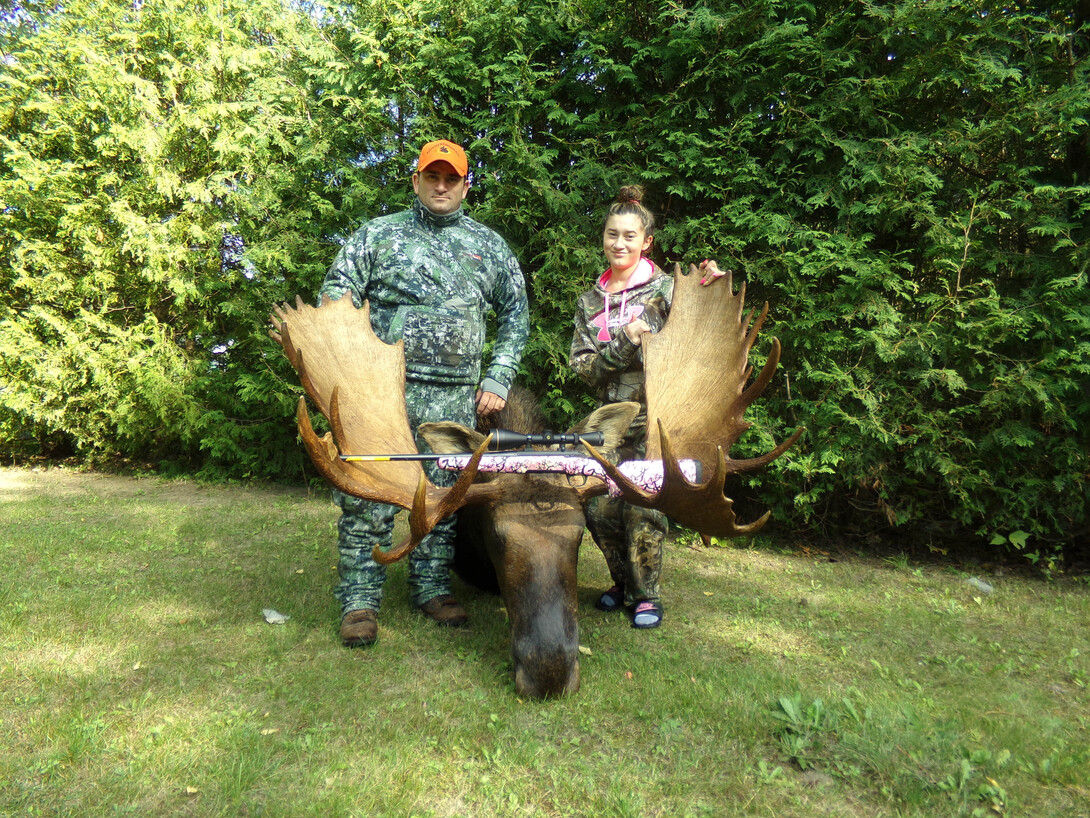 Like many, I was introduced to hunting at a young age by my father. I can remember going to the gravel pit with him and my brother many times to target practice with my .22 at pop cans. On the weekends my father would take me hunting for partridge and when I turned 10, I received my own 410 for my birthday. 
My father was my avid hunting partner and best friend; I can remember at 15 when I received my hunting license and was able to join my dad and his moose hunting party. I was excited to have the opportunity to shoot a moose, which didn't happen for me that year, but the following year our party shot a moose with Dad and I present.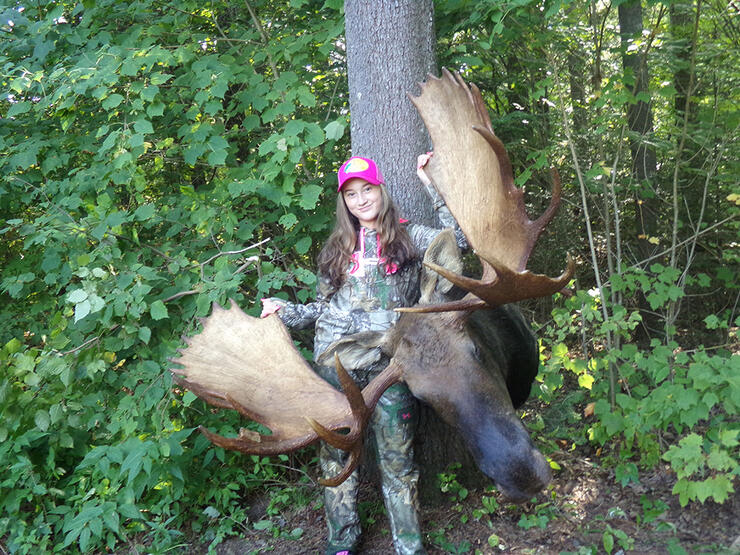 I purchased a Browning 7mm A-bolt when l was 17 and couldn't wait for moose season to start that year. Unfortunately, my father would not be a part of it, as he passed away that year. I joined a new hunting party, and I was now running ridges and following tracks. I would get the odd glimpse of moose but never connected on one till I was 20. This was both a very proud and sad moment for me, as I wished that my dad could have been there. Over the next several years I shot a few more moose, but all l could think about was to shoot a trophy moose.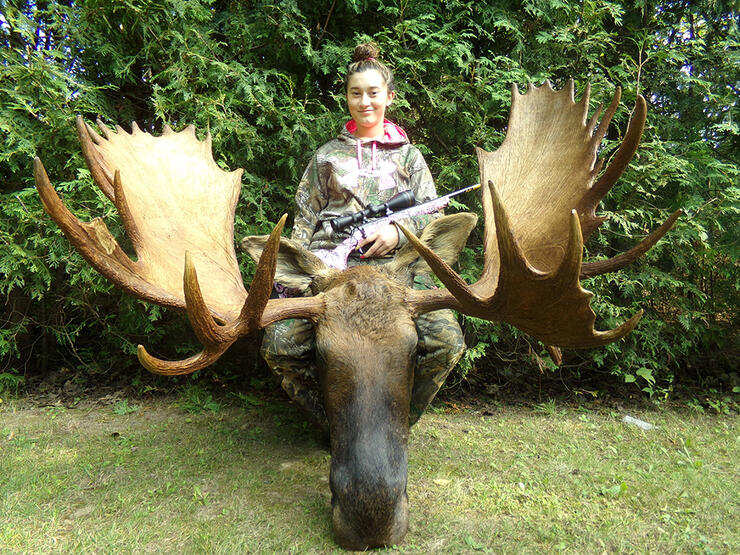 At the age of 27, I met my wife, who had a 13-year-old son named Kody and a four-year-old daughter Allysha. Kody became my new hunting buddy; at 15 he shot his first little bull moose. Now, much like me he was hooked and wanted to shoot a monster moose. A few years later my wife was expecting our first baby. I was all excited and I figured that l would have a son to add to my hunting party. I soon found out we were having a daughter, and all my big plans went out the window. 
Little did I know that my daughter Kiarra would join my hunting party. At age three she came on our hunting trip to Armstrong, Ontario where I shot a 57-inch moose and was proud to have my daughter by my side. From then on she went where l went, and I was the happiest dad to realize that she could do anything a boy could do. At 10, Kiarra received her first 4-10 pump and we would go target practicing and bird hunting like my dad did with me. For her 11th birthday, she graduated to a pink Browning .308 bolt action with scope, and we joked that for her 12th birthday, she would shoot a moose.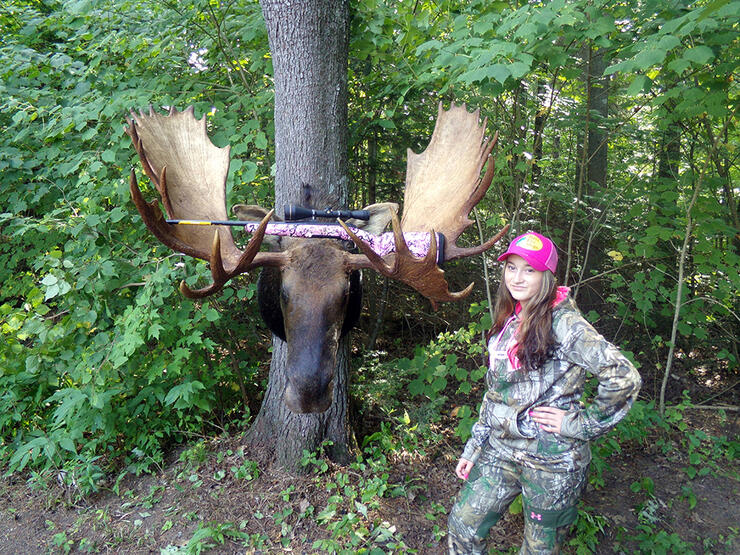 Our hunting party of four set off to Northern Ontario, Wawa area, in the fall of 2015: my stepson Kody, Kiarra, and our buddy Jay Marsden from Alderville. None of us had any luck that first day, so we decided to get out early the next day. I decided to take an old trail that lead to a dried-up beaver dam, and l told Kiarra that it looked like an area that moose might herd for the winter, and maybe we might find some sheds. Not even 100 feet from the dam, we found the biggest moose shed that I have ever found. I told her that this is the one we want to find. We continued collecting more sheds, all in the 50s range. That night we were all excited, as we knew the chances of seeing a big moose was possible.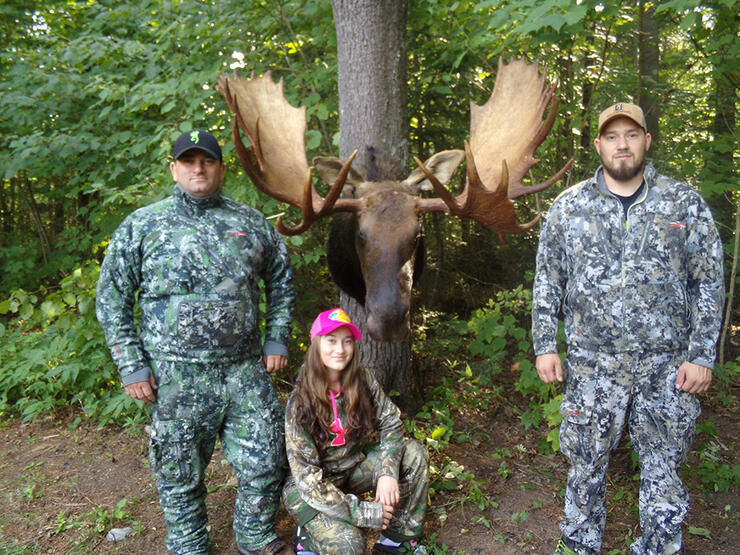 The next morning Kiarra and I were driving an old skidder trail that had ended and started to get marshy. We were about to turn around when something caught my eye. It looked like a fair-sized bull had just stood up about 80 yards from us. 
Kiarra jumped off the bike and quickly loaded her gun. At this point, the moose had turned and was starting to walk away. This was a shooter, so I told her that she would have to hurry and shoot, otherwise we would lose it. I told her to try and shoot it in the back of the head if she could get the shot. Kiarra took the shot the moose started to walk into the swampy area.
I jumped on the back rack of the bike to get a better look to see if I could spot him. I told Kiarra to run and get another shot, as l figured she had hit it the first time and that's why it was walking slowly. We were able to get closer, and that's when she fired two more shots and took it down. I was totally unprepared to see the biggest moose I've ever seen in 25 years. I almost fell over, I told her she shot a monster and couldn't believe it. In total the moose had 32 points with a huge front dog and large paddles—it was picture time.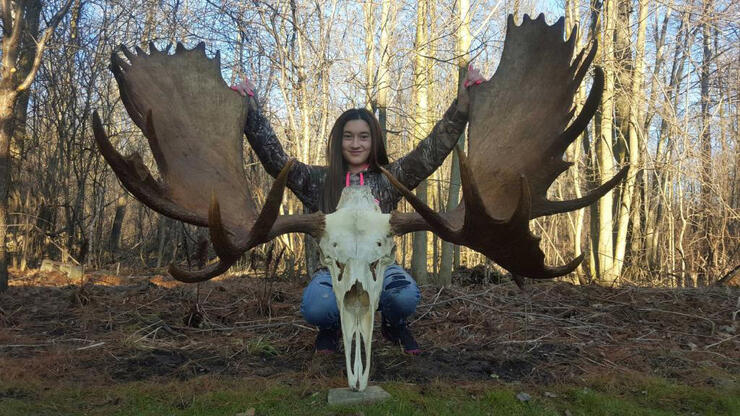 I told Kiarra to hand the guys the little six-point shed that we found and tell them that the one you just shot had six times that many points. We met them about 10 km from us, where Kiarra handed them the small shed and told them what I had told her to say.  They thought we were joking until I pulled out my cell phone and showed them the pictures; they both looked at me and said "there's no way you let Kiarra shoot that and not take it down yourself." I explained that I was proud to be with my daughter to shoot her first moose and that it was just meant to be. 
We drove back to drag it out and the guys couldn't believe the size of the moose. We took more pictures and headed home with our prize. Once home we were skinning it, and we realized Kiarra's first shot went right in the butt hole and there was a bullet hole in one lung. What a lucky shot as none of the meat got ruined—it couldn't have been any better.   
We had to wait 60 days to get it scored, and I had read in the Ontario Monster Whitetails magazine that FROW would be scoring animals at Bass Pro in Vaughan Mills in March 2016. We got the head mounted and anxiously waited for the scoring date. Little did l know that at the end of January, I would have a close call with a burst brain aneurysm, be rushed to St. Michael's hospital in Toronto, and stay in intensive care for nine days. I wasn't sure if l would be here to watch this moose get scored. I am very thankful to be alive without any lasting effects and to get the good news that my daughter's moose scored 217 2/8 with a final score of 205 2/8, and is recorded in the FROW record book as the 21st biggest moose shot by a woman.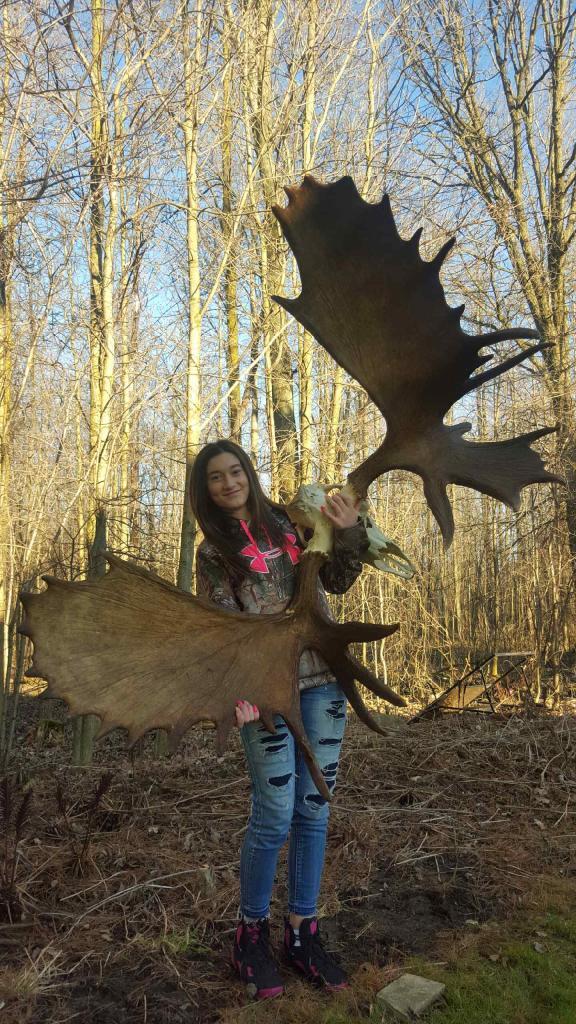 Kiarra harvested this awesome moose in the Algoma District. It has 15 points on the right and 14 on the left and its greatest spread is 55 4/8 inches. The palm widths are 17 2/8 and 14 4/8 inches and the length of the palms are 39 1/8 and 47 2/8 inches.
I would like to tell you all to take time with your kids/family as you never know when you may not be here, so cherish each day. Good luck hunting!