Grouse Hunting in Sunset Country
With plenty of birds and endless Crown Land to explore, this pristine area is a grouse hunter's dream.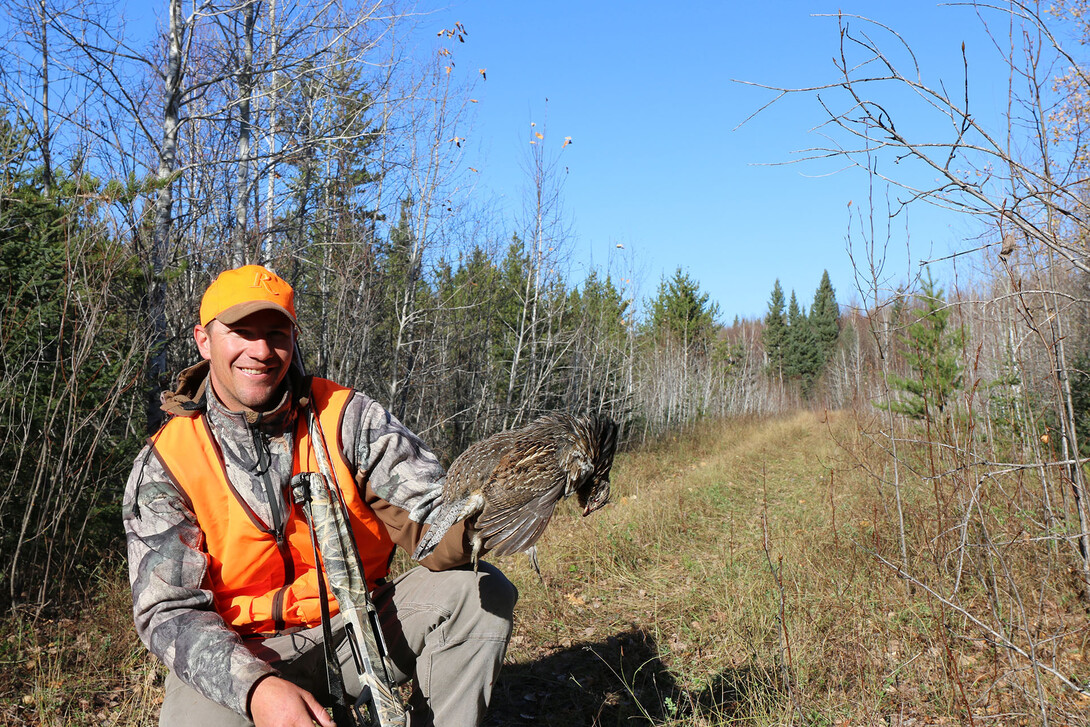 I got a call from a friend in Minnesota the other day. He asked about my dinner plans, and I told him I was cooking up a few ruffed grouse that I'd harvested late in the season. He said he loved grouse hunting and that if he got three or four in a year, that was pretty good. I smiled and felt bad for him because we're rich with grouse here in Northwestern Ontario's Sunset Country.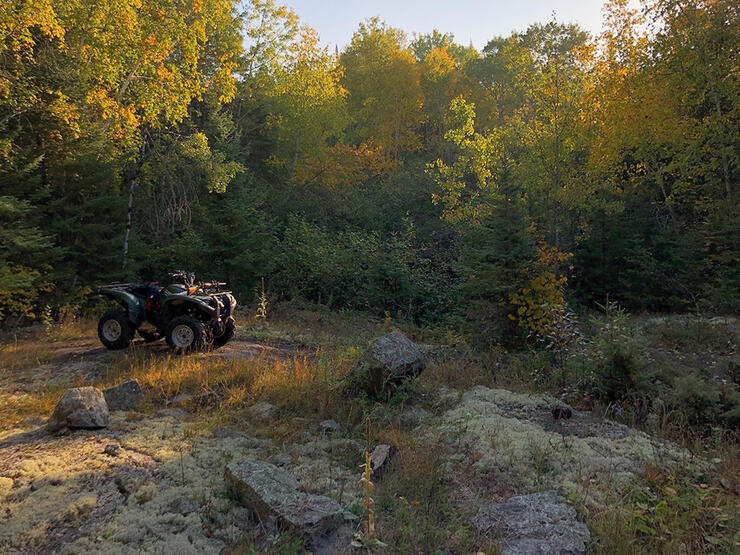 As a kid growing up, my first hunting experiences with my dad were walking old logging roads for grouse. It got us outside, taught us gun safety and the action was always pretty good. In the early years, I was his little "bird dog" and as I got older he let me start to take a few shots with a .22 and then a .410 shotgun. This activity really had a big influence on my love for being in the outdoors and for hunting.
Over the years I have continued to get a lot of enjoyment out of chasing these beautiful birds around in Northwest Ontario. Their populations are known to cycle but to be honest, I can't remember a time when the grouse hunting wasn't good. Some years are better than others but if you put some time in around good habitat, you'll be rewarded. The more remote you get, the more birds you'll see.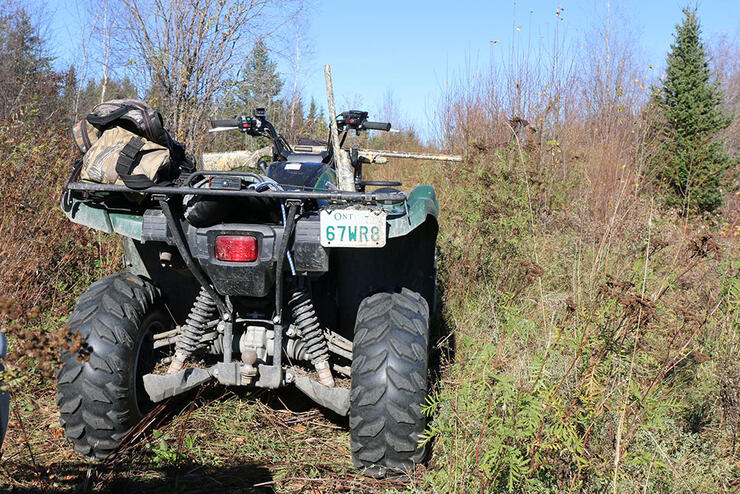 grouse is delicious and easy to prepare 
Aside from the excitement of hunting, being outside, and getting some exercise, many people also know that grouse is my favourite thing on this planet to eat. Truthfully, I could eat them multiple times per week if I were able to. The white breast meat is similar to that of a chicken, with a unique taste that I really enjoy. I can't remember sharing them with anybody who didn't agree. Locally, we call grouse "chickens."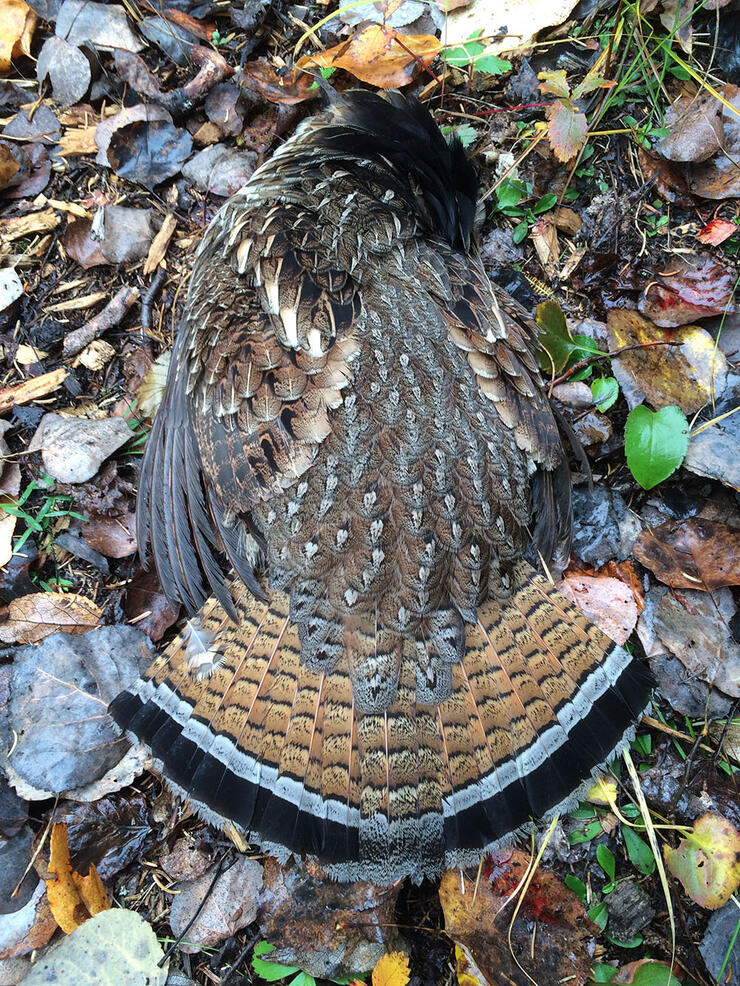 I like to keep it pretty simple when I prepare them, typically just battering them like I would fish (flour, egg or hot sauce, cornflake crumbs/panko crumbs) and frying them, but you really can't go wrong however you want to cook them. I have enjoyed the breasts wrapped in bacon and cooked on a BBQ, cooked in a crock pot as part of a stew, or simply just sprinkled with lemon pepper and tossed in some butter. They're good any way you make them.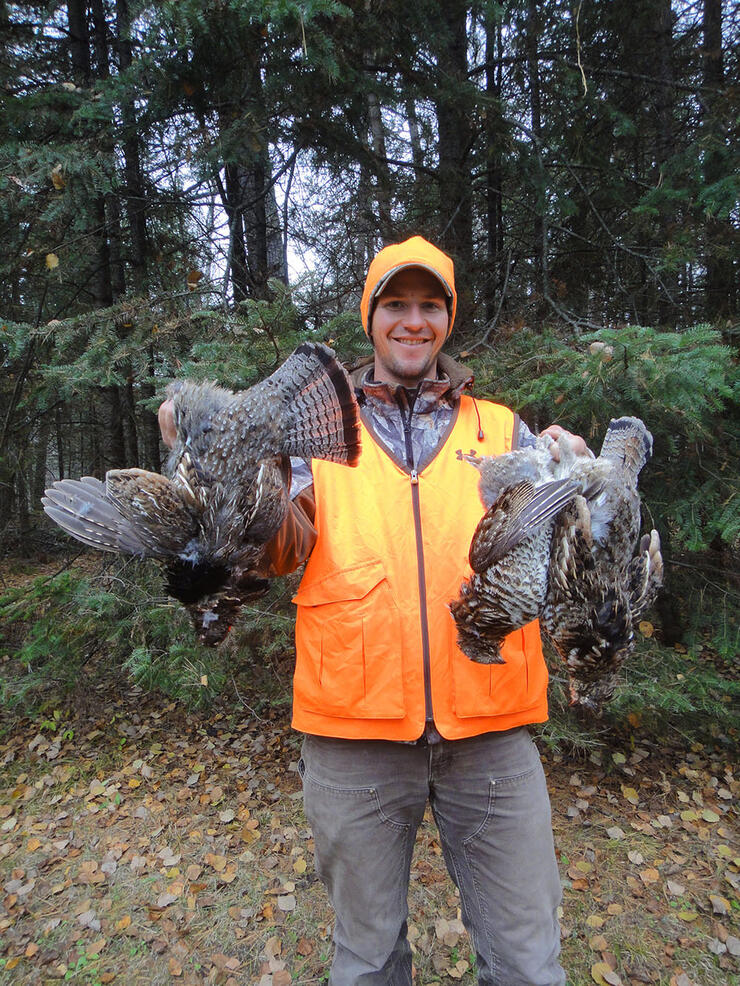 If you have never hunted in Sunset Country then you need to know that we have vast amounts of public land available for hunting. Get outside any of our communities around the region and you are generally good to go. If you plan a trip through a resort or outfitter they will be able to point you in the right direction as far as roads to venture down to access good hunting areas and avoid any private property.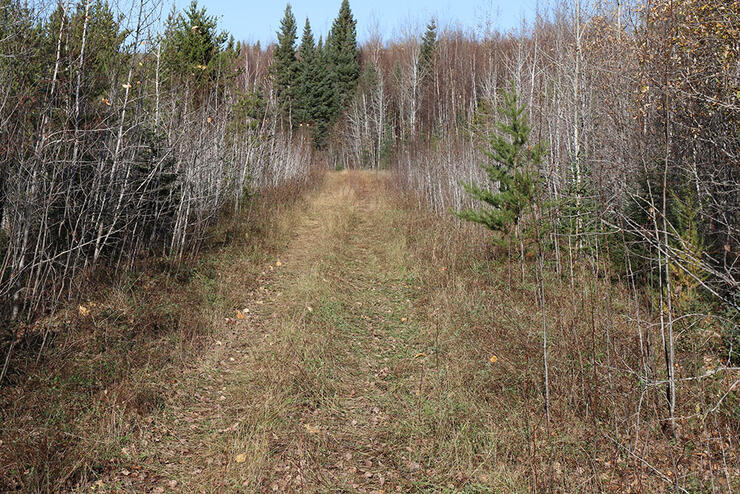 with an ontario small game license, you're good to go
To hunt grouse in Ontario, you need a small game license ($116 CAN). To obtain a license you need to provide a hunting license from your home state or province as proof that you have taken some sort of hunting safety course in the past. It's quite simple really. As far as entering Canada with a firearm, you simply declare your weapon at the border and provide the required information. 
We do have active conservation officers who patrol the region. If you're stopped you'll be asked to provide a hunting license and if you show your license you should be good to go. It should be noted that shooting from any roadway in Ontario is not permitted so when you're actually hunting, it's best to get off the road on one of the many trails where you will find grouse. Logging takes place across the region so finding old logging roads is not difficult. The final bit of legal information you should know about hunting in Ontario is that once the big game seasons are open (in early October), all hunters must wear an orange vest and hat when they are in the field. The full hunting regulations summary can be found online or at the location where you purchase your hunting license.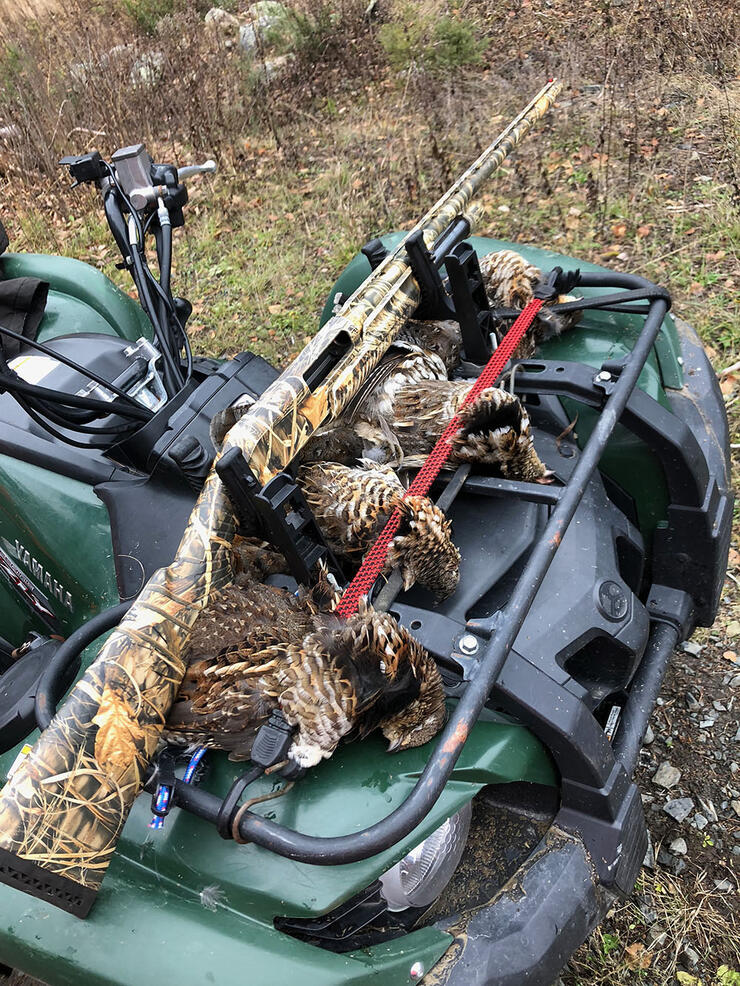 When you get in the field and start your hunt it's typically about covering some ground to run into birds. I enjoy walking if I get a nice evening. Some days I'll use an ATV to cover more ground and do some riding. As far as habitat goes, older-growth forests are the best and offer a wide array of forage for these little eating machines. In the fall, I guess they are trying to bulk up as much as possible for winter because you will seldom find a grouse that doesn't have a full stomach. It's always interesting to see what they've been eating. As a general rule, anything natural that is colourful, they will eat. That includes any berries that are left in the fall, they love clover and they love the buds off of deciduous trees. The buds on birch trees are a favourite and it often pays to look up in the trees if you get around a good stand of birch. The reason they get around the roads and trails is that a lot of their favourite foods can be found in these areas. For hunters who enjoy hunting with a dog, there are great opportunities here for that as well. I have friends who have a blast with their pointing dogs or dogs that will simply flush grouse out of the brush.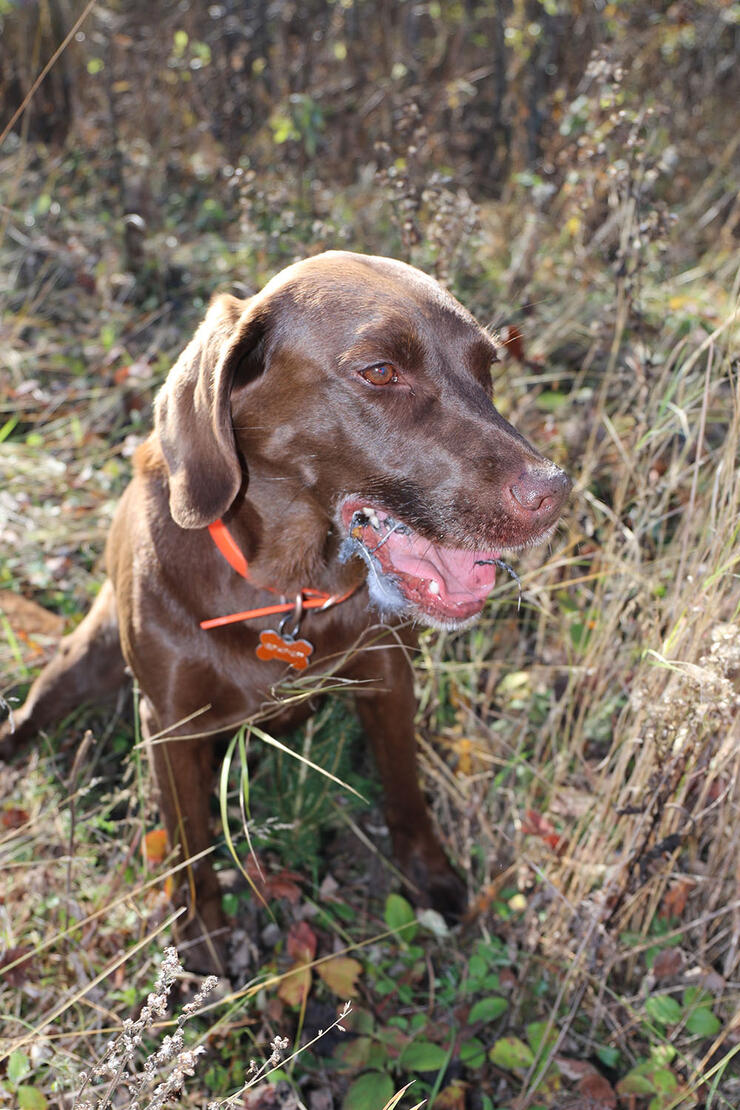 We also have spruce grouse across Sunset Country that you will run into quite often, but they are generally not as common as ruffed grouse. Spruce grouse are beautiful birds that are typically not all that afraid of anything (some might call them stupid) but their flesh is darker than a ruffed grouse and in the opinion of many, including myself, are not as good to eat. The limit for grouse is five birds per day, in any combination. The possession limit is 15 so if you come for a trip you are permitted to bring some home.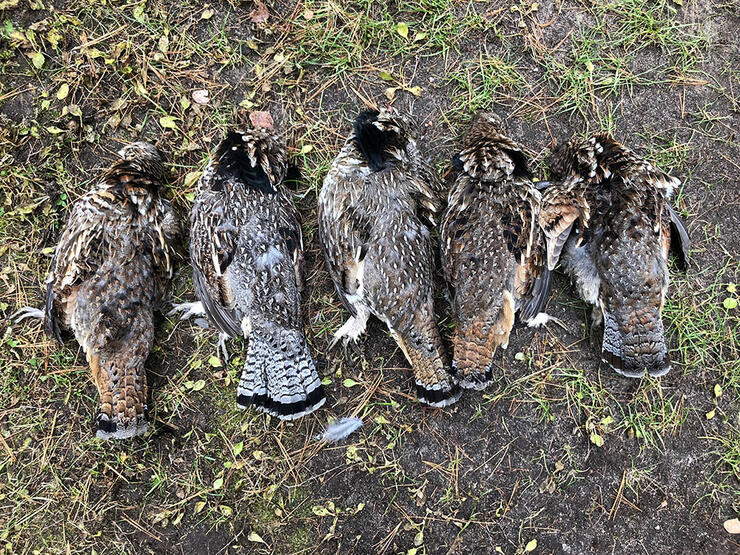 I think one of the reasons that I enjoy grouse hunting so much is that it is a more social activity than other types of hunting where you are often independent. You can grouse hunt with your family, with kids, or with friends – ride together on an ATV or walk a trail. And the great thing about Sunset Country is that you're sure to get some action as well as run into other wildlife along the way.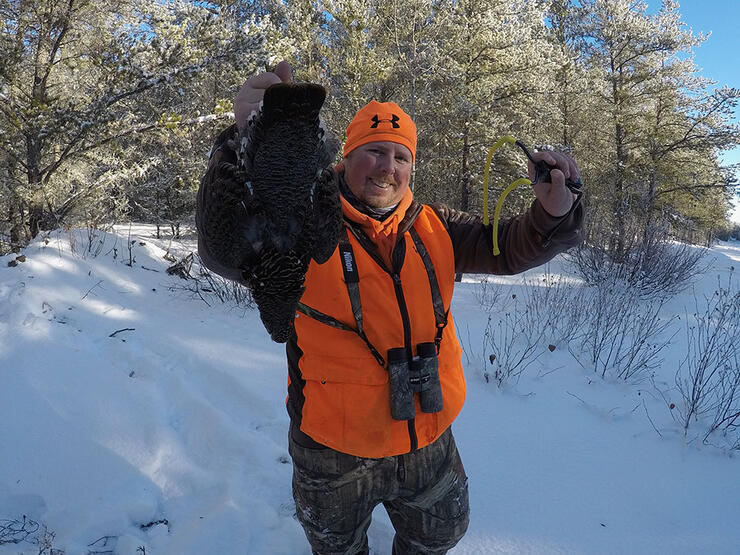 My friend from Minnesota asked a few more questions and declared he and his wife were coming up next fall for a few days to enjoy some great grouse hunting. He asked if it were really possible to get a limit in a day, something he said he'd never done before. I told him if they didn't get their limit in a day that I would pay for both of their licenses. Check out Sunset Country for more information about planning a grouse hunting trip to Northwest Ontario.