Gunning for Thunder Bay Migratory Birds
Thunder Bay is on the Mississippi flyway, making it an excellent spot for migratory birds.
It's late afternoon, and my friend and I are hidden amongst the cattails near a small pond at the intersection of several farm fields. We set up a few floater geese and a dozen mallard decoys and settle in for the hunt. Throughout the evening birds buzz about, feeding in preparation for their journey south.
As the sun gets lower, the birds start heading back to water and the action heats up. First, it's just a few small groups, but as darkness approaches, birds fill the sky, and the air rings with their raucous calls. Group after group piles into the pond, and the action is so frenetic it's hard to choose what group to shoot at. But, in the end, we each wind up with our limit of geese.
Location, Location, Location
Thunder Bay is on the Mississippi flyway, and the area is a temporary home for thousands of migrating waterfowl. Its abundant agricultural land and endless small lakes, ponds, and rivers create a wealth of waterfowling opportunities.
As fall progresses, waterfowl can be found anywhere from small beaver ponds to large lakes. Ponds tend to be easy places to set up and hide around and, because they are smaller, recovery of birds is usually simple. However, if you find one of the area's many lakes with wild rice, you will also almost certainly find ducks feeding. There is plenty of water on Crown land around Thunder Bay and, with a bit of exploring, you are sure to find birds.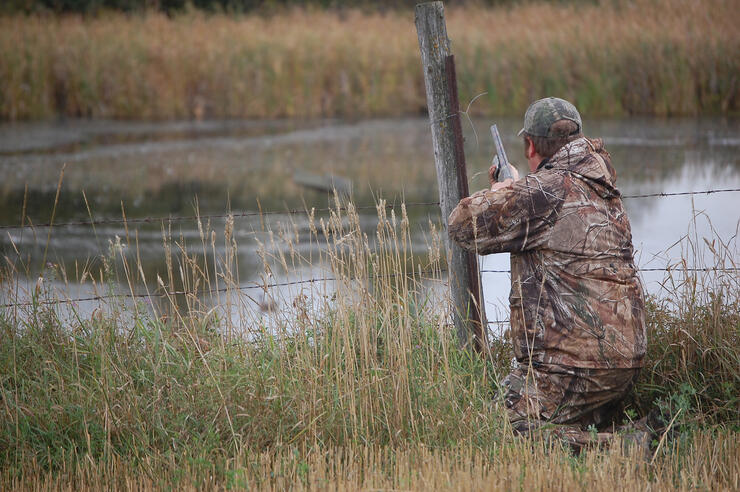 Farm fields are a hub of activity for ducks and geese and, if you can secure permission from a landowner, field hunts can be a great way to target them.
The area has many places to stay, from hotels right in the city to motels and resorts in surrounding areas. With excellent waterfowl hunting east of Thunder Bay towards Nipigon, and west of town past Kakabeka Falls, there is no shortage of hunting habitat and accommodations.