Big Bear Hunting in Northeastern Ontario
Canada in the Rough visits Northeastern Ontario for a spring bear hunt.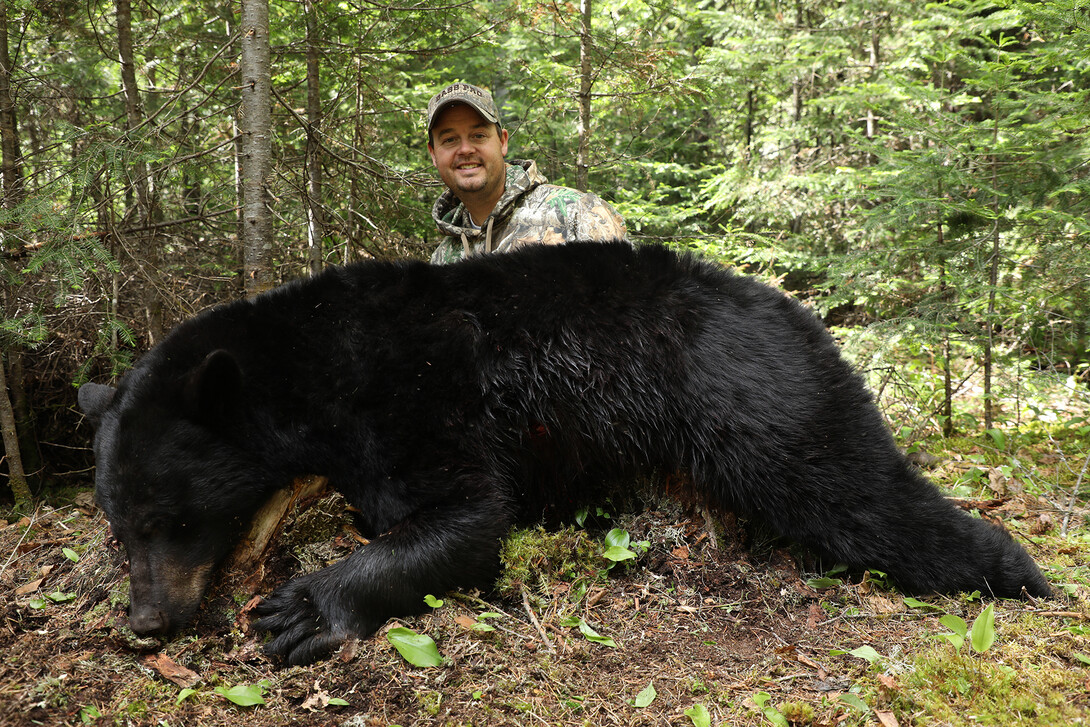 For the final bear hunt of the spring, Keith Beasley and the Canada in the Rough crew were headed north up highway 17 to Thunderstock Outfitters. We were happy to be joined by our friend Ryan Neeley from Camp Chef for this special Northeastern Ontario adventure. Ryan flew in all the way from Utah to join us, and we were excited for a great week of eating and hunting.
With warm weather and sunny skies on the horizon, the crew hopped in the truck for the eight-hour drive north, our trusty boat in tow. The end of the road was a boat launch off the beaten trail, between Timmins and Gogama. There, the guys met Gary Stocking, owner, and operator of Thunderstock Outfitters. He and his friend Dean Miller helped us transfer our gear from the truck to the boats, and we followed Gary in his barge across the lake to camp. Kenogaming Lake is everything you dream about when you think of a picturesque Northern Ontario lake. Miles of pristine water and shoreline led us to Gary and his wife Kim's beautiful lodge and the neighboring guest cabins, situated on a hill overlooking the lake.
Gary and Kim have been proud owners of their fishing and hunting lodge for over five years. With plenty of experience in outfitting and guiding, they run a first-class operation. We were their last bear hunters of the season, and along with a group of fishermen, we got to enjoy some perfect early summer weather at the lodge. The log cabins and lodge were immaculate, and the dock was perfect for swimming. That evening, we enjoyed a delicious dinner up at the main lodge with the Thunderstock crew, then headed to bed, looking forward to our first day of hunting.
The first hunting day of a trip is always exciting, but after checking out some of the game camera pictures Gary had collected over the past few days, we were itching to get out in the stand more than ever. He had lots of bears hitting the baits, and some of them were clearly big boars. His cameras also revealed that some moose and a white wolf had been visiting the bait sites as well. After a big lunch, we packed up our gear and hit the road, driving to our respective stands via ATV. Keith and Ryan were set up in tree stands several miles apart. And just as we hoped, both guys had exciting nights.
At Keith's stand, there was bear action early and often. A young bear was in and out of the bait site through most of the night. While not mature enough for Keith to shoot, the young bear provided lots of entertainment and a good sign of more action to come. Over at Ryan's stand, a quiet evening quickly turned into a tense standoff. Some loud rustling from the thick woods behind the stand immediately put the crew on alert. After 10 tense minutes, a bear appeared through the brush, walking towards the stand and the bait pile in front of it.
Waiting patiently and quietly for the bear to continue on its path, we began to see the bear sniffing and scanning the area cautiously, never a good sign. As the bear approached the base of our tree, he paused and sniffed as the wind swirled. Suddenly, as quickly as he had appeared, he took off even faster. This clever bear had picked up our scent and wasn't taking any chances tonight. As disappointing as the missed opportunity was, Ryan couldn't help but smile. The first night of his first-ever black bear hunt had provided a thrilling encounter, and he was hungry for more.
The next day, we decided to take advantage of the free morning and hit the lake for some fishing. Kenogaming Lake is best known for its walleye fishing, although there's a good chance you'll catch some northern pike as well. After a couple of fun hours trolling up and down the shoreline, the guys headed back to camp with their catch. One of the great perks of having Ryan on the trip with us, aside from the great company, was his skill behind the grill. He cooked us up some delicious steaks and fish filets on the Camp Chef pellet grill for lunch. It doesn't get much better than that. After the hearty lunch, we got ready for our afternoon sit; our belts loosened a hole or two.
After a couple of hours in Ryan's stand, we felt like we were experiencing déjà vu. A loud rustling from behind the stand put us on full alert. This time, the bear popped into view 30 yards behind the stand, and again, he appeared to be quite cautious. Instead of heading right for the bait, the bear did a wide circle around the stand. After a long five minutes of waiting for the bear to reappear, we caught a glimpse of him walking towards the bait, now straight in front of us. He walked in slowly and gave us plenty of time to size him up, but it was obvious pretty quickly that this was a shooter bear, one of the several Gary had on camera. Ryan calmly waited for a clean shot as the bear ate at the bait. When it came, he delivered his arrow perfectly behind the bear's front leg and into the vitals. Not bad for a guy on his first bear hunt, his first tree stand hunt, his first crossbow hunt, and his first trip to Canada.
With Ryan's bear taken care of the following morning and the meat all packaged and stored in the freezer, Keith continued on. The next couple of days proved trying but very exciting. A very large boar caught our wind and walked off before coming into range one night. The young bear came back to visit several times. We battled heavy winds, and one day, a relentless rainstorm. Despite the frustration, our spirits were high, and we knew we were just one lucky break away from getting a chance at a giant boar. Our spirits were lifted even higher when a white wolf came into our bait for a snack, a rare opportunity that not many people can say they've witnessed.
Later in the week, we decided to make a small change. After seeing some promising game camera pictures of a big bear on the move early in the day, we decided to get out to the stand earlier in the day. A longer sit would be tougher in the hot sun, but it could be the ticket to outsmarting these big bruins. Not long into the sit, the gamble paid off.
Just before noon, a large black body emerged silently from behind the thick brush. It was a no-doubter almost immediately, and Keith shouldered his crossbow. As the big bear walked in towards the bait, he seemed a little skittish. As he got closer to the bait, he could sense something was off and turned to walk away. Our bit of luck finally hit though, and he paused just long enough to give Keith a shot. He didn't hesitate and pulled the trigger, another great shot and a big boar down. The whole Thunderstock crew was out to joyously help us carry this monster out of the woods and back to camp for butchering.
To cap off an amazing week, on our final morning in camp, we had a shore lunch overlooking the lake. With some fresh bear tenderloin and walleye, we reflected on a special week that at times felt as much like a relaxing vacation as it did a hunt. It was a great trip with great people, and we were proud to share this beautiful part of Canada with our American friend Ryan. He truly got to see the best of what Northern Ontario has to offer: great people, pristine wilderness, great fishing, and great bear hunting. Thanks to Gary, Kim, and all the crew at Thunderstock Outfitters for a great week.