Rock the North: A Cultural History of Live Music in North Bay
How this city of just over 50,000 people became a hub for Canadian music: Talent, iconic venues, and die-hard audiences.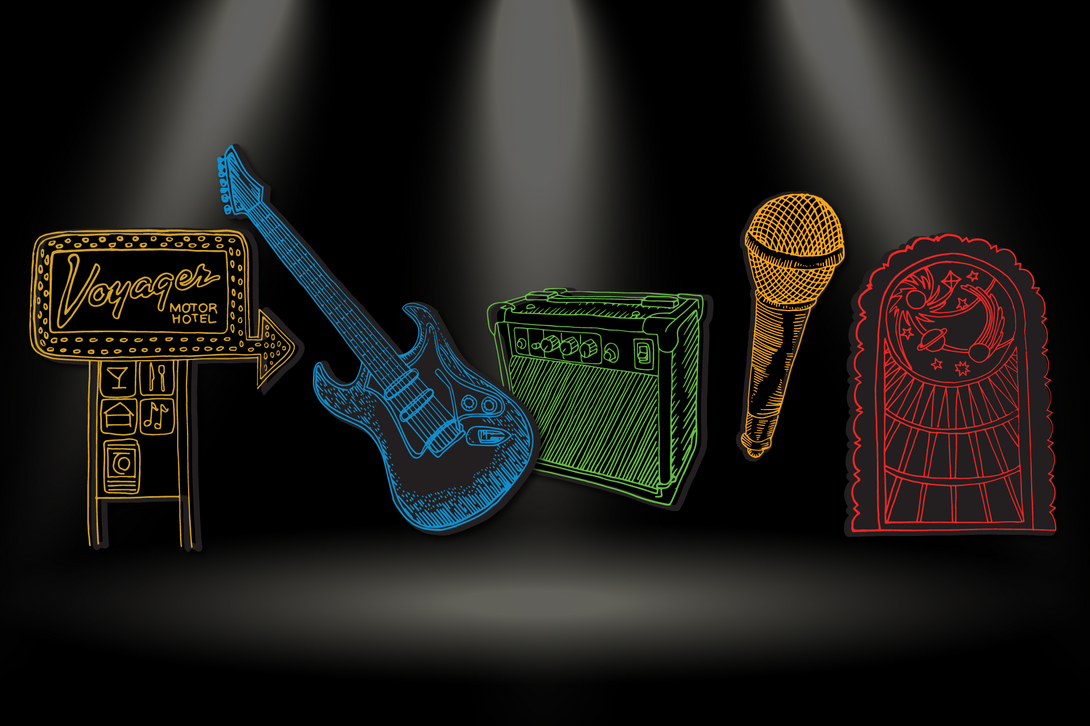 Maybe it's the way the sun glitters on Lake Nipissing as you lounge on its sandy shores. Maybe it's the stunning sight of Duchesnay Falls after an autumn hike. No matter where you look, the scenic city of North Bay, Ontario, offers inspiration. 
Close your eyes, though, and there's something else. Something you can hear if you listen.
Music. 
In North Bay, music drifts from basements and clubs, through the air from theatres and festivals. Music is everywhere. What else can you do in the cold of winter, some musicians joke, other than pick up an instrument?
This year, we dove deep into the city's notorious music scene, chatting with everyone we could about what makes live music in North Bay so special. Here's what we learned.
Talent, iconic venues, and die-hard audiences
(Not to mention EDM, metal, hip-hop—pretty much anything you'd want to hear, you can find in North Bay.)
"We have a lot of seasoned professionals and lifelong musicians in the bar scene," says musician Ryan Problems. Problems, whose music has been described as "country-fried folk punk," is a stalwart believer in the music of North Bay. "Northern Ontario has always had enthusiastic audiences, whether you are a cover band or an artist playing unique original music. Longtime players like Jake Thomas and the late (great) Sab and The Family Band come to mind."
Jake Thomas is now 76, and it's a testament to North Bay's music community that he and the younger Ryan Problems play in the same rooms around the city. Thomas left North Bay in 1965 to play on the then-thriving hotel circuit. When he returned a decade later, he discovered that here, he could do what he loved—play blues and R&B—for enthusiastic, receptive audiences. 
"There was a huge music scene going on," he recalls. "The Voyager had the lounge on one side and they had good rock bands, and on the other side they had good country bands, and it was full all the time. That was six nights a week."
Over the years, North Bay musicians have performed a mixture of original and cover music at many legendary past venues. These include the Parkview, Shooter's Saloon at the Voyager, Wilder's (now a popular restaurant called Cecil's,) and many more. The music from these historical places echoes in today's music scene, especially in venues like the Capitol Centre, a 932-seat theatre originally completed as a vaudeville house in 1928.
A historic theatre and cultural hub 
The Capitol—and, indeed, the whole city—benefits from North Bay's geographical location. Its position between Winnipeg, Toronto and Ottawa means that North Bay is often included in an artist's touring route. According to the Capitol's technical director, Peetr Nickle, the theatre not only has a rich history but also a bright future. They even found ways to operate and engage the public during the pandemic. When a lot of similar-sized performing arts centres went dormant, the Capitol took advantage of grants and subsidies and branched out into online concert streaming with several events that included North Bay performers. Now, the theatre is back, serving the music-going public.
"We've been pretty lucky in terms of audience commitment," says Nickle. "Even [when there was] no profit to be made, we want people to know we're going to be there for them. We're not disappearing."
While the Capitol is a large venue, there are many smaller spaces as well. These clubs and restaurants offer great food, drinks and ambiance to go along with the fantastic local talent. On any given night, you can find musicians playing in venues such as the Fraser, Lou Dawg's BBQ, Fox and Fiddle, the Raven & Republic, good2go and more.
New venues, partnerships, and summer festivals
Cory Marks, a country rock performer who has made waves on both sides of the border, is one of the city's biggest names. He's played to packed houses large and small—and just wrapped up a 22-city tour across the U.S. "Lately, I think newer local establishments like my friends at New Ontario Brewing have been doing a great job of supporting local talent," he says. Indeed, New Ontario, as well as another local brewery Gateway City Brewery, have stepped up to provide visitors with great brews as well as great local talent.
If you're in North Bay in the summer, there's even more to love, given the number of outdoor patio shows and, of course, great musical festivals like the Bay Block Party.
"We tend to get some excellent shows touring through the city," says musician Holly Cunningham, who loves North Bay enough to have written a song about it. "However, I would say the true magic happens at the River & Sky music festival, which is about halfway between Sudbury and North Bay and a cultural institution for both music scenes. Hands down the most memorable musical experiences have happened there, surrounded by forest or on the scrappy beach stage riverside."
Producer and percussionist Shawn Sasyniuk, who returned to North Bay after years of living and working in Montreal, talks enthusiastically of festivals in the surrounding area, including the Smoke 'N' Spurs Festival, Windsong, and more. "There's a wonderful community spirit here," he says, "Tourism-wise, for anyone that enjoys the outdoors, North Bay is beautiful. Plus you have friendly restaurants, friendly people, and live entertainment in at least 5 or 6 clubs at any time."
A base for professional musicians and a favourite touring spot for visiting acts
North Bay has a culture of music, but also a culture of professional and semi-professional musicians. Some use the city as a hub for touring; others find themselves involved in the thriving education programs, recording, retail, and other attendant businesses. Still more play in cover bands, having fun and learning skills by emulating their heroes. 
Ask a music fan what musicians they love in North Bay, and you'll receive a wide array of responses. North Bay citizens were part of '70s Quebecois blues-rock giants Offenbach. Jaymz Bee and the Look People are, in part, from the city. Others cite Indigenous folk musicians like Esther Pennell and Binaeshee-Quae while others enthuse about current indie faves such as David Dino White, James Ahola or Jonny Parolin.
"What I always liked best about playing North Bay was since day one, and this is when I first started playing there, the audiences were very supportive," says Canadian comedy music legend B.A. Johnston, a one time North Bay resident. "It's too bad more bands don't try and make in-roads here because if you do, you really do get some fans for life. Plus, Burger World is there, so you can eat there before you drive home."
North Bay's love affair with music
The community spirit of musicians in North Bay leads to a culture of music that's on par with that in any major city in the south. "I still played in many different bars, in many cities, while North Bay was my hub, my home," says Marks. "The venues and the people that came out to support local artists like me were always so great and it allowed me to make a living playing music doing my thing so I'll always be thankful for that and them!"
"This city has a great love affair with music," says Bryan Floyd. "The live music scene has always been vibrant in North Bay. Maybe it's the serene beauty of the leaves changing in fall, the way the sun sets on Lake Nipissing or the fact that the highway runs straight through the city, but North Bay has become a hub for music."
Enjoy live music in North Bay at one of our amazing venues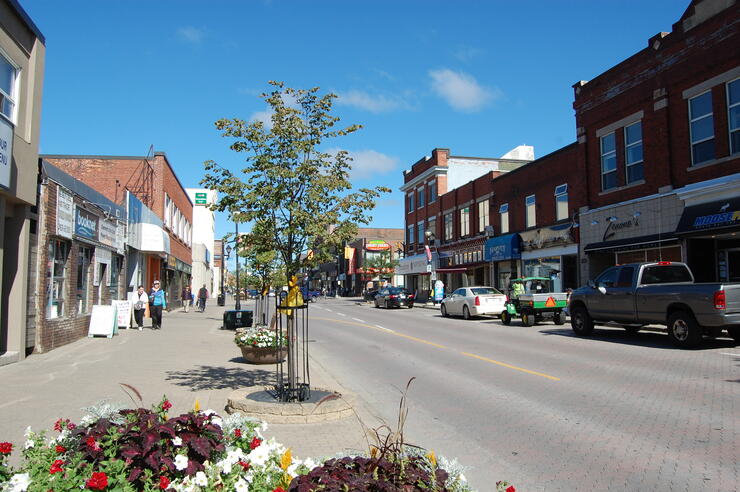 Do you know of a live music venue that should be added to the list? Email us at info@nothernontario.travel.
Learn more about some of the artists, producers, and music lovers we spoke with