10 Winter Getaways For Ontario Snowbirds
Discover the best winter vacations for seniors that Ontario has to offer.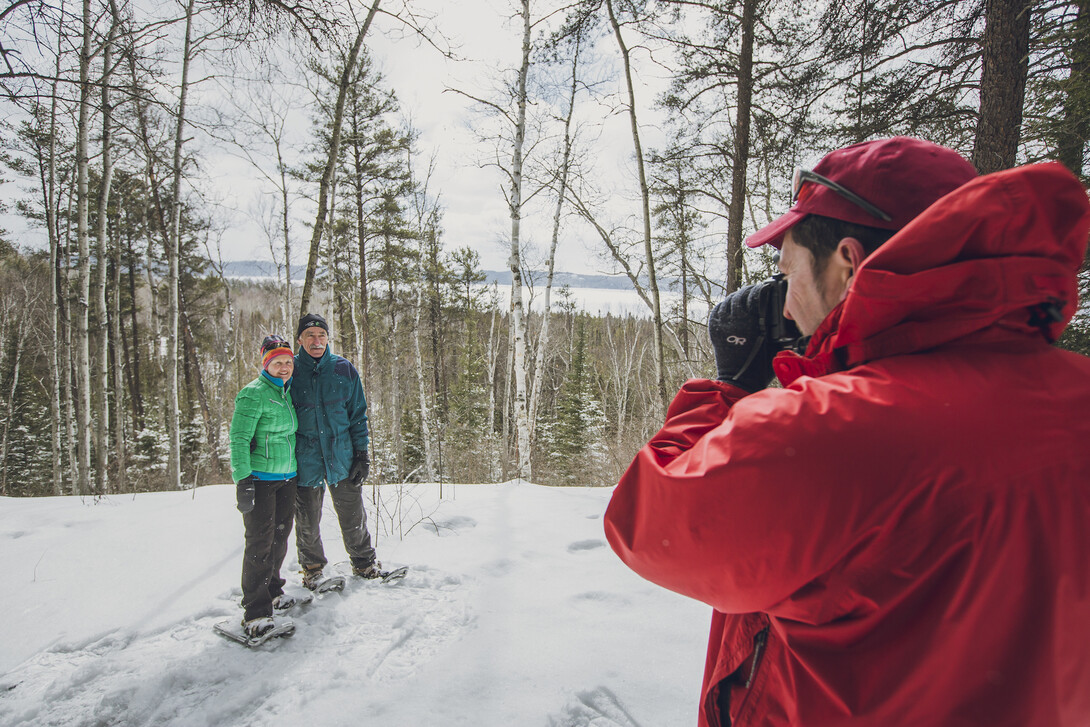 Canadian snowbirds have had their wings clipped this year by the pandemic. You're being advised to avoid non-essential travel outside of the country which means heading down south is no longer an option. 
But you can make the best of this bad situation by experiencing all that Ontario has to offer. You can still go biking, walking, fishing, exploring and more—just a little differently than you would down south.
So shake off your winter blues, put on your long johns and go on one of these best vacations for retirees. 
10 Winter Getaways for Ontario Snowbirds
Best Getaway #1: Lake Nipissing
Package: Ice Fishing Adventures - Stay in an On-lake Bungalow
Why You'll Love It: Missing deep sea fishing? Get your fix with a "deep lake" fishing adventure package. After being transported to your fully insulated and well-equipped ice hut, your fishing adventure begins. Expect to catch pickerel (walleye), pike, perch, whitefish, herring and ling from your in-hut fishing hole. Enjoy the comforts of home with heated toilet facilities, propane furnace, stove and lights, mini kitchen, beds and more. It's a fun, easy fishing vacation for older adults.
How To Make It Happen: There are lots of ice hut adventure packages to choose from. Find the one that's right for you and book it.
While You're There: Before or after your adventure, enjoy craft beer at local breweries in North Bay, such as New Ontario Brewing Company, Gateway City Brewery or South River Brewing in nearby South River.
Best Getaway #2: South Gillies (near Thunder Bay)
Package: Cozy Log Cabin Getaway at Rose Valley Lodge & Restaurant
Why You'll Love It: Explore nature trails, bird and wildlife watch, and go wilderness skiing and snowshoeing on 400 acres of forests, meadows and ancient mountains. Enjoy a delectable meal of European flare and stay in a rustic log cabin, complete with Jacuzzi bath tub. It's one of the best mini vacations for retired couples.
How To Make It Happen: Winter getaways start from $290 per night, double occupancy. Contact Rose Valley Lodge at 1-807-473-5448 or make an online reservation.
While You're There: Enjoy a romantic skate on the outdoor rink at Prince Arthur's Landing in Thunder Bay.
Best Getaway #3: Sault Ste. Marie
Package: Winter Adventure Package at The Water Tower Inn
Why You'll Love it: Miss cycling? Why not try fat biking on 20 km of groomed snow-covered trails surrounded by towering pines? You'll be amazed at how much fun you can have cycling in the winter. Take a guided tour to the incredible Batchawana Ice Cave near Chippewa River. Stay in comfort at The Water Tower Inn. Their adventure hosts will provide itineraries, maps and suggestions on the best activities for seniors in the area. Share stories of your adventure in their pub featuring 16 draught beers, stone-baked pizza and live music. Relax in the Club Cabana Aqua Spa with multiple salt-filtered pools and a four-season outdoor whirlpool.
How To Make It Happen:  Book an all-inclusive vacation package at The Water Tower Inn. For $50 a day, you can rent a fat bike at Vélorution. Start on their groomed trails, then head over to the Hiawatha Highlands for more fat biking fun. Book the Batchawana Ice Cave tour with Superior Exploration.   
While You're There: Go snowshoeing or cross-country skiing. Visit the Canadian Bushplane Heritage Centre.
Best Getaway #4: Temiskaming Region
Package: Cultural & Heritage Getaway at Presidents' Suites
Why You'll Love It: Enrich your knowledge by discovering the stories and history of this fascinating area. Visit Cobalt, once the richest silver camp in the world, take a guided walk to learn about Haileybury's Great Fire and more. Stay at one of Presidents' Suites  beautiful historical homes and immerse yourself in the local history and culture. Spend a day on Lake Temiskaming—enjoy skating, playing hockey, ice fishing or snowshoeing to Farr Island. It's a perfect vacation for retired couples.  
How To Make It Happen: Select the historical home you would like to stay at, then call Nicole at 705-622-0279 to plan your cultural and heritage getaway.
While You're There: Visit the local museums: Cobalt Mining Museum, Haileybury Heritage Museum and more.
Best Getaway #5: Huntsville
Package: Cedar Grove Lakeside Log Cottage Getaway
Why You'll Love It: Escape to the magic of winter. Located on the shores of Peninsula Lake, Cedar Grove Lodge offers the best of winter activities with onsite snowshoe and  cross-country ski trails and outdoor skating. For more winter fun, visit nearby Arrowhead Park or Algonquin Park. At night, cozy up in your rustic to luxurious log cottage with a wood-burning stone fireplace. Savour two delicious meals a day. Find out more.      
Best Getaway #6: Sudbury
Package: A Group of Seven Winter Getaway  
Why You'll Love It: Visit the Art Gallery of Sudbury's extraordinary exhibition that will give you a behind-the-scenes view of 37 original works of art by Franklin Carmichael (until end of December) and see their two impressive permanent collections. Hike or snowshoe on the A.Y. Jackson Trail to see Onaping Falls, made famous by Jackson's Spring on the Onaping River painting. Stay in comfort at an executive suite located within walking distance of many eateries and pubs in Downtown Sudbury. 
How to Make It Happen: Book a cozy suite at Parker House Suites and purchase your exhibition ticket for the Art Gallery of Sudbury. 
While You're There: Enjoy a delightful sleigh ride at the Wagonwheel Ranch or Heavenly Acres Ranch. 
Best Getaway #7: Timmins/Cochrane
Package: Wildlife Park Tour and Canadian Polar Bear Habitat
Why You'll Love It: Get up close to bison, elk and fallow deer while riding in a tractor-drawn wagon during a wildlife tour through a 100-acre wildlife park at Cedar Meadows Resort in Timmins. Learn about polar bears, then see Ganuk, Henry and Inukshuk, the rescued polar bears living at the Canadian Polar Bear Habitat in Cochrane. 
How To Make It Happen: Book your stay at Cedar Meadows Resort in Timmins by calling 1-877-207-6123 or emailing reservations@cedarmeadows.com. Reserve your visit to the Canadian Polar Bear Habitat by emailing customercare@polarbearhabitat.ca.   
While You're There: Go on a quest to see the Spirit Moose in Ivanhoe Lake Provincial Park. The park is only one of two places in the world where all-white "Spirit Moose" are regularly seen. Be sure to save time to enjoy the outdoor Nordic baths at Cedar Meadows.  
Best Getaway #8: Haliburton Highlands
Package: Winter Spa Soother at Sir Sam's Inn & Spa
Why You'll Love It: Sir Sam's Inn and Spa offers a tranquil escape for couples and friends to relax and reconnect in the heart of nature on the edge of Eagle Lake. Enjoy cozy accommodation, exceptional dining, unlimited use of their popular WaterSpa experience and pamper yourself with two massage treatments. Take an easy guided snowshoeing tour of the Haliburton Sculpture Forest and visit the many artisans and antique shops in the Haliburton Highlands.
How To Make It Happen: Book the package online or call 1-800-361-2188.
While You're There: Visit the nearby Wolf Centre at Haliburton Forest & Wildlife Reserve to learn about wolf behaviour and ecology on a self-guided tour of the exhibits at the Wolf Centre. Watch the wolves—who live in a large, naturally forested environment—through one-way glass from inside the Centre. Discover the unique, authentic themed experiences offered by Yours Outdoors.    
Best Getaway #9: Algonquin Park
Package: Romantic Winter Getaway Package at Couples Resort
Why You'll Love It: Treat yourself to a special getaway at this five-star, luxury romantic resort surrounded by nature on the shores of Algonquin Park's Galeairy Lake. Enjoy easy winter walks/snowshoeing in the woods, winter birding, a private outdoor hot tub, a crackling wood fireplace, delicious gourmet meals and more. Visit the Algonquin Visitor Centre to learn why Algonquin is so special.
How To Make It Happen: Book your package online at Couples Resort or call 1-866-202-1179.
While You're There: Feeling adventurous? You can go cross-country skiing, snowshoeing, horseback riding, skating, fat biking and ice fishing.
Best Getaway #10: Gammondale Farm in the Slate River Valley
Package: A Romantic Cutter Sleigh Ride for Two
Why You'll Love It: This just might be the sweetest way to spend an afternoon. On Sue and Gerry Gammond's farm south of Thunder Bay, you can take an old-fashioned sleigh ride around the foot of Candy Mountain with a cup of hot chocolate in hand.
How To Make It Happen: Thirty-minute sleigh rides cost $185 for up to three people, which is room enough for a third wheel. Bookings may be made through Gammondale Farm's website.
While You're There: After your ride is over, make sure to pay a visit to the farm's goats, sheep, rabbits and hens. They deserve a little love, too.
Best Vacations For Retirees
Don't hibernate. You can make the best of this bad situation by experiencing all that Ontario has to offer. Shake off your winter blues, put on your toque and book a fun winter vacation perfect for seniors.