11 Best Places to Go Rock Climbing in Northern Ontario
From Sudbury to Kenora, Northern Ontario boasts amazing rock faces for climbers. Here are 11 expert-approved top spots.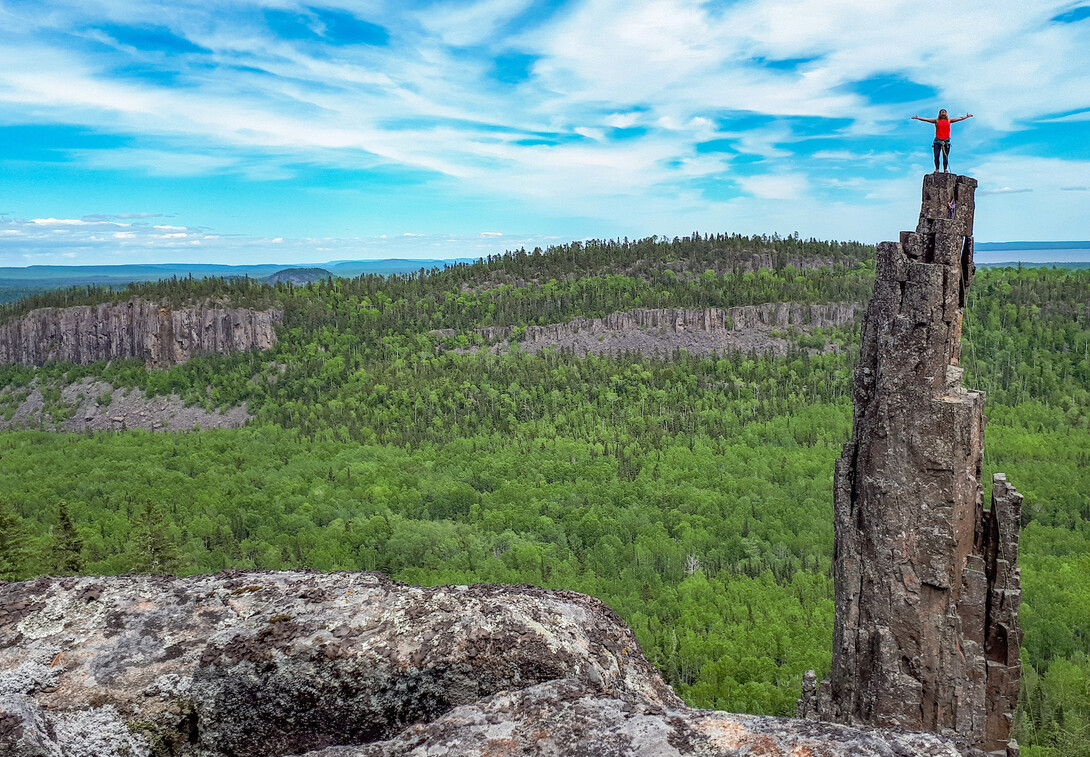 Ontario is well known for its southern climbing areas along the edge of the Niagara Escarpment. But when you go North, things take on a slightly different flavour. The scattered outcroppings of rock aren't limestone/dolomite. They're granite. And often they're real gneiss.
Access is also different. While the roads may be fewer and farther between up North, the land they run over is generally Crown land, which means fewer No Trespassing signs and restricted access issues.
With the areas more spread out and harder to find, we went to the experts in the Kenora, Thunder Bay, Sault Ste. Marie and Sudbury areas to come up with this best-of list that goes to 11.
SUDBURY
If there's one thing Sudbury knows, it's rocks. But Marco Foladore says when he moved to Sudbury a dozen years ago there were just a handful of committed rock climbers. Thanks in part to the 2014 opening of ARC, an indoor climbing gym, that number has blossomed, and Foladore has helped.
He started the Climb Sudbury website, a virtual guide for nearby areas. As a helicopter pilot, he's particularly well-suited to scoping the area's potential.  "I'll see a spot and send coordinates to friends who will go check it out," says Foladore. Lots of those spots are still in development, but here are a few favourites from the man with a commanding view of the scene.
North of Webbwood
The descriptive name is just the beginning when it comes to locating this area that comprises three crags: Wako, Big Knob, and Rainbow Wall. For detailed, dare we say indispensable driving directions, and some route information, check out the Climb Sudbury North of Webbwood page. The site is sure to please, complete as it is with a campground, swimming hole, and frequent peregrine falcon sightings.
Timberwolf
Being right on the edge of town, Timberwolf has been a favourite spot for decades. It's easy to get to the top of the cliff from either side in order to set up a top rope, though there are some traditional routes without bolts. Route grades range from 5.4 to 5.12.
Echo Crag
Some of the Sudbury-area's best climbing is found at the Lively end of town. The trailhead to Echo Crag starts just beyond of the first exit highway past Lively. From here, it's a 1.5-kilometre hike.  If you are like most climbers, you'll think the stroll to the base of Echo Crag is worth every step.
The West and Main walls have 20 routes, almost all of them bolted and easy to set up top rope anchors. This is the proving ground, with no routes under 5.10.
KENORA
Scott Green runs Green Adventures out of Kenora and has a crimp hold on the local climbing scene. He uses these local crags as a base for his lessons and guided day trips.
If you are staying right in Kenora, the Lake of the Woods Brewing Company is a great place to refresh before tenting at Anicinabe Park, where you can take advantage of their washrooms, showers, laundry, and sand beach.
Green recommends Jones Rhode as a local crag that has it all. It's just 25 km north of town and has more than 40 routes to entertain all abilities. Detailed location and route information is available online at the Alpine Club of Canada (because of the proximity to Winnipeg, far western Ontario gets lumped in with the Manitoba chapter), or you can order a paper guidebook.
The area has seen its bolts updated lately for safety, and most routes are easily top-roped. Among its different aspects, OV Wall rises as high as 30 metres. It's largely shaded in the summer and offers good vantage spots for spectators.
It's on Crown land, so there are no permits necessary and parking and camping at the nearby Turtle Rock campsite are free. Finish the day with a refreshing swim at John Lake, just across the road.
Another area hotspot is the Gooseneck Rocks, 18 km northeast of Minaki. It was here that climbing in the area first got a foothold in the 1970s. You can swim at Richardson Lake after a day on the rocks and a great local lodging option is Minaki Yurt Adventures, amenities include a sauna, pizza oven, and 20 km of trails to explore. For route information, check out the Kenora Rock Climbs guidebook.
THUNDER BAY
Their name says it all. Outdoor Skills and Thrills is an outfitting operation in Thunder Bay that is focused on getting people to learn how to get out and enjoy the sensational rock faces that surround Thunder Bay. Owner Aric Fishman wrote the book on climbing around Thunder Bay, and you can order it here for detailed information on the routes below. He had a hard time limiting his favourite local crags to just a few, so we let him pick four. Stock up on supplies at Wilderness Supply before heading out.
The Bluffs
This mecca of easily top-roped, generally easier routes is within bike-riding distance for Thunder Bay climbers. Access is generally from the top and starts with a rappel down to the cliff base. The 10-metre routes at The Bluffs number more than 100, are mostly bolted and the area affords great views of Sleeping Giant.
Pass Lake
This area at the north end of the peninsula that ends at Sleeping Giant is notable for offering climbers something they can't get anywhere else in Ontario: sandstone. Fishman says Pass Lake is the only place in Ontario where you can climb on this novel rock. The routes offer a range of diversity, with climbs all the way from 5.5 to 5.12. You can access the top to set up top rope anchors for the 15-metre pitches. Enjoy a meal on the nearby deck of Karen's Kountry Kitchen if you catch it when it's open.
Dorion Tower
The photo says a lot of what you need to know about Dorion Tower. Halfway between Thunder Bay and Nipigon, this erect landform is a stunning draw for climbers. The climbs on it tend toward easier grades, but you must place your own traditional gear for your rope as you climb. For an intro to the area, consider joining one of the two to four outings that Fishman offers every month. Or hire him for a private approach.
Orient Bay
Fishman pegs Orient Bay as the ultimate climbing area in the region. He says its combination of single-pitch and multi-pitch climbs on high-quality rock make it a must-do for anyone climbing in the Thunder Bay area. It even has great views. Travellers will want to stay in Nipigon, just a 25-minute drive away, so they can spend many days on these legendary routes, many needing traditional protection. While in Nipigon, enjoy some baked goods and live music at La Luna Café. It's owned by a climber, so you know chalky hands won't be frowned upon. To pitch a tent and enjoy a few amenities at the north end of Nipigon, check out Stillwater Park Campground.
Sault St. Marie/Batchawana Bay
Shaun Parent has been a mainstay of rock climbing in the eastern Superior area for decades. Through his company, Superior Exploration, Adventure & Climbing, he sells guidebooks, rents gear and offers a slate of climbing lessons. He's done much of the development in the Batchawana Bay/Montreal Harbour areas north of Sault Ste. Marie, including the following areas. You'll want to spend some time in the area poking around these and other crags, so check into the Voyageurs Lodge and Cookhouse for comfortable accommodations and hearty meals. To connect with local climbers, get social at the Climb Sault Ste. Marie Facebook page.
River Bend Rock
Easy access near Highway 17 and great views are a good starting point for this relatively new area. River Bend Rock has more than two dozen climbs, both sport and traditional, that range from 13 to 50 metres in height.
The Ranwick Rock and Keetes Bluff is in the Montreal Harbour area, just north of Batchawana Bay. This area is home to a 300-metre wide granite cliff that ranges up to 100 metres at its highest. It's a stunning setting, and makes for some very difficult face climbs, with many in the 5.11 to 5.13 range.
CLIMB ABOVE IT ALL
All over Northern Ontario, rock climbing pioneers continue to develop new areas wherever vertical faces of granite rise above the boreal forest. These are the places they've helped publicize and prepare so far. Don't forget to give a nod of thanks as you top out at the anchor and glance over your shoulder to enjoy the view.