9 Dog-Friendly Vacation Ideas in Ontario
Hit the road and seek adventure with your furry friend.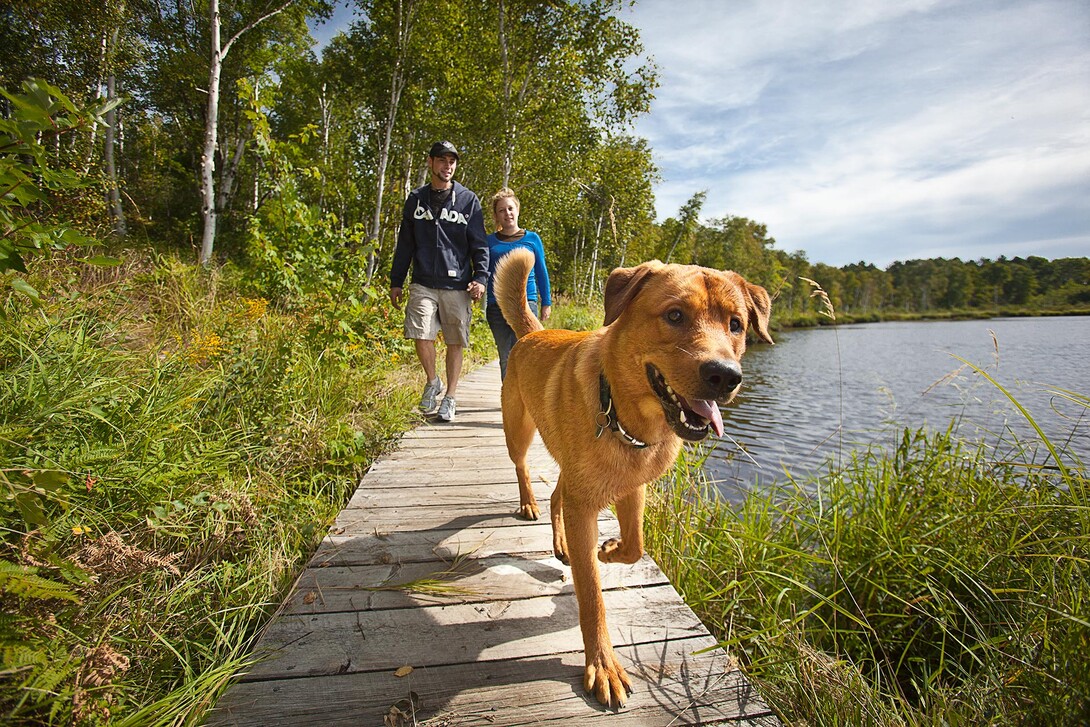 Looking for a pampered getaway or rustic retreat that welcomes four-legged members of the family? You're not alone! More and more travellers are planning their lodging and trip itineraries around pet-friendly accommodations and activities. Pet parents who want to include Fido in their outdoor adventures will find an incredible variety of dog-friendly vacation ideas across Ontario.
Furry friends are invited to stay at all of the cozy cabins, waterfront cottages, lakeside lodges and wilderness retreats highlighted here. Each makes a perfect basecamp for exploring outside with your canine companion.
Haliburton Forest Cabin Adventure
Why You'll Love It: Set amid the rolling hills and sparkling lakes of the Haliburton Highlands, Haliburton Forest & Wild Life Reserve is a sprawling wilderness area where you and your pup can enjoy paddling, hiking and mountain biking in the warmer months, and snowshoeing, cross-country skiing and fat-biking in winter.
Where to Stay: Perfect for a romantic getaway or rustic family holiday, Cabinscape offers a selection of gorgeous, pet-friendly tiny cabins nestled on remote lakes in the Haliburton Forest. At just 160 square feet, these solar-powered, eco-friendly cabins guarantee snuggles with your pets and loved ones. Optional packages include guided adventures with Yours Outdoors and thematic food and drink kits.
While You're There: Grab a bite and a pint of craft beer on the spacious patio at Haliburton Highlands Brewing. The brewery is located at Abbey Gardens, an inspired community project focused on living, growing and producing sustainably. Watch for Ringo, the brewery's Highland terrier, to greet you and your furry friend.
Edge of Algonquin Luxury Glamping
Why You'll Love It: Whether you are taking in the fall colours from your deck, hiking to spectacular forest lookouts, or paddling a blissful backcountry lake with your pup in the bow, Algonquin Provincial Park and the surrounding Almaguin Highlands hold a lifetime of adventures for two- and four-legged outdoor lovers. Beyond the well-travelled Highway 60 corridor, the west side of the park offers a number of quiet access points and charming, just-outside-the-park attractions.
Where to Stay: The lakeside cedar chalets, gorgeous glamping tents and rustic chic lodge rooms at The Northridge Inn offer an Insta-worthy setting for you and your pet. Beautiful gardens and patios overlook Lake Bernard, while a fleet of complimentary bikes, paddleboards, kayaks and canoes makes it easy to explore local trails and waters. In winter, enjoy snowshoeing, cross-country skiing and outdoor ice skating.
While You're There: Visit nearby Mikisew Provincial Park for one of the best off-leash pet areas of any Ontario Parks, including dog beach and shady picnic area. The park also has great trails, mountain bike rentals and SUP rental on Eagle Lake. In South River, get inspired at Crystal Cave Mineral Exhibit & Crystal Shoppe, which also houses an art gallery, learning centre and vibrant artisan village.
Mattawa River Cottage Retreat
Why You'll Love It: The Mattawa River is one of those hidden gems that is surprisingly close, yet feels worlds away. Two hundred years ago, this river was one of the busiest corridors on the Canadian fur trade route between Montreal and Lake Superior. Today, you can follow in the paddle strokes of the voyageurs, exploring tranquil reaches and chattering rapids nestled in a peaceful, forest-cloaked valley—all within an easy drive of Ottawa and the GTA.
Where to Stay: The 15 pet-friendly family cottages at Mattawa River Resort are just steps away from the sandy beachfront and surrounded by 147 acres of verdant woodlands. Play an early morning round of fetch on the grassy lawns as steam rises from the river, or visit in winter and trek or slide along the snowy trails. Meal plan packages at the on-site restaurant make this an easy, all-inclusive vacation.
While You're There: The resort's fleet of canoes, kayaks and paddleboards invites leisurely tours upriver to Samuel de Champlain Provincial Park, where you can pull ashore and stroll the park's scenic hiking trails. For a local treat, head to Turcotte's Chipstand in Mattawa, where the heaping helpings of poutine (and cozy outdoor patio) are far-and-away the best you'll find this side of the Ottawa River.
Temagami Basecamp Adventure
Why You'll Love It: You don't have to be an avid backcountry camper to enjoy the iconic Temagami wilderness. If your idea of the perfect "pet-away" ends each day with a comfy bed and a home-cooked meal rather than a tent and a bowl of instant noodles, try base camping at an inviting local lodge. Explore Temagami's lakes and forests by day, and then return to the lodge for a hot shower and an evening of relaxation.
Where to Stay: Tucked on the shore of quiet James Lake, Smoothwater Outfitters & Lodge features cheerful rooms, a bright lounge space, and wood-fired lakeside sauna. Book their dog-friendly Wolf Den room, which has a kitchenette for self-catering. Lodge staff can help you plan stunning canoeing and hiking day trips, as well as provide canoe and kayak rentals and complete outfitting for overnight trips into the Temagami wilds.
While You're There: The old-growth forest trails of White Bear Forest are a must-see. Walk among towering white and red pines in this ancestral home of the White Bear clan of the Teme-Augama Anishnaabe people on trails ranging from 2.5 to 5 km in length. For burgers, fries and ice cream with pet-friendly outdoor seating, drop by B & D Burger Stand on Highway 11.
Sudbury Parks and Trails
Why You'll Love It: Sudbury is an all-seasons Mecca for trail enthusiasts. Explore the wintry woods with your powder hound at Kivi Park, put knobby tires to the test on the bare rock ridges of the Precambrian Shield at Walden Trails Park, or hike to lofty lookouts at Lake Laurentian Conservation Area.
Where to Stay: Many popular chain hotels in Sudbury offer pet-friendly rooms. Check out the Comfort Inn for quick access to Lake Laurentian Conservation Area. Recommended downtown lodging options include the Clarion Downtown, Quality Inn and Northbury Hotel & Conference Centre.
While You're There: Get a taste of Sudbury's vibrant culinary scene at The Laughing Buddha, which serves up creative pizzas, Buddha bowls, mouth-watering sandwiches and vegetarian options on their lively and dog-friendly outdoor patio. Stroll the Bell Park Walkway along lovely Ramsey Lake and pop into the open-air Sudbury Market on Saturday mornings. In Kivi Park, you can rent fat bikes at Adventure365 in the winter, or find canoe, kayak and standup paddleboard rentals in summer.
Cozy Algoma Ski Chalet
Why You'll Love It: The ancient hardwood forest-cloaked mountains north of Sault Ste. Marie makes the Algoma Highlands an outdoor paradise in every season. Explore the sand beaches and colourful cobble shores of Lake Superior in summer, hike or bike to spectacular fall vistas, or experience Ontario's incredible lake-effect snowfalls with your powder hound.
Where to Stay: Nestled in the leafy hills of its namesake valley, Bellevue Valley Lodge is a hidden gem that's perfectly situated for outdoor adventures. Stay in the gorgeous, alpine-style chalet, which features a pet-friendly apartment with a full kitchen and cozy wood stove. Step out your door and into 1,000 acres of maple forest with miles of trails offering varied terrain for hiking, mountain biking, backcountry skiing and snowshoeing.
While You're There: Don't miss hiking in the Algoma Highlands Conservancy, where a 5 km loop tops out on the Robertson Cliffs for jaw-dropping Lake Superior views. A little further up the highway, the shallow sand beach at Batchawana Bay is a favourite swim spot for people and pets. In Sault Ste. Marie, take a walk along the waterfront boardwalk to the Sault Ste. Marie Canal, a fascinating (and pup-friendly) national historic site with excellent nature trails and the world's first electrified lock, built in 1895 and still operational. Extend your stay in the city at the proudly dog-welcoming Delta Waterfront Hotel.
Lake Superior Beach Glamping
Why You'll Love It: The raw grandeur and ever-changing moods of the world's largest freshwater lake evokes awe in all who visit these shores. Whether you're seeking a quiet getaway or an action-packed itinerary for you and your pooch, Lake Superior doesn't disappoint.
Where to Stay: Sunsets don't get any better in Ontario than at Rock Island Lodge, perched on the shores of Lake Superior near Wawa. The four-room lodge overlooks the endless horizon of Lake Superior to the west, with equally lovely sunrise views over the placid waters of the Michipicoten River from beachfront glamping and camping sites. Dogs are expected to be friendly, well socialized and obedient.
While You're There: Sea kayak, canoe and standup paddleboard guided day trips, instruction and rentals are available at the lodge through Naturally Superior Adventures. Minutes away, hike the Voyageur Trail to scenic waterfalls and stellar blueberry picking, or venture further to the outstanding trails of Lake Superior Provincial Park.
Quetico Island Wilderness Getaway
Why You'll Love It: Day trip into the labyrinth of lakes and pristine boreal forest that is Quetico Provincial Park. Disconnect and listen to the haunting call of loons while stargazing beside a crackling campfire. If your dream doggy vacation includes plenty of swimming, fishing, canoeing and paddleboarding far from the distractions of everyday life, this is the spot.
Where to Stay: Full of rustic charm and immersed in tranquil wilderness, Voyageur Island Lodge is situated on a private island in Nym Lake, right on the edge of Quetico Provincial Park. With your choice of lodge rooms or lakeside cabins and delicious home-cooked meals, this pet-friendly island sanctuary is the perfect place to unwind.
While You're There: Voyageur Wilderness Programme can help you combine a guided or self-guided canoe exploration of Quetico Park with your stay. Whether you journey into the legendary canoe routes of the park or stick to the waters of Nym Lake, expect endless swimming, paddling, fishing and basking in the warm sunshine. Stretch your legs on 35 km of hiking trails at Quetico Provincial Park's Dawson Trail Campground, where there's also an off-leash pet trail and swimming area.
Ontario Parks Road Trip
Why You'll Love It: Most Ontario Parks campgrounds, trails and backcountry areas are pet-friendly, with many parks going the extra mile to ensure dogs enjoy their holidays just as much as their humans. With a bit of planning, you can put together a park-hopping road trip that visits some of the best Ontario Parks for dogs.
Where to Stay: Take a circle tour through Ontario's Near North, spending your first night at Mikisew Provincial Park in South River, one of the province's top pup parks with a dog beach and off-leash exercise area complete with fun agility course. Next up, lovely Restoule Provincial Park offers a pet swim and exercise area, as well as superb hiking and biking trails. Heading back south along Georgian Bay, Grundy Lake and Killbear parks have pet-friendly camping, exercise areas and dog beaches.
The Grand Tour: With fewer crowds and wider, wilder spaces, Northern Ontario parks are a haven for four-legged travellers. Starting at Sudbury's Windy Lake Provincial Park—where the off-leash dog beach is one of the best in the province—continue west to Pancake Bay Provincial Park. Hundreds of campsites and kilometres of white sand beach (including a pet swim area) overlook the aquamarine waters of Lake Superior.
Plan Your Trip Now
Furry members of the family are welcome at an incredible range of vacation destinations across the province—from lakefront cottages and cozy inns to parks and wilderness getaways. Choose the adventure that suits you and your faithful companion, and start exploring now.