7 Superb Paddling Routes A Stone's Throw From Thunder Bay
You don't have to travel far outside the city to explore spellbinding rivers and spectacular coastlines.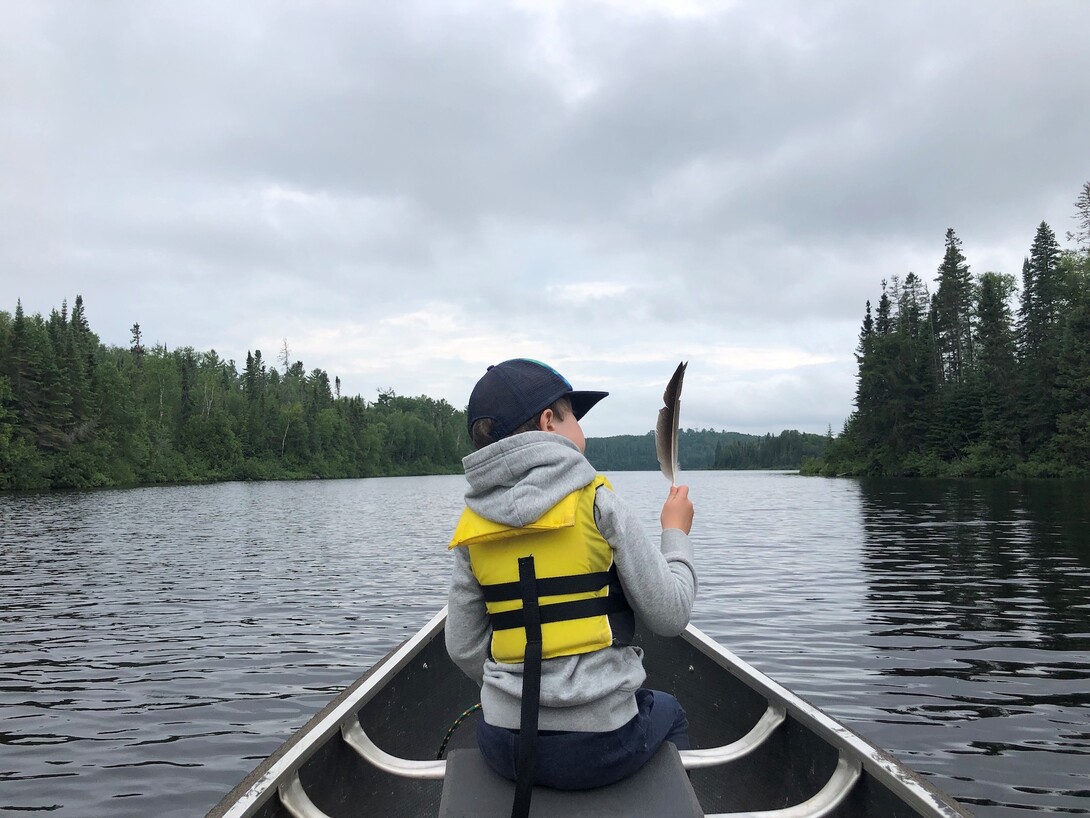 With the world's largest expanse of freshwater on its doorstep, it should come as no surprise that Thunder Bay enjoys easy access to some truly exceptional kayaking and canoeing routes. But exploring the inviting islands and dramatic sea cliffs of Lake Superior isn't the only way for paddlers to get their fix. 
Whether you are looking to escape for a few hours or a long weekend, you'll find an unforgettable route just a short drive away.
Thunder Bay Harbour
For an interesting urban exploration, plan a half-day to paddle around Thunder Bay Harbour, at one time the largest grain port in the world. Today, the waterfront is considerably quieter, but abandoned ore docks and the city's ubiquitous grain elevators towering above the harbour are a reminder of its bustling past. At the huge Keefer Terminal, lake freighters and salties (oceangoing ships) unload and pick up cargo for rail transport to and from the West.
Wherever you are in the harbour, you'll enjoy unobstructed views of the legendary Sleeping Giant across the bay. This formation of 1,000-foot-high volcanic rock mesas rises from the Sibley Peninsula, bearing an uncanny resemblance to a giant stone figure lying on his back.
Welcome Islands
For mariners seeking harbour after a long journey on Lake Superior, the Welcome Islands live up to their name. Situated 10 km offshore from the City of Thunder Bay, this cluster of four small, rugged islands is home to a historic lighthouse that has guided mariners to safe harbour for more than a century. Today, experienced kayakers with a calm weather forecast can journey out to the islands for a fascinating day trip. Take a break in beautiful Blue Heron Bay and catch sight of a scoop of snowy-white pelicans roosting on the tiny southernmost islands. Like their saltwater cousins to the south, Superior's white pelicans are acrobatic anglers, treating bird-watching enthusiasts to spectacular dive-bombing displays.
Thunder Bay's Mission Island Marsh Conservation Area makes for a convenient departure point, reducing the open-water crossing to the islands to 5 km.
Reserve a Campsite or Cabin at Chippewa Park Campground, this beloved local family attraction celebrated its 100th anniversary in 2021. Use the park as a comfortable basecamp, with paddle-out access to the Welcome Islands.
Book a Guided Tour with Sail Superior, they offer Zodiac, sailboat and catamaran tours to the Welcome Islands ranging in length from one to four hours. This is a great option for those who want to experience the islands without making the open-water crossing by kayak.
Silver Harbour Conservation Area
Escape the hustle and bustle of the city and enjoy stellar views of the Sleeping Giant at this paddler-friendly conservation area just 20 minutes east of Thunder Bay. Kayakers and canoeists can launch here and explore Mackenzie Bay, Amethyst Harbour and Caribou Island to the east. Experienced paddlers with more time (and a calm forecast) can cross from Caribou Island to the neck-craning cliffs of the Sibley Peninsula, then circle back around the head of the bay to Silver Harbour.
Book an Overnight Stay at the Thunder Bay International Hostel in Longhouse Village, minutes from Silver Harbour Conservation Area. This friendly backpackers' hostel is perfect for travellers on a budget, with private rooms, tent camping and even "camping" in a converted school bus.
Reserve a Room at Eldorado Beach Bed & Breakfast for a comfortable stay right on the shores of Lake Superior. Relax in the outdoor whirlpool tub after a day of paddling nearby Amethyst Harbour or Sleeping Giant Provincial Park.
Hazelwood Lake Conservation Area
If you're looking for a peaceful, semi-wilderness paddling experience less than half an hour from the city, Hazelwood Lake is one of the largest and closest inland lakes near Thunder Bay. Perfect for a full day of family canoeing or kayak exploration, this lovely conservation area also offers a beach, picnic facilities and 7 km of hiking trails. Even better, you'll enjoy blissful quiet as no powerboats are permitted.
Reserve a Campsite at the City of Thunder Bay's Trowbridge Falls Campground, nestled in the woods beside the cascading rapids of the Current River. Enjoy trails, swimming in the cascades, and easy access to city shopping and services.
Where to Eat: Discover mouthwatering Indian and Thai cuisine at Masala Grille, widely credited with paving the way for the city's vibrant international restaurant scene.
The Mac and the Kam
These two may sound like a local entertainment duo to first-time Thunder Bay visitors. In fact, the Mac and the Kam are the McIntyre and Kaministiquia rivers, two of the city's favourite urban paddling playgrounds. The Kaministiquia River originates northwest of Thunder Bay at Dog Lake and flows over breathtaking Kakabeka Falls before meandering towards the city. Paddlers can float past Fort William Historical Park and admire the views of mighty Mt. McKay-Animikii Wajiw towering above the river.
Meanwhile, the McIntyre River runs 29 km from Trout Lake to the city, with a number of route options offering both whitewater and calm-water paddling.
Plan a Visit to Fort William Historical Park; this living-history museum features the world's largest reconstructed 19th-century fur trading post with live actors helping visitors experience a vivid re-creation of fur trade life. Learn more about how canoes literally built Canada, watch the making of a traditional birch bark canoe, and paddle a voyageur canoe on the Kam—the original fur trade route.
Reserve a Campsite at Kakabeka Falls Provincial Park, where the Kaministiquia River plunges over 40-metre-high falls—the second highest waterfall (after Niagara Falls) in Ontario. While you're there, hike the park's excellent trails to more spellbinding lookouts of the gorge and falls.
Don't Miss taking in the panoramic view from Mt. McKay Scenic Lookout, 500 feet above the city. The lookout is located on the Fort William First Nation reserve; ask permission before hiking to the top of this sacred summit.
Sleeping Giant Provincial Park
No list of the finest places to paddle around Thunder Bay would be complete without highlighting this breathtaking park that occupies much of the Sibley Peninsula. Just over an hour from the city, visitors are immersed in a slower pace among the thick forests and sweeping Lake Superior vistas. Sleeping Giant Provincial Park is home to over 100 km of incredible hiking and mountain biking trails, as well as camping, beautiful sandy beaches and fantastic wildlife viewing opportunities. But for paddlers, the lure of the mighty lake is hard to resist.
Launch at the public dock in the silver-mining-boomtown-turned-sleepy-hamlet of Silver Islet and paddle east to the lovely beach at Middlebrun Bay, or west to the Sea Lion, a fantastic sea arch eroded from the surrounding cliffs. With more time, experienced kayakers can continue on to visit historic Trowbridge Island lighthouse and Thunder Cape, home to a remarkable migratory bird observatory.
Reserve a Backcountry Campsite at Tee Harbour or Lehtinen's Bay for an overnight paddling adventure that includes a day hike up the Top of the Giant Trail to a spectacular view 1,000 feet above the lake.
Plan a Visit to Thunder Cape Bird Observatory on the very tip of the Sibley Peninsula, a critical flyway for more than 300 species of migrating birds in spring and autumn. Access is by paddle or hiking/mountain biking trail.
Rent Canoes & Kayaks at the park Visitor Centre near Mary Louise Lake Campground. Rentals are for use on this scenic inland lake only.
The "Sauna" Islands
This chain of small, offshore islands parallels the Lake Superior shoreline, extending from Little Trout Bay Conservation Area to the lofty bluffs of Pie Island. The islands take their unofficial epithet from the sublime sauna found on Thompson Island, a provincial nature reserve that is a popular destination for Thunder Bay area sailors.
Visit the islands on a day trip from Little Trout Bay or Sturgeon Bay, both less than an hour's drive from Thunder Bay, or pack your camping gear for an overnight adventure. Either way, you'll need calm conditions and fair weather to make the 1- to 4-km crossing to the islands.
Reserve a Cottage Rental at Mink Mountain Resort; these cozy homes-away-from-home boast spectacular Lake Superior views and easy water access to Thompson and Spar islands.
Book a Guided Tour with Sail Superior, they offer Zodiac and private catamaran tours to the islands ranging in length from one hour to a full day. Custom day tours can include kayak or standup paddling excursions at the islands.
Don't Miss the short hike to the top of Spar Island for a stunning 360-degree panorama.
Where to Rent Canoes & Kayaks in Thunder Bay
Wilderness Supply
244 Pearl Street, Thunder Bay
807-684-9555
Thunder Bay's premier outdoor equipment store offers recreational kayak, touring kayak, whitewater kayak, canoe and standup paddleboard (SUP) rentals.
Chaltrek
404 Balmoral St, Thunder Bay, ON, P7C 5G8
807-577-8848
Kayak and standup paddleboard rentals available.
Canadian Quetico Outfitters
1184 Mountain Rd, Thunder Bay, ON, P7J 1C2
807-929-2177
Located near the Kaministiquia River en route to Quetico Provincial Park. Offers canoe rentals, canoe camping equipment rentals, shuttles and trip planning services.
Discover Thunder Bay's exceptional kayaking and canoeing routes
Base yourself in Thunder Bay for easy access to varied and beautiful paddling day trips just minutes from the city centre. Explore the urban paddling scene, or take a short drive to experience pristine wilderness and fantastic overnight kayaking destinations. Whether you are drawn to the open waters of Lake Superior or are looking for a tranquil river journey, Thunder Bay offers plenty for every appetite.