7 Superb Places to Canoe & Kayak Near Sault Ste. Marie
Paddle the pristine waterways of the Algoma Highlands.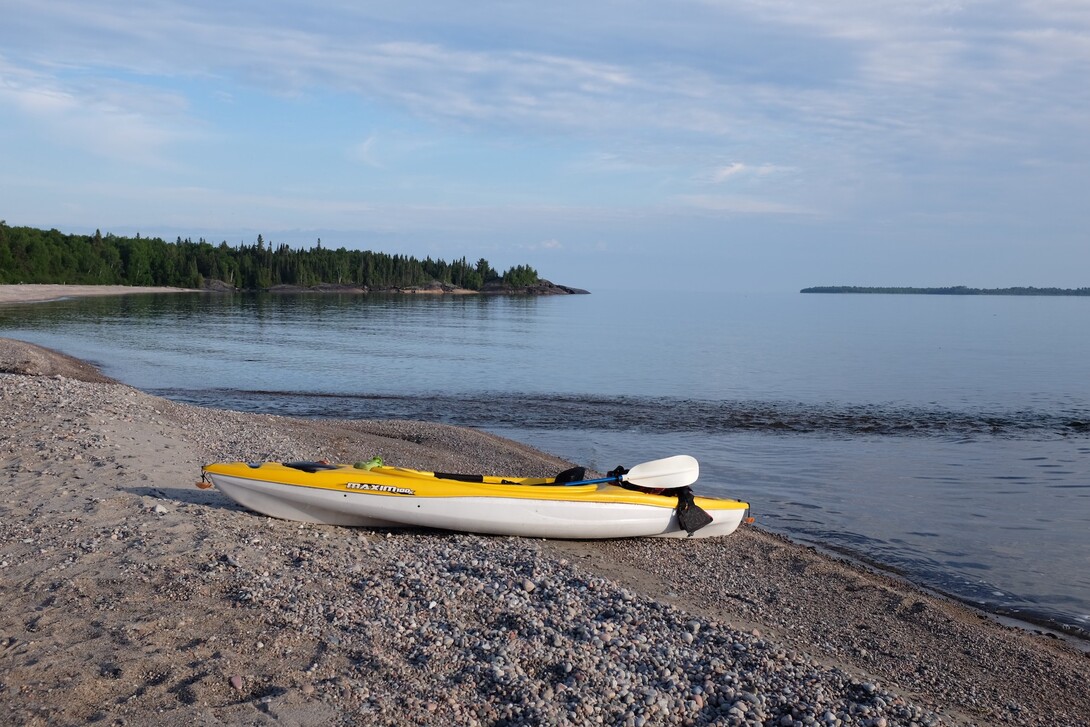 Located in the heart of the Great Lakes, Sault Ste. Marie is an epicentre of incredible paddling opportunities. With the rugged hills and pristine waterways of the Algoma Highlands at its back and the world's largest expanse of freshwater on its doorstep, paddlers can easily escape for a couple of hours on quiet waters or set out on a weeklong wilderness trip.
Lake Superior lives up to its reputation as an inland sea, rewarding sea kayakers with world-class coastal touring and camping. The lake's cold, clear waters cascade through the rapids of the St. Marys River in downtown Sault Ste. Marie, before nourishing wildlife-filled wetlands en route to the island-studded North Channel of Lake Huron. Just beyond the city, a multitude of rivers flow like capillaries—some meandering gently through pastoral countryside, others dashing energetically among the granite and pines of the Canadian Shield.
Easy access to amazing canoe tripping, sea kayaking, whitewater and recreational kayaking is just the start. With a great selection of comfortable accommodations, amenities and unique cultural attractions, Sault Ste. Marie is an ideal destination for an Ontario paddling trip.
St. Marys River, Downtown Sault Ste. Marie
If you are looking for a quick, easy paddling trip and a new perspective on the city, the St. Marys River is the perfect escape. Start your exploration at the state-of-the-art Sault College Waterfront Adventure Centre and head downriver past the wildlife-rich wetlands of Bellevue Park and around Topsail Island. Time your trip for early evening and you'll be treated to the sight of the sun setting over the International Bridge on your paddle back.
Goulais River
Just 40 minutes north of Sault Ste Marie, the scenic Goulais River descends through the dense forests of the Canadian Shield to the sandy shore of Lake Superior. The river slows as it nears the lake, creating a series of quiet oxbows perfect for a few hours of calm-water exploration. Paddlers who are comfortable in moving water and easy to moderate rapids should head to the community of Searchmont for a terrific downriver day trip.
Below Searchmont, the Goulais is a novice-friendly run with a mix of class I-II rapids and steady current during spring flows. As water levels decrease, this section is great for anglers with abundant walleye and smallmouth bass. Put in south of Searchmont off Highway 556 and paddle west to the bridge on Highway 552. Prime water levels for this stretch are 7.8 to 8.1 metres, with a minimum of 7.65 for whitewater action. Check current levels here.
Get on the Water with Searchmont's Mountainview Lodge; they'll get you set up with canoe rentals, shuttles and route suggestions. Extend your stay in one of the lodge's cozy rooms, the cozy chalet or the little red caboose by the river.
Book an Overnight Stay at beautiful Bellevue Valley Lodge, offering B&B rooms, a private chalet and wood-fired sauna nestled among maple hardwood forest.
Don't Miss exploring some of the incredible hiking and mountain biking trails nearby. Ride flowy singletrack at Hiawatha Highlands (rent bikes and get trail maps at Vélorution), or climb to breathtaking views atop the Robertson Cliffs on a guided day hike with Blaq Bear Eco Adventures or Forest the Canoe.
Gros Cap
Marking the eastern terminus of Lake Superior, Gros Cap is an immense headland of forbidding cliffs and inviting gravel beaches that makes for some spectacular sea kayaking just 20 minutes west of Sault Ste. Marie. Head to the end of Highway 550, where you'll find an official launch on the Lake Superior Water Trail, then follow the shoreline west. With the seemingly infinite horizon of Superior to your left, experienced sea kayakers equipped for cold water and exposed coastal conditions can continue 10 km to Red Rock; be sure to check weather conditions in advance and only head out if the forecast is calm. 
Get on the Water with Great Lakes Outfitters, a locally owned outdoor store that has recently invested in a fleet of sea kayaks, canoes and standup paddleboards with a plan to offer rentals in 2022.
Book a Guided Canoe Tour with Forest the Canoe; based in Goulais River, they focus on small-group interpretive tours that connect paddlers with the natural wonders of Northern Ontario. Offering guided half-day and full-day Lake Superior canoe trips, as well as canoe and kayak rentals and logistical support for more experienced paddlers.
Lake Superior Provincial Park
The wave-polished shores of Lake Superior Provincial Park offer bucket-list coastal kayaking for experienced paddlers. Dramatic shoreline scenery ranges from sheer cliffs to Technicolour cobbles and fine sand beaches, with nearly the entire 105 km (62 mile) route exposed to the tempestuous moods of the world's mightiest lake. Trans-Canada Highway 17 bisects the park, with drivers reaching the southern boundary just 120 km north of Sault Ste. Marie.
For an introduction to the park's spectacular coast, head to the Gargantua area where a scattering of sandy beach backcountry campsites make for an unforgettable weekend basecamp. From here, paddlers can explore a clutch of rocky and remote isles scattered around the Gargantua headland. Glide silently beneath the cliffs at Devil's Warehouse Island and you may be treated to a display of aerial acrobatics by resident peregrine falcons, or witness an avian of a different sort—the faded form of a Thunderbird high on the rocks, painted there centuries ago by an Ojibwa artist.
While some experienced big-water canoeists tackle the park's freshwater coastline, seven interior canoe routes offer single-blade adventures for paddlers of all skill levels. Choose from easy and relaxing day or overnight trips on scenic and secluded lakes, or depart from Gamitagama Lake for a challenging, weeklong descent of the rugged, rapid-filled Sand River.
Book a Guided Kayak Tour with Naturally Superior Adventures; all-inclusive Lake Superior Park trips range from two to five days in length. Your experienced guide will share fascinating natural and cultural history while ensuring novice kayakers have a safe and enjoyable introduction to Lake Superior.
Reserve a Campsite at the park's Agawa Bay Campground or Rabbit Blanket Lake Campground; the latter offers private sites on a peaceful inland lake, while the former boasts mesmerizing Superior sunsets.
Rent Canoes at the provincial park office, Rabbit Blanket Lake and Agawa Bay campgrounds.
Stay Overnight at Twilight Resort, located at the mouth of the Montreal River just minutes from the park's southern gateway. The resort offers comfortable cabins and tent or RV sites overlooking a gorgeous Lake Superior cobble beach.
Lower St. Marys River, Laird Township
Heading east from Sault Ste. Marie, visitors soon enter a picturesque agricultural area of small inland lakes, fields and mixed maple, oak and pine forests adjacent to the turquoise waters of the lower St. Marys River. This is Central Algoma, where intersecting waterways, grassland and forest provide critical coastal wetland habitat for fish, wildlife and more than 200 species of birds. Paddlers can launch at Laird Centennial Park and explore the scalloped shoreline 10 km south to Neebish and Pine islands, watching for graceful black terns swooping overhead.
Book an Overnight Stay at Sunsets & Silence B&B nestled on two serene waterfront hectares just 20 minutes east of Sault Ste. Marie. Wake up to songbirds and end the day with a sublime sunset over the St. Marys River at Lake George.
St. Joseph Island
Better known as one of Ontario's top maple syrup producing regions and a haven of quiet back roads for cyclists, St. Joseph Island also makes a rewarding destination for Sault-area paddlers, just 45 minutes east of the city. The friendly communities of Hilton Beach and Richard's Landing serve as convenient departure points for day trips tracing the shoreline east to scenic vistas of Lake Huron's North Channel, or west to Shoal Island Lighthouse and the picturesque Canadian Shield islands beyond.
Stay Overnight at Maria's Cabins, a delightful cottage resort with three cozy, waterfront cabins in Richard's Landing. Guests enjoy access to a wood-fired sauna, canoes, kayaks, and bicycles.
Grab a Bite on the lakeside patio at Island Bar & Grill in Hilton Beach, where the Hilton Beach Inn offers comfortably appointed rooms right by the marina.
While You're Here take in panoramic water views and explore the island's rolling hills and maple-beech forest—ablaze with colour in the autumn—on two wheels. Long-distance road cyclists will love the challenging, 72-km circumnavigation of St. Joseph Island on Highway 548, or choose from a selection of shorter rides. Rent bicycles at the Hilton Beach Marina.
North Channel, Lake Huron
Access some of Lake Huron's finest kayaking from the village of Iron Bridge, just over one hour east of Sault Ste. Marie along Trans-Canada Highway 17. Departing from Beharriell Park on Dean Lake Road, paddlers can head west to explore the compact archipelago of the Burton Islands, or journey east to tour the chain of islands extending from the mouth of the Mississagi River. Much of this shoreline falls within the North Channel Inshore and Mississagi Delta provincial parks, safeguarding wildlife-rich wetlands and windswept granite islands.
Book an Overnight Stay at Melwel Lodge on crystal clear Big Basswood Lake in Iron Bridge. The lodge's 11 wonderfully restored, historic cottages give Melwel a playful, summer-camp-for-families vibe. Kayaks, canoes, and paddleboards provide plenty of paddling options for exploring the piney shores and granite bluffs of this lovely inland lake.
Be a Keeper of the Light at Bruce Bay Cottages & Lighthouse in nearby Bruce Mines. Guests can stay in the authentic 1907 McKay Island Lighthouse, the only drive-to housekeeping lighthouse in Ontario, and watch sunrises over the North Channel.
Where to Eat Dine in or pick up a charcuterie-style picnic basket featuring fresh, local foods at the Copper Bean Café in downtown Bruce Mines.
Where to Rent Canoes and Kayaks in Sault Ste. Marie
18 McPhail Avenue, Sault Ste. Marie
705-759-2554 ext. 2920
This community hub on the shore of the St. Marys River offers canoe, kayak, and standup paddleboard rentals, as well as launching facilities and a waterfront café.
162 Old Garden River Road, Sault Ste. Marie
705-253-2361
Sault Ste. Marie's original outdoor equipment store (formerly Joe's Sports) has recently invested in a fleet of canoes, sea kayaks and standup paddleboards with a plan to offer rentals in 2022.
Birch Point Circle, Goulais River
705-730-3457
Offers canoe, sea kayak, and camping equipment rentals. Also available are guided interpretive tours (canoeing and hiking) focused on creating meaningful and memorable connections to nature.
4280 Highway 556, Searchmont
705-781-3329 / 866-399-3329
Situated on the Goulais River, Mountainview Lodge offers canoe rentals, shuttles, route suggestions, and accommodations.
705-856-2284
Canoes are available for rent at Agawa Bay and Rabbit Blanket Lake campgrounds, and at the Park Office for Mijinemungshing Lake.
10 Government Dock Road, Wawa
705-856-2939 / 800-203-9092
Provides sea kayak, canoe, and paddleboard rentals for Lake Superior Provincial Park and the surrounding area. Also specializes in guided, multi-day sea kayak tours, paddling instruction, accommodations on Lake Superior, shuttles and logistical support.
Discover Sault Ste. Marie's exceptional kayaking and canoeing routes
With water all around, Sault Ste. Marie is a world-class destination for paddling trips. Whether you are passionate about sea kayaking along pristine, freshwater coastlines, canoe tripping through wilderness lakes and rugged Canadian Shield scenery, or paddling historic river routes, Sault Ste. Marie is the gateway to some of the finest paddling in Ontario.