10 Awesome Ontario Paddling Photos
Local-approved hotspots for paddling fun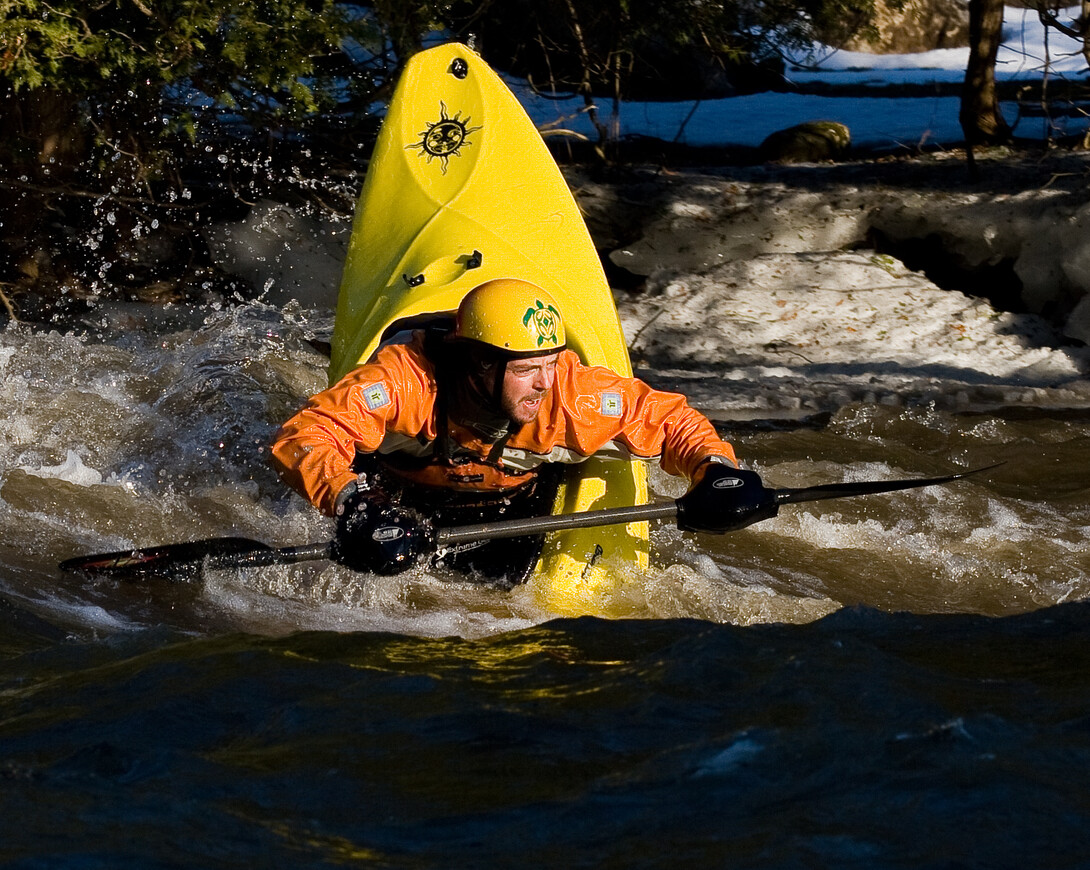 Since my very first whitewater shoot nearly 10 years ago, I've come a long way; I can now confidently stern a boat down rapids and generally manage to keep the boat keel-side down. Over those 10 years, I've paddled all kinds of crafts in Northern Ontario, but mostly, I've taken photos of others much more proficient than I am. These are some of my favourite photos and destinations from my own paddling journey.
Jay Stiles on the Saugeen River (ABOVE)
This was the first time I ever shot whitewater kayaking way back in 2008. And I couldn't have had a better model; Jay Stiles is a powerhouse in the water and on this day, in early spring, he was dodging car-sized chunks of ice and 25-foot long logs.
Ian Erskine on the Madawaska River
During a five-day introduction to whitewater course at the Madawaska Kanu Centre I was lucky enough to have Ian Erskine as an instructor. He's a great dude, a great instructor and of course, a great paddler. Watching him paddle his OC1 boat down the rapids was super inspiring and is something I aspire to do myself one day.
Wendy Grater on Georgian Bay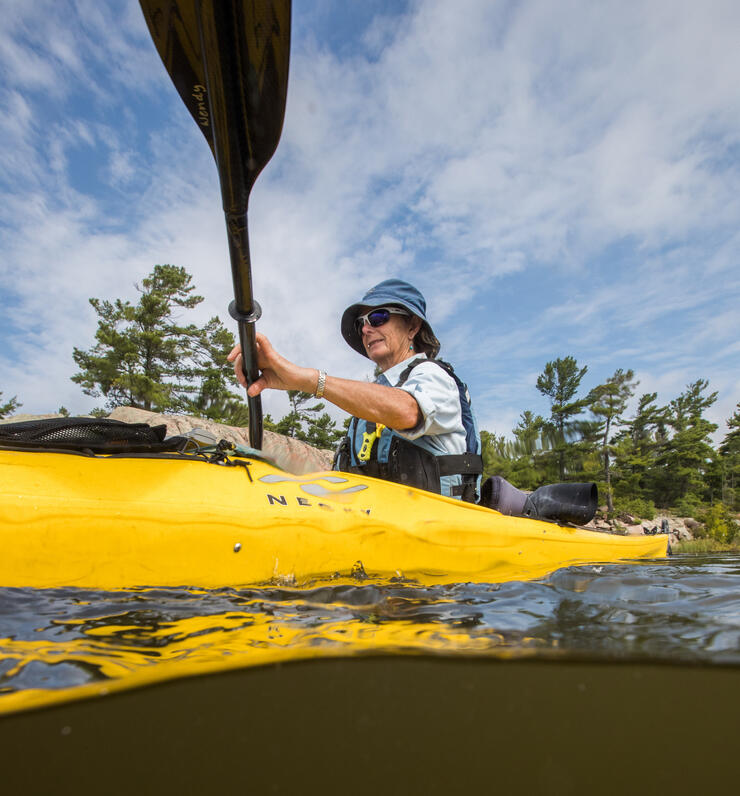 Once in a while my job introduces me to an incredible person that becomes a life-long friend. Wendy Grater is one such person. The owner of Black Feather, the wilderness adventure company, Wendy is a true legend of the Canadian outdoors.
Greg Sturch and Nadia Rynkowski on the Beaver River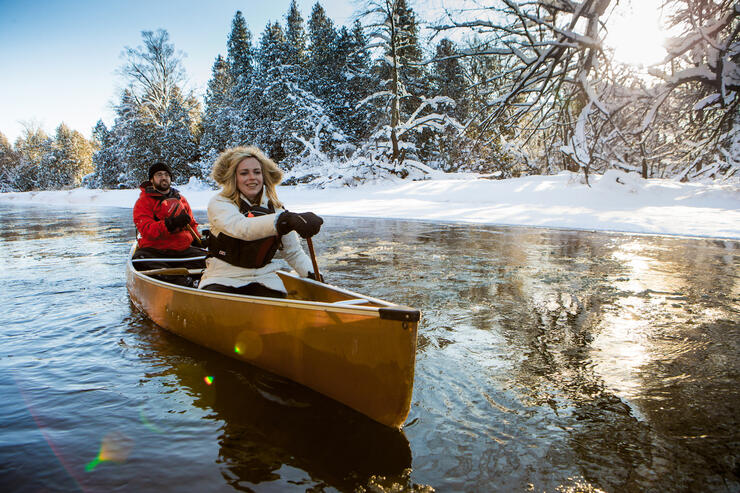 When photographer Richard Roth decided he wanted to paddle the Beaver River in early January while it was -18C outside, he called me up to help with logistics. It was a crazy idea, but we both got some great images. And I still laugh every time I think about how he fell in and got completely submerged.
Scott Parent in BIG Tub Harbour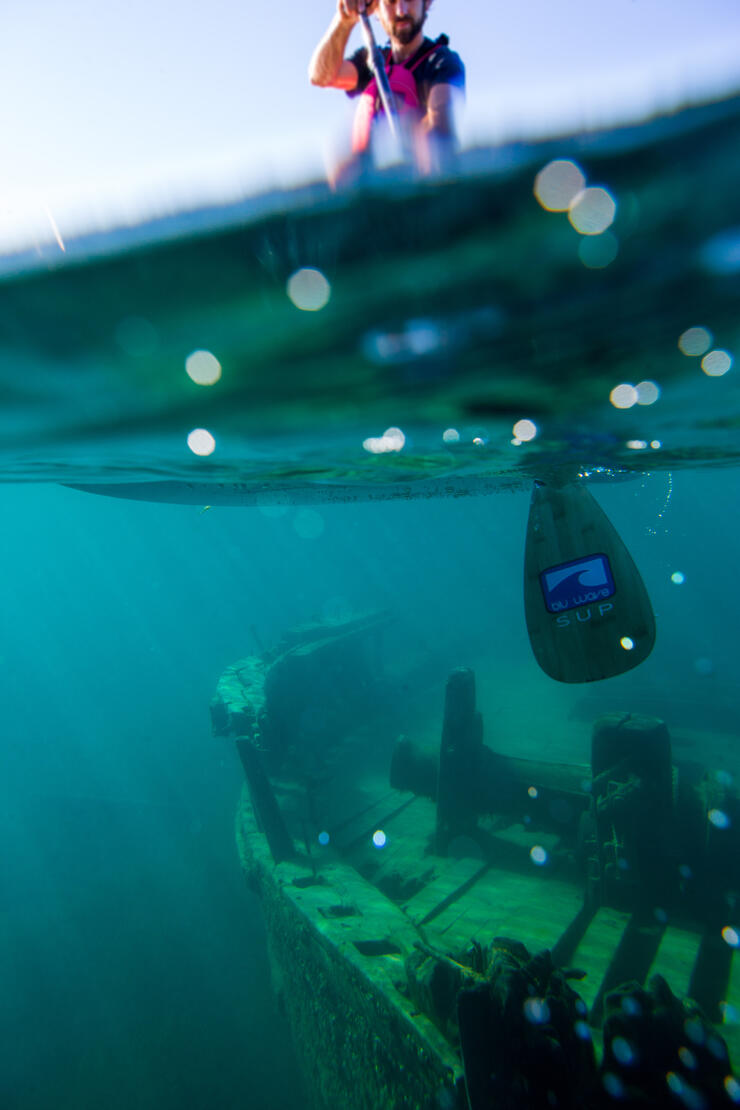 Paddling and swimming over the shipwreck of the Sweepstakes in Tobermory's Big Tub Harbour really is something special. Being a local, Parent knew just the right time to get there, when the light was good and all the tourists and snorkelers had gone home.
Scott Parent and Ariel Amaral at Cave Point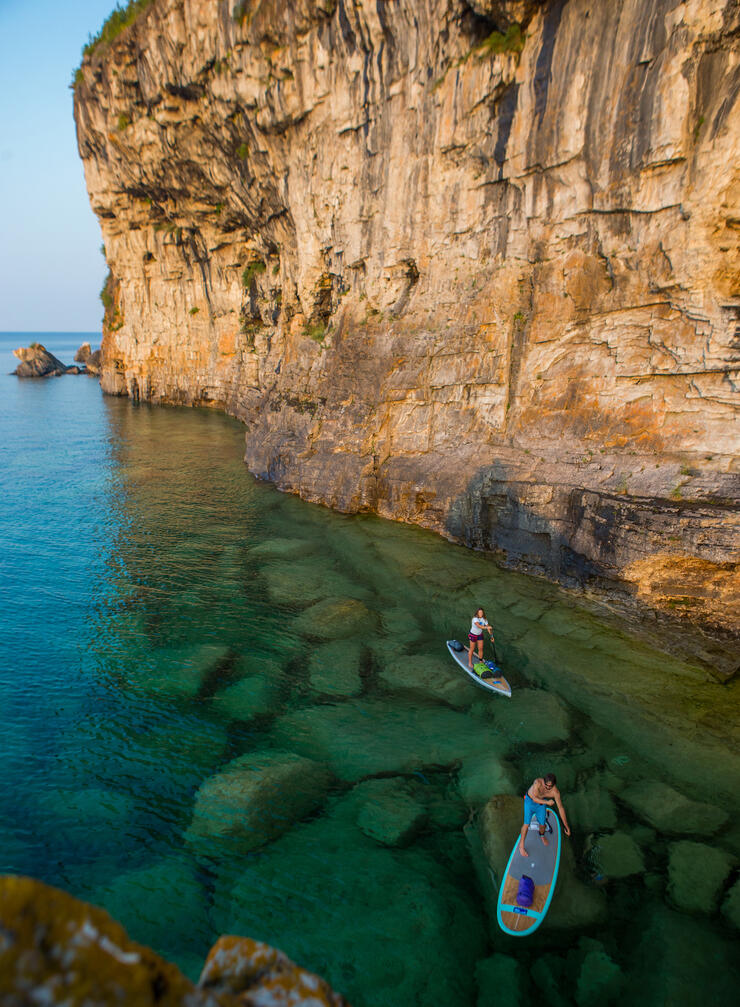 This overnight trip I did with Fathom Paddle Guiding on the Bruce Peninsula was incredible. Setting out at Halfway Log Dump, we paddled to Stormhaven during sunset, then paddled back the next morning. As we circled Cave Point I climbed up a giant boulder and shot these two as they paddled past.
Ariel Amaral at Stormhaven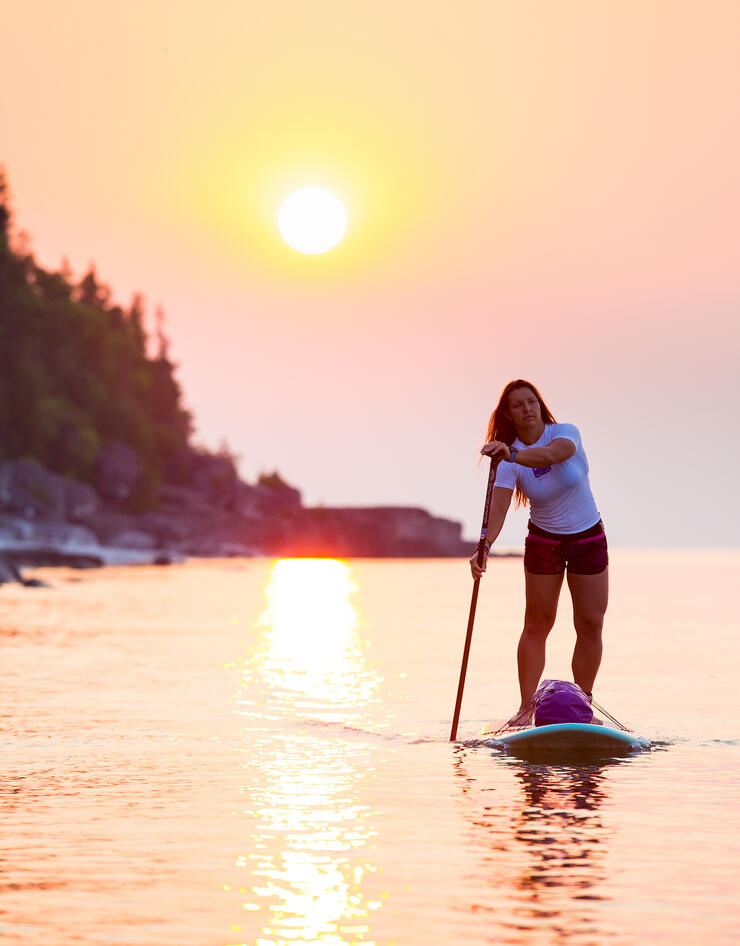 As we arrived at Stormhaven on an overnight SUP trip, we stayed offshore for a few minutes to avoid the bugs. It was a beautiful sunset and Ariel's powerful paddling technique was a perfect subject to throw into this gorgeous scene.
Leslie Timms at Lion's Head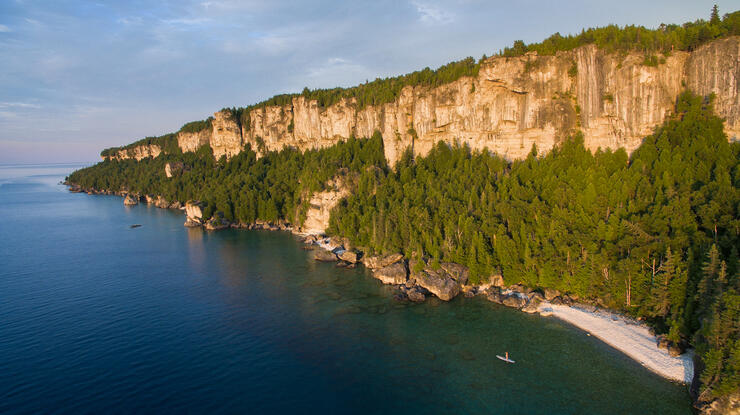 Rock climber Leslie Timms has been spending a lot of time scouting and creating new routes at Lion's Head over the past couple of years. And all of the routes are only accessible by water. She recently picked up a SUP and vowed to return the next summer to continue scouting, climbing and paddling.
Unknown Paddler at Hass Hole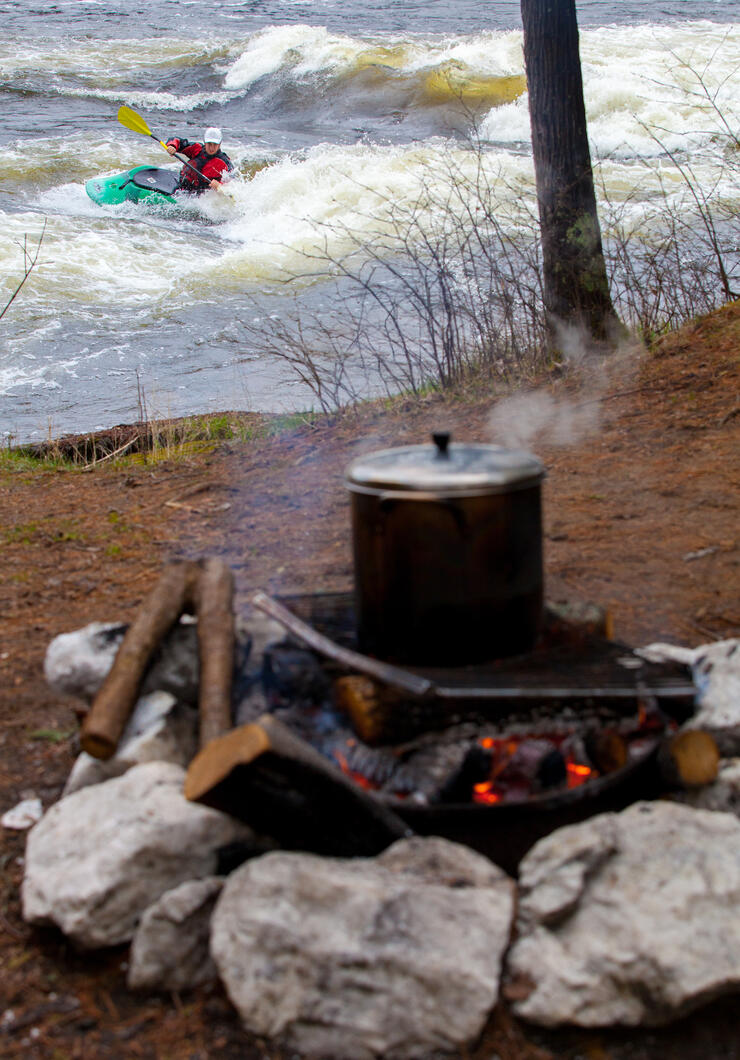 A classic spot for Ontario's whitewater types, the Hass Hole on the Lower Madawaska has it all; a great standing wave, complete with a drive-up cabin and firepit. We'd boil water for coffee while braving the frigid temps of early spring.
Taj Field on the Beaver River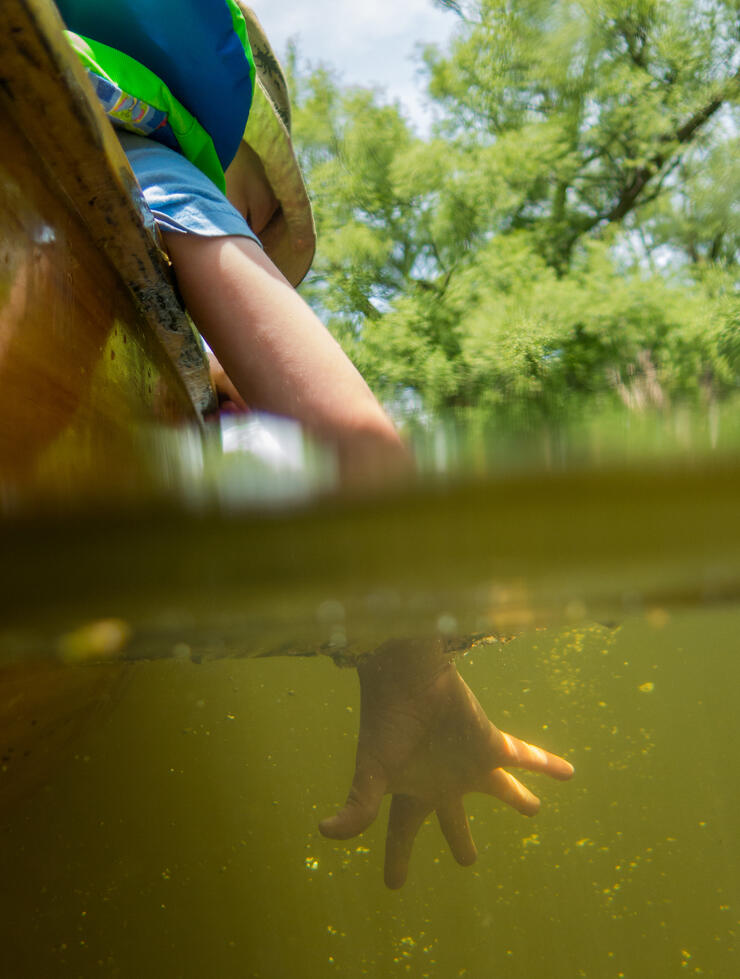 A couple minutes from our house, the Beaver River provides my family with endless entertainment. My son Taj has been riding princess down it for years. Add a bucket of rocks for him to play with and he's as happy as they come. And so am I.