Need a Paddleboard Rental?
Here's the most complete listing of paddleboard rental shops in Ontario.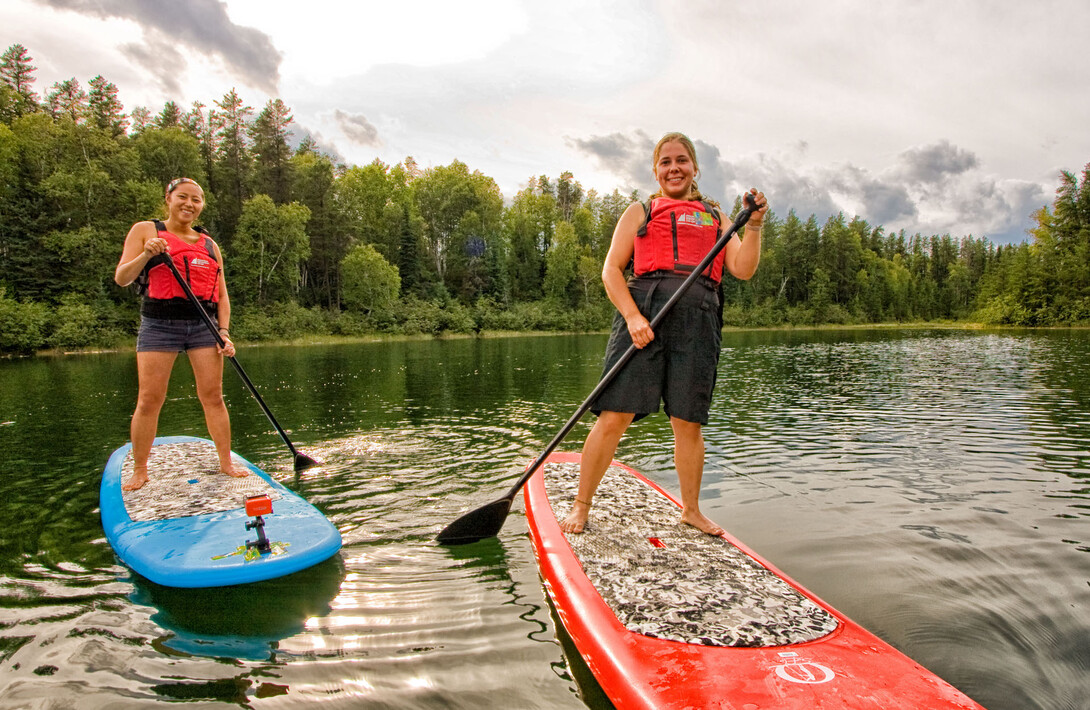 For many standup paddleboarders, renting a SUP at a paddling destination makes great sense. On one hand, new paddlers can try a paddleboard rental to see if they like the sport. On the other, well-seasoned paddlers often find it easier to rent a paddleboard than to transport their own to faraway locations. 
Whether you rent or buy, you'll benefit from learning and practicing essential paddleboarding safety skills and strokes before setting out. Visit Paddle Canada or the American Canoe Association to find a course or certified instructor near you. Taking a course is also a great way to meet other paddlers in your area.
Standup paddleboarders in Ontario will need to have a few pieces of mandatory safety equipment on board—always check with your outfitter that your rental includes these items, or bring your own:
a Canadian Coast Guard-approved lifejacket or personal floatation device (PFD) for each person
a whistle (all PFDs should have one attached)
15 metres of buoyant throw line (exception: if everyone on board is wearing a PFD or lifejacket, then a throw line is not required)
a watertight flashlight (if you'll be paddling before sunrise or after sunset)
The final piece of equipment that is not required by law but highly recommended is a leash. A leash should be worn at all times and can save your life. Even a light breeze can quickly carry your board out of your reach if you fall off.
Rental rates for partial days average between $25 and $35 per board for 2 to 4 hours. Expect to pay between $40 and $65 for a full day. Some outfitters offer reduced daily rates for weekend and week-long rentals. Remember that rates will vary with the type of board and geographic location.
Renting is a great way to explore Ontario's waterways without having to deal with the storage and transportation hassles of board ownership. If you've heard about some of the amazing paddling routes in the province but don't have a paddleboard at the moment or just want to try out something new and see how it suits you, there are plenty of friendly outfitters who can help. Just check out the list below.
NORTHWESTERN ONTARIO
Marathon/Pukaskwa Paddleboard Rentals
Pukaskwa National Park
807-229-0801
Highway 627, Heron Bay
pukaskwaont@pc.gc.ca  
Terrace Bay Paddleboard Rentals
Rainbow Falls Provincial Park
807-824-2298
Highway 17, Rossport
Thunder Bay Paddleboard Rentals
Wilderness Supply
807-684-9555
244 Pearl St, Thunder Bay
Chaltrek 
807-577-8848
404 Balmoral St, Thunder Bay
Atikokan/Quetico Paddleboard Rentals
Quetico Provincial Park
807-597-2735
Highway 11, Atikokan
Dryden Paddleboard Rentals
Blue Lake Provincial Park
807-227-2601 (Summer) / 807-223-7535 (Winter)
1722 Highway 647, Vermilion Bay
Kenora Paddleboard Rentals
Green Adventures
807-407-8683
806 River Dr, Kenora
info@greenadventures.ca
Boardanyone
807-468-3211
325 Second St South, Kenora
boardanyoneinc@gmail.com
Rushing River Provincial Park
807-548-4351
1200 Highway 71, Kenora
The Hardwear Company
807-468-1226
106 Main St S, Kenora
info@hardwearco.com
ALGOMA COUNTRY
Wawa Paddleboard Rentals
Naturally Superior Adventures
705-856-2939 / 800-203-9092
10 Government Dock Rd, Wawa
info@naturallysuperior.com
Sault Ste. Marie Paddleboard Rentals
Sault College Waterfront Adventure Centre
705-759-2554 ext. 2920
18 McPhail Ave, Sault Ste. Marie
Great Lakes Outfitters
705-253-2361
162 Old Garden River Rd, Sault Ste. Marie
Elliot Lake Paddleboard Rentals
Adventure North
705-261-0349
2 Westview Crescent, Elliot Lake
NORTHEASTERN ONTARIO
Manitoulin Paddleboard Rentals
Manitoulin Wind & Wave
705-210-0914
10221 Highway 540, Kagawong
SUP Adventures Manitoulin
705-507-0286
24 Mutchmor St, Providence Bay
info@supmanitoulin.ca
Sudbury and Area Paddleboard Rentals
Laurentian University Outdoor Centre
705-675-1151 ext. 1023
935 Ramsey Lake Rd, Sudbury
Halfway Lake Provincial Park
705-965-2702
Highway 144, Greater Sudbury
Killarney Paddleboard Rentals
Killarney Outfitters
705-287-2828 / 888-222-3410
1076 Highway 637, Killarney
paddle@killarneyoutfitters.com
French River Paddleboard Rentals
Grundy Lake Supply Post
705-383-2251
20395 HIGHWAY 522, BRITT
North Bay and Area Paddleboard Rentals
Boathouse Rentals Co
705-825-3736
200 Memorial Dr, North Bay
Algonquin North Wilderness Outfitter
705-744-3265 / 877-544-3544
16 Highway 630, Mattawa
canoe@algonquinnorth.com
Samuel de Champlain Provincial Park
705-744-2276
6905 Highway 17, Mattawa
Cozy Camp Cottages
705-752-2085
49 Trails End Rd, Corbeil
Restoule Provincial Park
705-729-2010
8818 Highway 534, Restoule
Timmins and Area Paddleboard Rentals
Timmins Adventure Tours
705-268-8069
567 Pavillion Dr, Timmins
Rebel Soul
705-465-6306
Timmins
Rebelsoultribe@gmail.com
Kettle Lakes Provincial Park
705-363-3511 (summer) / 705-272-9117 (winter)
1350 Municipal Road, Connaught
Ivanhoe Lake Provincial Park
705-899-2644 (summer) / 705-272-9117 (winter)
170 Ivanhoe Lake Road, Foleyet
Kirkland Lake Paddleboard Rentals
Esker Lakes Provincial Park
705-568-7677 (summer) / 705-272-9117 (winter)
Highway 672, Kirkland Lake
Kapuskasing Paddleboard Rentals
René Brunelle Provincial Park
705-367-2692
Highway 581, Moonbeam
Hearst Paddleboard Rentals
Fushimi Lake Provincial Park
705-372-5909
Fushimi Rd, Hearst
Nagagamisis Provincial Park
807-868-2254
Highway 631, Hearst
ALGONQUIN PARK AND HIGHLANDS
Northeast & North Central Algonquin Paddleboard Rentals
Canoe Algonquin
705-636-5956
1914 Hwy 518
gocanoe@canoealgonquin.com
Swift Canoe & Kayak South River
705-386-0440
281 Hwy 124, South River
southriver@swiftcanoe.com
Mikisew Provincial Park
705-386-7762 (summer) / 705-729-2010 (winter)
301 Park Road South, South River
Voyaguer Quest Outfitting
647-478-2959 / 416-486-3605
Algonquin Park Access Point #1, Algonquin Park
info@voyageurquest.com
Algonquin North Outfitters
705-744-3265 / 877-544-3544
16 Highway 630, Mattawa
canoe@algonquinnorth.com
Algonquin Outfitters Brent
705-635-2243 / 800-469-4948
Algonquin Park Access Point #7 Cedar Lake
West Gate, Hwy 60 Corridor & Barron Canyon Algonquin Paddleboard Rentals
Algonquin Outfitters Oxtongue Lake
705-635-2243 / 800-469-4948
1035 Algonquin Outfitters Rd, Dwight
Algonquin Outfitters Opeongo
613-637-2075
Algonquin Park Access Point #11 Lake Opeongo, Hwy 60
The Portage Store
705-633-5622 / 705-789-3645
Algonquin Park Access Point #5 Canoe Lake, Hwy 60 at KM14
info@portagestore.com
Algonquin Portage Store & Outfitters
613-735-1795
1352 Barron Canyon Rd., Pembroke
South Gate Algonquin Paddleboard Rentals
Deep Roots Adventure
705-854-0628
4071 Elephant Lake Rd, Harcourt
info@deeprootsadventure.com
Muskoka and Georgian Bay Paddleboard Rentals
Algonquin Outfitters Huntsville
705-787-0262 / 800-469-4948
86 Main St E, Huntsville
Arrowhead Provincial Park
705-789-5105
451 Arrowhead Park Rd, Huntsville
Algonquin Outfitters Port Carling
705-765-0202
119 Medora St, Steamboat Bay Units #3 & 12, Port Carling
SUP Muskoka
Monica Lane, Bracebridge
sales@supmuskoka.com
Liv Outside
705-646-0492 / 866-646-0492
271 Ecclestone Dr, Bracebridge
Algonquin Outfitters Bracebridge
705-645-9262 / 800-469-4948
60 Manitoba St, Bracebridge
The Detour Store
705-342-1611
401 Highway 559, Nobel
Thedetourstore@gmail.com
Swift Canoe & Kayak Georgian Bay
705-538-0881 / 800-661-1429
3048 Mayhew Road, Waubaushene
georgianbay@swiftcanoe.com
Muskoka Powersports and Recreation
855-732-3666
Mactier
Oastler Lake Provincial Park
705-378-2401
380 Oastler Park Dr, Parry Sound
Six Mile Lake Provincial Park
705-756-2746
2024 Joe King's Rd, Port Severn
BRUCE COUNTY, SOUTHERN GEORGIAN BAY AND LAKE SIMCOE
Tobermory & Bruce Peninsula Paddleboard Rentals
Tobermory Cruise Line
519-596-2626
53 Bay St South, Tobermory
info@tobermorycruiseline.com
Cedar Grove Cottages
519-596-2267
134 Cameron Lake Rd, Tobermory
info@cedargrovecottages.com
Sea Hawk Watersports
905-979-5258
400 William St Dock Unit, Wiarton
Collingwood and Area Paddleboard Rentals
Georgian Triangle Outdoors
705-293-4420
9405 Beachwood Rd, Collingwood
info@gtoutdoors.ca
Blue Surf Paddle Boards and Kayaks
705-293-9322
209574 Highway 26, The Blue Mountains
matt@bluesurf.ca
Free Spirit Tours
705-606-0867 / 519-599-2268
236720 Grey County Rd 13, Heathcote
freespirittours@hotmail.com
AquaPhylic
519-375-7319
Meaford Harbour, Slip #26, Meaford
aquaphylic@gmail.com
Blu Wave SUP
866-404-3155 / 705-352-9283
818 Mosley St, Wasaga Beach
customerservice@bluwave.ca
Owen Sound and Area Paddleboard Rentals
Kelso Beach Adventure Rentals
416-527-0875
1574 5th Ave West, Owen Sound
Suntrail Source for Adventure
519-935-2478
100 Spencer St, Hepworth
Sauble Falls Provincial Park
519-422-1952
1400 Sauble Falls Rd, South Bruce Peninsula
Barrie and Orillia Paddleboard Rentals
Sojourn Outdoors
705-739-9694
31 Commerce Park Dr, Barrie
sojourn@csolve.net
Northern Stand Up Paddle
705-718-2408
Centennial Beach, Lakeshore Dr, Barrie
Brent@northernsup.com
Happy Paddling
705-881-5533
81 Lakeshore Dr, Barrie
A Breath of Fresh Air Outdoor Sports
705-345-0814
140 Canice Street, Orillia
couchrentals@gmail.com
Bass Lake Provincial Park
705-326-7054
2540 Bass Lake Sideroad East, Oro-Medonte
CENTRAL AND EASTERN ONTARIO
Haliburton Highlands Paddleboard Rentals
Algonquin Outfitters Haliburton
705-457-3737 / 800-469-4948
218 Highland St, Haliburton
Algonquin Outfitters Minden
705-286-1492 / 800-469-4948
12667 Highway 35, Minden
Peterborough and Kawarthas Paddleboard Rentals
Kawartha Adventure Rentals
Serving Kawarthas, Bobcaygeon, Balsam Lake, Haliburton and Peterborough
705-559-7368
6401 Highway 28, Woodview
Liftlock Paddle Co
416-402-0630
2011 Ashburnham Dr, Peterborough
liftlockpaddle@gmail.com
Wild Rock Outfitters
705-745-9133
169 Charlotte St, Peterborough
wildrock@wildrock.net
Buckeye Surf
705-738-9283
12 Bolton St, Bobcaygeon
Balsam Lake Provincial Park
705-454-3324
2239 County Rd 48, Kirkfield
Emily Provincial Park
705-799-5170
797 Emily Park Rd, Omemee
Bancroft and Madawaska Highlands Paddleboard Rentals
Bancroft Go Green
613-202-2077
224 Hastings St North, Bancroft
Silent Lake Provincial Park
613-339-2807
1589 Silent Lake Park Rd, Bancroft
Bonnechere Provincial Park
613-757-2103
4024 Round Lake Rd, Killaloe
Bon Echo Provincial Park
613-336-2228
16151 Hwy 41, Cloyne
Ottawa Valley Paddleboard Rentals
Driftwood Provincial Park
613-586-2553
39520 Highway 17, Stonecliffe
Petawawa Point Rentals
613-687-2303 / 613-687-5678 ext. 2102
1073 Island View Dr, Petawawa
Wilderness Tours
888-723-8669
1260 Grants Settlement Rd, Foresters Falls
Ottawa and Area Paddleboard Rentals
Ottawa SUP
613-263-2069
1314 Bank St, Ottawa
Ottawa Valley Air Paddle
613-808-0604
Rental locations in Ottawa, Kanata, Arnprior and Richmond Hill
Dows Lake Pavilion
613-232-1001
1001 Queen Elizabeth Dr, Ottawa
Oziles' Marina
613-841-0778
1009 Trim Rd North, Orléans
Drifters Outdoors Canoe & Kayak
613-324-0404
286 Riverview Ln, Kemptville
Rideau River Provincial Park
613-258-2740
2680 Donnelly Dr, Kemptville
Rideau Tours
613-583-4783
1671 Chaffey's Lock Rd, Elgin
Perth Major Outfitters
613-772-1122
21 Craig St, Perth
Kingston and Area Paddleboard Rentals
Trailhead Kingston
613-546-4757
262 Princess St, Kingston
info@trailheadkingston.ca
Ahoy Rentals
613-549-4277
21 Ontario St, Kingston
andrew@ahoyrentals.com
Frontenac Outfitters
613-376-6220
6674 Bedford Rd, Sydenham
Charleston Lake Provincial Park
613-659-2065
148 Woodvale Rd, Lansdowne
Belleville and Prince Edward County Paddleboard Rentals
Cabin Fever Kayak
613-885-3896
906 County Rd 13, Milford
West Lake Watersports
613-393-1095
191 Winns Dr, Picton
Sandbanks Provincial Park
613-393-3319
3004 County Rd 12, Picton
Venture Outfitters
888-204-4137
10 Bay Bridge Rd, Belleville
info@ventureoutfitters.ca
Riverbank Rentals
613-214-7097
20 Water St. West, Napanee
GOLDEN HORSESHOE ONTARIO
Niagara and Area Paddleboard Rentals
Paddle Niagara
905-401-7879
Queen's Royal Park, King St, Niagara-on-the-Lake
On the Water Niagara
905-380-2347
2010 Niagara Pkwy, Fort Erie
Welland Community Boathouse
905-735-1700 ext. 4017
129 Lincoln St, Welland
boatrental@welland.ca
Toronto Paddleboard Rentals
Oceah Oceah
647-705-1975
1575 Lake Shore Blvd W, Toronto
jenifer@oceahoceah.com
Harbourfront Canoe & Kayak Centre
416-203-2277 / 800-960-8886
283 Queens Quay W, Toronto
ask@paddletoronto.com
Surf the Greats
647-479-8969
101-250 Carlaw Ave, Toronto
aloha@surfthegreats.org
iPaddle Adventures
416-553-4067
Balmy Beach, Toronto
ipaddleadventures@gmail.com
Paddle Pirates Toronto
416-518-8566
112 Hubbard Blvd, Toronto
info@paddlepiratestoronto.com
Toronto Island SUP
416-899-1668
13 Algonquin Bridge Rd, Toronto
info@torontoislandsup.com
WSUP Toronto
416-834-5801
77 Kewbeach Ave, Toronto
Gudrun@wsup.ca / Sam@wsup.ca
Toronto SUP & Kayak
647-546-4787
1 Cherry St, Toronto
Toronto Adventures
416-536-2067
9 Old Mill Rd, Etobicoke
Info@TorontoAdventures.ca
SUPGirlz
647-547-7873
18 Maclean Ave, Toronto
info@supgirlz.com
The Complete Paddler
416-255-6905 / 866-9-KAYAKS
919 Oxford St, Etobicoke
info@completepaddler.ca
Phin-SUP Paddle Board Rentals
416-707-4770
178 Angelene St, Mississauga
Oakville and Burlington Paddleboard Rentals
Paddle Sport Performance
647-402-2578 / 855-787-6867
1236 Speers Rd, Unit 1B, Oakville
derek@paddlesportperformance.com
Burlington Beach Rentals
289-337-0808
1094 Lakeshore Rd, Burlington
SOUTHWESTERN ONTARIO
Lake Huron, Grand Bend and Sarnia Paddleboard Rentals
Surfsup Eco Shop
519-612-1000
80 Courthouse Sq, Goderich
River Adventures Grand Bend
519-868-7242
63 River Rd Unit 3, Grand Bend
Riveradventuresgrandbend@gmail.com
WestCoast Beach Store
647-836-8706
77 Main St West, Grand Bend
westcoastbeachstore@gmail.com
Pinery Provincial Park
519-243-2220
9526 Lakeshore Rd, Grand Bend
Beach Bumz
855-383-7433
Sarnia Bay Marina, 97 Seaway Rd, Sarnia
Kincardine and Area Paddleboard Rentals
West Shore Surf Shoppe
519-396-5369
200 Station Beach Rd, Ripley
Surfsup Eco Shop
519-955-0533
889 Queen St, Kincardine
Paris, Guelph and Cambridge Paddleboard Rentals
Paddle On
Rental locations in Cambridge and Port Credit
289-499-2997 / 416-770-7861
Eagle Hill, Cambridge
Grand River Rafting Company
Guelph Lake and Brant Park Conservation Area paddleboard rentals
519-442-2519
31 Mechanic St, Paris
info@grandriverrafting.ca  
Fairy Lake Paddle House
519-853-9729
30 Park Ave, Acton
London and Lake Erie Paddleboard Rentals
Norfolk Kayak and SUP Rentals
519-909-7368
717 Norfolk St North, Simcoe
Otter Be Here
226-448-9179
54004 Calton Line, Aylmer
LG Stand-Up Paddle Board
519-878-8204
159 Sandringham Cr, London
Windsor and Area Paddleboard Rentals
River Canard Canoe Co
519-734-8558
9350 Malden Rd, Windsor
info@rivercanardcanoe.ca
Urban Surf Co.
519-790-8017
55 East Pike Creek Rd, Windsor
urbansurfcompany@gmail.com
Pelee Wings Nature Store
519-326-5193 / 877-326-5193
636 Point Pelee Dr, Leamington
sales@peleewings.ca
PLAN YOUR PADDLING TRIP NOW
For many paddleboarders, renting a SUP board at your destination makes great sense. If you are a new paddler, you can try a paddleboard rental to see if you like the sport. Rather than transporting your own gear to explore a destination, why not rent from a local outfitter? Start planning your trip now.