Up for a Paddling Challenge? 5 Adventures to Add to Your Bucket List
New sports, new destinations, new ideas.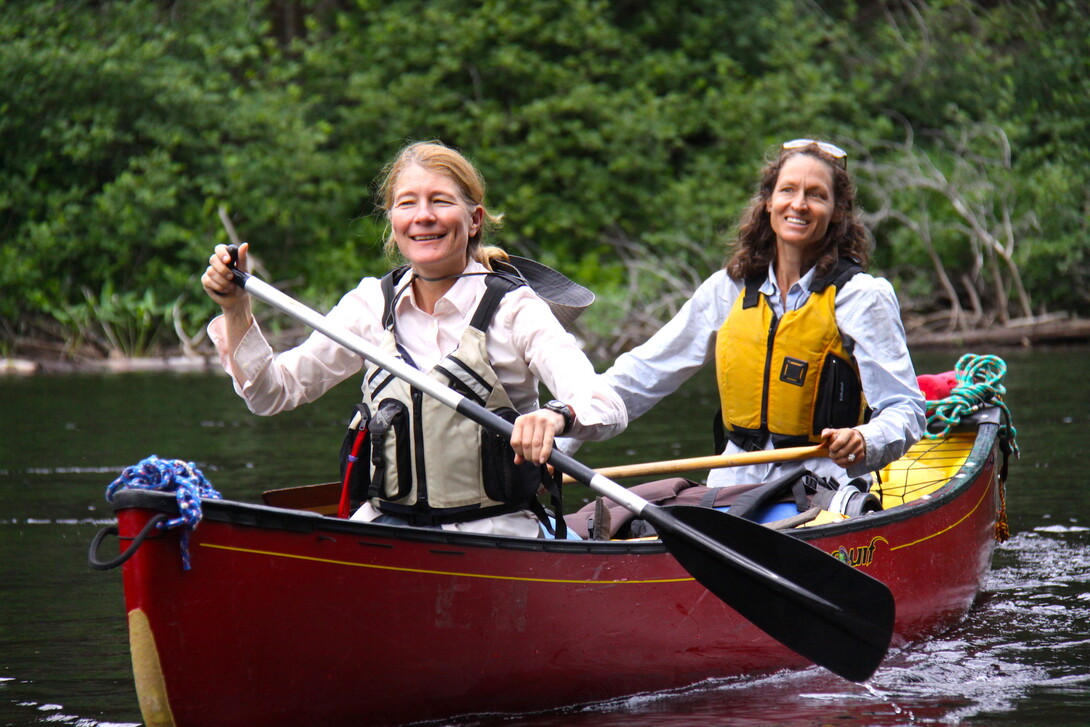 Summer is coming—will you make the most of it? Make 2022 your Year of the Paddle by ticking off each box in this Summer Paddling Challenge. It's geared to the ambitious beginner and intermediate paddler. You don't need a surplus of skill or equipment, just good sense and sufficient motivation.
1. Paddle in a National Park
There are six national parks in Ontario. As far as paddling goes, Thousand Islands National Park is a good place to start for less experienced paddlers, as Pukaskwa National Park on Lake Superior has exposed paddling routes and Georgian Bay Islands National Park's islands are spread pretty far apart.
The Thousand Islands National Park archipelago is formed by the Frontenac arch, a spur of Precambrian rock that juts through the smooth St. Lawrence Lowlands to link the Canadian Shield with New York's Adirondacks. The result is a jumble of islands that would look more at home farther north.
It's a popular place for tour boats, and perfect place to launch a canoe or kayak for a day of more intimate exploration. Every channel holds something new to delight in, like bald eagles, great blue herons, sunken ships, and even the elaborate architecture of castle-like cottages. 
Docks, beaching sites, composting toilets, and picnic tables are available on all serviced islands. The Thousand Islands Paddling Trail guide marks hazards and highlights, and outlines nine routes you can do—some half-day, some full-day. You can always combine them to go for a multi-day adventure.
If you plan to camp out, it's wise to make a site reservation. You'll find access points listed here. For service, advice, rentals, and guiding, get in touch with Thousand Islands Kayaking Company. For accommodations and boat rentals, check out Misty Isles Lodge and Harmer's Cottages, and to pick up a boat in Kingston, go to Ahoy Rentals.
2. Paddle to an Island
The Lake Superior National Marine Conservation Area may be a mouthful to say, but an area this grand deserves nothing less in the way of titles. It is an expanse of shoreline and islands at the top of the top great lake. All together, there are 10,000 square kilometres of some of the planet's best sea kayaking here, but it's also perfectly suited to a quick hop out to an island for someone just dipping their toes into sea kayaking.
The town of Rossport, 200 km east of Thunder Bay, is home to Superior Outfitters. It's located, conveniently enough, on Dock Street, and is a one-stop shop for kayakers looking to get on the water. It offers rentals, lessons, day trips, guiding, and shuttles.
For an easy, out-and-back trip to an island, Superior Outfitters owner David Tamblyn recommends Healey Island, just a few hundred metres offshore. Tamblyn even rents tandem sea kayaks, a good way for experienced kayakers to feel a little less on their own out on the water. Healey makes for a great day trip, but it's also home to campsites in case you get there and decide you don't want to leave.
To explore further afield, pick up a copy of the comprehensive guidebook, A Paddler's Guide to the Lake Superior National Marine Conservation Area, written by Zack Kruzins of Such A Nice Day Adventures paddling centre in Thunder Bay.
3. Paddle a Whitewater River
The Spanish River can mean a lot of things to a lot of people. It could be a nine-day canoe trip from Lake Biscotasi to Agnew Lake, complete with a dozen sets of rapids that require serious scouting or portaging. It could be more of a lake-hopping trip down the East Branch before meeting the West Branch at The Forks halfway through.
But for someone wanting a taste of their first whitewater canoe trip, it could mean three days focusing on a welcoming middle section of water, floating down 50 km of gentle-to-moderate whitewater.
Access to the West Branch of the river is by Via Rail's Budd Car service, which runs between Sudbury and White River (hometown of Winnie the Pooh, as it happens).
Morning trains run north Tuesdays, Thursdays, and Saturdays. The trip from Cartier station is about an hour and a half and costs $20 per adult. Make sure to reserve a spot for your canoe (for a $50 fee). Tell the conductor you want to get out at The Forks and the train will slow to a stop, the doors will open, handlers will unload your canoe and packs, and the train will roll away. Fortunately, you will be right where you want to be.
Between The Forks and The Elbow lie 50 km of class I and easy class II rapids. The most challenging will be Zig Zag Rapids. Zig first and zag second. The other rapids are generally straightforward and not intimidating, given moderate water levels, but any whitewater trip should have experienced paddlers along.
There's a great map of the whole river with rapids, campsites, portages, and contours mapped and volumes of natural and historical information crammed into the margins.
Use that map to pick out The Elbow. It's here you'll be pulling out to your waiting vehicle, as long as you arranged ahead of time with Spanish River Outfitters. From their base at Fox Lake Lodge, they are a great resource for providing canoe rentals and tented or lodged accommodations the night before they shuttle you to Cartier to start your trip.
Below The Elbow, the river drops through a handful of more serious rapids and falls before settling into a 10-km run of swifts that empty out into Lake Agnew. If that entices and you want to extend the trip to do the last 50 km, get in touch with Agnew Lake Lodge for rentals and shuttle information.
4. Learn to Paddleboard
Want to learn how to not fall off a paddleboard into the greatest lake in the world? Head to Naturally Superior Adventures, near Wawa, for basic or intermediate lessons that will have you rock steady in no time. Their base at Rock Island is the only lakeside accommodation on Lake Superior for more than 400 km of shoreline. Enjoy their boutique bed and breakfast hospitality before (and after) your choice of lesson.
The two-hour Basic Skills lesson takes place in the morning and will get you comfortable on the board in time for the optional lodge lunch. Plus, you get to keep the board to practice and tour the area in the afternoon.
For those already comfortable on a board, the six-hour Advanced Flatwater Skills will take advantage of the lodge's situation near the outflow of the Michipicoten River to offer different paddling conditions, from flat calm to river current to surf.
While there, stick around for a few days and take in a voyageur canoe tour, guided shore hike, or sea kayak trip.
5. Take an Overnight Canoe Trip
Just 25 km north of Elliot Lake, there's an often-overlooked provincial park with backcountry campsites, spectacular scenery, and stellar hiking trails. And the best way to take advantage of all three is with a simple overnight canoe trip.
Three of Mississagi Provincial Park's backcountry canoe sites on sparkling blue lakes can be reached by canoe (two on Semiwite Lake and one on Helenbar Lake). You can reserve them up to five months ahead of your trip.
Rent canoes at the park (pending availability) or in Elliot Lake at Adventure North.
Start the trip at the parking area and dock on Semiwite Lake and head north to the 400-metre portage into Helenbar Lake, where you'll find a spacious, pine-lined backcountry canoe campsite. It's a great place to enjoy a swim, fish, and sunset paddle.
Note the ridge that looms large over the lake. There's a path to the top. Look for it halfway along the portage trail back to Semiwite Lake. It's part of the 40 km of trails through the park that are worth some extra time.
And if you want to stay nearby to hike but don't want to rough it, check into Laurentian Lodge, on Flack Lake, just across the highway from the park. Rooms and cottages are available. These are not rustic cabins, so prepare to be comfortable.
Are you up for the Challenge?
There you have it: an overnight, a whitewater river, an island hop, a national park, a new skill started. The gauntlet has been thrown. Will you pick it up?